"Ninjas" young and old convened at Madison's ORTHDX Natural Fitness gym this weekend to compete on the north side gym's obstacle course, which owner David Welther claims is the only one for adults and kids in the city.
Welther, who runs ORTHDX with his wife Sarah Welther, said it's part of the gym's alternative take on exercise.
"We believe that fitness is so much more than just lifting weights and running laps, that really sustainable fitness should be fun," Welther said.
Sunday's competition — set for 4 p.m. and open to the public — is for adults, including at least two athletes who have already proven their skills by competing on NBC's "American Ninja Warrior" television show.
The 11 athletes who competed on Saturday's youth obstacle course ranged in age from seven to 14. The biggest kids made it look easy to scale the 10-foot wooden pyramid or swing from one hanging ring to the next, while the smallest needed a lift from Welther to reach the higher obstacles.
"If they practice this type of fitness at a young age, they will carry that into their adult life, and they'll maintain the elasticities of their bodies so much longer than they would doing traditional fitness," Welther explained.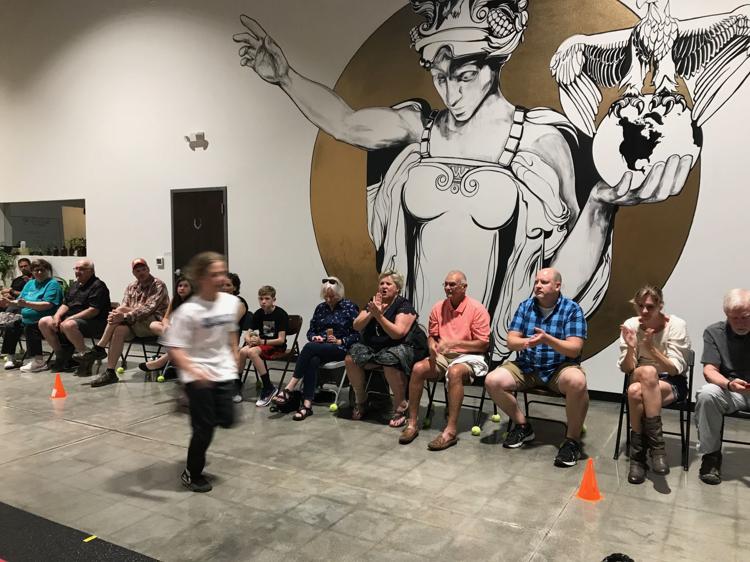 'Competing against yourself'
Nanette Hunter, 14, clocked Saturday's fastest time, completing the course in just three minutes and 15 seconds, though she was considered too old to officially compete in the youth bracket. 13-year-old Eliza Volz won the 12- to 13-year-old division. Both will enter Sunday's adult competition.
Hunter said her time at ORTHDX motivated her to take on another challenge: becoming the only girl on Madison East High School's wrestling team.
"We're constantly being told that you're never competing against each other, you're always competing against yourself," Hunter said, "to always ... do better than your last time, whether that's how many push-ups you did or how fast you did an obstacle course.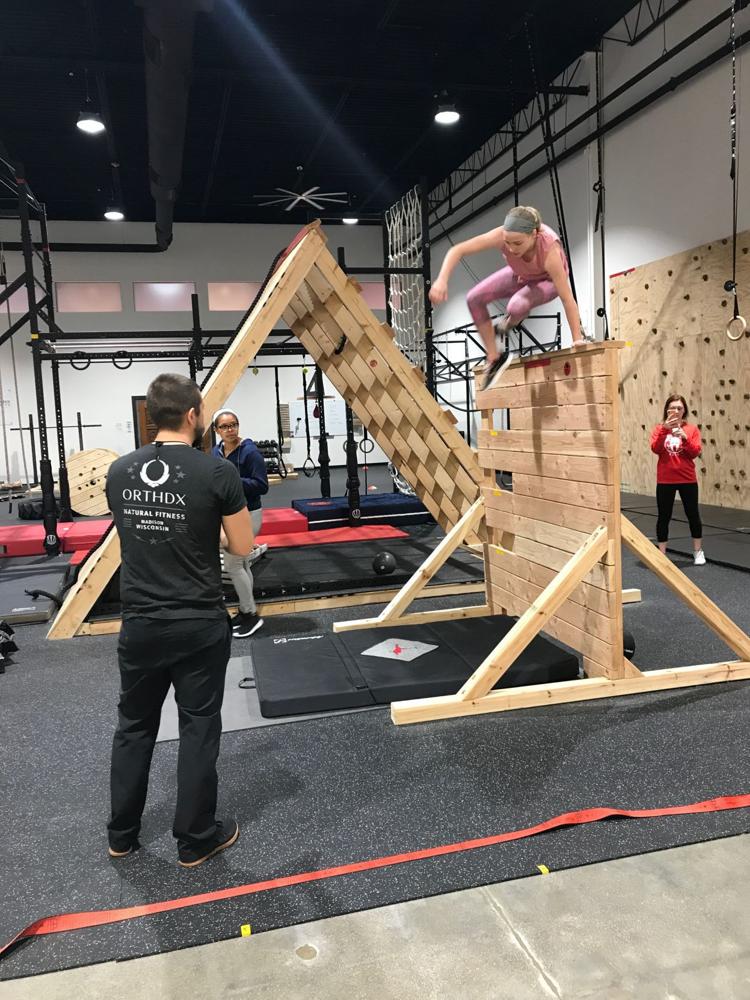 "You want to do better than yourself, because everyone else here just wants to see you do your best."
Gathered around on the gym floor as they waited for scores to be announced, the other young participants agreed.
"The first day I was here, I was with two college kids," Andrés Beversdorf, 13, said, his tone incredulous. "I was scared, trying to be cool, trying to fit in. But they were so supportive and so helpful."
Nova Alvarado Steele, 7, insisted on participating alongside her brother, Dario, 12, despite being too young for either youth division.
"Keep going, little sloth!" Welther shouted encouragingly as Nova, hands and legs wrapped around a horizontal rope, pulled herself the last yard of the way.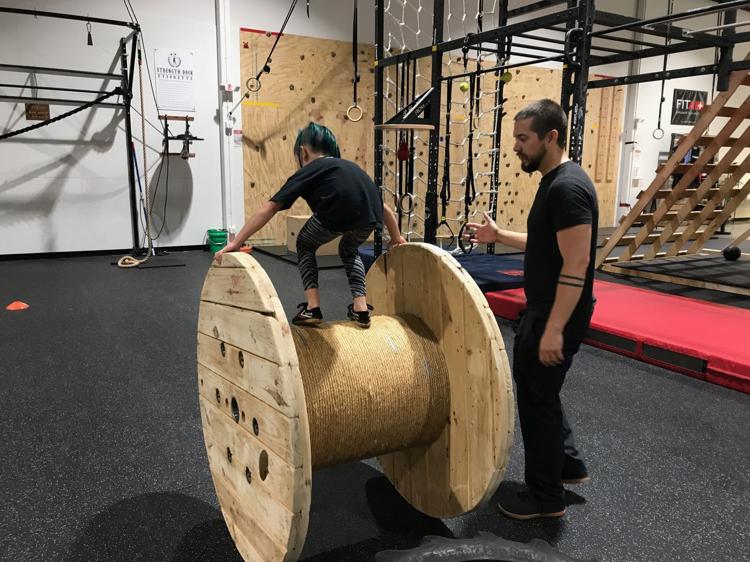 Of the youngest official participants, ages 8 and 9, victory went to Oliver Savidusky, 8, who completed the course in five minutes and 58 seconds.
Ninja training gains popularity
At least two of the participants in Sunday's adult ninja warrior competition have appeared on "American Ninja Warrior." Another has been accepted to participate in a future taping and at least two are training to qualify.
The show has boosted the sport's popularity. Sam Bronchetti said that's what got his daughter Lola, 13, interested.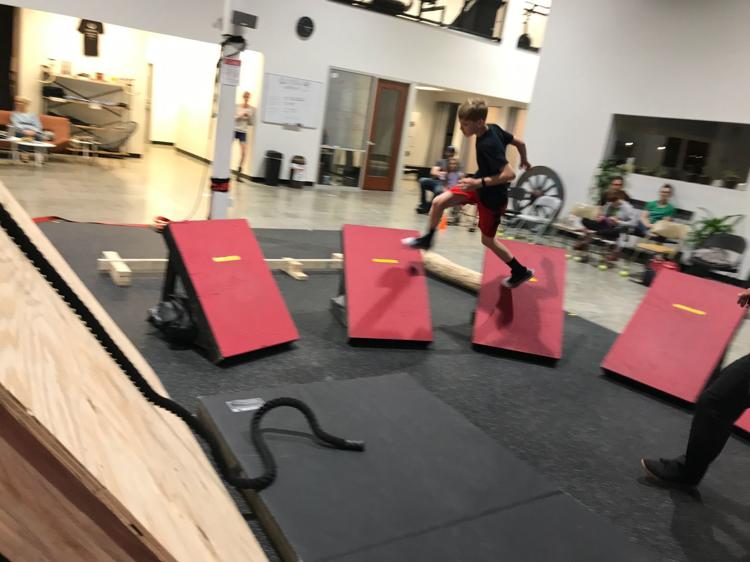 "She's been watching that and she's been looking for ninja gyms in the area," Bronchetti said. They found out about this one last year, "and she's been in it ever since."
Bronchetti grew up in a "very sports-oriented family" and is glad his daughter has found an activity she loves.
"None of my kids have really gotten into sports until this, so this has been kind of fun for me to watch," Bronchetti said. "She enjoys it and I'm here to support her."
Even a fitness fanatic like Welther didn't anticipate the sport's popularity locally.
"It was a shock to me that there were so many people ... in south central Wisconsin that had opportunities to be on different seasons of the show," Welther said. One McFarland man who will compete on Sunday was featured on TV after he turned his basement into an obstacle course and qualified for the show.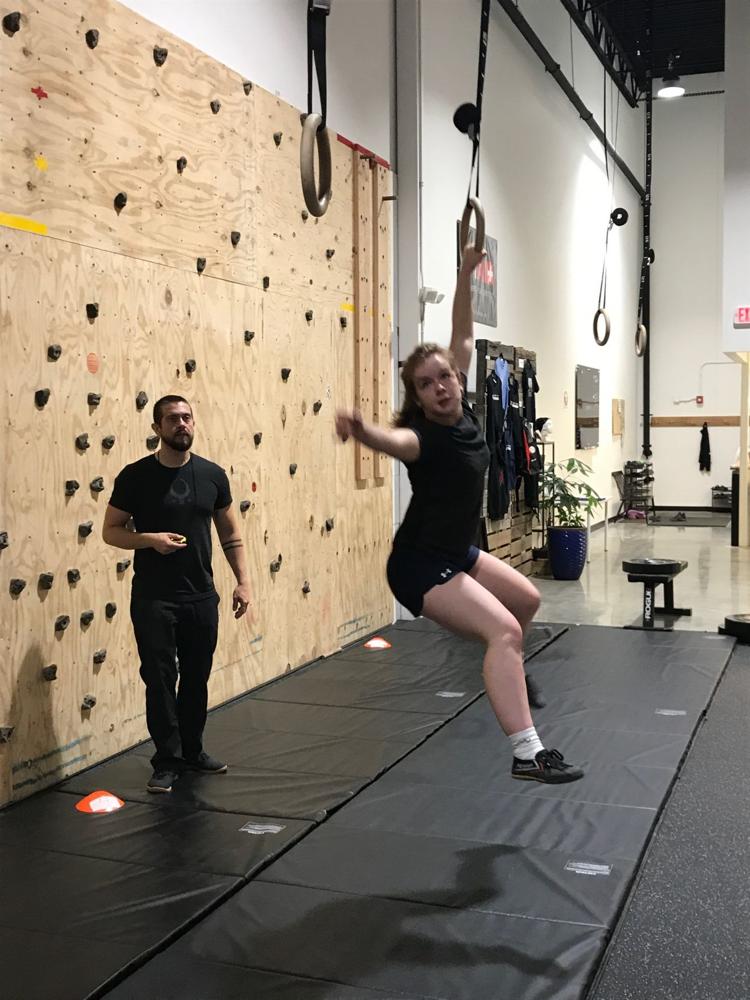 This weekend's competition is just the first local opportunity for Wisconsin ninjas seeking to prove themselves.
"My ninjas, this is your warm-up competition," Welther told the young athletes after the last scores were announced on Saturday. In August, the larger circuit of Athlete Warrior Games begins, leading to regional finals.
Welther hopes to one day see obstacle course racing become an Olympic sport.
"It's not just something for elite athletes," he said. "It really is becoming something that everyday people who want to stay fit and stay mobile are getting into."
Welther said thousands of people participated in a Spartan race in Richmond, Illinois, earlier this month, including about a dozen members of ORTHDX gym.
"These people are marketing specialists, engineers, school teachers," he said. "A lot of people just getting excited about pushing their bodies, getting through the mud, overcoming different obstacles, and really challenging themselves mentally and physically."