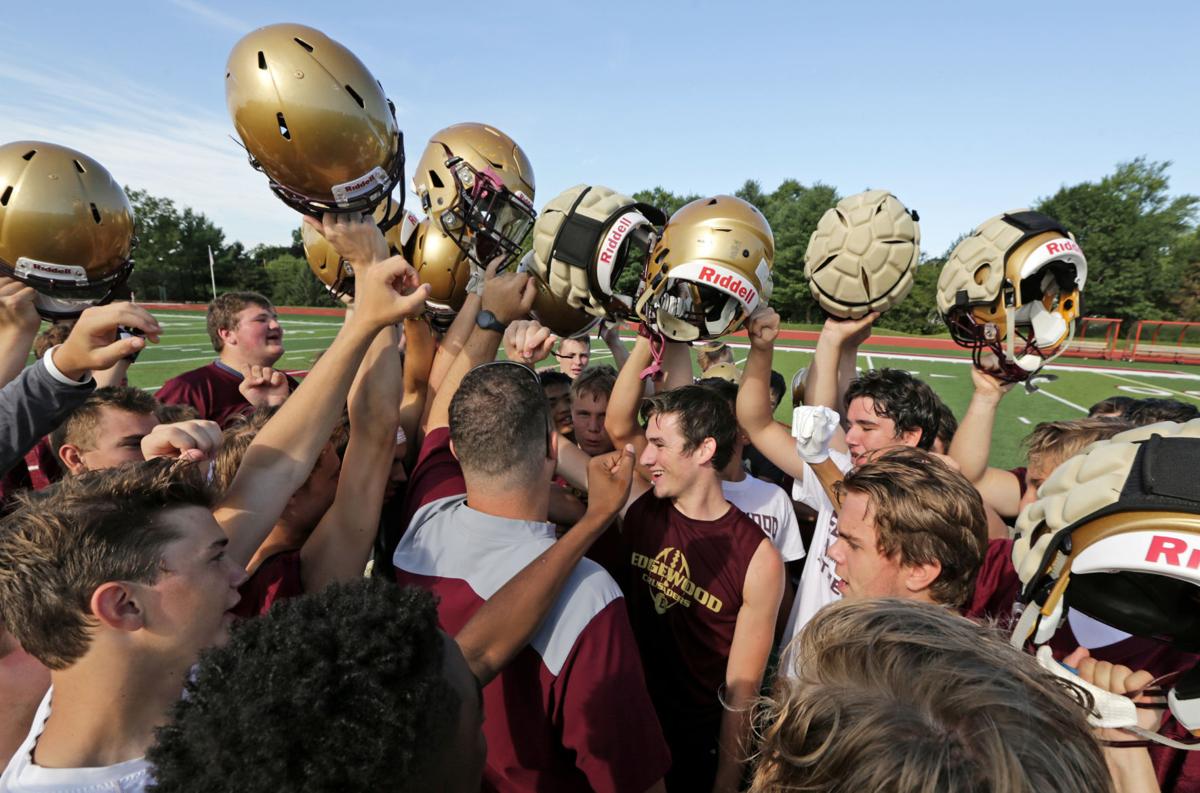 Many neighbors have long opposed Edgewood High School's contentious proposal to build a stadium with lights, seats and amplified sound.
Now grassroots resident group No New Stadium is publicizing the results of an open records request which they say shows a "pattern of deception" and "bad faith negotiating tactics."
Chief among their complaints: Edgewood has said using the Middleton High School field is "no longer feasible," and No New Stadium takes issue with that characterization, saying records show Edgewood could have continued to use the field.
"We did not have problems with them, actually it was a good arrangement. They are just wanting to get lights at their new stadium and the neighborhood doesn't want that," an October email from Middleton High School Athletic Director Bob Joers reads.
Edgewood wants to replace 450 bleacher seats on its athletic field with a 1,000-seat stadium including restrooms, a press box and a concession area. The school plans to install LED lighting that would minimize "glare, light spill and sky glow" and a sound system that would direct noise into the stadium. 
Edgewood must amend its master plan to go through with the project. The amendment was originally slated to appear before the Madison Plan Commission on Jan. 14 and the City Council on Jan. 22., but on Wednesday, Edgewood requested that the project be referred to a later date.  
Many neighbors are adamantly opposed to the idea, which they say will disrupt the neighborhood. The Dudgeon-Monroe Neighborhood Association strongly opposes the proposal; the Vilas Neighborhood has voiced support for the project.
Without a stadium, Edgewood's athletics teams rotate their "home" games at several available fields including Middleton High School's Breitenbach Stadium. Edgewood's website and November project proposal said the agreement with Middleton was "no longer feasible."
"This is due not only to Middleton's own athletic program demands, but financial ramifications, safety concerns and scheduling for Edgewood's athletes. This fact has left Edgewood scrambling to find a location for 'home' games," the proposal reads.
A September letter to the city from Vandewalle & Associates on behalf of Edgewood said "prior agreements for use of Middleton's field cannot be extended, leaving Edgewood without predictable locations and often last on the list of requests to host games."
"Edgewood has created this crisis, portraying their quest for a stadium as an absolute need when it's simply something they want," said Tag Evers, a spokesman for No New Stadium and a candidate for City Council.
In a Tuesday Wisconsin State Journal article, Joers and Edgewood President Mike Elliott clarified that while Edgewood had the option to keep using the Middleton field, scheduling was becoming more difficult with Middleton's increasing field use.
No New Stadium is also accusing Edgewood of misrepresenting or omitting data on a score of other issues, including:
In an Oct. 26 email Elliott, city zoning administrator Matt Tucker writes that he believes the current filed usage "is operating outside of the allowances of the adopted Master Plan." After a response from Edgewood disputing this, Tucker followed up with another message saying that if Edgewood's application for a major alteration to their Master Plan is denied, "the City will send a formal notice of violation."
In a July email to former Ald. Sara Eskrich, Elliott wrote: "I am in a heap of trouble with no place to play an Oct 5 game that is senior night. Parents want to hold game here with temporary lights and seats. Cost to do that is $27,000. Can you help me understand time involved for us to get seats and lights? Now that your [sic] leaving how about a sign off for a minor amendment????"
This week, Edgewood proposed a compromise, some of which had previously discussed publicly, ahead of next Monday's Plan Commission meeting. It would set a limit of 17 games ending by 8:30 p.m. and eight Friday night games ending by 10 p.m. It would further add a wall or berm at the end of the track to lower crowd noise and add visual screening, and clean up Master Plan language to explicitly allow for the field's current uses.
No New Stadium was unimpressed with these changes, saying in a press release that the wall would not do enough to reduce noise.
"Unfortunately, what Edgewood needs is more land to accommodate their desired expansion and intensified use," the release said.
On Wednesday, the DMNA asked Edgewood to delay the project's appearance before the Plan Commission, which Edgewood did Wednesday afternoon.
"In just the last few days, Edgewood has released a new sound study, a new environmental impact study, and a new proposal to add a sound wall to their proposed field improvements," a statement from Rachel Fields, vice president of the neighborhood association, said. "All of these were released after the public comment for the Plan Commission meeting had already ended. Simply for the sake of enabling our members to know what proposals are even being considered by the City, we called on Edgewood to ask for a postponement."
Elliott was contacted for comment, and this story will be updated with any response. 
This story has been updated, as the project will no longer appear before the Plan Commission on Jan. 14. 
Share your opinion on this topic by sending a letter to the editor to tctvoice@madison.com. Include your full name, hometown and phone number. Your name and town will be published. The phone number is for verification purposes only. Please keep your letter to 250 words or less.