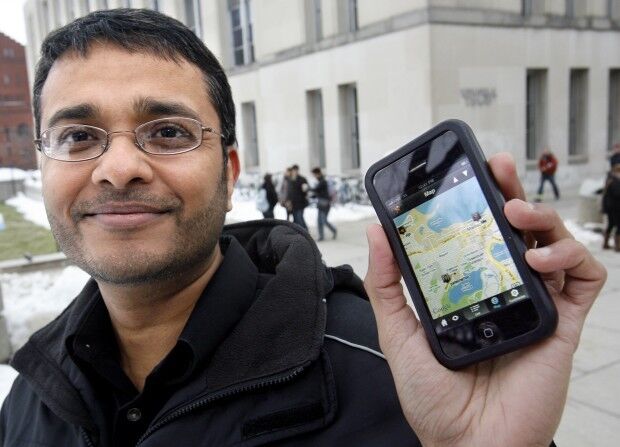 University of Wisconsin-Madison computer scientist Jignesh Patel has secured $4M in seed funding to accelerate the market launch of a tool that lets users analyze data by typing questions into a chatbot.
Patel, whose work focuses on helping people derive actionable information from data, is CEO and co-founder of DataChat, Inc. The company has created an interface that lets businesses and individuals uncover data insights without hiring a computer programmer or consultant.
With DataChat, users can ask questions of their data in plain English thanks to natural language processing technology, which allows a computer to interpret and act upon spoken or written phrases. Patel and his team call it "conversational intelligence."
By posing questions to DataChat's artificial intelligence interface — think Alexa or Siri — a business can analyze data on production across its various factories, for example, or determine whether a different type of marketing campaign might be more effective with a given demographic.
In a demonstration video from the Wisconsin Supplier Network, a user asks the bot to list all companies in the network that supply a certain product, and it responds by producing a table of the relevant companies. The user then asks the bot to create a scatterplot showing the relevant suppliers in each Wisconsin County, showing each supplier's annual sales and number of workers, and the chart quickly appears.
"All they need to do is to learn how to think about how to solve the problem and then tell the computer, 'Do this for me,'" Patel said.
In today's data-driven world, Patel said, such insights are essential for all industries, including manufacturing, finance and retail. Any business that isn't using data analytics to make its decisions "better get on it to survive," he said. 
The interface can also use other sophisticated algorithms to suggest other information it could retrieve for the user, and it uses machine learning technology — the ability for a computer to form habits from previous computations — to make predictions based on what the user has requested before.
"It's a really nice synergy between the best of humans and machines," Patel said.
Stanford University computer scientist Christopher Ré, who received a MacArthur Foundation "genius grant" in 2015 for his work on democratizing data analytics, is an advisor to the company. He said in the press release that DataChat offers an alternative to "decades-old technologies that are people- and process-heavy." 
DataChat combines artificial intelligence and data, "empowering anyone and everyone to self-serve deep data analytics, transforming how enterprises realize value from their data," he said.
The $4 million commitment comes from leading Silicon Valley venture capital firms, including WRVI Capital and Nepenthe Capital. The company plans to use the funds to expand its team and customer base in preparation for its market launch.
DataChat is offered as a "software as a service," or SaaS, product, meaning customers pay for access and log in with a password. Some companies have already begun to use it, but Patel declined to name customers. 
This isn't Patel's first venture into entrepreneurship: He's co-founded three companies, each of which were acquired. Twitter bought one of his enterprises — Locomatix, a data analysis tool for mobile devices — in 2013.
Share your opinion on this topic by sending a letter to the editor to tctvoice@madison.com. Include your full name, hometown and phone number. Your name and town will be published. The phone number is for verification purposes only. Please keep your letter to 250 words or less.