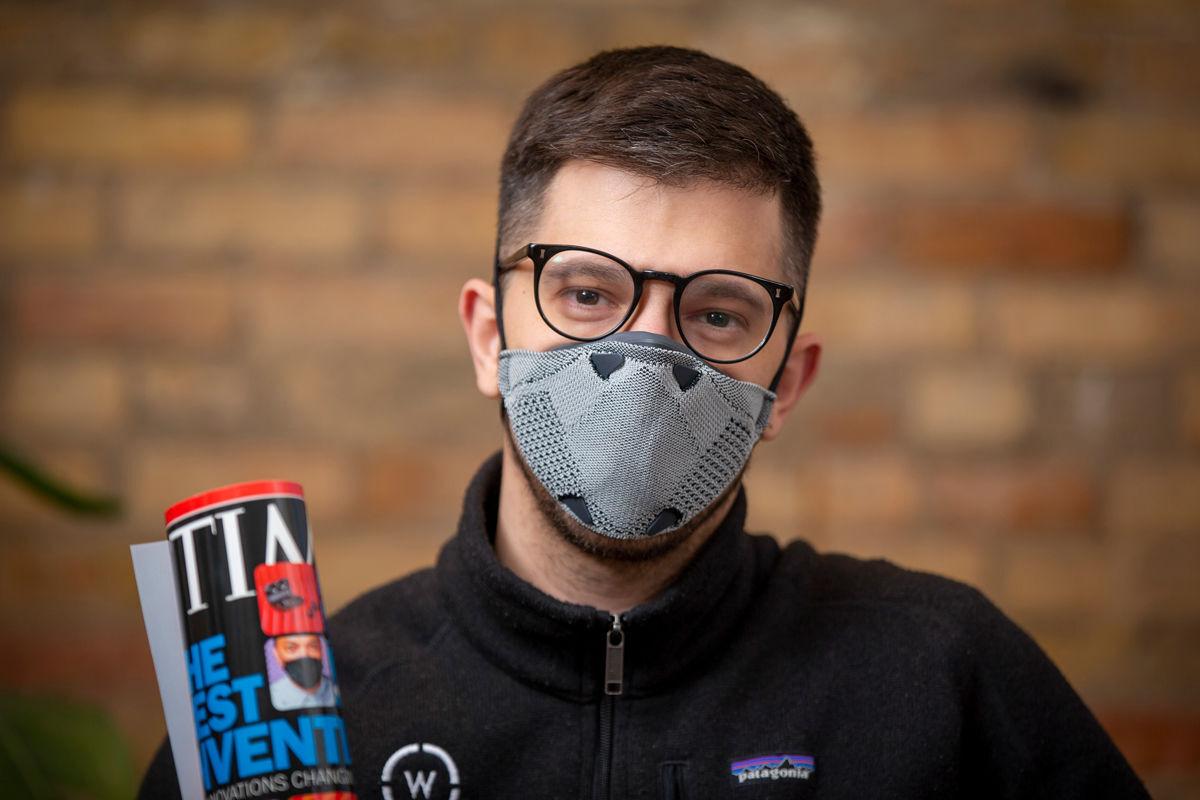 Max Bock-Aronson started designing face masks before they were cool. 
He got the idea in 2013, when he made his first trip to Asia. Studying abroad in Singapore, the University of Wisconsin-Madison mechanical engineering undergrad saw face masks all around him: on the bus, in streets, and in his engineering course on air pollution. Traffic, industrial activities and fires all worsen the country's air quality.
"I'd never been in an environment where I had to think critically about the air that I breathe," Bock-Aronson said, explaining that he'd never heard the term "environmental racism" before.
"It was the first time that I recognized that breathing clean air is a privilege."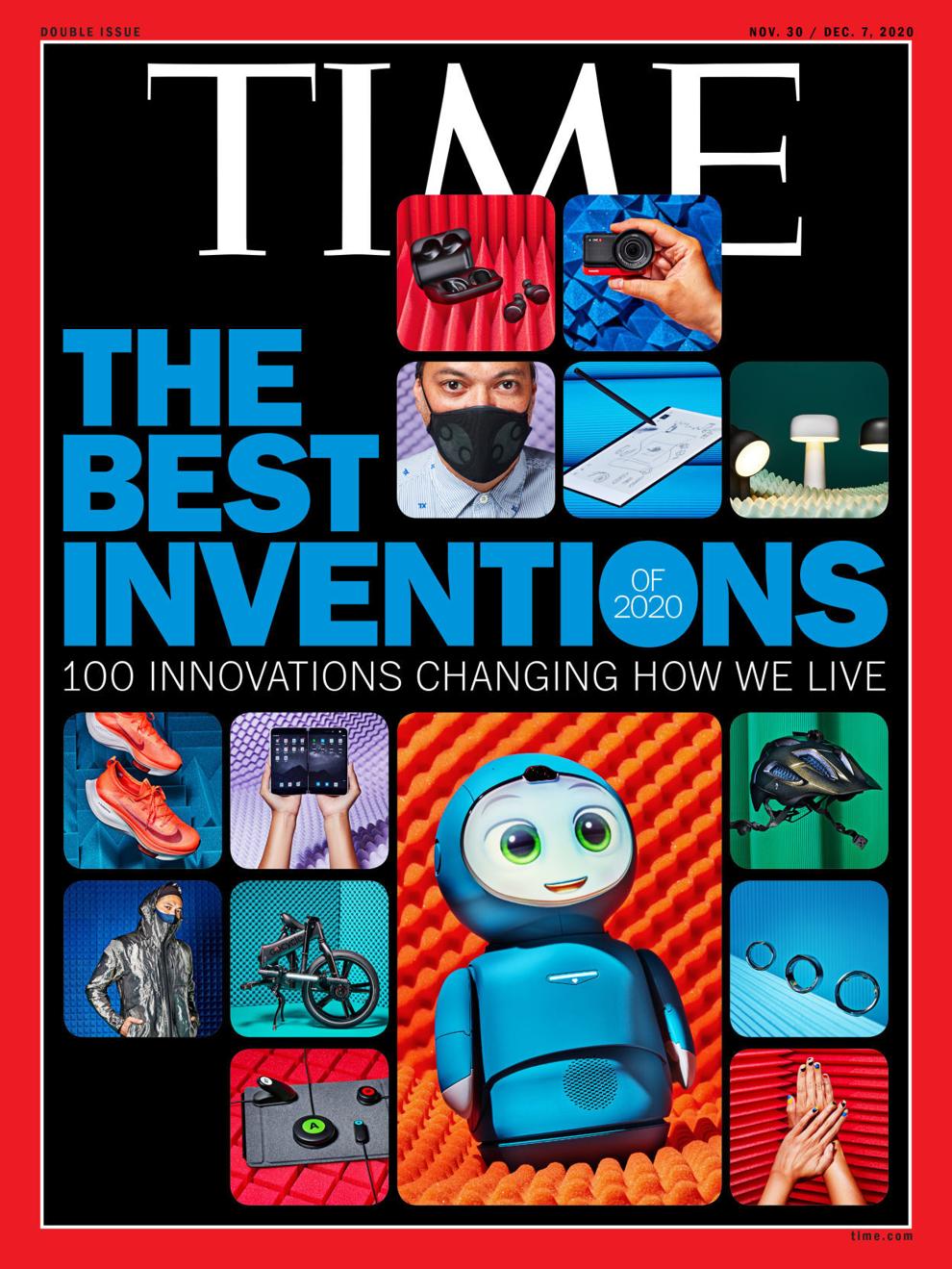 Little did he know that, seven years later, the whole world would be wearing masks, and his own face mask design would be highlighted among Time magazine's Best Inventions of 2020. 
Bock-Aronson's mask-making quest began when he learned how many of the common masks models came up short. The surgical or cloth masks commonly worn in Asian countries did little to block air pollution, while the N-95 masks commonly worn by painters and other specialized workers filtered well but weren't comfortable for everyday use.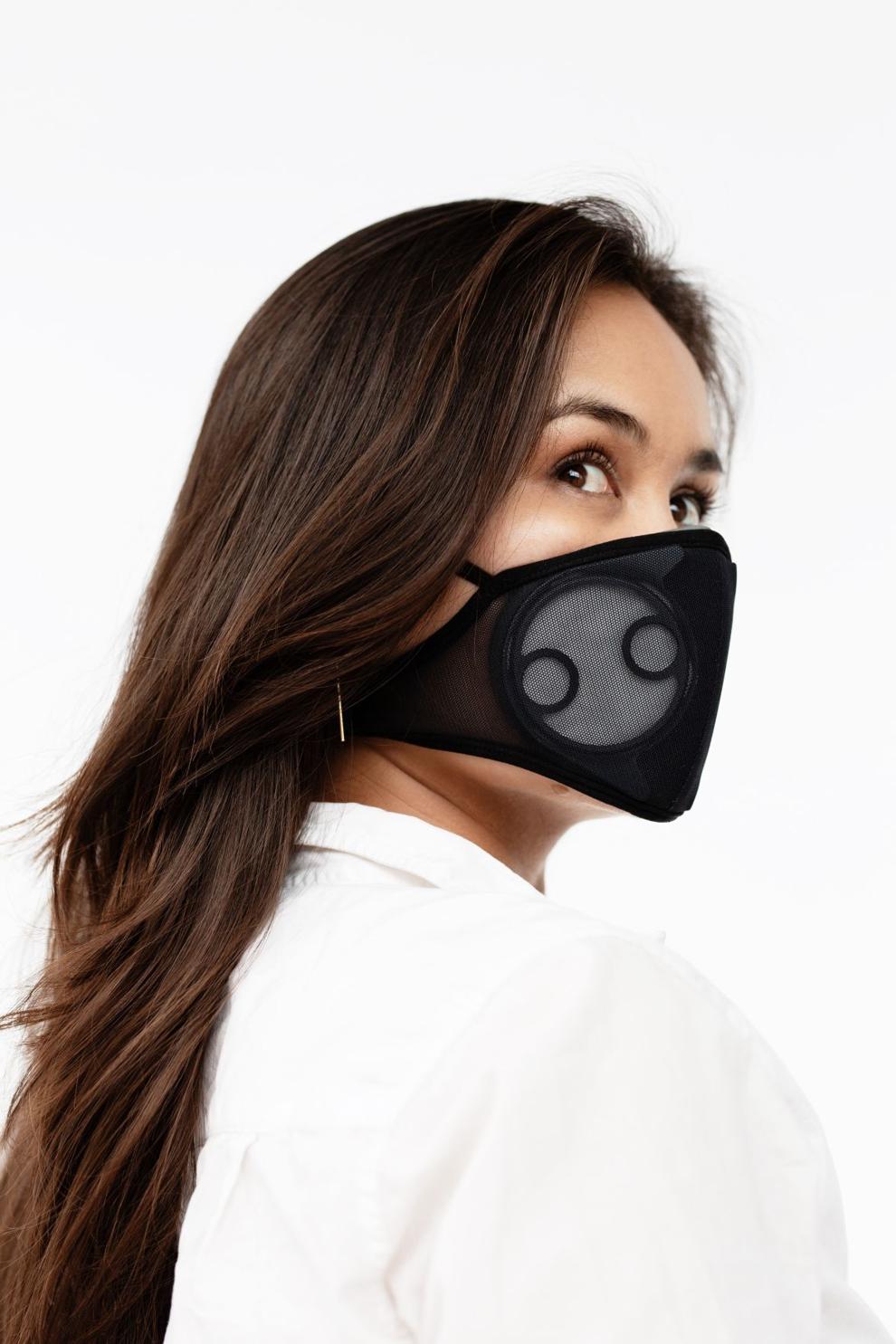 So he designed an alternative. His model features a patent-pending face piece made of a bendable rubber-like material, forming an airtight seal against the wearer's face. At each side, the mask holds a replaceable circular filter. The mask keeps out particles as small as 0.1 micron, the tiny particles against which N-95 masks are at least 95% effective. The rubber piece and its fabric cover are designed for easy washing, whether by hand or in a dishwasher. And, unlike an N-95 mask, the design is foldable to easily slip into a purse or pocket.
In 2018, he turned the idea into a company, launching Minneapolis startup Breathe99 with friends Coleman Rollins and Joél Valdez Jr. But when their August 2019 campaign to raise $90,000 through Kickstarter fell short, the team was ready to call it quits. In retrospect, Bock-Aronson said they hadn't really formulated a picture of who would need their masks, much less how to reach them. 
Then, when the engineer started tracking the novel coronavirus in January, he realized he could rework the mask designed for pollution-protection could be a tool in the virus fight, with only minor adjustments.
The team removed the mask's unfiltered exhalation valve, designed to make it easier for the wearer to breathe out. In the new version, the wearer inhales and exhales through the filters, further reducing the risk of passing germs or virus particles to someone nearby. When the first pandemic lockdowns hit, Bock-Aronson quit his job at Minneapolis-based design firm Worrell to work on the mask endeavor full time.
Breathe99 launched its second Kickstarter campaign last April, just as more Americans were starting to wear masks — and sometimes struggling to find them on store shelves. This time, the company shattered its goal, drawing more than $500,000 in preorders in just three weeks. Combined with another crowdfunding campaign, the company raised a total of $750,000. Breathe99 shipped its first orders in June. To date, the company has sold about 25,000 masks.
The company is a public benefit corporation, meaning it prioritizes its mission and values, in addition to stakeholders' interests. "I was never working on this to make money," Bock-Aronson said. "I was really just thinking about how the world needed a better option for public health. 
"In that sense, I'm maybe not the best businessman. I'm an idealistic millennial who wants to change the world, naively."
Initially, the company planned to donate one mask for each mask sold. To date, the company has donated hundreds of masks, but Bock-Aronson said the one-for-one plan had proven too ambitious. With the company still producing at small volumes and with U.S. manufacturers, the production cost is too high for such a donation model.
"We just haven't been able to execute on that yet, but that is sort of an aspirational goal that we have," he said. Even footwear company Toms, which made the buy-one, give-one model famous, retired the plan in 2019 after donating more than 95 million shoes, saying it was too expensive. 
And while the pandemic brought the company to life, Bock-Aronson thinks there will still be a market for masks long after the U.S. has gotten the virus under control. He notes that air pollution is actually made up of "ultra fine" particles that are inhaled and, in some cases, transferred to the bloodstream. Such particles can increase the risk of developing life-threatening conditions like stroke, lung disease and respiratory infections. The risk is especially great young people, whose immune systems are still developing, as well as to pregnant people and to people with chronic conditions like heart disease, Bock-Aronson said. 
"If you're in an environment where there are elevated levels of air pollution and you breathe it consistently for a couple of days, a couple of weeks, or — depending on where you live — a couple of years, research shows that like your life can be shortened by years," Bock-Aronson said. 
But even for those with clean air, Bock-Aronson thinks masks might still hold some appeal. He's heard some customers say that, to reduce their chances of catching a cold or flu, they plan to keep wearing masks in crowded places like grocery stores and buses. 
Given that the flu kills tens of thousands in the U.S. each year, including hundreds of children and adolescents, Bock-Aronson thinks it's a worthwhile habit, at least during the flu season. 
"The pandemic has taught us all that masking is a simple practice that can improve your health," he said.
Share your opinion on this topic by sending a letter to the editor to tctvoice@madison.com. Include your full name, hometown and phone number. Your name and town will be published. The phone number is for verification purposes only. Please keep your letter to 250 words or less.