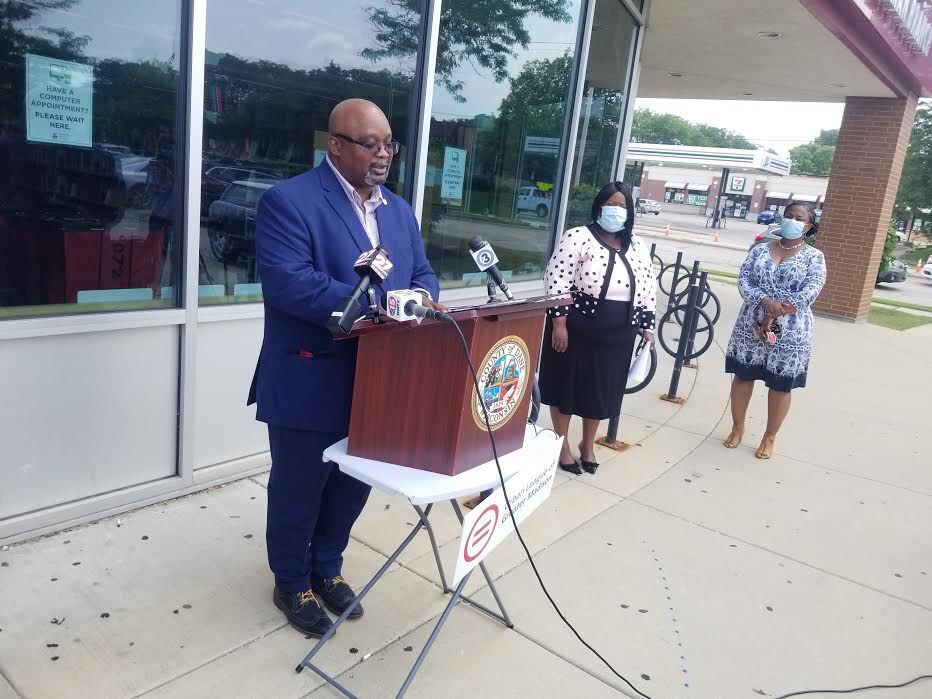 Minority-owned businesses that plan to use a forthcoming south side entrepreneurial hub will soon be eligible for an additional boost: Money.
The fund will begin with $250,000 in seed money from American Family Insurance Institute for Corporate and Social Impact, and the organization will use an additional $150,000 from American Family to design and staff the program. 
Urban League aims to grow the fund to at least $1 million by June 30 to begin making a combination of loans and grants to nascent "main street" minority-owned businesses in such industries as retail, food and services. To qualify for funding, businesses must be new or in their early stages and meet other eligibility criteria. 
The funding is not limited to the roughly 15 businesses that will eventually set up shop within the hub, said Urban League CEO and President Ruben Anthony, Jr., who envisions a place where other entrepreneurs can do business in hotel-like common spaces.
And while the hub isn't slated to open until next year, Anthony intends for the funds to be available sooner. The organization plans to determine the application process and timeline in the next one to two months.
"This money will give us the ability to start building that pipeline of businesses that not only will locate on the site, but businesses that might use that site," Anthony said. "This fund gives us the ability to hit the ground running and start programming and working with businesses now to get them ready to interact with the site.
"If you are thinking about starting a business, or if you are thinking about expanding your business, then you would probably want to have a conversation with us," Anthony said.
The loans, anticipated to average $20,000, will carry low interest rates. They will not require collateral, a common requirement that often prevents would-be entrepreneurs from obtaining funding from traditional lenders.
Lack of access to capital is one of the most important barriers to starting or sustaining a business. It's a hurdle that disproportionately affects entrepreneurs of color, who have less wealth on average and sometimes face outright discrimination from traditional lenders. 
Revolving loan funds aim to provide alternatives to traditional financing offered by banks and credit unions. The Hmong Wisconsin Chamber of Commerce operates one such fund, which distributed nearly $400,000 in loans last year, and the Wisconsin Latino Chamber of Commerce is currently raising money to establish its first such fund, in partnership with the Wisconsin Economic Development Corporation.
The south side economic development project, announced in July, is being led by Urban League in partnership with the Madison Black Chamber, local government leaders and others. Dane County included $2 million in its 2021 budget to purchase and prepare land for the hub's construction, which is expected to be completed next year. 
American Family also provided funding for Sherman Phoenix, the Milwaukee business incubator that inspired the local project. The local funding comes as part of the company's $105 million Free to Dream initiative, which was announced on Tuesday. Over the next five years, the company plans to invest the money in projects related to economic empowerment, education and health equity, climate resilience, criminal justice reform and workforce diversity, equity and inclusion.
It is not yet clear what part of that investment will be made locally, but Nyra Jordan, American Family social impact investment director, said company has plans for more Dane County initiatives.
"We want to give entrepreneurs of color the capital they need to lift their businesses to the next level and position them for success," Jordan said in a statement, noting that the fund could be "critical to business owners that may not be able to gain access to capital through traditional means."
"We believe this replenishing financing pool, combined with guidance and support through the hub, is an investment that will contribute to business growth in the South Side community, create jobs and drive further economic opportunity and development," Jordan said.
Urban League hopes to grow the fund through a combination of donations and matching grants. 
"Here on the south end of Park Street, this is the gateway into the city, and we have a unique opportunity to bring an economic engine together that not only will serve Park Street and Madison but will serve Dane County," Anthony said. 
"We're not there yet, so if there are philanthropic organizations that really want to see minority-owned businesses and small businesses grow, I think we have a great plan and we have some great space. And so we're just getting started. We need help."
Share your opinion on this topic by sending a letter to the editor to tctvoice@madison.com. Include your full name, hometown and phone number. Your name and town will be published. The phone number is for verification purposes only. Please keep your letter to 250 words or less.