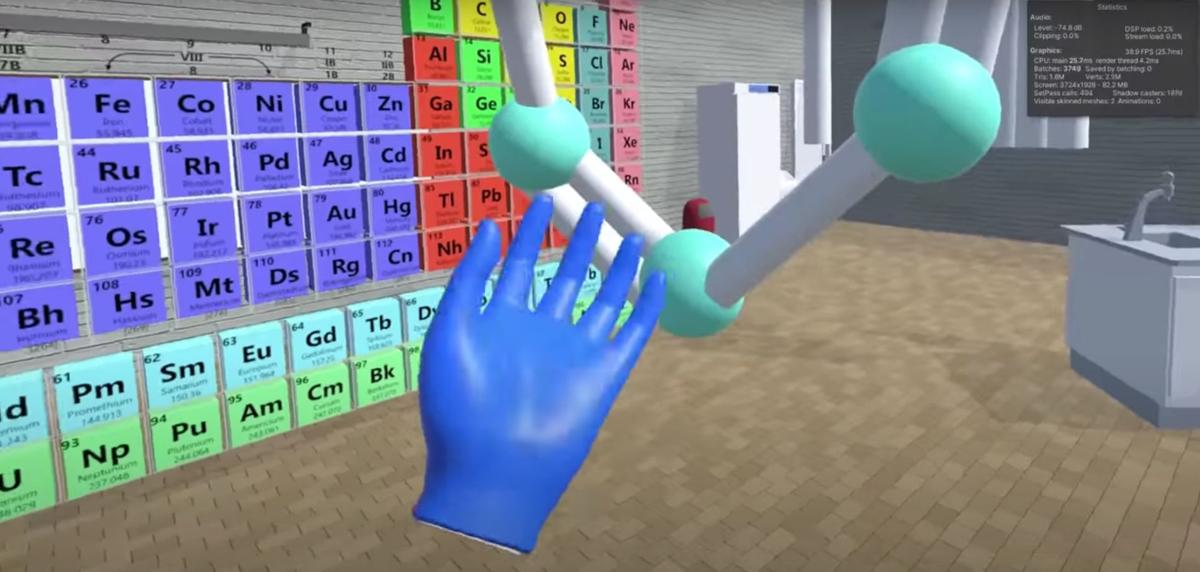 University of Wisconsin student innovators took home more than $60,000 in prizes last week for business pitches to design virtual reality science labs, teach young kids to swallow pills, and more.
Transcend Madison, the annual competition launched in 2017, is the largest student-run innovation competition in the country, organizers say. It's organized by Transcend UW, a student organization designed to bring together entrepreneurial students from all disciplines. 
Thirty-four teams competed in this year's virtual competition, presenting digital posters to the public and pitching to the judges through a video conference. Competitors were split into two categories: Early Stage, for those still early in their development process, and Main Stage. In their sights: cash, in-kind prizes including space at Madison startup accelerator StartingBlock, and some priceless recognition. 
"When you look at the Madison community as a whole, there's not a whole lot of opportunities to raise funds, especially if you're early stage," said Transcend UW President Aditya Parihar. "Transcend is one of the only ones, unless you look at certain grants in very specific sectors."
Last year's competition was canceled, as the pandemic took hold in Wisconsin just as the pre-contest activities were beginning. But organizers managed to adapt this year's event for the web, complete with a virtual poster session where members of the public wandered virtually through a series of online rooms to hear founders' innovative proposals for solving familiar problems.
Taking home the top prize in the Main Stage contest was EduReality, a startup that aims to create a virtual reality alternative to in-person college science labs. Virtual reality labs could serve more students than a physical lab might have space for and allow students to simulate using the latest technology, rather than the sometimes decades-old equipment in campus labs, said co-founder Taylor Waddell, a senior studying mechanical engineering and computer science. 
Plus, the virtual tools could let students do things that would never be possible in person, said co-founder Clayton Custer, a senior studying environmental science and computer science. "It's completely unsafe to stare up the nozzle of a rocket as it fires, but in VR, that's totally fine. You can even step into a nuclear reactor and really get a unique take on what's going on, instead of just reading about it in a textbook."
The pandemic-induced shift to remote school has only highlighted the value of virtual options. The pair, who will graduate next month, took home $15,000 and a year of membership at StartingBlock.
But it wasn't all about the prizes. "I think the biggest thing for us was the validation of our idea, that it actually had good traction," Waddell said. 
That, they said, might help them get the buy-in they'll need from professors, who would work with them to create a virtual version of their usual labs. "It's more than just some random student approaching professors. It's nice to have that at our backs," Custer said. They're aiming to start beta testing their first labs in the summer and have the first classes of students begin using the tool for labs in fall. 
Second place, a prize of $10,000 and six months of membership at StartingBlock, went to Pill Skills, a startup founded by biomedical engineering senior Marissa Harkness. Inspired by her mother, who was never able to take pills, Harkness learned that 40% of adults have trouble swallowing pills. 
Pill Skills would offer kits for teaching children that lifelong skill, before they're in a stressful situation where they suddenly need to take a new medication. The kits, filled with green sugar pills of seven sizes, offer tips on swallowing pills, as well as a log where parents or caregivers can track the child's progress. 
Harkness, also about to graduate, said she'll soon be working full time on her business. She plans to put her winnings toward marketing her product. 
"I am taking a big risk not going into industry after college," Harkness said. "I really believe strongly in my company. I know that we can have an impact and really improve and change the lives of children."
Third place, a prize of $8,000 and six months of StartingBlock membership, went to Agrowhere, a startup that would shoot aerial images of fields, allowing farmers to track flooding and provide evidence for insurance claims. 
Win or lose, organizers try to ensure that competitors leave the competition better off than they started. Before the competition, contenders enroll in preparatory seminars and coaching sessions, and the organization offers resources and networking opportunities throughout the year. 
"The goal for Transcend UW is fostering an entrepreneur community here," Parihar said. "Being able to see those success stories, among others, and knowing that you were part of the platform that kind of gave them that initial launch, that's just incredible to see."
bit Beauty would create customized makeup using artificial intelligence. The company would use software to scan a customer's face to determine their exact skin color, saving customers from having to wade through myriad swatches in hopes of choosing the right foundation color.

CorrectWorker would offer a customer review and hiring app for self-employed tradespeople in Nigeria or other countries with large informal economies, increasing customer confidence and allowing tradespeople to build their professional reputations. 

Bus Buddy would create a more accurate bus-tracking app using data from the buses themselves, rather than user data. Madison's Metro Transit already lets users track its buses through its website, but Bus Buddy would turn that data into an easy-to-use, mobile-friendly app.
Share your opinion on this topic by sending a letter to the editor to tctvoice@madison.com. Include your full name, hometown and phone number. Your name and town will be published. The phone number is for verification purposes only. Please keep your letter to 250 words or less.