Kraig Kalka and Ken Brown, neighborhood officers in the central police district, rolled slowly down State Street on Wednesday looking for anyone who might be homeless.
But State Street, normally bustling with students and pedestrians on a Wednesday afternoon, was a ghost town of mostly shuttered restaurants and stores. On a normal winter day, Kalka and Brown see about a dozen homeless individuals. On Wednesday, as temperatures plunged below negative 20 degrees with wind chills in the negative 40s, they saw none.
"The collaboration that has happened in the last couple of years between the city, all entities: The Beacon, First United Methodist, Friends of State Street and everybody, that stuff is working," Kalka said. "Our folks are somewhere right now. They're somewhere warm."
Homeless service organizations are grateful for the community effort to house the homeless, but the demand is also a reminder of how many are in need. 
As Kalka said, some were at First United Methodist Church, at 203 Wisconsin Ave. The church opened up its doors as a temporary day shelter last week to help accommodate crowds at The Beacon, the city's homeless day resource center.
"We have families, we have singles, we have some folks with the flu, we have some folks who had a stroke last week. We've got babies," said Karen Andro, director of Hope's Home Ministries that serve the homeless at First United Methodist Church.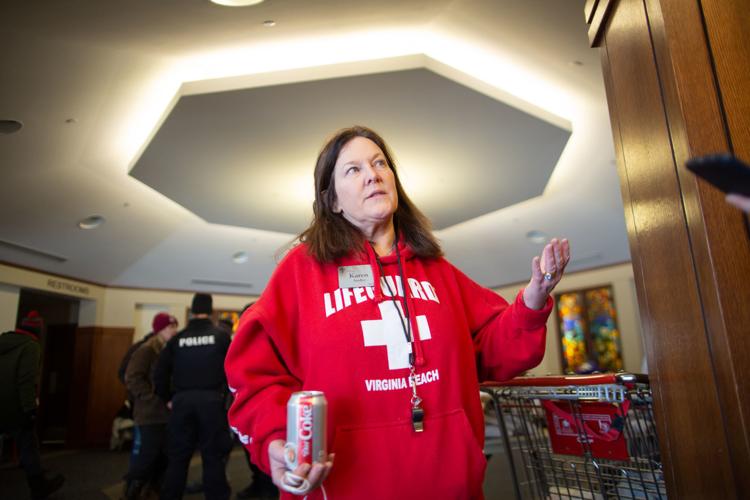 In the church, toddlers played on a blanket and gazed up at a TV playing the movie "Happy Feet." Families could pick up pizza, oranges, apples, bananas and cookies and sit at round tables to chat or rest. Andro gripped a Diet Coke in one hand as she was approached by an endless stream of volunteers and patrons with questions.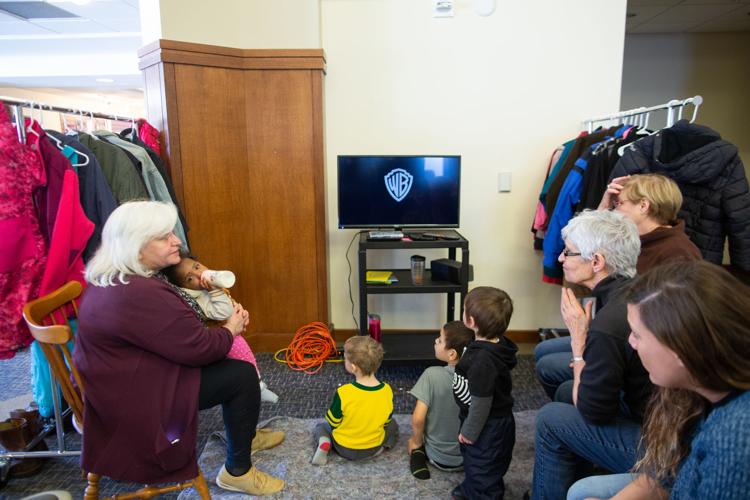 Walking into First United Methodist Church, Kalka had an easy rapport with the individuals there, many of whom he already knows and recognizes. "You staying warm?" he asked a passing visitor.
'He's awesome," said Veronica McMurray. "He always comes to the Beacon all the time."
McMurray's been homeless for about a year, and she's been staying at the Salvation Army at night. She's missing her service dog, a German Shepherd mix named Bella, who she had to temporarily put in a foster home because of the cold and restrictions on dogs.
"I'm stressing out because I don't have her right now," McMurray said. "I have seizures … PTSD, depression, anxiety. So it's really tough right now."
Will Wideman moved here from Chicago three months ago, and has spent the last two months in a housing limbo, staying in hotels when he could afford it. He's finally found housing, but it won't be available until the first of February, so he's grateful for the supplies he got at First United: toothpaste, a toothbrush, gloves and socks.
"That comes in handy. Every little penny that you can save helps," Wideman said.
John Patt was evicted in 2012 and has since bounced around friends' houses and homeless shelters, and motels when he was working full time and could afford it. He normally hangs out at the library, but as it was closed Wednesday, he came to First United.
"There's a room with root beer floats coming, but only in Wisconsin do we get that when it's minus 20," Patt said with a laugh.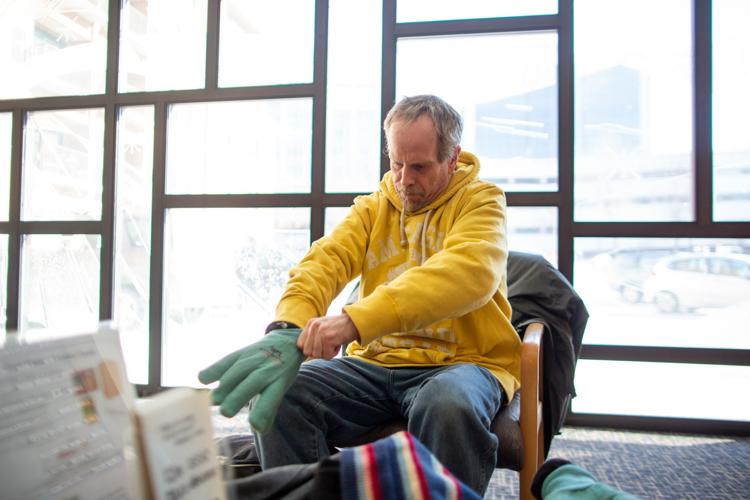 The Beacon was also busy Wednesday, though clients were "upbeat for the most part. I think people are just glad to have a warm place to go," said Nici Hawkins, receptionist and coordinator at the Beacon.
"Thank God First United Methodist opened up, that helped us out considerably," Hawkins said.
Around the room, adults knitted, ate, sat with headphones plugged in, chatted or played chess.
"This ain't for a stick up," one man at the Beacon joked, pulling down his facemask. "This is for the cold."
Others were sheltered from the cold at Lutheran Social Services' Off the Square Club at 4 N. Hancock St., a daytime resource center for individuals experiencing mental illness or homelessness.
While there were less people in the building Wednesday than normal — they encouraged all their housed clients to stay home — they're plenty busy, said Carla Williams, a case manager. Like the Beacon, they extended their hours so no one is stuck in the cold during the gaps before and after the overnight shelters open. They're distributing coats, hats and scarves. They're checking their clients for signs of hypothermia, like watching for nonsensical speech.
"The numbers might not seem like we're busier, but we're runnin'," Williams said.
Jeff McDuffie is the cook and dishwasher at Off The Square, and on Wednesday provided a hot lunch of peas, barley, potatoes, pork chops, mac n' cheese and Spanish rice for the 40-some attendees. He used to be homeless himself, and he remembers trying to make it through the cold.
"You just wanted to cry," McDuffie said. "It was just unbearable … It was just miserable being by yourself, being cold, being homeless, nowhere to go, no one wants you there."
Because Off the Square clients suffer from mental illness, some feel too vulnerable to spend the night at a homeless shelter, where they fear they will be preyed upon, Williams said, but she made clients promise to use the shelter just for a night or two.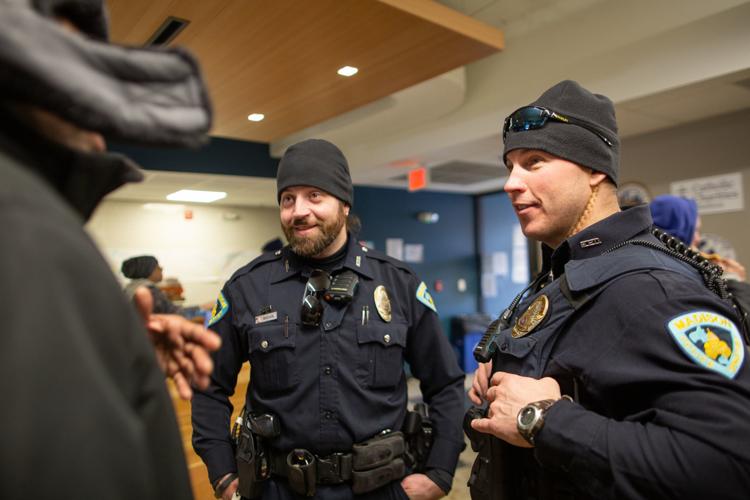 Officers Kalka and Brown also occasionally come across an individual who doesn't want to go to a shelter. They always offer to drive them to nearby day shelters, but will offer another public place, like a coffee shop, as an alternative. If someone on the street really won't accept any other help, Kalka and Brown can offer up winter gear and blankets.
Michael Moody, guest services specialist at the Beacon, said there have been some cold weather consequences. On Wednesday, the Beacon had someone come in with hypothermia, and there have been several individuals with frostbite who were taken to the hospital.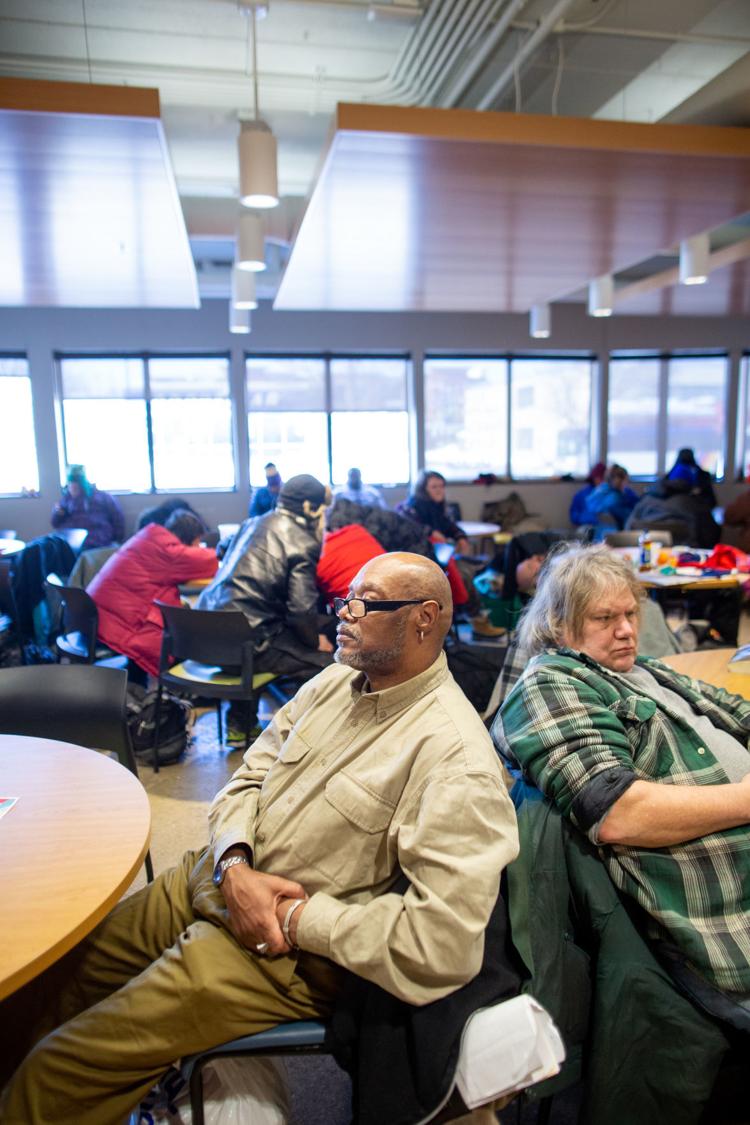 But on a positive note, Moody gave credit to Beacon director John Adams for helping coordinate with other community members and agencies like Porchlight and the Salvation Army.
"This is some of the most integrative and cooperative effort I've seen in our community," Moody said.
He pointed to donations like socks, sleeping bags and long underwear. Papa John's called the Beacon to make sure there was enough food, then donated some pizza. Madison Metro is helping transport people from the day to night shelters. There are the store owners who are "very understanding," Moody said, and will let individuals warm up without buying anything.
While Sabrina "Heymiss Progress" Madison, founder of the Progress Center for Black Women, is grateful for those who serve the homeless, she's angry at the systems that continue to put families in shelters in the first place.
After a homeless woman in distress posted her experience on Facebook, Madison and Michael Johnson, CEO of the Boys and Girls Club of Dane County, teamed up to find overnight housing for people for whom a shelter isn't a good fit, like people with health issues and kids, Johnson said.
The Fluno Center ended up providing two rooms. The Moore Foundation, from UW Men's Basketball Assistant Coach Howard Moore, funded another five rooms. They raised over $5,000, housed 21 adults and kids and are still raising funds.
Though their effort was successful, Madison went to the Salvation Army to find families in need of a room, and "just seeing it up close like that right now with it being so cold was just really heartbreaking and angering," she said.
Some of the families were working 9 a.m. to 5 p.m. jobs, she said, but still couldn't afford housing. Some had been in shelters for months. They told her, "We want to feel normal too."
"It just kind of made me feel like we all failed," Madison said.
She encouraged everyone to push back on changes to Wisconsin tenant-landlord law and advocate for Housing First policies, and then give those projects — like Tree Lane Apartments — time to work out.
"We do a lot of talking and we have not solved this," she said.