Sarah Lawton, supervisor at Madison's Pinney Library, can't wait for the new  building to open next spring. While "amazing things" happened at the old Pinney Library, space was limited, she said.
"We have amazing staff who have been doing so much work in such a kind of substandard facility," she said. "To be able to have our talented librarians and library staff paired with an incredible community and a new facility, I just think the sky is the limit."
Next spring, the third-busiest library in the city will open a brand-new facility. It will be housed in the Royster Commons development at the corner of Dempsey and Cottage Grove roads. The building includes 16,000 square feet of commercial space and 86 apartments.
The $10.2 million library project will result in a 20,000 square-foot space, significantly bigger than the old 12,000 square-foot area. The new space is meant to promote community, early literacy and play.
It should also better balance Madison's public library system, said Jenni Jeffress, executive director of the Madison Public Library Foundation.
"We have a great Central Library. We've done a lot of work on the south side and west side," she said, pointing to Sequoya, Meadowridge and Goodman South Madison as relatively new or remodeled libraries.
"I think the east side hasn't seen the same improvements in libraries," so the new Pinney Library just makes sense, she said.
Construction on the interior of the building started in April, and the library hopes to open in the spring of 2020.
Near the entrance will be The Studio, which Lawton called "one of the most exciting things about the new library."
While it may host artists in residence, like the Central Library's Bubbler, Lawton said, "we don't want to build a makerspace, we want to build a space that's flexible that can be whatever it is our community wants it to be."
The room will be equipped with a utility spray sink and cork flooring making it amenable to arts and crafts, Lawton said, but other activities in the room could include back-to-school health screenings, resource fairs, interactive displays or an afterschool space for teens.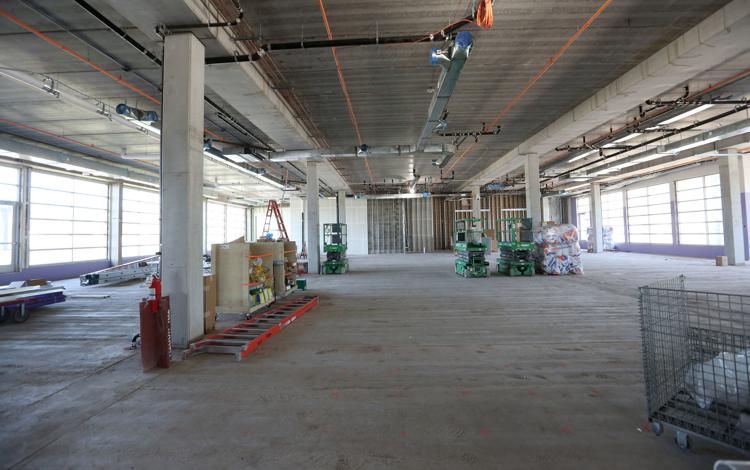 Unlike the old branch, the new Pinney will be a dedicated children's area, which will be screened from the rest of the library with glass decorated with colorful vinyl illustrations.
It includes a separate children's program room great for story time, craft projects and children's performers, Jeffress said, as well as an early childhood area PlayLab.
The PlayLab will be a space for kids to interact with equipment like cubes and ladders to develop gross-motor skills. Part of the PlayLab will feature AnjiPlay, also utilized by One City Schools, which encourages "real play" — play for its own sake, and not "false play," or adult-directed play. At One City, kids are given materials like barrels, ladders and planks and largely left to their own devices.
There are five important practices to foster early literacy, Lawton said: reading, singing, talking, writing and playing.
"Play is the most easily accessible, because play is something that everybody participates in, in every culture," she said. "We see play as really being a gateway into all the early literacy and learning practices."
The kids' area will also feature a special display of Spanish-language picture books, "really reflecting the fact that the Spanish-language speaking community on this side of town, the numbers have just increased astronomically," Lawton said.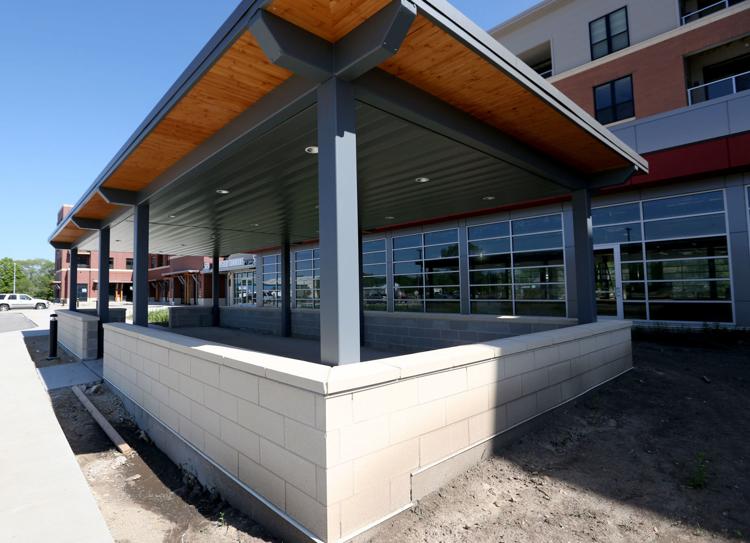 In the planning stages of the library, community members asked for an enclosed quiet reading room, a better children's space and a community room, Jeffress said, and the new library fulfills all those requests. It will also contain several study rooms and a family study room for parents who need to get work done with children.
The library will have public desktop computers and laptops. There will also be a business center where patrons can make copies, print documents or ask for help on a resume.
There will be new, easy-to use self-checkout technology, Lawton said. All library restrooms will be unisex, individual restrooms.
There will also be an outdoor garden and patio area with a bike pavilion, along with the first drive-through book drop in Madison.
A large community room will be able to seat about 100 people, and will have a camera system connected to Madison City Channel, meaning large public meetings like City Council meetings could be held there.
"It really expands access to government on the east side," Lawton said.
Construction on the building is slated to be done by the end of 2019 with furnishings and equipment to go in at the beginning of 2020. The goal is to move in by March 2020, Jeffress said.
The foundation still has $238,000 to raise of its $1.6 million goal, Jeffress said, which will support construction, programming and an endowment for Pinney.