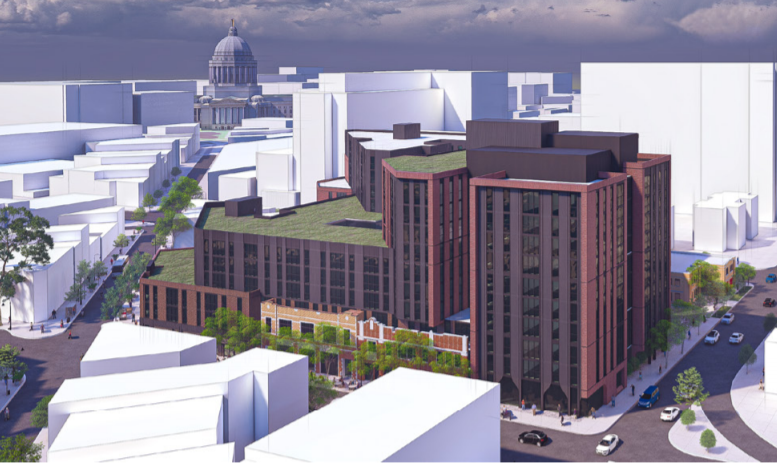 With its $100 million proposal for the 300 block of State Street, Core Spaces, a real estate development firm specializing in apartment buildings near college campuses, is talking about affordable student housing in a new way. But the model it's using has some wondering who will benefit, and how. 
Core has built other projects downtown: The Hub at 437 Frances St. and The James at 432 W. Gorham St. But the Chicago-based firm recently suffered a setback with a proposal for 126 Langdon St. A proposed student housing building set for that historic area was twice denied by the Plan Commission.  
Ald. Mike Verveer, who represents much of downtown on the City Council, said in February that he advised the firm to include a plan for affordable rent in order to help win approval, particularly given the city's traditional reluctance to back the development of tall buildings downtown. 
"I told them having affordable housing is the only argument I can see that will get them that excess height," Verveer said at the time. "The need is well established and even more critical for downtown, and one area that has received very little attention is affordable student housing. Affordability is huge." 
As Madison deals with a housing supply shortage, rents continue to rise. The issue of affordability has come up in many city discussions, including those about an elusive permanent men's homeless shelter,neighborhood gentrification to racial disparities. 
Core Spaces' current proposal includes designating 10% — about 100 — of the beds in the building, as opposed to entire units, as affordable. 
"The whole concept of student affordable housing is new to Madison and kind of new in general," said Mark Goehausen, senior development manager at Core Spaces. "It's one thing to tie qualifications to affordability like Area Median Income but when it comes to students most have an income of zero. So, we're working with the city and the university's office of financial aid to figure out what student affordability means." 
Goehausen said Core considered setting aside affordable apartments, but that plan didn't fit the firm's vision for allowing tenants from different socio-economic backgrounds to live together in a single apartment. Instead of all roommates in a unit signing a single lease, tenants will have their own leases and apply for the affordable spots individually. 
"In a four-bedroom unit, it's four different leases," he said. "So we figured that made the most sense in terms of dedicating it by the bed." 
Goehausen said Oliv's model of affordability will allow students to remain anonymous when paying a reduced rate for their bed while allowing those students to room up with friends who are paying market rate. 
"We proposed by-the-bed to give flexibility so that if I'm a student who qualifies for lower rent but wants to live with my three buddies who can afford it, I can," Goehausen said. "Privacy is also an issue. My roommate is none the wiser that I'm paying lower rent." 
Goehausen agreed that dealing in affordability means different things to different people and sometimes relies on government definitions. When policy makers and developers use the term affordable housing, the immediate question is often affordable for whom? 
"We're not calling these affordable beds, we're calling them beds for students from moderate to low incomes," Goehausen said. "Affordable housing has all these ties to HUD and AMI (area median income) and we're trying to not use the words affordable and use 'Students from lower incomes.'" 
Generally speaking, an area's average median household income is used to determine what is deemed affordable. For example, a 7-story, 195-unit building may set aside 50 units at reduced rent for tenants making less than 35% of Dane County's average median income. If the AMI  is $75,000 per year, someone who makes $26,250 (or less) would qualify to rent those affordable units. 
But how is affordability measured for students, many of whom have zero income? Goehausen said his firm is working on that. 
"We're talking about qualifying it through the UW," Goehausen said. "So students on Pell Grants or who meet qualifications. So something that's agreeable between Core Spaces and the city of Madison and the university. We can do things like not requiring a security deposit or down payment. That can make a big difference. Not putting down x amount of dollars at the beginning of your lease means that those x amount of dollars can be spent towards things like meals. We're at the starting line of all these conversations." 
Amol Goyal, president of the Campus Area Neighborhood Association, said the proposal has its benefits as well as drawbacks.  
"Yes, it does provide confidentiality and helps motivate the interaction of communities on campus which have typically been segregated. I appreciate that," he said. "Having said this, I want to draw the community's attention toward DACA recipients and low-income international students, who are not eligible to file the FAFSA. To truly create an inclusive living environment, I think it would be critically important for Core Spaces to include such students and commit to protecting them financially, throughout the year."
According to a UW-Madison spokesperson,  the affordable housing framework used in real estate development does not apply to on-campus student housing. 
"Rooms within University Housing are open to all students," Meredith McGlone said. "There are no designated 'affordable' rooms. We provide financial support to students not by adjusting the cost of the room in housing but through the student's financial aid package. The Office of Student Financial Aid includes housing and meal costs in the estimated cost of attendance." 
According to McGlone, for the 2018-19 academic year, one-third of undergraduates received need-based financial aid, (non-need-based aid includes athletic and academic merit scholarships). 
Goyal raised a concern about discounting a high-rent apartment vs. setting rent at an affordable price. 
"According to the letter of intent (Core) submitted on May 4, 2021, they want to set a discount rate of 30-40% on the standard Oliv Madison rent," Goyal said. "Although the letter also references that the UW suggested cost-of-attendance-budget is $900 per month, that is not the same thing as the rent that Core Spaces decides, which could be lower, the same, or higher." 
Kurt Paulson, a UW-Madison professor of urban planning, said Core's model is not one he's ever seen. 
"Because housing is part of the cost of attendance, a student whose family would qualify for any of the grants such as Pell Grants would, I'm guessing, already have some sort of aid component that covers not just tuition and books, but room and board," he said.  
According to Paulson, the idea of adding affordable housing is great, but combining that with college student need is more complicated than Core is making it out to be. 
"That's why I'm confused about this proposal. Traditional affordable housing — whether HUD programs or low-income housing — exclude full-time students under the age of 25 because, presumably, if the household qualifies it's on the parental income and not the student individual income," Paulson said. "I'm confused about what this company is proposing because I don't know how it interacts with financial aid with family income and cost of attendance." 
Paulson said adult dependent children under 25 are excluded from traditional affordable housing that is subsidized by HUD so that families are living there, not individual students.  
Goehausen said Core's proposal is not finished and many of these details, including those addressing affordability, will be ironed out as the firm continues its discussions with the community and the university over the summer.  
"The UW, I think, is excited," Goehausen said. "They've been positive about the need and excitement of what will be a Class A building in Madison being made available for people who can't normally afford it. Everyone acknowledges how expensive it is for students to live in Madison. There is certainly a need for this. 
"Anything that's erasing barriers between socioeconomic classes is a good thing for everyone."