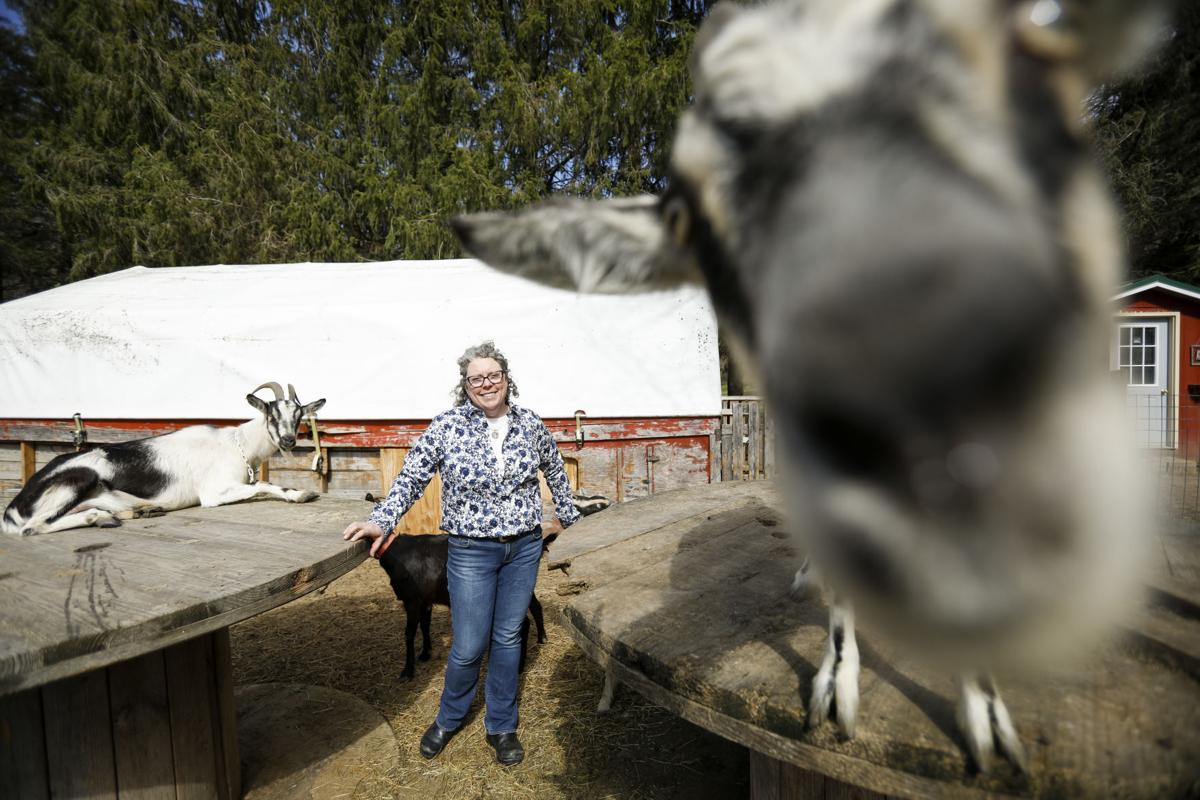 It started with a goat named Bella, later renamed Alphabella. 
Janelle Holmstrom, a Louisiana native who'd spent several years in Indiana before settling in Mount Horeb, had just moved to a piece of land that checked all her boxes. It was her dream farm, five acres just outside of town, complete with a creek and space to start a community garden. 
Soon, the stay-at-home mom and self described "health food nut" found herself buying a goat — the next step in her quest to supply her family with raw milk. 
"I just kind of jump headfirst in everything I do in life," Holmstrom said. 
She bought Bella, a young goat nanny pregnant with twins, from a friend who was teaching her the ins and outs of goat husbandry. For years, her family drank the milk and made cheese.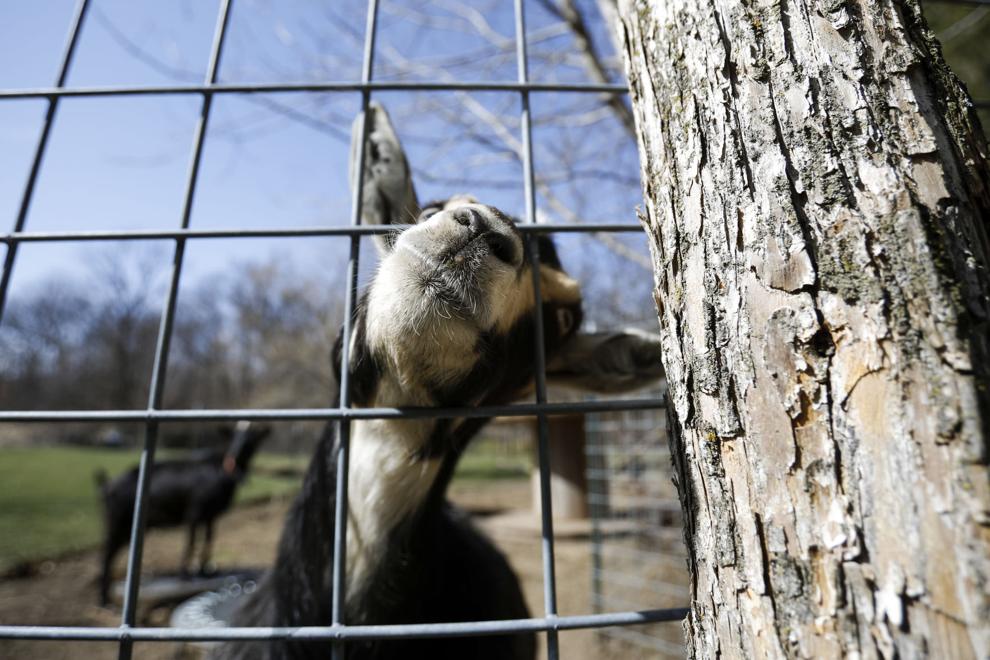 One Christmas, when a friend gave her a kit for making goat milk soap, she shelved it, scared to try to get her hands on the one missing ingredient: lye. Also known as sodium hydroxide, lye is caustic and can cause chemical burns to skin and eyes. And while it was once common on supermarket shelves, it's harder to find these days — likely because it's also used to make methamphetamine.
The kit sat on the shelf for years, but "it kept niggling at me," Holmstrom said. Then, in 2010, a local soap maker showed her the soap ropes.
"I was smitten and never stopped … I just fell in love with the art of it," Holmstrom said, enthused by the various scents, textures and colors she could combine.
Within a year, she said, "we had enough personal soap to last a lifetime." She gave homemade soap to friends and family, who always asked for more, but soon she'd made far more than she could ever give away. So she launched a business.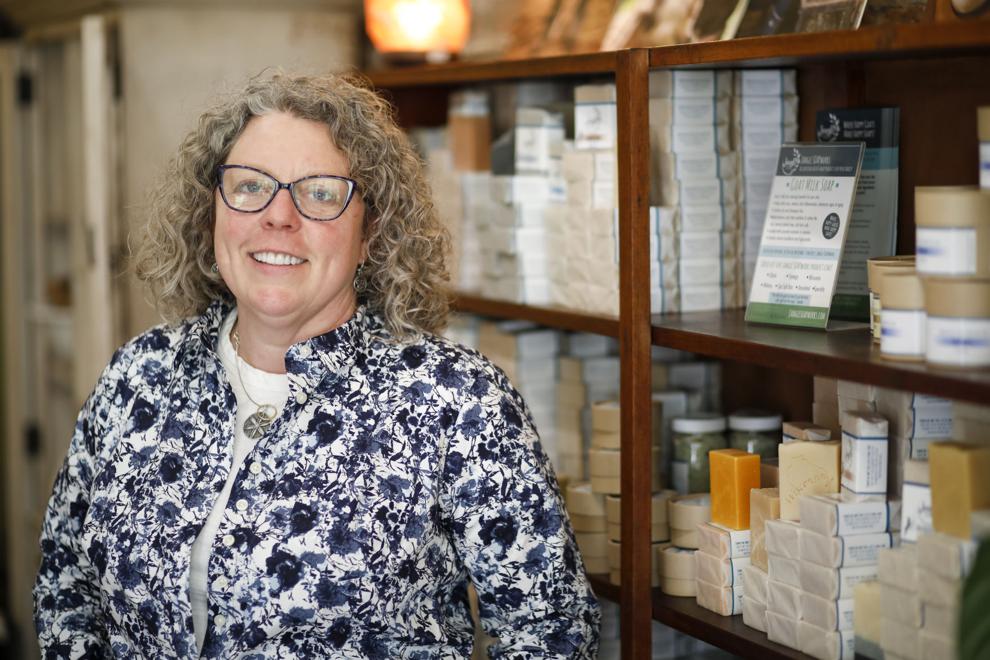 For nearly a decade, Holmstrom has run Jangle SOAPworks, selling her soaps, body butters and deodorants in nearly two dozen shops across the region. Now, for the first time, Holmstrom will run her own brick-and-mortar home for her line: Jangle Natural Living in downtown Mount Horeb.
Today, the goat herd is up to eight, with several goat kids on the way. Holmstrom names each year's offspring for a different letter of the alphabet — hence the first goat was rechristened Alphabella — so this year's babies will get names that start with "R." She still milks the goats each morning, filtering and freezing the signature ingredient in her soaps.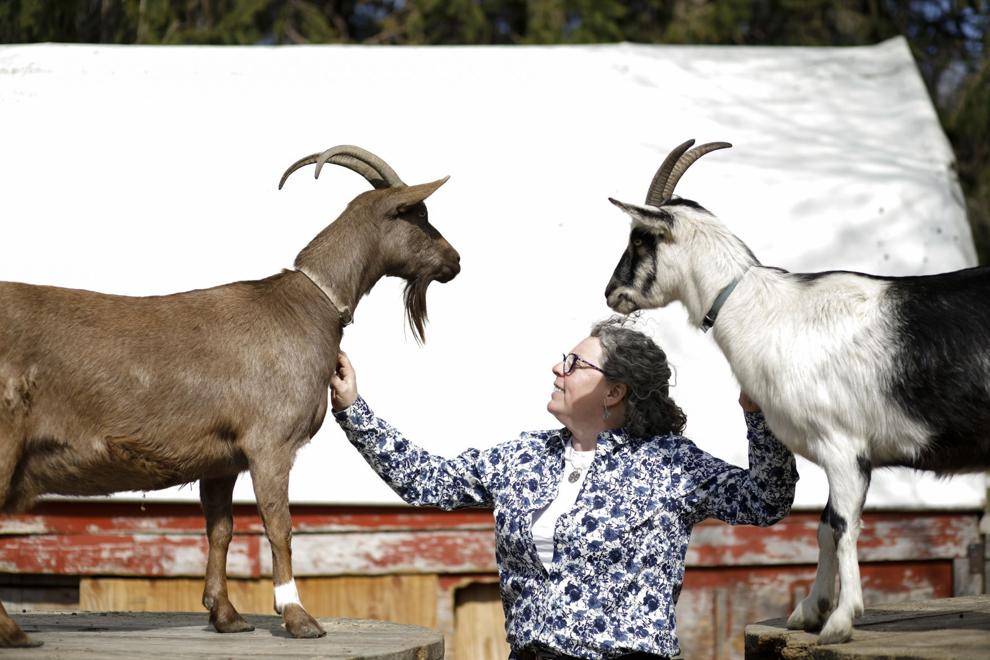 And her soap offerings have grown too. There's the Wisconsin line, whose bars honor the state's signature plants and products. The line features bars made with wood violet, sugar maple, birch and even cheese, all stamped with a silhouette of the state. There's the beer-infused "Local Brew" bar, made with just enough added whitener to give it a frothy-looking head. She even makes a "Muskie Fisherman's Soap," the only one in the line that doesn't contain the thing it's named for.
"I promise there's no muskie in your soap," Holmstrom says with a laugh. Instead the bar follows the tradition of fisherman's soaps, scented with anise to mask human scent when anglers are baiting their hooks, and to take fish stink off hands after cleaning the catch. 
And Holmstrom, who's sworn off synthetic scents and colors for all her products, is partial to the unscented line. The smells she experimented with early on in her soap making adventures gave her headaches and made her throat burn, she said, and she worried about the repercussions of applying such chemicals to the body's largest organ. 
"I quickly had to make a hard commitment to myself and my customers that I would be not persuaded," Holmstrom said, explaining that she turned down a lucrative offer from a wholesale company that wanted artificially-scented soaps. For years, she's used only essential oils and naturally-scented ingredients.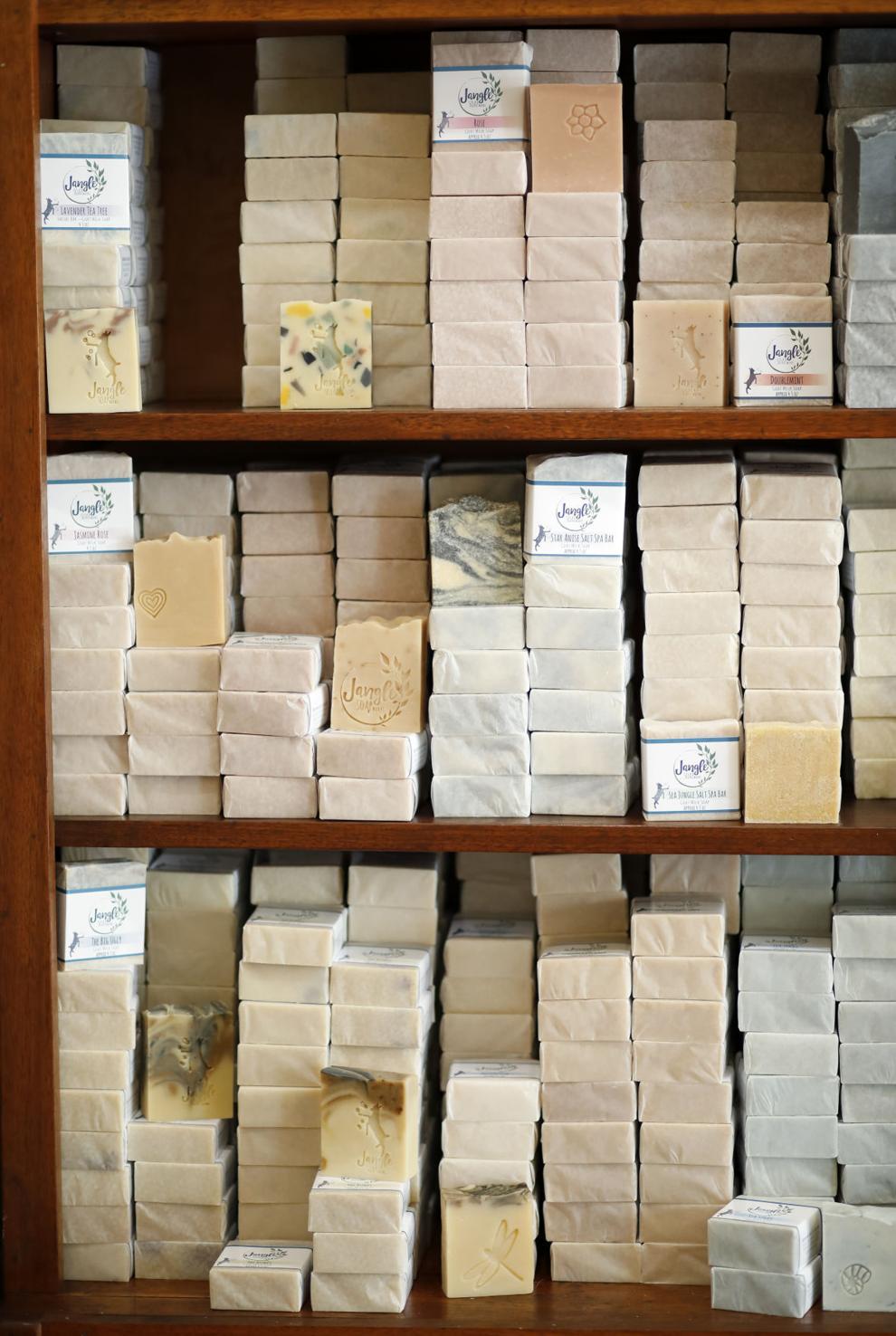 "It's a strong bias, and I'm sticking to it," she said.
She makes a range of other products too, including body butters, lip balms and lotion bars. Those don't contain goat milk, she said, because they don't contain the lye that would preserve it. She even spent two years devising her own deodorant formula.
Though the business has grown, Holmstrom still makes all her products in her "soap studio," a second kitchen in her home, with a refrigerator full of goat milk. 
But while Holmstrom's soaps used to cure for months in her own basement, they now have a new home: 132 E. Main St. in downtown Mount Horeb. It's the former home of Isaac's Soaps & Antiques, which stocked Jangle soaps for years. 
Looking for an opportunity to interact more with her customers, Holmstrom (a self-described "extreme extrovert") and her husband Scott purchased the 12,000 square-foot building, which housed both a soap shop and a massive antique mall, when the owners retired last year. The soap maker never pictured herself in the antiques business, but the two opted to keep the enormous furniture-filled community institution open.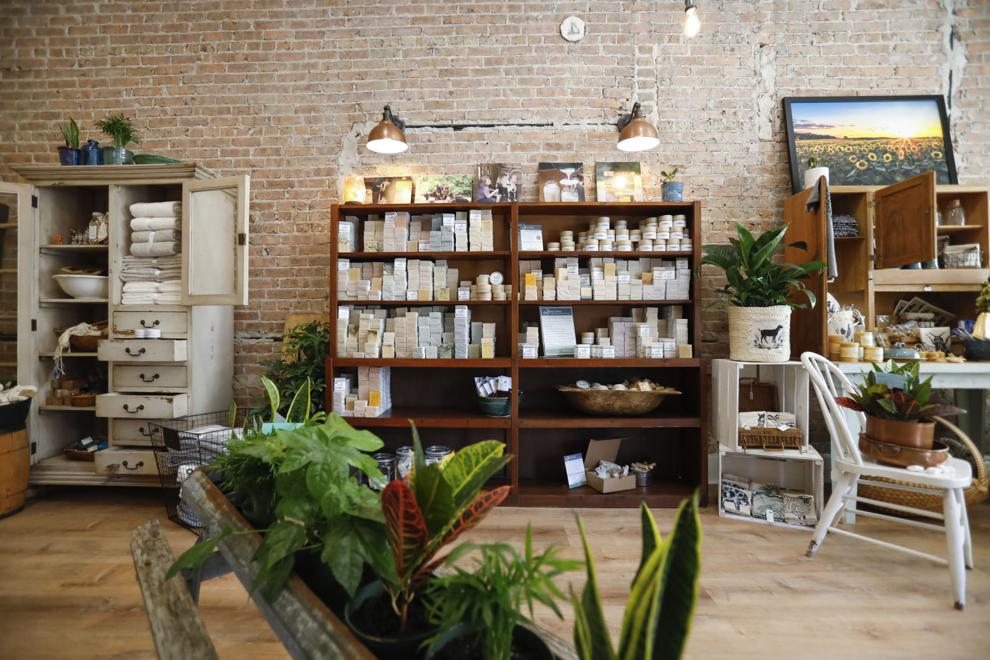 "People thought we were either brave or crazy — I'm not sure which side of the fence we fell on — to buy into this adventure during the pandemic when some buildings and retails were closing down and selling," Holmstrom said. 
Now, after months of learning to run the antiques mall, Holmstrom is ready to open the shop that drew her to the building in the first place. The shop will stock Jangle soaps as well as local art, baby gifts, natural home goods such as organic linens and bamboo toothbrushes, and local body products — as long as they meet Holmstrom's rigorous standards.
The shop opens Saturday. They'll mark the grand opening with a street-wide party on April 17 and 18, officially inaugurating Holmstrom's two shops and two others as well. Eventually, she'd like to start manufacturing at the downtown building and offer soap making tours.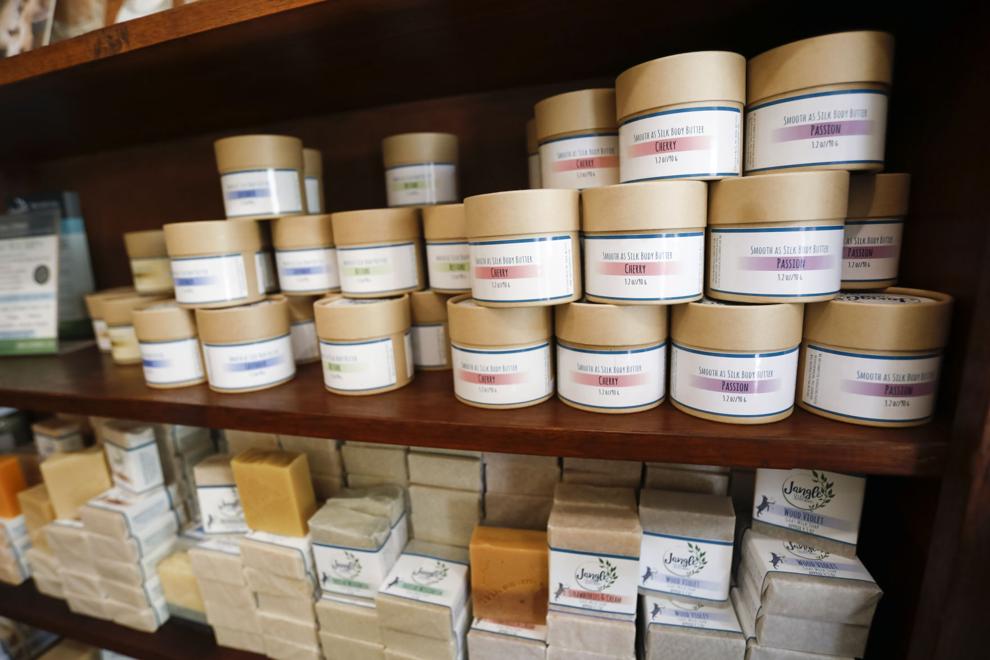 The business is a family affair, Holmstrom said, with her daughters helping wrap products and her husband and son renovating a cabin that might one day be her soap-making center. Still, she won't let anyone else make soap, as it's easy to make a mistake and ruin a 60-pound batch.
"I have so much pride in my product, and I want things done exactly the way I want things done," Holmstrom said. "If I keep growing, I'm gonna have to let somebody in to help me, but right now I'm the sole maker."
While some of her best customers are from a younger generation excited about sustainability and environmentalism, her kids aren't yet fighting for a spot in the soap studio. 
"Sometimes they tease me with my weird ways, and I always tease them back that someday they'll be weird just like me."
The four questions 
What are the most important values driving your work?
I thrive on honesty and authenticity, just being true to oneself and showing up to do the right thing, without being scared to do it, even if it feels scary. Family is important to me. And, of course, environmentalism is super important to me. I recycle everything and try to minimize things. 
How are you creating the kind of community that you want to live in?
I'm very honest, very frank and very blunt. When people meet me or work with me, they know who I am. There's no pretense. I won't beat around the bush, and so I want you to be the same with me.
What advice do you have for other would-be entrepreneurs?
Take a risk. Follow your gut. I don't let the naysayers get you down. Jump out there: We only have this chance once, and if you make a mistake, that's still a learning experience.
Actually, I think there's a spot for one more person. Our team is growing now that the store's opening and I am hopeful that I won't be having to do it all and I will let some of my responsibility go. 
Share your opinion on this topic by sending a letter to the editor to tctvoice@madison.com. Include your full name, hometown and phone number. Your name and town will be published. The phone number is for verification purposes only. Please keep your letter to 250 words or less.