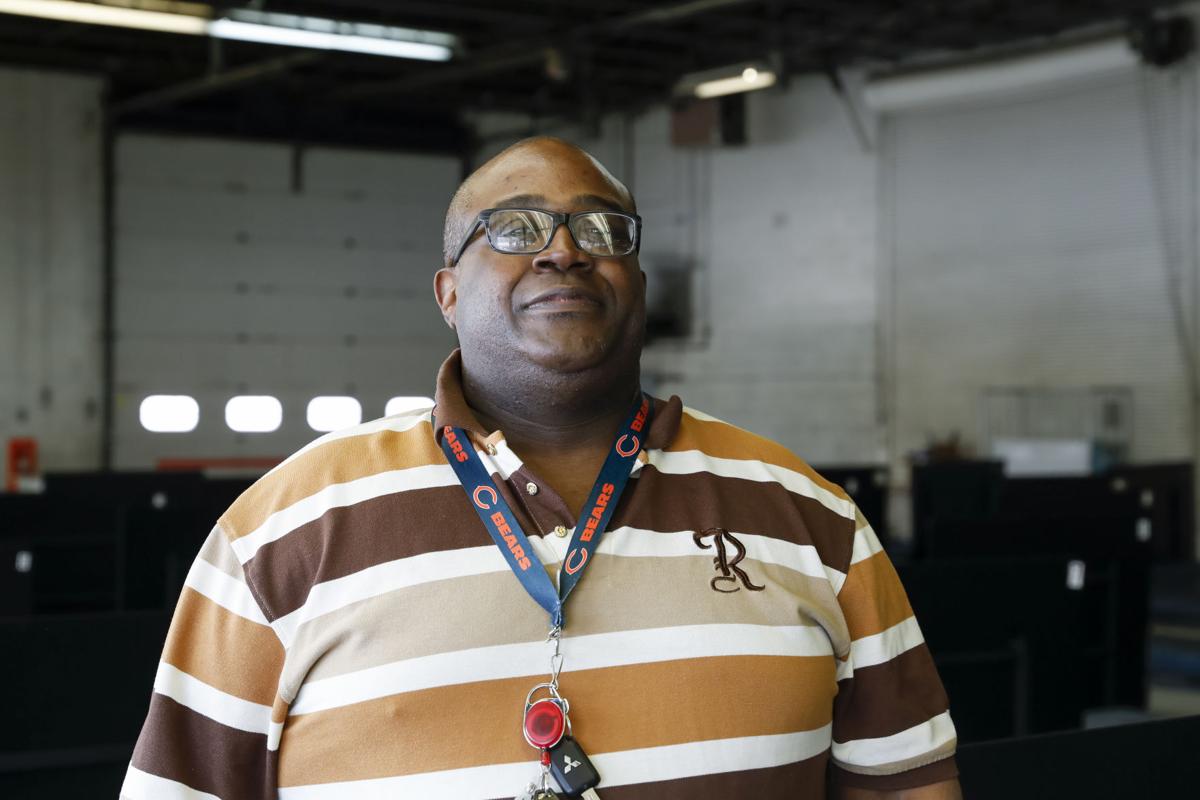 During the past year, Porchlight's men's homeless shelter had trouble finding a home. COVID-19 forced it from tight quarters in three downtown church basements to temporary quarters at Warner Park. Then the city moved it to the cavernous former city Fleet Services Building at First and East Johnson streets, where it resides now.
Later this year, if all goes as planned, the shelter will move again, this time to the former Savers store on Thierer Road on the far east side.
One constant has been Preston Patterson, who has run Porchlight's drop-in shelter since 2009. Patterson formerly worked in real estate and hotel management, and while this is not the career he envisioned, it's one he embraces.
Paterson, 54, starts his day from his home computer at 1:30 p.m., then ends it 10 1/2 hours later after working an eight hour shift at the shelter.
Patterson talked to the Cap Times about how he fell into his job, the challenges of running a shelter during a pandemic and this upcoming move.
How did you get into this line of work?
I was actually collecting unemployment in 2009, and I called Daniel Barnes (Porchlight director of finance) to see if he had any work at the shelter. Lo and behold, somebody had just quit the night before. I've been there ever since.
How has it been running the shelter during COVID-19?
It was an abrupt change from how we operated. We had people just come right in before. Now they have to go through screening with our health assessment team, go through health assessment protocols, get their temperature done and all that. We hired two people for health assessments, so that's one step before you actually get into the building. And if you're symptomatic you're diverted to a part of the building where you can't contaminate anybody.
How did your guests deal with the change?
At first they were kind of upset about it. It was a little hard to get them to do it. After a while it's like, "OK, well, we have a place to stay." It's a 45-second or one-minute interview, they scrub their hands, sanitize, take their temperature. They got used to it pretty quick.
How many have tested positive so far?
Less than 15. I feel safer coming here than I do going to the grocery store.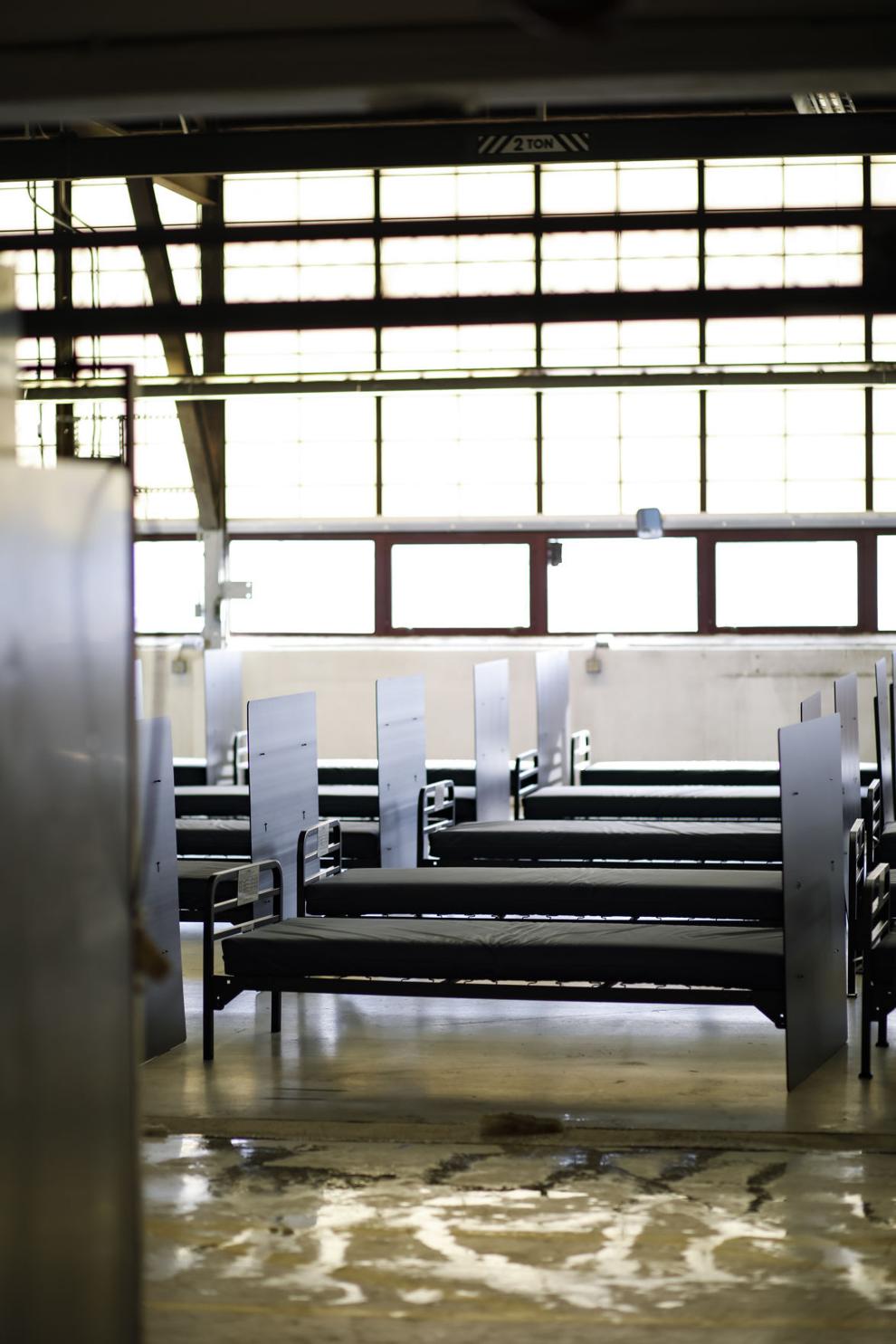 Have you had some of the same people here the whole time?
Yes we have. Surprisingly though, our (COVID) numbers haven't spiked. And actually, there are fewer people. A good number of our guys are in vulnerable population hotels — people over 65 or people with serious health conditions. That's 40 to 50 regulars. Our numbers right now are about 25 to 30 people less than at this time last year.
How many currently sleep at the shelter?
Did your numbers go up during the cold snap?
Surprisingly, no. It's kind of weird. I think what happened is that when it gets cold outside people get more generous and let people stay at their house. In fact, the coldest day we had less than 100 people.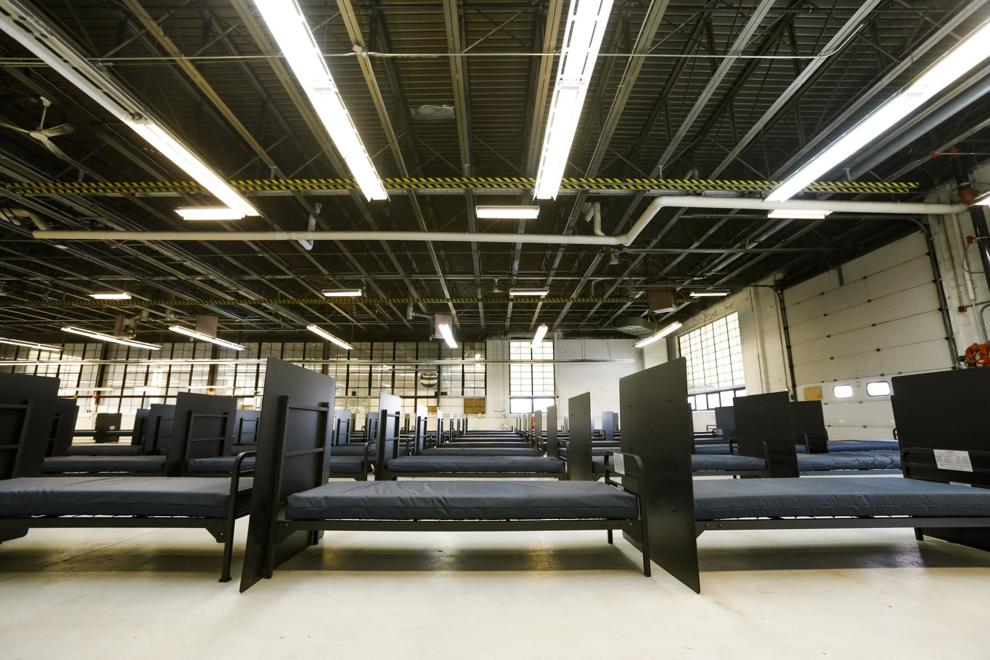 The current space looks like the perfect spot. Is this the best place you've ever had for the shelter?
Hands down. This is a dream come true for me. I've been working here for 12 years, and they've been talking about a new shelter since the third year I worked here. I always wanted to see what life would be like working in a shelter rather than working in three different church basements, which we were doing up until last March. We were at Warner Park for seven or eight months. Warner Park was a heck of an upgrade, but this here is beyond my wildest dreams.
Does the new site pose problems because of its location on the far east side?
We are in discussions right now as far as what we are going to do about transportation. Being 10 blocks from the Beacon (a day shelter at 615 E. Washington Ave.) is ideal. We shuttle people back and forth. We're talking about 6 miles from downtown to Thierer Road. So there's a transportation piece that we're going to have to figure out. Eventually they want all the services to be out there in the same place. 
What's the biggest challenge of your job?
It's not a one-box-fits-all situation, especially with behavior. You see different behaviors from different people. Can we do the same thing with this person that we did with that person? Nine times out of 10 you can't.
On top of that, it can be the same person that shows one behavior one day and the next day they show a different behavior. So you always have to be aware.
What's the biggest reward?
The top reward is getting somebody into housing. There have been quite a few guests that, while they were here, they seemed like they didn't really care for the rules, didn't care for me. But this is a very tough life. Everybody gets kind of caught up in survival mode, so they react to people differently and they certainly react to an authority figure, or who they think is an authority figure.
Sometimes a person will come back years later and they'll tell me, "Thank you for being who you were. It gave me that extra push to pick myself up by the bootstraps, and I've been living in a house for the last three years. A lot of it has to do with how you ran the shelter and stuck to the rules."
If people want to donate items, what are the biggest needs?
The winter stuff we can still use, hats, gloves, socks, that type of stuff. Underwear. Then the toiletries, small bottles of shampoo, travel size soap. We're always in need of that stuff. No matter how much we get, we still need more. Before COVID people would travel. Our executive director would remind most of our volunteers and donors, when you go somewhere, if you use your own soap, since you're paying for the hotel soap just tuck it in a bag and bring it to the shelter.
Share your opinion on this topic by sending a letter to the editor to tctvoice@madison.com. Include your full name, hometown and phone number. Your name and town will be published. The phone number is for verification purposes only. Please keep your letter to 250 words or less.