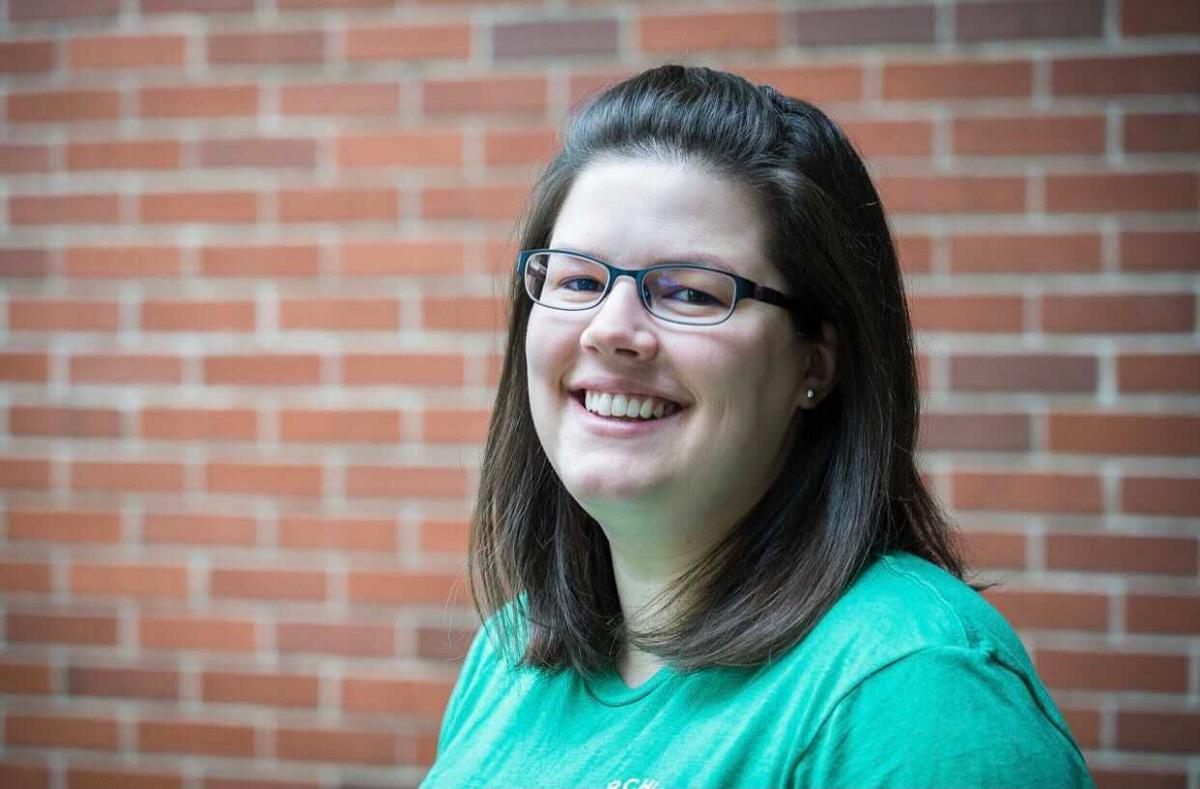 Kim Sutter serves as director of services for of Porchlight Inc., a Madison nonprofit organization that provides services to the homeless community. Earlier this week, Porchlight unveiled a new temporary men's homeless shelter that is expected to serve up to 250 people a night. 
Sutter, who grew up in Beaver Dam and majored in social work at the University of Wisconsin-Madison, has been working with the homeless community for over 12 years. 
What was your path to working with the homeless? What motivated you to go into this work? 
I started at Porchlight's Safe Haven program, pretty much right out of school. Safe Haven is our day shelter for individuals with mental illness. I worked there for eight years, and took over as manager of that program, and did that for several years. In 2016, I was promoted to director of services.
I hadn't specifically been looking for a job in homelessness or homeless service, I was just looking for a job in social work. I thought it sounded interesting. 
But, you know, I was not really surprised to find that people experiencing homelessness are just like everybody else.
I didn't have a ton of training in working with folks with mental illness. But again, it's not that different from working with anybody else. Just being aware of how things can present themselves and being able to de-escalate conflict is important, no matter what group of folks you're working with. So I think that Safe Haven gave me those kinds of skills.
It seems like there are a lot of preconceived notions about people that are homeless.
It's really all across the board in terms of what sends people into homeless episodes. And I think there is kind of a preconceived notion that everyone experiencing homelessness has been experiencing it for a really long time. While there are folks who are experiencing chronic homelessness, quite a few of those in our communities are having their first episode of homelessness. They just need some targeted support to be able to get themselves out of that situation.
Certainly, a lot of the folks we work with are looking for a job or have a job, but it's just really expensive living in this community and it's really hard to get housing. 
The number one barrier for people isn't being jobless. It may be having a job that pays enough or having an income at all. Sometimes folks don't don't have an income at all, and they're disabled and are not able to work. But many of our folks do have jobs and are just not making enough money or unable to get housing for other reasons. Because they have, you know, one eviction on their record or because they have a criminal history or because they don't have a housing history at all. All of those things can be a barrier to getting into housing, whether you have an income or not.
Does it feel to you like Madison is supportive when it comes to homelessness issues? 
I think an overwhelming sentiment is we support helping the homeless, if it results in us not having to see them.
I do have to take a moment to say that, for the most part the north side community that hosted (the temporary men's shelter) at the Warner Park Community Recreation Center was overwhelmingly welcoming. Both while we were there and during a neighborhood meeting we had for the new First Street shelter, things were overwhelmingly positive. It may have to do somewhat with the temporary nature of these two shelter sites. 
One of the biggest obstacles we have is folks wanting there to be a shelter, but not wanting it to be in their neighborhood. And I think if I had to guess, that's probably some of what happened when we lost the permanent site (near East Towne Mall).
What about the city of Madison, politically? Have leaders been committed to ending homelessness in Madison? 
Since COVID-19 started, amazing. 
Prior to that, we just didn't have a ton of support from the city. I sat on a shelter steering committee in 2019 and we had a movement to have a purpose-built shelter prior to COVID. People were supportive of the concept, but the will just wasn't there at that time.
COVID-19 has been awful in just about every way. But one way that it's really helped us in the homeless services is it really galvanized support across the city and county and among homeless services providers.
We have been more connected and collaborated more during the pandemic than I think ever before. We had many, many late night conference calls at the very beginning of COVID. The city and the county just rallied around homeless services providers and worked to find a solution.
But the pandemic really shined a light on the unsafe conditions that we were dealing with for 35 years prior to that. We needed a larger space that could accommodate more people. We were under-resourced and we didn't feel like we were able to make some of the sweeping changes that the community expected of us.
I think that Warner Park is an excellent example of the city and county stepping forward. They set us up with vendors for cleaning and food and laundry, and we've just been able to do way more than we were ever able to do in the past.
And then while we were at it, we hired several new staff people in different positions and kind of changed our staffing pattern. And now, you know, the city is certainly committed to finding us a new, permanent location. While I hoped we would get them on board before, they are committed now, and we're very grateful.
One of the things that came up at a recent neighborhood meeting about homelessness was the idea that there's an entire populations of people who sleep outside that don't choose to utilize brick-and-mortar shelter. What's the story there? 
During COVID I think that safety has been a huge one. Folks are afraid to use congregate shelter during this time. Even with all of the measures that we've taken to make shelter as safe as possible, it's still sleeping in the same room as 100 other people. That's really scary for a lot of folks.
Some people don't like that they're not allowed to use alcohol or drugs and shelter. A lot of folks who are sleeping outside have accessed shelter in the past and got a bad taste in their mouth for a multitude of reasons, and are maybe not prepared to give shelter another chance. So we are working with a bunch of outreach providers to try to put out a different message about shelters
We also partner with Friends of the State Street Family, which is a volunteer outreach organization. Tellurian is another agency that has an outreach team that kind of focuses on people with mental illness.
But those are the folks that we're most frequently coordinating with to try to work with the folks who are sitting outside or in encampments. Either in those kinds of organized encampments in the inner city parks, but also in their cars or in the woods. They're the ones who are building rapport and helping meet the basic needs of the folks who are sleeping outside.
How involved are you going to be in the process of the new permanent shelter?
Well we can't be too involved because, even though we have been the operator of the shelter for over 35 years, when they get a permanent site, they will put out bids for operation of the shelter for a fee. The city and the county will do that. So they can't let us come in and cherry pick, unfortunately, because that would be akin to showing favoritism.
However, that shelter steering committee that was created prior to the pandemic did develop some guidance about what a perfect, permanent, purpose-built shelter should look like. I think they've also learned quite a lot from us as we've been doing shelter at Warner Park and now First Street. I think they've learned a lot from the operations that we've done so far. And also from that piece of written guidance that the committee came up with.
What's next for you in your career and life? Do you plan on remaining active with Porchlight?
Fortunately, Porchlight has offered enough to keep me interested over the past 13 years. Something that I really value about this job is my ability to impact change when it comes to systems. I'm involved in a bunch of committees in the homeless services consortium, and very interested in a lot of assistance work that goes on there, not just with my agency, but with other agencies and our consortium as a whole. There's just so much work to be done yet. 
So I think it would be hard to drag me away at this point. Especially as we're looking forward to a permanent shelter space. That's something that I have envisioned and I really think that it's important for our community.
What's your biggest goal? 
Ending homelessness in Madison! There is so much to be done in Madison, in homeless services, that I can't even picture what would be enough until we have a system where if somebody is experiencing homelessness, they can go to shelter and move right into housing. I think there's so much work to be done up until that point that I can't even see what the end point would be.
My most exciting, big dream right now is a purpose-built men's shelter. It is about time.