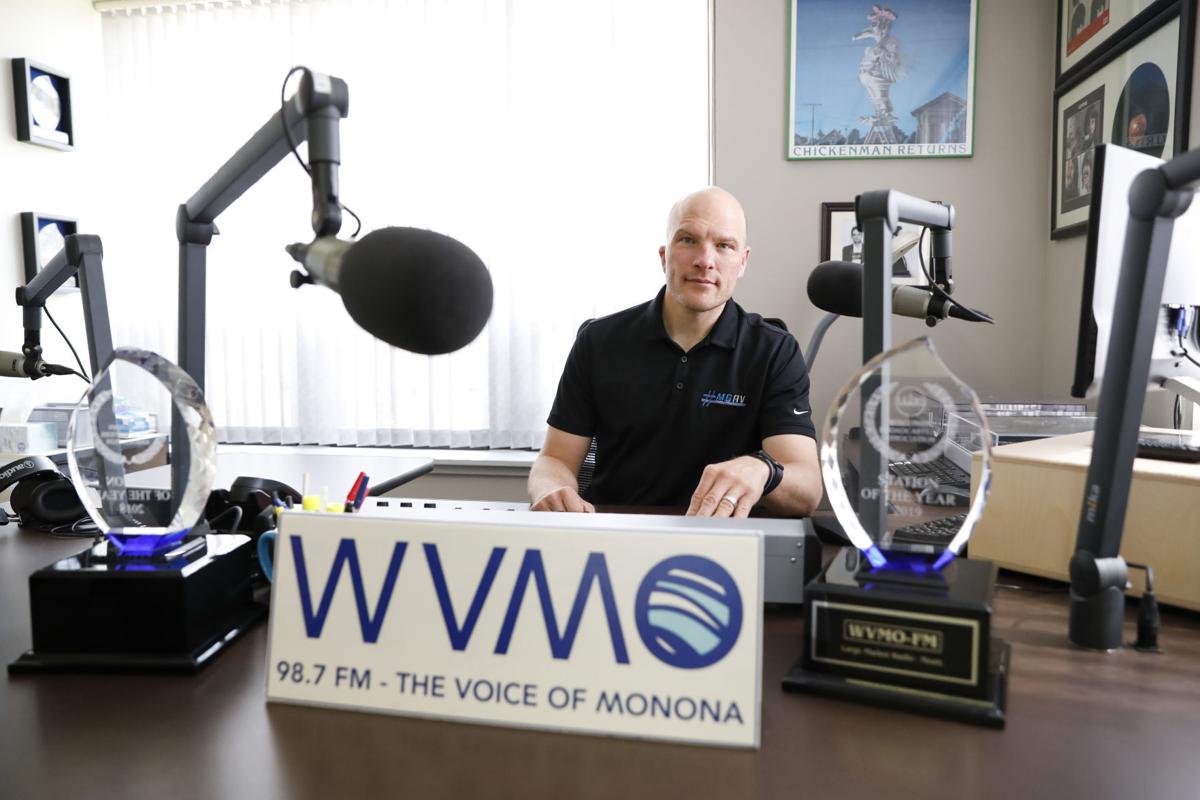 When Congress passed the Local Community Radio Act in 2010, it opened the radio waves to hundreds of new low power radio stations across the country. Nearly 3,000 groups applied for non-commercial radio licenses before the application window closed in 2013, including community organizations, tribal nations, churches, colleges — and the city of Monona. 
Will Nimmow took over as the city's community media director in 2014 and helped build the volunteer-powered station from the ground up. He worked with a team of industry experts — including two WVMO founders, Wisconsin Broadcasting Hall of Famer Lindsay Wood Davis and radio veteran Tom Teuber — to convert a city hall conference room into a radio studio, install a broadcast tower atop the building, and recruit the station's first DJs. 
When "ON AIR" lit up for the first time on August 15, 2015 at WVMO/FM 98.7, Monona became one of just a handful of municipalities in the U.S. that owns its own radio station. At just 100 watts, the station's signal is strongest in Monona and Madison's east side, though drivers can often pick it up in their cars as far west as Hilldale. The station's music, as well as the fun and practical shows created by neighbors and for neighbors, have twice earned WVMO the title of Wisconsin Broadcasters Association Large Market Music Station of the Year, beating out music stations of all sizes in Milwaukee and Madison. 
These first five years haven't been all smooth sailing. The pandemic turned the station into a ghost town, but Nimmow and the volunteers used a handful of USB microphones and some ingenuity to keep broadcasting safely from home. The virus also canceled the station's fifth birthday party, originally planned as an outdoor music festival for summer 2020. Instead they celebrated at the five-and-a-half-year mark on Saturday with a livestream concert by Chicago-based singer songwriter Neal Francis.
Nimmow, who until recently was the station's only full-time employee, splits his time between WVMO and his work at Monona Grove High School, where he oversees the A/V Club and helps students broadcast everything from morning announcements to sports games. He talked with the Cap Times about his favorite radio moments, what sets WVMO apart, and how the tiny station has shattered his expectations.
What motivated Monona to start its own station? 
As a municipality, they're always trying to figure out ways to reach their community. In 2010, Paul Meyer, an engineer for Wisconsin Public Broadcasting, was in his car at the Walgreens at Pflaum Road and Monona. He was flipping through the channels, listening to the radio, and he came across what he could have sworn was high school students saying a lunch menu or something.
He came to find out later that it was the Monona Grove announcements. It was just supposed to go through the high school, but somehow Paul was receiving that in his car. He knew the FCC had opened up these low power radio licenses, so he called up Lindsay (Wood Davis) and said, "Do you think the city could get one of these low power radio stations?" 
At the time, Bob Miller was the mayor of Monona, but he was also past general manager of Channel 27, so he had knowledge of broadcasting. He understood the reach Monona could have if it had a radio station and was able to reach their community in a different way than just the website and mailings and newspaper. I also think Monona is pretty unique. 
When I listen to WVMO, I'll hear announcements about how to put out yard waste for pick up or how to use the streets for biking during the pandemic.
I don't think we thought it was going to be this successful. There were some people, myself included, thinking, "Man, radio? Right now, in 2014?" That's an interesting thing, to go to radio when everyone thinks radio is dying. We have found that it's the complete opposite. People love it, and the music keeps you in so that you can hear that next break. And hopefully you go, "Oh, the farmers market's open this Saturday. Great. Let's go to it." 
What on WVMO feels special or different to you?
We have a bird report. What birds are migrating around Monona? It's really a cool report. Another one is "Star News," talking about astrology and zodiac signs. For a long time, librarian Karen Wendt did literacy tips: how to get your kids reading at an early age before they even know how to read, how to start understanding what reading is. They're all short segments that replace commercials. 
WVMO is also one of the few places where I regularly hear kids' voices on the radio.
Yes, we try to get kids in here as much as possible. We get some Winnequah students who come in and say, "Hey, we want to tell you about what's going on at the school." Sometimes (Girl Scouts or Boy Scouts) do a radio announcement for WVMO and they get a badge. Beatrix, a Monona resident who is 11 years old, told me her alarm is set for WVMO.
She is now doing a radio show twice a month, the first and third Thursday of every month at noon and 3 p.m. It's a 20-minute segment called "Bea's Buzz." She's interviewing somebody, giving book reviews and playing some music, producing it all at her house. I hope she wants to stay with the station and do a full show every week. 
What have been some of your favorite moments at the station?
My very first favorite moment was the very first volunteer meeting. We publicized it as best we could, but it was before we had the radio station, so we put it on our website, and I believe we got it in the paper. I thought, OK, if we can get four or five people from the community to just get involved in the station from the get-go, we can call this a pretty good success. But the very first night, there was 25 or more people sitting there going, "Yeah, this sounds great. Can't wait for it to start." It was kind of mind-boggling 
The second best moment continues to happen every single day. We always get somebody who wants to volunteer. The volunteers who were here at the beginning, a large handful of them are still involved.
This station wouldn't be anything without the volunteers. The fact that we have all these people who want to do radio shows, but also want to do things that they think will be good for the community, that's huge.
Editor's note: A previous version of this article incorrectly stated that WVMO first signed on in August, 2014. It was 2015. 
Share your opinion on this topic by sending a letter to the editor to tctvoice@madison.com. Include your full name, hometown and phone number. Your name and town will be published. The phone number is for verification purposes only. Please keep your letter to 250 words or less.