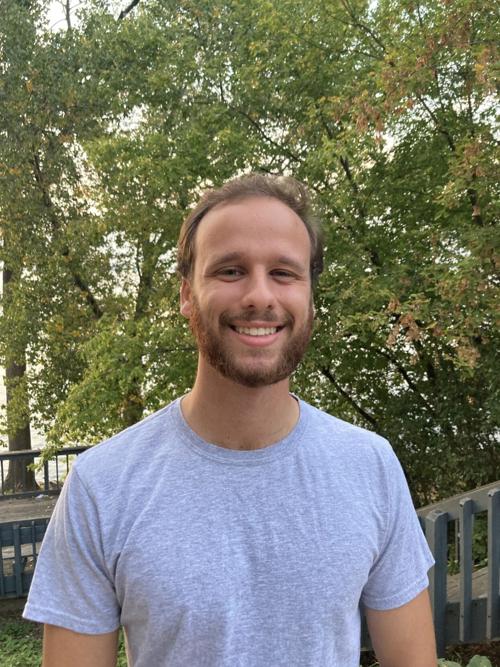 Eli Tsarovsky graduated from the University of Wisconsin last May after majoring in biochemistry. In August, he was voted president of the Campus Area Neighborhood Association and he also works as the community health AmeriCorps coordinator.
CANA has given students a voice on a wide range of topics around Madison. Through the association, students have been able to weigh in on things like downtown developments, police issues and local city government.
For Tsarovsky, those conversations have inspired him to be part of change in the world in everything from health equity to domestic violence to affordable housing.
You were recently elected president of CANA. What was that process like? And what motivated you to want to be involved?
I'm really passionate about the mission of CANA. I've been at CANA since Amol Goyal started it and he invited me into it. He was like, "We're starting this neighborhood association, be part of it." So I've seen it sort of progress and all the work that has come out of it has been really fruitful.
Being able to connect with various elected officials and just the different topics we have as a neighborhood association. I think that's been really interesting. So when the opportunity to run for president came up I was excited. I really want to continue doing this and fostering civic engagement, building up community power. It's just something that resonates, especially this past year, to see how much of a voice that people in our neighborhood are able to bring to the city meetings and bring to the various developments in our neighborhood.
We are fortunate that a lot of the students that have come to us (in the association) have been through student organizations and bring a lot of perspectives.
So, for example, a year ago, last summer when there were protests going on in Madison and people were questioning why the Madison Police Department was responding the way they were. We went to MPD and wanted to know what we should expect for people who were going out protesting.
What was last summer like in terms of being a student protesting? Madison has sort of a long history with police really upping the ante on student protesters. Did you experience that? Were people talking about that?
Oh, definitely. Students were, of course, very mad that they were getting tear gassed and stuff when they weren't the people doing stuff that was causing violence or anything. They were just people out peacefully holding signs and they're getting tear gassed. So we were able to cut through it and ask "Why is this going on?"
So, that I think was a really good conversation to have with MPD with students expressing their dismay and frustration of that experience and saying we don't want that to happen. But then also students were able to just know what the expectations were because a lot of people were going to the protests. They didn't know what to expect from the police. And so when people were seeing the way the police were acting, we were very taken aback.
Tsarovsky has been leading a steering committee about a proposed development from luxury student housing developer Core Spaces, who is proposing to build a 10-story student housing development on State Street. Part of that proposal is to include affordable housing for students. The Campus Area Neighborhood Association has clashed with proposals from Core Spaces in the past.
CANA has been involved in reviewing some big developments like the one Core Spaces is trying to build on State Street. They are apparently trying to bring student affordable housing to Madison through a memorandum of understanding with the university and the city.
What has it been like to be involved with that?
Yeah, the Core Spaces project has been a long, long process so far. It's not over yet, that's for sure! So, in meetings neighbors are really able to bring their concerns to the developer to really find out information about, for example, the memorandum of understanding they're engaging in, which is not done yet.
That's something that we really have to wait for before we can write our steering committee report. Without that MOU agreement and without the mechanism of affordability set in stone and making sense, we really cannot come out with any conclusive statements as a neighborhood association.
About three weeks ago I tried to get my hands on what exactly this agreement was going to entail. A UW representative had told me they hadn't heard anything about it. Are you guys getting the sense that these conversations haven't taken place the way Core Spaces is saying they are?
I want to believe that these conversations are happening, right? And I want to believe that everything is going as they're telling us. But if you don't have a document to show, then you start asking these questions. So I would hope that it is on it's way, getting written. But we're gonna have to see it to believe it, you know?
So, tell me a little bit about yourself. You just graduated from UW in May?
Yes. My major was biochemistry. I had certificates as well in public policy, the undergraduate certificate, from the LaFollette School of Public Affairs. I also have a Global Health certificate.
I grew up in Fitchburg and I went to all MMSD schools. I went to Leopold, Cherokee and Madison West High School.
I've been playing soccer around Madison since I was about five and doing a lot of soccer refereeing as a side hobby. So, I love that! I just sort of ended up staying here in Madison. Will I be here in the next ten years? I guess we'll see.
What are your career aspirations?
I really want to get into the field of public health policy. So I want to do policy developments and program development and implementation to address health inequities. I'm interested in rethinking and creating new ways to better serve under-resourced populations and communities. So, looking at frameworks that exist and how you can make a program to meet the needs of a community. That's really interesting to me.
What is health equity like around Madison?
That's something I've been researching a lot. I've been looking at incarceration and health inequities with that. I've been looking into food access as well.
I've been looking at health inequities that were exacerbated by the Covid-19 pandemic as well, specifically gender based violence. For example, stay-at-home orders where people were getting trapped in their living situations with abusers.
I also looked at inequities in the demographics of people that were front line workers and what they are receiving for resources to protect themselves against the pandemic.
But those types of issues, I really want to work on.
Domestic violence issues during the pandemic is something we covered recently at Cap Times. What did you learn about that?
I was the chair of PAVE (Promoting Awareness/Victim Empowerment). We know that people are being kept at home with their abusers. So what do we have to think about in terms of access? What are the protective factors that are missing? Being next to and monitored by an abusive person all day (due to stay-at-home) doesn't give you the opportunity to reach out for help all the time. Sometimes if you reach out for help or try to reach out for help that person who is abusing you reacts adversely to that, right?
We know that violence, intimate partner violence at UW is crisis level stuff. If you look at recent reports it's one in four undergraduate women and you see even higher numbers in LGBTQ communities of people receiving a lot of gender based violence towards them.
Sounds like there's a lot of issues you are ready to dive into. What's next for you?
I'd say, honestly, the work that I'm doing right now as this community health AmeriCorps coordinator. It's informing a lot of my passions because I'm researching health inequities, issues of reproductive justice. This is what I want to do.
I'm also applying to grad schools at the moment. So maybe you'll see my face somewhere in the future!
Share your opinion on this topic by sending a letter to the editor to tctvoice@madison.com. Include your full name, hometown and phone number. Your name and town will be published. The phone number is for verification purposes only. Please keep your letter to 250 words or less.