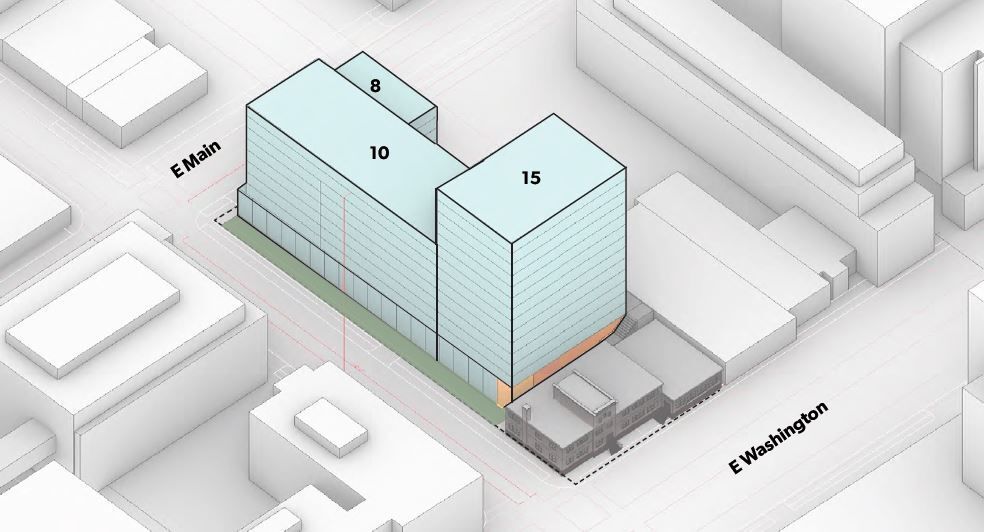 A company whose mission is to "leave this cosmos better than when we found it," is in the beginning stages of a plan to redevelop part of the 800 block of East Washington Avenue with a 15-story tower.
Representatives of The Neutral Project, a Madison development firm led by Nate Helbach and Tyler Warner, presented plans for Baker's Place —  slated for 849 E. Washington Ave. — to members of the Marquette Neighborhood Association's Planning and Development Committee Tuesday night. The nascent plan received positive feedback.
Baker's Place takes its name from the Gardner Baking Company, which formerly occupied the building located kitty-corner to Breese Stevens Field in the expanding Capitol East District. Under the proposal, the old building, constructed in 1926 and most recently home to Bos Meadery, will remain on the site and be renovated as part of an ambitious project that seeks to prioritize sustainable building materials and green energy.
While a formal proposal is still being written, Baker's Place would be broken up into two sections, Block 12a and Block 12b. On East Washington Ave., there would be a stepped-back tower that is 15 stories high that continues to step down to East Main Street from 10 floors to eight floors.
The development would have between 225 and 250 market-rate units and approximately 185 parking spaces. It may also include townhomes as well as retail on two sides of the project. 
The Neutral Project's representatives said they intend to use structural or "mass" timber, an emerging construction method gaining prominence in Canada and Europe. Steel is required under building codes in much of the U.S. for structures above five stories.
According to information provided by Candice Nichol of Michael Green Architecture, a Vancouver-based firm that specializes in using structural wood for construction, using mass timber creates a more comfortable and durable living space. 
During the presentation Nichol showed slides that detailed how structural wood performs in fire tests, how structural wood could help add to insulation of buildings resulting in an energy savings of up to 90% and that Baker's Place would have EV charging stations for electric cars as well as a green roof. 
"The building industry is the largest contributor to CO2 emissions and transportation is the next largest," Nichol said during the presentation. "So this project addresses both of those things."
Helbach said he is hoping the building will ultimately have a fleet of Teslas that residents can check out by using a smartphone app. Sharing the electric cars would help reduce the amount of car traffic the building generates as well as reduce its overall carbon footprint.
"We're working on doing a rideshare and we want to reduce cars on the street," Helbach said. "Our tenants will be able to go into an app, grab a Tesla, drive it around the city and bring it back and charge it, which will reduce carbon emissions and cars in the street."
Helbach formed the Neutral Project in 2020 with the goal of building sustainable real estate. He is a managing partner in the company along with Warner, who is also from Madison. 
"Tyler and I created the Neutral Project about eight months ago to challenge conventional development strategies and have a more sustainable approach," Helbach said. 
Helbach and his team have met with Ald. Marsha Rummel, whose district includes the property. Rummel is still in the process of reviewing the latest plans for the proposal, but predicted conditions would have to be met for the city to approve a 15-story building. 
"I would have to see the design and how a 15-story proposal complements the Gardner Bakery building," Rummel said. "Urban Design District 8 allows bonus stories on this block if there is sufficient public benefit to warrant the additional height. For me, this would require long-term affordable housing at or below 60% area median income, green infrastructure and a commitment to employment."
Jack Kear, who chairs the neighborhood's P&D committee said Helbach's team will present more details next month. 
"I thought the presentation was interesting and I am taking a cautiously optimistic approach," Kear said. "I think some things stood out that the neighborhood association will keep close eyes on."
Among the concerns listed by Kear:
• How many two-bedroom units will be included in the final design?
• Will the development accommodate Bos Meadery, a longtime neighborhood business?
"When I was approached about this development, I really jumped in with two feet," Brink said. "I think it's a really good project for Madison as a whole and for this neighborhood."
Helbach and his team plan to present preliminary plans to the city's Urban Design Commission on March 31.