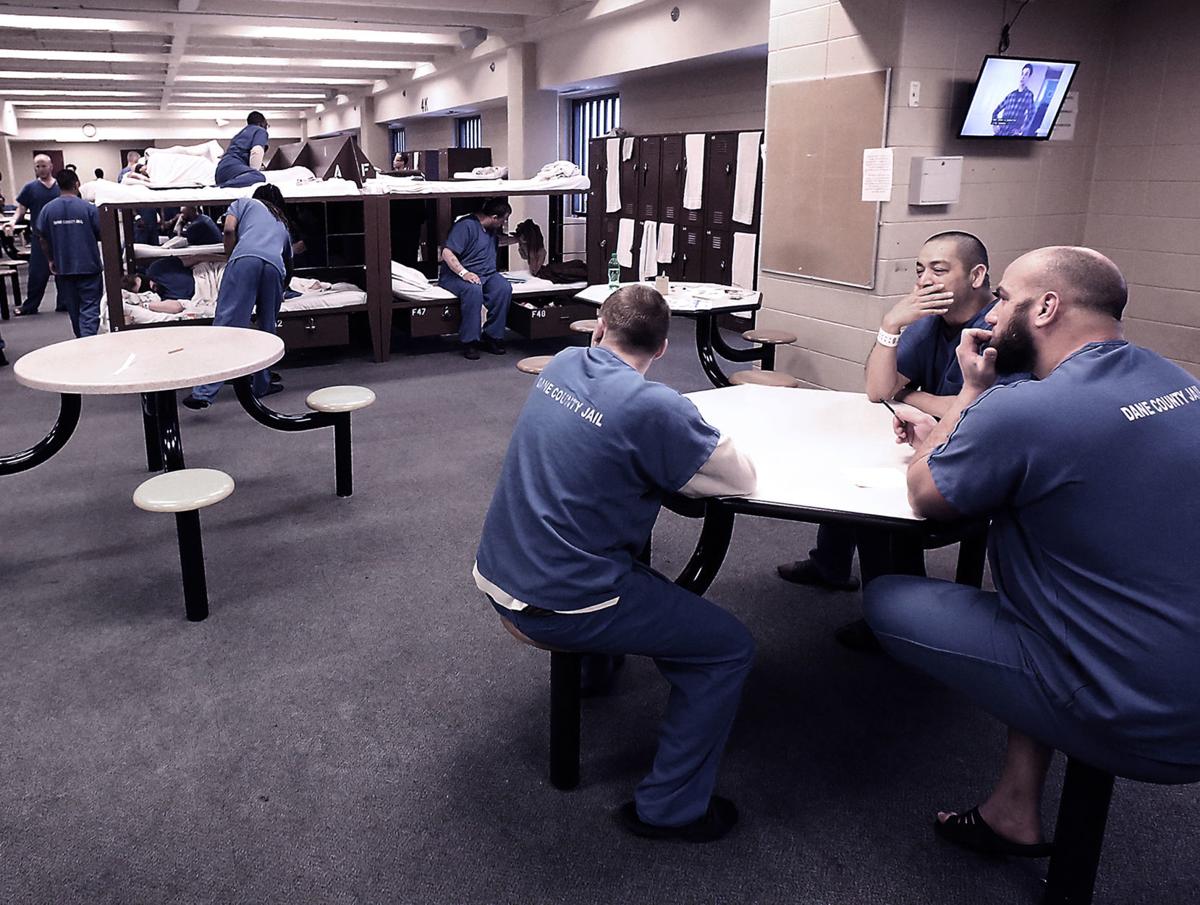 James Morgan was incarcerated when his mother died. An interfaith chapel was his refuge.
"It allowed me to reflect on the life that gave me life. It allowed me to let go of the should-haves and the what could-have-beens and the past hurts and pains, to be able to honor that life in a way that was sacred," Morgan said.
"I think access to sacred spaces is the reason that I'm sitting here right now," he said.
On Sunday night, panelists came to New Life Church to argue for the importance of having a designated "sacred space" in the Dane County jail renovation project. That has big consequences for the healing and transformative spiritual work that can be done in jail, panelists argued, pointing to legal rights, logistical challenges and their own life experiences.
Panelists included Morgan, a peer support specialist at Madison-area Urban Ministry; Dane County jail chaplains Katharine Goray and Rev. John Mix; Hanif NuMan, an adjunct professor at Madison College who volunteered as an imam for the jail; formerly incarcerated worshiper Robert Lynn; Janice Toliver, a minister with Christ the Solid Rock Baptist Church; and community leader Caliph Muab-el. The panel was moderated by former Dane County Jail Chaplain Rev. Christa Fisher.
The Racial Equity Task Force of the South-Central Synod of Wisconsin Evangelical Lutheran Church in America hosted the event.
The renovated jail wouldn't eliminate spiritual activity; due to space constraints, religious services would instead take place in multi-purpose rooms.
A designated spiritual space isn't necessary for spiritual connection, panelists said, but it helps, especially in the harsh environment of jails and prisons.
"When you're in custody or incarcerated, jail, prison, you are guarded all the time… you're not able to be vulnerable … In a sacred space you're able to do that," Toliver said. A sacred space signals safety like a bedroom signals sleep.
"Access to a sacred space says that for the allotted time given, one is not a convict or an inmate or criminal, but a human being that deserves hope," she said.
Some of the panelists who had been formerly incarcerated spoke about the power of sacred space in their own time behind bars.
Morgan said the space created a chance to leave the constant "sounds of pain and the sounds trauma, 24 hours a day," and negative atmosphere of the prison jail. He said that opportunity can be "life saving."
Muab-el, co-founder of Breaking Barriers Mentoring, served 15 years in prison and was recently released from jail "fully exonerated of all charges," he said. In prison, he had to create his own sacred space in solitary confinement for 10 years, and "there was no refuge." He worked hard to transform his room from the "roughest, darkest situation" into a place of light, but not everybody can do that, he said.
Lynn, also formerly incarcerated ("Addict. Severe depression and anxiety, pain. Got spurs in my spine, they hurt. All of that led to heroin, criminality, stuff like that"), said sacred space helped him transform from an offender a District Attorney once called a "one-man crime wave."
A time to worship can be a brief reprieve from a harsh and impersonal prison life, panelists said.
When Goray served as a jail chaplain, she distributed surveys to attendees. Entering worship, women wrote that they felt "tired, frustrated" or "sometimes overwhelmed, sad, lonely defeated." After worship, they wrote "like a weight has been lifted off me," and "I feel sad, I know I have to go back to the pod with a lot of negative people, and I love the positivity here."
Panelists emphasized the importance of having a room dedicated to spiritual services, rather than using a multi-purpose room. Lynn was worried that if there wasn't a dedicated space for spiritual services, it wouldn't be a priority, and "it won't get done."
Having many multi-purpose room is also a logistical challenge, Goray said, as chaplains would have to set up rooms for worship. Having programming space on different floors could also mean more volunteers will be needed to conduct separate services to serve all the inmates, panelists said.
"This is your one opportunity to be out of that cage. You want to and you need to take as much time as the spirit is calling you to, you cannot be watching your clock and thinking, 'We need to get out of here and clean up so AA can get in,'" Fisher said. "AA needs their own space. Worship needs their own space."
Muab-el freedom of religion is a "constitutional provision" that does not become forfeit for those who have committed or been accused of a crime.
"It's not unreasonable that people are seeking to escape from their current condition and escape to their Lord … sometimes when people go to jail and they find God, they get touched by that and they turn into something totally different," Muab-el said.
Muab-el and others urged the audience to action, and there will be a meeting Tuesday, Aug. 7 at St. Stephen's Lutheran Church in Monona at 5700 Pheasant Hill Road from 6:30 p.m. to 8 p.m. as a planning meeting to campaign for sacred space.
"You're talking about, at the end of the day, what your resources, what your tax dollars are going to be used for. So you have a responsibility, we have a responsibility here," Morgan said."It's called holding people accountable. It's called being active in your community."
The $76 million jail renovation project will close the two floors of jail facilities in the City-County Building and the Ferris Center for Huber Inmates, and adding four floors to the Public Safety Building at 115 W. Doty St. The Public Safety building doesn't have a separate chapel area, and while the renovation project originally would have allowed for dedicated religious space, those designs weren't cost effective, said Capt. Tim Ritter.
"Every bit of space in the approved project is needed for medical, mental health and general housing space," Ritter said. "There will be space described as multi-purpose program space. These rooms will be used for a multitude purposes, religious services among them."
Mix acknowledged the space constraints of the new jail and the needs of inmates that require services, like addiction, mental health issues and a lack of education. He said that from his faith background as a Lutheran, "what makes a holy space is attention to the word," but also said that in his years of experience as a chaplain it was "wonderful" to have a space dedicated to prayer, worship, preaching and sharing.
Share your opinion on this topic by sending a letter to the editor to tctvoice@madison.com. Include your full name, hometown and phone number. Your name and town will be published. The phone number is for verification purposes only. Please keep your letter to 250 words or less.
Be the first to know
Get local news delivered to your inbox!