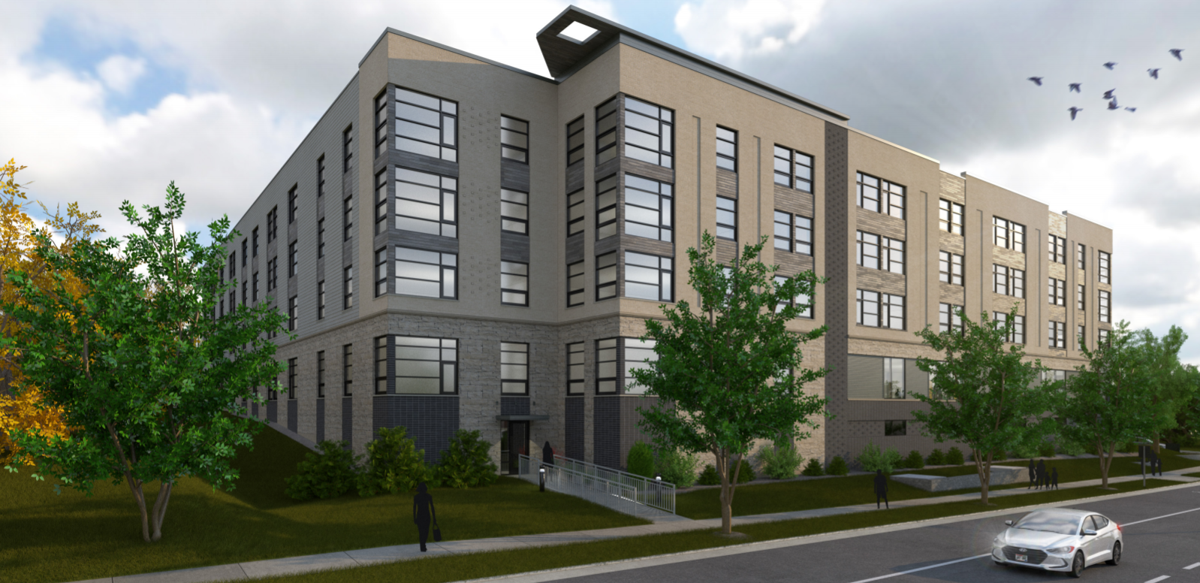 Madison's Urban Design Commission is set to review a proposal from Oakwood Village Senior Living at its Wednesday meeting. Oakwood is seeking an amendment to a land use permit in order to build a 77-unit, four-story senior living facility at its complex on the west side.
The proposal is to remove an existing recreational building and construct the new living facility that will include a rain garden and a partial green roof. It will have rooftop solar that provides energy for the facility. 
The proposal also calls for 63 stalls of underground parking. 
Oakwood Village currently has 588 units (379 of which are occupied) and 403 employees, according to documents submitted to the city.
Along with Attic Angel Community, Oakwood is part of a nonprofit organization called AgeBetter, Inc., working on providing affordable housing for seniors. AgeBetter is ultimately behind the proposed development that would be built on the Oakwood Village site but then sold to AgeBetter, if approved.
Ultimately, the AgeBetter project would integrate residency at the new facility with membership in Sharing Active Independent Lives (SAIL), which includes access to resources, services and programs, along with existing programs run by Oakwood Village and Attic Angel. 
The SAIL program has more than 500 members, aged 55 or older. It was launched in 2005 to help older adults with wellness and education programs, technology tutoring and support; medication reviews by a pharmacist; aging workshops; and transportation assistance. 
"Both Oakwood and Attic are committed to meeting the needs of seniors in the greater Madison area," Oakwood Foundation executive director Keith VanLanduyt said. "AgeBetter, through its SAIL program and affordable housing initiatives, provides us with an opportunity to collaborate to serve seniors of various economic backgrounds."
"We do believe there is a demand for quality affordable housing for older adults in Dane County," he said.
The COVID-19 pandemic has hit senior living communities especially hard. The first reports of the virus in the United States were reported in nursing homes in Washington. Oakwood Village has maintained diligent protocols regarding COVID-19. 
But the economic fallout of COVID-19 has also created a demand for affordable housing for seniors. With money tighter across the board in most communities, families are needing to explore price-based options with an eye on safety. 
"I believe the pandemic has raised the awareness of many seniors — and their families — about the value of being part of a community, having access to services and a network of people to connect with and provide support following months of isolation at home," VanLanduyt said. "We do have people reaching out to us indicating they'd refer not to spend winter alone in their house."
A couple of Oakwood residents have expressed concerns about the project in letters to the Urban Design Commission. One resident said that she is a resident of Oakwood Village-University Woods and is opposed because of the physical appearance differing from the current design of adjacent senior living spaces. She also pointed out that having one entity owned by AgeBetter while another is owned by Oakwood Village could lead to arguing by the two entities sharing a driveway.
Another resident also worried about the cosmetic appearance as well as the traffic from having additional underground parking.
The Madison Plan Commission is scheduled to review the proposal's zoning amendment on Oct. 19 and the City Council is slated to take it up at its Oct. 20 meeting.  
Be the first to know
Get local news delivered to your inbox!