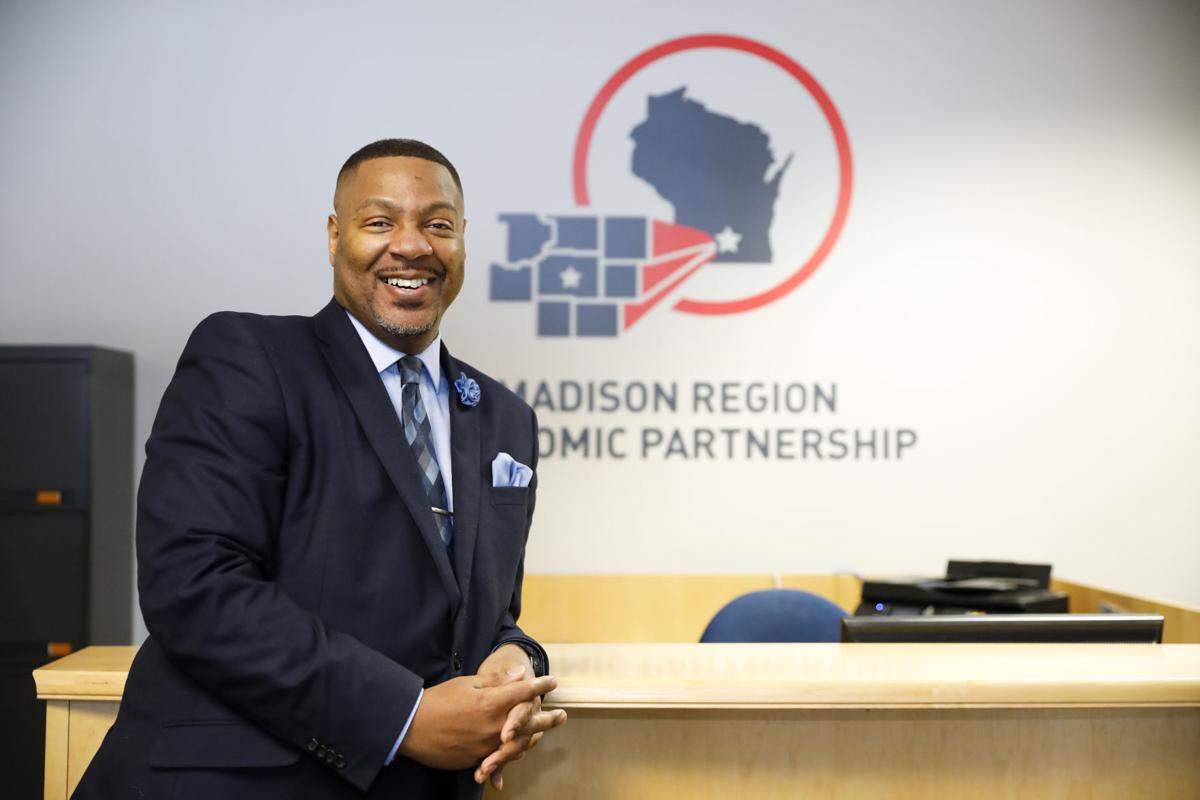 When Jason Fields became president and CEO of the Madison Region Economic Partnership this January, he took on the challenge of growing the region's economy in a year like no other.
He's only the second person to fill the role at the economic development agency, often referred to as MadREP, which serves Columbia, Dane, Dodge, Green, Iowa, Jefferson, Rock, and Sauk counties.
Fields comes to the job from the state Legislature, where he served six terms in the Assembly representing Milwaukee. Outside of government, he's spent his career in various forms of finance, managing more than $100 million in assets, founding a nonprofit that teaches financial and business literacy (The Financial Promise Foundation, Inc.) and a venture capital fund that invests in underrepresented business founders (Dark Knight Capital Ventures).
The coronavirus pandemic has prompted MadREP to redouble its efforts to understand what community members across the region need right now. That also means, Fields said, addressing the ways rural residents suffered under the policies of President Donald Trump's administration. "I really want to send a message to our rural brothers and sisters that we're here and that we care about their success," Fields said. 
In his first days on the job, he announced a partnership with the Milwaukee Bucks basketball team to provide free support and education to Black businesses and entrepreneurs in the state through the Lonely Entrepreneur, a website offering hundreds of online training modules.
And he's already preparing for the rebound that he hopes will follow the pandemic. "We're optimistic. We want to be ready for when this ends. We want to be one of the driving forces for people to say, 'Thank God MadREP was there because they helped us get ready."
Fields spoke with the Cap Times about equitable economic development and what his time in the Legislature taught him about what it takes to get a tough job done. 
When some of us think about economic development, we might think of new buildings, but I don't think that's the whole picture. How do you think about what economic development looks like?
For us here at MadREP, economic development is a holistic, broad picture. It's not just about new business, business retention, business attraction. It's also about workforce development, community development, and coordinating and collaborating between urban and rural areas. It's broadband capacity. It's our ability to attract talent. For better or worse, we think it encompasses everything — all the things that make a community or region thrive.
What does it take to make sure that economic development benefits everyone?
Number one, it takes the ability to have data so that you're making decisions based on technical data, not emotion. Number two, it takes being that go-to organization that has a lot of connections to a lot of different people in a lot of different arenas, where you can have that conversation about what economic development looks like, because economic development in Madison may be different from economic development in Sun Prairie, Rock County or Columbia County. You really have to be in a position where you have relationships with all the individuals in those communities to determine what's best for them and determine how you can fill the gaps. 
If we care about equity and quality of life for all people, what kind of metrics should communities be watching to judge how well our regional or our local economy is doing?
The one place to start is our diversity survey that we do every year, (asking) who has equity initiatives. I think a lot of people don't get this right: When we talk about equity and inclusion, people sort of just use diversity as the starting and stopping point right. Diversity is about numbers. But when we talk about equity and inclusion, we're talking about, "Are you creating a space where people feel welcome?" And that can be in your workplace, that can be in our neighborhoods, in our schools. It's a random survey, so you don't have to disclose who you are, (but) responding lets us know where we're at, as a region. Are you hiring more women? Are you hiring more people of color? Are they in your upper management?
You mentioned broadband, that some parts of our region still don't have broadband internet access. I know this is a current priority at MadREP and it was a priority of yours in the Legislature. How far do you think we are from solving this problem?
I'm going to give you the real answer. I think we're there, but I don't believe that this sense of urgency has perpetuated through the entire region. In rural areas, it's a stifling subject — it's one of the reasons why they're not growing. And when you look at urban areas where it's unaffordable — those are issues that can really be solved. So we have to ask ourselves, "Do we really want to solve this problem?" And, if that's the case, then we have to ask, "What's taking so long?" Part of my mission is to make sure that we stop with the reasons why we can't do something, and we just get to it. 
I think that's fascinating the way that you put that. That seems applicable to so many things right now in politics.
I can tell you from experience, at the end of the day, it all boils down to, "Do you really want to see it done?" If you do, then you will not let anything stop you. That's that American resolve. When things get involved in politics, we stop having that resolve. What the pandemic has shown us is that we don't have time for that. There are people suffering in our rural areas, in our low-income areas, in our areas where you have people of color. So, at some point, we have to have the come-to-Jesus meeting and go, "You know, we've done a lot of talking, but now it's time that we actually get down to it and get this done."
The governor's budget proposal includes, among many things, broadband funding, child care initiatives and a plan to legalize and tax the sale of recreational marijuana — some things that could have big economic impacts if they were to make it through the Legislature. What do you think?
It's hard to say what I think will go through. Given my experience with the Legislature, nothing comes out the way it was introduced. As it relates to marijuana, anybody can talk about reasons for it and reasons against it, but when you look at the polls and you look at how many people across Wisconsin — from all areas, Democrat and Republican areas — say this is a good thing, it comes down to, "Do we really want to see it done?" In the middle of the pandemic, how much money would it generate? Could those assets be used for education? Could it be used for economic development? Could it be used for rural areas? It's an entirely new industry. And so the question becomes, "Do we really want to see change and improvement or don't we?" 
You're an ambassador for the Black Entrepreneur Initiative, and announcing MadREP's partnership with the Bucks was one of the first things you did in your new role. Why was that important to you, and what other steps do you anticipate MadREP taking to support Black and brown entrepreneurship?
Number one, it was something that I'm passionate about. I think it sends a clear message that we are innovative and creative here at MadREP. It also helps us bridge that gap between Madison and Milwaukee that I think we thoroughly need. And in the year of a pandemic, there are a lot of changes: A lot of people lost jobs — this was the make or break point for them. And so, for those who were entrepreneurs or wanted to become entrepreneurs, one of the (key) areas, next to access to capital, is the know-how: the resources, creating a business plan, getting mentorship, talking with other African American, Black and Latino individuals across the country about best practices.
For us, it's an ability to empower people and give them a place where they can feel like they're understood. I had a conversation with one of our board members, Seth Lentz, yesterday, and Seth said something to the effect of, "We want to make it very easy for people to be successful." And that sums up the attitude here at MadREP: Whether you're in Madison or Columbia County, we want to make it easy for you to be successful.
Share your opinion on this topic by sending a letter to the editor to tctvoice@madison.com. Include your full name, hometown and phone number. Your name and town will be published. The phone number is for verification purposes only. Please keep your letter to 250 words or less.