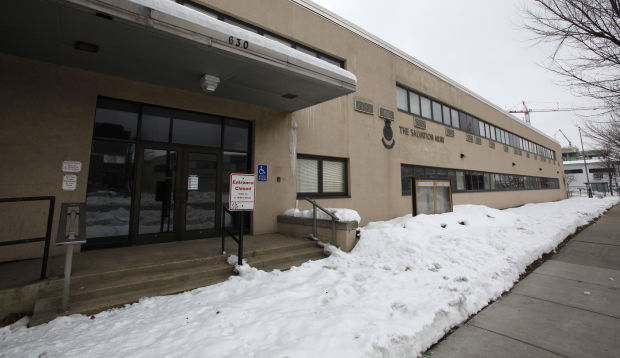 The Salvation Army wants to redevelop its downtown Madison homeless shelter on East Washington Avenue with a larger space and expanded services.
But at a Thursday neighborhood meeting about the plans, many neighbors voiced criticism about the Salvation Army's current management of its guests, saying they didn't think the Salvation Army should propose to expand without first handling problems with behavior at 630 E. Washington Ave., especially in the parking lot.
Kimberly Novak, a nearby homeowner, said she didn't feel safe enough to walk to the grocery store or have her child play in the yard.
"Building a bigger facility when you're already not taking care of the people in your facility is not the answer," she said. "I want to know how I'll be safe now."
Salvation Army staff said many of their problems stem from an inadequate and cramped building, with nowhere for guests to go but outside, which their proposed project would help alleviate.
"I 100% hear where you're coming from," said Melissa Sorenson, Salvation Army social services executive director, in response to concerns. "It all comes back to, this building isn't working … What we're offering right now is not the best that we can offer."
The Salvation Army of Dane County currently provides two shelters in one building on East Washington Avenue: an emergency family shelter and one for single women. Proposed plans would demolish the current building and build two in its place: one to provide a homeless shelter and transitional housing, and one slated as mixed-income housing.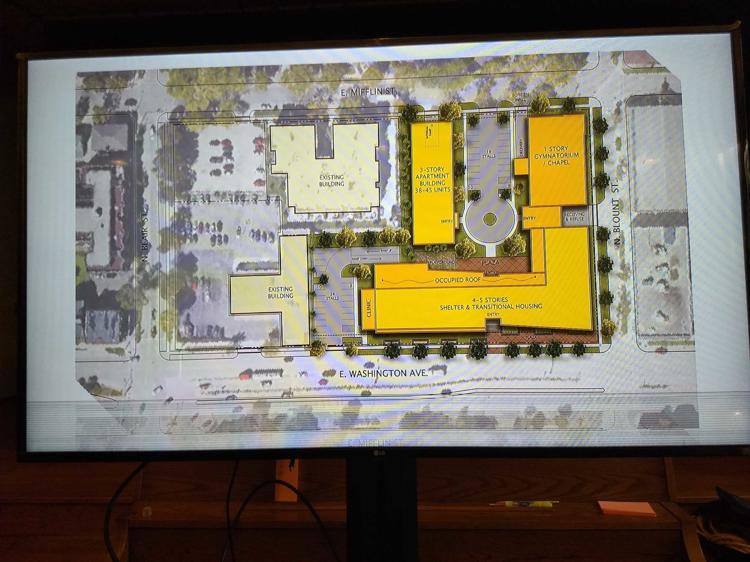 Sorenson said the Salvation Army of Dane County provides the only emergency drop-in shelters for families and women in Dane County, and often functions as an overflow for the domestic violence shelter. Case managers work to move people from shelter to permanent housing as quickly as possible, she said, with guests staying at the shelter for an average of 30 days.
The shelter also provides employment services, meals for guests, dental and medical care, Sorenson said.
Sorenson said a new building is needed because it was built as a school and "was never built to be a homeless shelter." She said it's an eyesore, costly to maintain and "bursting at the seams," with an average number of 130 sleeping there every night.
There's no room indoors for any activities, so guests waiting for their bedtime often go outside, which can cause issues, she said.
Neighbors described witnessing loud music, fights, drug use, domestic violence and foul language outside the building.
Salvation Army Capt. Andrew Shiels also acknowledged ongoing shelter challenges at the current facility, and said he hopes the new project will "minimize issues" with "purposeful building and purposeful programs" to provide a "road to self sufficiency."
"When you have 130 people in your facility … and you have nowhere for people to go, there inherently is a problem," Shiels said, adding the organization has increased staff monitoring and new security cameras. "But it still comes down to, our building doesn't really allow for us to do some of those services as well as we would like to."
"We've been serving the Madison area for over 129 years, and the Salvation Army wants to be a good community partner," he said at the beginning of the night.
A few attendees spoke in support of the plan, pointing to the benefits of housing the homeless, especially children.
In the new proposal, the Salvation Army's building along with Steve's Auto Sales at 648 E. Washington Ave., would be demolished to make way for a four- to five-story shelter and transitional housing building. The proposed L-shaped building would front East Washington Avenue and extend around the corner on North Blount Street, where the building would contain a one-story gymnasium and chapel or multi-purpose space.
There would also be a separate three-story mixed-income apartment building with 38 to 45 units, including affordable units. This part of the project would require tax credits distributed by the Wisconsin Housing and Economic Development Authority.
Leah Teske, a member of the design team at JLA Architects, described the layout as a "small cluster of buildings around an interior courtyard." The site would contain surface parking as well as underground parking for residents and staff members.
Sheils said the homeless shelter could serve 60 single women and over 40 families. There are currently 22 rooms for families with about 45 beds for women in the gymnasium.
The proposed facility would include a medical respite shelter for individuals with high medical needs, like individuals recently discharged from a hospital. It would include a "pay-to-stay" shelter at $7 a day. There could also be 25 single room occupancy, or transitional housing, units which would allow individuals to pay for their own room, as well as room for medical, dental and mental health services, and an outdoor play space for kids.
This is not the first time the Salvation Army has sought to improve or expand their space. The organization proposed moving near the Worthington Park area in 2013 and put forward a separate renovation plan for the East Washington Avenue site in 2016, but both plans fell through.
The current proposal will appear before the Urban Design Commission and Plan Commission, said Ald. Patrick Heck, District 2.
Teske said construction could possibly begin sometime in 2020 with a roughly 18-month construction timeline. Shiels said the organization is still working to determine where their guests would stay during the construction.
Share your opinion on this topic by sending a letter to the editor to tctvoice@madison.com. Include your full name, hometown and phone number. Your name and town will be published. The phone number is for verification purposes only. Please keep your letter to 250 words or less.
Be the first to know
Get local news delivered to your inbox!