One of Madison's oldest yoga studios announced last Saturday it will close its doors in late July, citing declining revenue and owner burnout. The announcement follows the closing in recent years of at least two other decades-old studios in the city.
Scott Anderson, who purchased Mound Street Yoga Center with his wife Collette Stewart in 2008, emailed the studio's students on Saturday after breaking the news to instructors and investors. The message explained that the studio would continue operating until July 20 and would work with instructors to plan their next steps.
"A lot of people are very sad because they derived a lot of benefit from what we do," Anderson said. "But they've also been very supportive of us making this change."
According to Anderson, when the studio opened in 1984 in the Greenbush neighborhood of Madison's west side, it was the city's first. It was run as a cooperative for about 20 years.
Attendance and revenue have been declining for years, Anderson said, noting a 70% drop since the studio's 2013 peak. "For a while it was sort of manageable," Anderson said, but eventually the couple was losing money by keeping the business. "You hit a certain point when it's no longer sustainable to keep the doors open. We hit that point last year but we didn't act on it until last week."
Anderson and Stewart decided to close up shop after reviewing the studio's first quarter results for 2019. "We had not arrested the decline things were continuing to decline as fast as ever," Anderson said. "Enough's enough."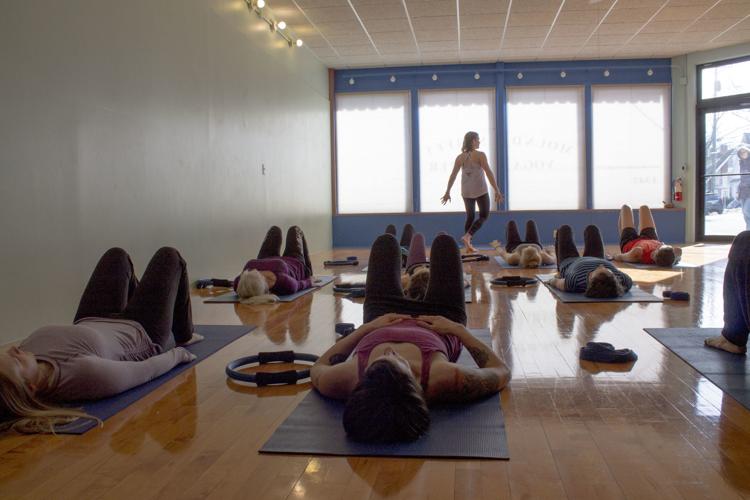 Small studios 'a dying thing'?
The couple's efforts to find buyers for the studio were unsuccessful, which came as no surprise to Anderson. "The little standalone yoga studio is kind of a dying thing," Anderson said.
Jim Manos, owner and director of Main Street Yoga on Madison's east side, agrees.
"I think it's being proven by the fact that the older studios are going by the wayside," Manos said, citing the closing of Jewel in the Lotus and Perfect Knot. As more studios pop up in the city and larger studios open second and third locations, Manos said his studio has seen a drop in attendance, though not on the scale that Mound Street experienced.
"This used to be what yoga studios were," Anderson said, but in the four decades since Mound Street opened, large studios like Inner Fire and The Studio have come to dominate the scene by offering a variety of types of classes and multiple simultaneous classes.
"They're what it's going to look like in the future… We can't keep up," Anderson said, adding that he's seen many small yoga studios close over the past five to 10 years. "Clearly people vote with their dollars, and what we're offering — not that many people want that anymore."
Main Street Yoga, which will celebrate its 25th anniversary this year, has struggled to attract new clients but has "a really solid base" of longtime students, Manos said. "There's a handful of students that don't want to go to a larger studio, that are looking for a smaller, more unique place to practice," Manos said.
Those unique places, he said, follow a different business model than the large studios. "People who have a love of yoga (make) a space for others to come in and learn," Manos said, noting that those who owned or taught at small studios typically made their living in other jobs. "This is not anyone's full-time job," Manos said of Main Street Yoga. "We don't have payroll for people that just promote the business like health clubs that are open 18 hours a day. We rent a class, we offer classes in that space, and that's the end of it."
Manos questioned whether the high-caliber instructors at Mound Street would want to teach at the large studios. "Not everyone wants to shop at the big box stores," Manos said. "Some people like to go to State Street and shop at the funkier places that have history."
"Time will tell how the big studios survive," Anderson said, drawing a parallel to other struggling independent businesses like bookstores and music stores. "We're kind of like the record store. We're another one that went belly up."
But while some see Mound Street's closing as sad news, Anderson isn't one of them. "Personally, I'm just fine. I'm a little burned out," said Anderson, who has been teaching yoga for 30 years. "A lot of the claims that have been made about yoga and what it can do for your fitness may not really be the case," Anderson said, noting that he has become more interested in seated meditation, Pilates and other forms of fitness.
Anderson said he could have fought the studio's decline by adding hot yoga or flow sessions with music but chose not to. "I can't shake my fist at the heavens and say, 'Why me?' The other studios changed with the times and I didn't," Anderson said.
Manos said that he's opted not to change either. The studio now has a Facebook page and does some social media promotion, but that's about it.
"It's difficult to make changes in the way that you do your practice just for the sake of keeping the business going," Manos said. "It may sound silly to say that, but you're dedicated to the way that we learned it."
"Yoga is an ever-changing thing," Manos said. "Culturally what's being offered and what's being desired is not what we were taught 25 or 30 years ago."
But small studios that want to change with the times may find it isn't feasible. For example, small studios might not have the HVAC systems needed to offer hot yoga, Anderson explained. He said other business owners will need to decide whether the fight is worth it. "If what you're offering is true to your heart, then stay your course and stay with your vision," Anderson said.
Sometimes it's better to let it go, Anderson said, citing Buddhist teachings. "Everything has a lifespan. Everything arises and falls away. No business lasts forever. That's the nature of the natural world."
"We had a good run," Anderson added. "Very few businesses last 35 years."
With the studio's end comes new beginnings. "I'm ready for a new adventure," Anderson said.