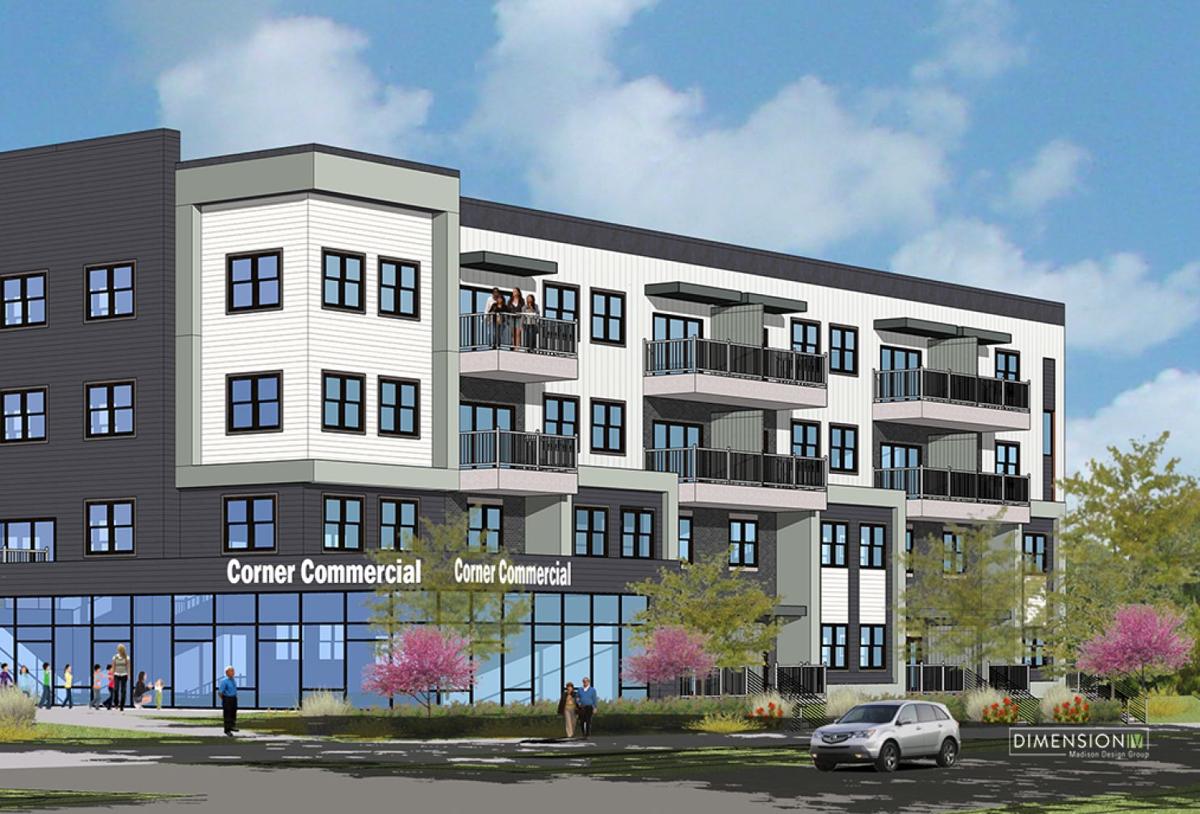 A developer with two other affordable housing projects underway in Madison is proposing a third, this time on the north side of the city.
The project by MSP Real Estate would create 111 units of mixed-income housing for families and seniors at 1212 Huxley St., the site of Heritage Credit Union, which would be demolished.
Mark Hammond, vice president of development for MSP Real Estate, said the developer is excited to partner with the city on a third project and "do our part to help address the pretty substantial housing needs" in the Madison area.
The project would bring two four-story buildings and an outdoor green area for kids to the site. A building with about 61 units would be age restricted for seniors, and a second building would contain about 50 multifamily units without an age restriction.
There would also be 2,000 feet of first-floor commercial space, which could be used for businesses like a day care center, coffee shop or small medical or dental office.
The site is close to the Dane County Job Center, the North Transfer Point for Metro Transit, FEED Kitchens and the Northgate Shopping Center with businesses like the Madison Oriental Market and Boomerangs Resale Store.
"It's also good for our local businesses to have a density of people over there so that people can come and support those businesses," Ald. Syed Abbas, District 12, said earlier this month.
Most of the units would be aimed at those making 30, 50 and 60% of the area median income. For an individual in 2019, that would be someone making between $21,000 and $42,180 a year. For a family of four, 30 to 60 percent of area median income would be between $30,100 and $60,240. Fifteen percent of the units would be market-rate apartments.
This year, MSP Real Estate will apply for funds from the city's Affordable Housing Fund, as well as Section 42 Low Income Housing Tax Credits distributed by the Wisconsin Housing Economic and Development Authority. 
About 40 people attended a neighborhood meeting on the project Tuesday night, Abbas said, and their major concerns were around traffic and the density of units.
Aberg Avenue is already very dense with traffic, Abbas said, so some people were concerned that the project would make the road even more difficult to navigate. City staff will review the project, Abbas said, and determine whether to conduct a traffic study.
Neighbors were also concerned about the density of 111 units on almost 3 acres, as the character of the surrounding neighborhood hovers around two stories, Abbas said. Abbas said he needed to explore the density requirements as outlined in the neighborhood and Comprehensive Plan, and called the questions about density "reasonable feedback."
City Planner Kevin Firchow said in an email that a "purely residential" development could contain about 60 units per acre under existing zoning, but there is no set maximum density for a mixed-use development. Zoning allows for up to five stories, though additional height could be considered as a conditional use, he said.
Abbas has heard concerns that bringing in an affordable development would lower property values. Abbas believes that with the redevelopment of the nearby industrial Oscar Mayer plant, property values will go up. He said the development team explained very well "what exactly Section 42 is, and how exactly people get qualified, (that) I think a lot of those concerns were addressed."
Hammond said MSP manages their properties in-house.
"I think we were able to address a lot of the concerns by kind of walking through our process for onsite management," Hammond said. "At MSP, we really pride ourselves on trying to ensure we have a safe and inclusive community. It's really in our interest and we work hard to make sure our property is a good property."
Abbas said more housing is needed in the city, where apartment vacancy rates are at unhealthy levels, and especially on the north side, where he said it's getting harder for people of color and those with middle or lower incomes to afford homes.
While the redevelopment of the Oscar Mayer plant will bring more activity to the area, Abbas thinks it will also bring gentrification, which could potentially push those on a tight budget out. The plant closed in 2017 and is being redeveloped as a commercial and industrial space, with Total Administrative Services Corp. and AssuredLeads already at work as tenants.
"One way we can tackle future gentrification is by providing more housing," Abbas said.
There are several market-rate developments coming to the north side, like 27 units coming to the Northside TownCenter, but Abbas added he wants to make sure there is housing for seniors and those who live on a budget. When he campaigned door-to-door, he heard from a number of senior residents who were concerned about paying rising property taxes on a fixed budget. Abbas wants to make sure they have affordable options to stay in their neighborhood.
The project would require a conditional use permit, meaning it would need Plan Commission approval, Hammond said.
At the earliest, MSP would start construction in February or March of 2021, with the development opening around late summer of 2022, Hammond said.
MSP Real Estate is responsible for two other affordable housing projects in Madison, with affordable housing for seniors at Normandy Square, 6509 Normandy Lane, coming in August and 95 units of affordable housing in The Grove Apartments at 204 Cottage Grove Road, currently under construction.
Natalie Yahr contributed to this report.
Share your opinion on this topic by sending a letter to the editor to tctvoice@madison.com. Include your full name, hometown and phone number. Your name and town will be published. The phone number is for verification purposes only. Please keep your letter to 250 words or less.