For those who haven't visited downtown Middleton in a while, it may be a bit busier than they remember.
"We used to have kind of a quaint downtown," said Middleton resident Roshelle Ritzenthaler. "Some aging buildings, more 'cottagey.'"
But the recent construction of the five-story Middleton Center apartments and new businesses and restaurants — like Longtable Beer Cafe, the revamped Bloom Bindery, men's clothing store Journeyman Co. and home furnishings store Fontaine Home — have brought a new energy to the area, said Abby Attoun, Middleton director of community development.
That's naturally made some residents want to "pull it back in the other direction," Ritzenthaler said. A public plaza, slated to be completed next September, aims to offer residents a respite in the midst of an increasingly active downtown.
The future plaza, on a third of an acre between Elmwood Ave., Aurora St. and Hubbard Ave., is right in the thick of the downtown, just a stroll from the National Mustard Museum and the 40-year-old Village Green Bar & Grill. The space used to hold four mostly residential buildings, which the city purchased in January and demolished.
"Right now it's just a stamp of grass, basically," Attoun said.
What exactly it will become is still up for debate. Madison-based Saiki Design, a landscape architecture firm that has worked on projects like Lisa Link Peace Park, Olbrich Botanical Gardens and Lambeau Field, has created three plaza design alternatives, currently the subject of an online survey closing this Sunday.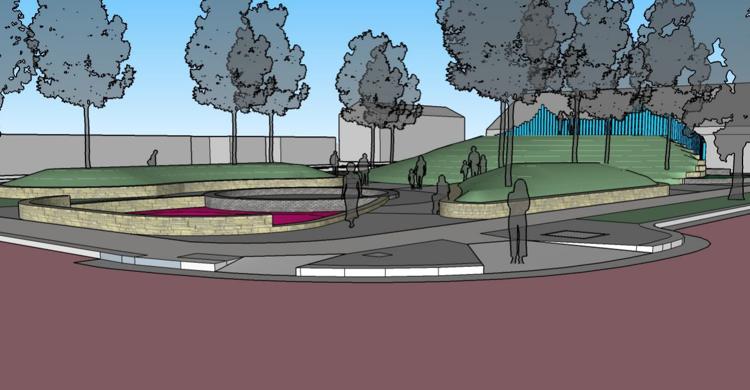 The survey is far from the public's first interaction with the space. Ritzenthaler, a professional design strategist, offered up her services to the city to facilitate community input.
"We really wanted the public to play a huge role in whatever happens on this space," Attoun said. "I know from talking with Ken Saiki that their three concepts are totally different than what they initially anticipated, so the public input has really shaped the project."
The public was happy to offer opinions. Groups of 50 people showed up at public meetings, even on rainy nights, and Attoun spotted participants who don't normally attend city meetings. A social media campaign aided the effort, and large boards in the area asked passersby "What do you want to see here?"
Among the loud-and-clear takeaways: Middleton residents wanted the plaza to be a green, peaceful space away from the fast-developing downtown. Attoun noted that all three designs separate the plaza from the street, by either sinking or raising the plaza space.
"Middleton is becoming a more and more urbanized downtown, and they wanted something that was more green and less urban, less paved," said landscape architect Ken Saiki.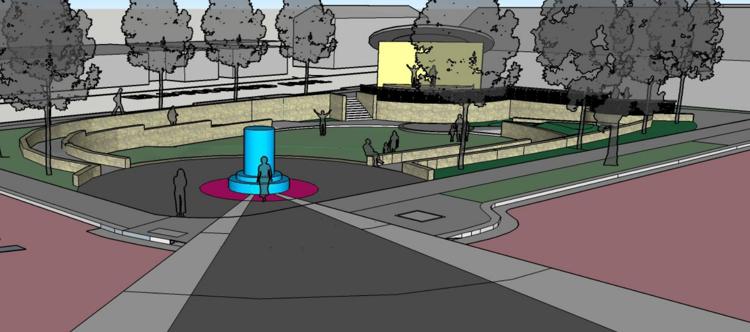 But the plaza won't just be a quiet getaway; it's meant to host public events, which could include outdoor movie nights, high school orchestra performances, opera in the park or live-streamed sporting events, Attoun said.
Right now, when Middleton hosts a larger downtown event, it has to close down public streets to make it happen. The plaza could host events without disrupting traffic, Attoun said.
The plaza designs are meant to appeal to old and young alike. Ritzenthaler expected the public input process to garner a lot of requests for a playground, but that wasn't the case. Middleton residents emphasized that they wanted a truly multi-generational space, especially with the Middleton Senior Citizen Center a stone's throw away.
"I really loved that," Ritzenthaler said. "Everybody was thinking of not just themselves, but their neighborhood."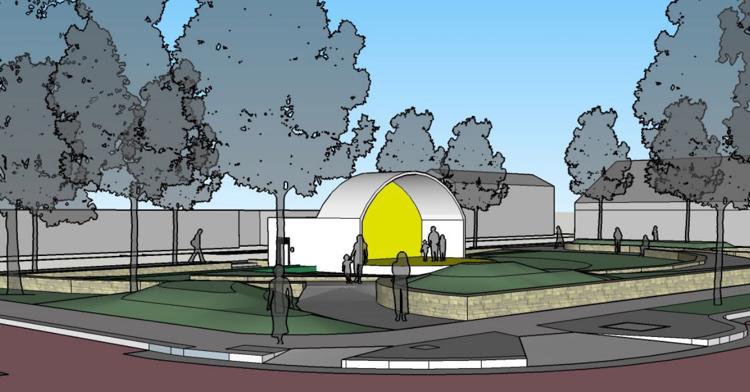 The three plaza designs, known as The Nest, The Bowl and The Mounds, all include a stage, public restrooms and places for public art. The Nest sinks the plaza down into the ground, while The Mounds rises up on rolling slopes and puts a stage atop one of the mounds. The Bowl, with a large central stage area, is perhaps the most event-centric space, Saiki said.
At a recent public meeting, The Nest was the clear favorite, Ritzenthaler said, but the online survey continues until Sunday, Oct. 14 at midnight. All public input will be compiled and then presented to the volunteer Downtown Plaza Advisory Team, which will ultimately choose a design to recommend to the Middleton City Council.
The council will hopefully approve the design in November, setting up the project to begin construction next year and finish by September 2019, Attoun said.
Middleton has weathered some rough times this year, with flooding and an at-times difficult budget process, Ritzenthaler said. In September, it was the site of a workplace shooting that made national headlines. So while the completed plaza is meant to be a respite, in a way, discussions about it have already provided one.
"There's been a lot of really tough things," Ritzenthaler said. "(The plaza is) something really positive to get people together."