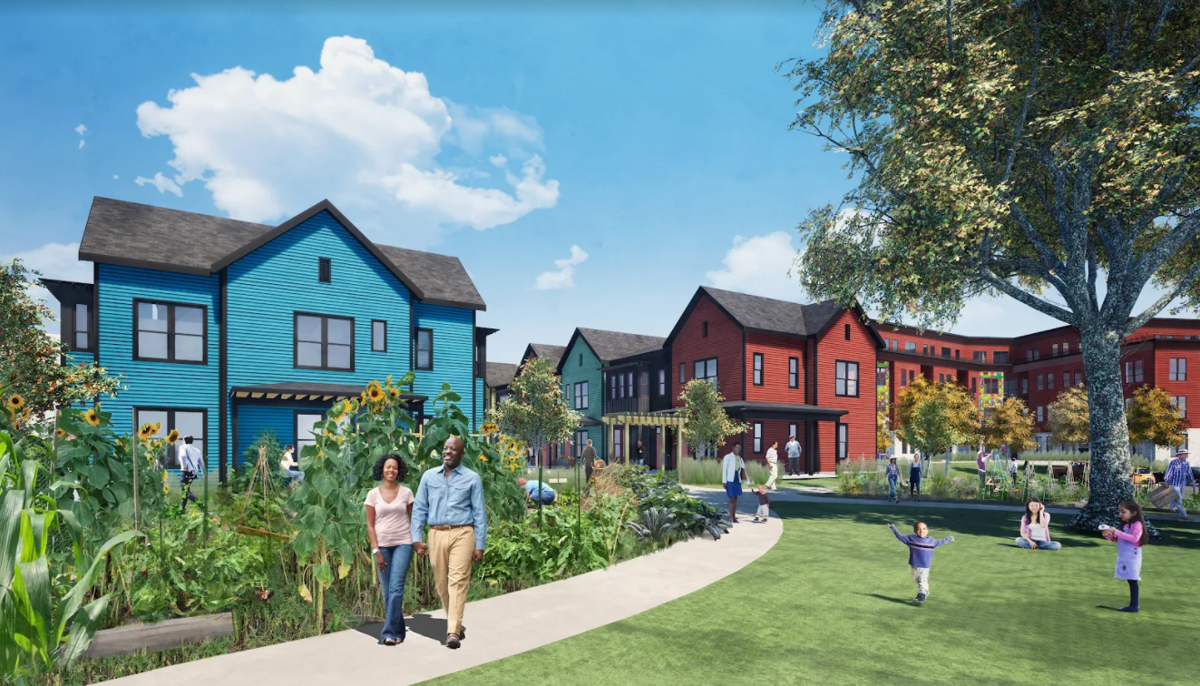 A years-in-the-making redevelopment of Bayview Townhomes — one of Madison's oldest and most diverse housing complexes — is coming to fruition and is being celebrated with a groundbreaking ceremony at 10 a.m. on Wednesday.
Home to a large population of southeast Asian, Hmong, Latinx and Black residents, Bayview is part of the Triangle Neighborhood, which is bound by South Park and Regent streets and West Washington Avenue.
Bayview provides affordable housing for over 90% of its residents, and uses an administrative model that is inclusive of the input those residents provide. Out of the 102 units at Bayview, 99 have housing assistance payments attached to them through Section 8 vouchers, where residents pay about 30% of their income on rent (30-35% of income spent on housing is often a benchmark of affordability in housing developments). The Department of Housing and Urban Development covers the rest of the fair-market rent.
"Given just how critical an issue of affordable housing is, this development is providing safe, affordable and increased housing in downtown Madison," said Alexis London, executive director of the Bayview Foundation. "It's close to all the amenities such as multiple bus lines, the lakes within walking distance, the Capitol within walking distance, the university is two or three blocks away. Being able to provide safe, affordable multi-family housing within steps of those amenities is something Madison needs."
The new project will replace the current Bayview Townhomes with a 48-unit, four-story apartment building; a 25-unit, three-story apartment building; 57 two-story townhouses and a community center.
The Bayview Foundation and the development team spent large amounts of time involving residents as the project evolved. Current residents are having their homes torn down and rebuilt which, of course, people have a personal stake in overseeing and contributing ideas to.
The Bayview Foundation was also cognizant of the fact that many residents, particularly elderly people who are Hmong or from traditional Latinx backgrounds, had deep feelings about making sure the final product represented each diverse culture and could feel like home to everyone.
"They are the experts of their own lives," said Mary Berryman-Agard, Bayview Foundation board chair. "This is about a relationship between the residents and the administration… making sure that the housing we built was based around cultural preferences.
"We have some residents who are part of food-growing cultures, and so we had to make sure we had things like proper gardens, food-growing areas."
The project will include 7,000 square feet of community gardens along with children's play areas, a bike fix-it station and a large, state-of-the-art community center.
The community center will be located off of a new public street (yet to be created) and will serve not just Bayview residents, but neighboring areas as well. It will be 11,000 square feet and include a food pantry with goods representing the cultural needs of Bayview residents; a commercial kitchen outfitted to be able to provide cooking programs for children; kids' classrooms; a family outreach center; a lobby/lounge for seniors; a fitness area; and studio space that will include local artist residencies, among other features.
The entire Triangle neighborhood area will benefit from the community center, which is part of the goal of the Bayview Foundation.
"Anytime you make a strong contribution to equity in the community, you necessarily improve things for all the neighbors around it, not just Bayview," Berryman-Agard said. "So, we can say our community center will be large enough to support the broader neighborhood."
The redevelopment of Bayview Townhomes has been a $50 million project thus far and has included funding from Dane County, the city of Madison, and WHEDA tax credits. The Bayview Foundation is running a capital campaign to raise funds needed to finish the community center, which is the final piece of the development plan. The center costs around $10 million. Foundation officials said they have raised about $5.6 million and are looking for partnerships for the remaining amount.
The groundbreaking on Wednesday represents the beginning of the first phase of constructing the apartment buildings. According to London, residents are ready and excited to watch the construction of their new homes.
"People are extremely excited," London said. "It comes with some worries, of course, but because we're founded on a transparent communication with residents, they are excited and feel like their concerns/worries have been addressed.
"Understanding the interconnection between equity, resident voice and community development really makes this model work," London added. "You're not just building homes in terms of four walls and a roof, but building neighborhoods that people can find special.
"That's the model we have and one we would like to see replicated."