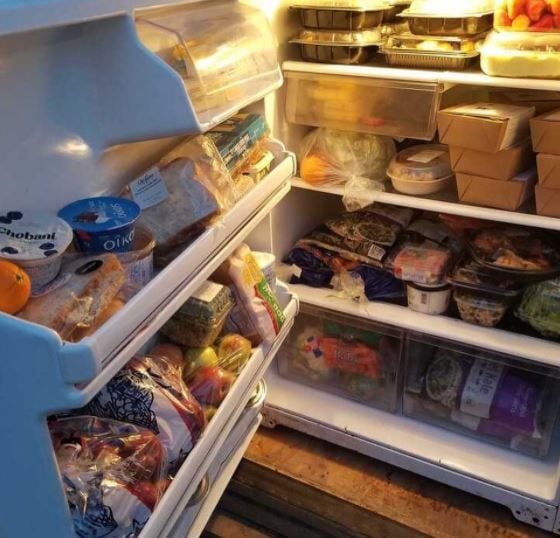 A "community fridge" located on the 1000 block of East Johnson Street since August, allowing those in need to avail themselves of free food and other supplies, has been shut down by Madison officials after they received an anonymous complaint.
According to city officials, the refrigerator is in violation of city zoning codes which state that a food pantry can't exist within a residentially zoned area and should be located at a church or mission house property.
Similar community fridges started popping up around the country last spring based on the simple concept of making food easily available to those suffering economic hardship during the COVID-19 pandemic. The Freedge website offered advice on starting a community fridge and maintained a database of where they were located around the country. 
"I live at the house where it's posted and so I probably see five to ten people using it a day, but that's just when I'm walking out the door or looking out the window," Julia Levine, one of the Madison fridge organizers, said. "Every 72 hours or so we re-up the food. So it has pretty consistent use every day." 
The food comes from multiple sources, Levine said, including Troy Gardens on Madison's north side and the River Food Pantry. The location includes a shelf of non-perishable food as well as the refrigerator.
"And neighbors come and drop stuff off," Levine said. "I've seen neighbors come home from Festival Foods and drop stuff off. It's like a community volunteer thing."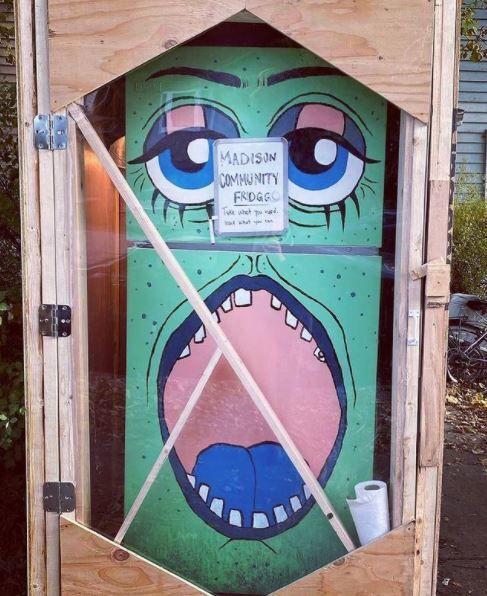 The operation was simple: a refrigerator set up on the sidewalk with an extension cord running into Levine's house. Volunteers regularly checked the temperature of the refrigerator and removed older items for compost Levine said a local chef added prepared meals weekly. 
Matt Tucker, the Madison zoning administrator, said the refrigerator was in clear violation of city zoning code. 
"The first big problem is this is a residential house and they're doing the activity outside of the house," Tucker said. "There are setback zoning requirements where you're not allowed to put things in the front yard. What makes this tricky is this is a single-family home residential place. Zoning for residential places doesn't allow for things like this to occur, like food pantries or mission houses. We issue permits for structures like this and there's no permit issued for this." 
Tucker said when he inspected the refrigerator, he had immediate concerns.  
"They had a box that had some potatoes. Some varmint had pulled one out and was chewing on it, there was a little squirrel that had been chewing on it," Tucker said. "The extension cord is not an appropriate thing to be running into the house. The refrigerator is a residential refrigerator and if the temperature gets below 40, the freezer stops working. They're just not designed or otherwise intended to be outside. So that just is not going to work nor is it appropriate for it to be out there. We don't let people put things that are not designed for outdoors, outdoors like that." 
Ald. Patrick Heck, whose district includes the fridge, the site sits in what is called a Traditional Residential-Varied 1 zone and there is no provision for a streetside food pantry there. 
"I'm not entirely sure that there is any zoning district in the city in which this type of operation would be allowed, but can't say that for sure because I'm not sure what it would be called," Heck said. "That said, our zoning code is written to allow certain uses and if a use is not mentioned for a particular zoning district, that use is not allowed." 
Heck said he hopes organizers will be able to find another home for it. 
"I assume it's very visible location contributed to the complaints, as well as it being right up against the sidewalk, but I do find those complaints unfortunate when so many are struggling to pay rent, find food," Heck said. 
"We didn't have any idea what we were doing, we just put a literal fridge out on the sidewalk," she said. "We've gotten little dishes on our porch in response, art work, notes saying 'You're a lifesaver.'" 
Levine is now hoping the city will make an allowance for community fridges due to the need for healthy food. 
"It is such an effective and innovative way of getting food out there," Levine said.