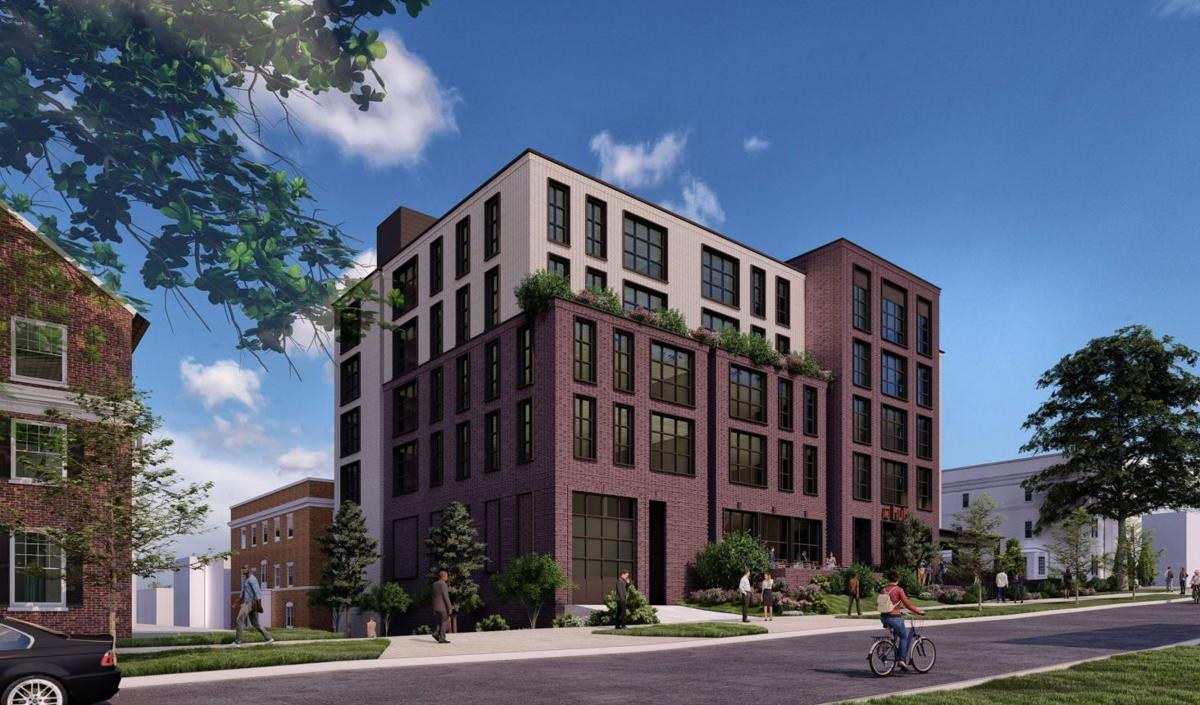 The Madison Plan Commission on Monday night again rejected plans for a Langdon Street apartment building targeting student tenants. 
The Hub II, a 7-story, 106-unit building proposed for 126 Langdon St. by Chicago-based Core Spaces Development was denied Conditional Use permits for the second time in less than a year.  
In July, the Plan Commission denied the project with members saying it failed to meet several key requirements for Conditional Use. The Plan Commission felt then that the building was out of scale with adjacent buildings and did not enhance the character of the area, home to many University of Wisconsin-Madison fraternity and sorority houses. 
On Monday night, following three hours of public testimony and questions for the development team, the Plan Commission determined that Core Spaces failed to modify the previously denied proposal to the necessary level to gain approval.  
Ald. Patrick Heck, whose district includes the proposed development, offered a motion to approve the project and stated that he thought the development team could move forward with the proposal while working closely with the city and himself on issues that had been raised during the meeting.  
"If this is approved, I will work very hard to help the developer address security," Heck said.   
Other commissioners continued to argue that Hub II's design would not fit within the Langdon area, which is recognized in the National Register of Historic Places. City staff made it clear during the meeting that property is not in a local historic district and the adjacent buildings adjacent are not historic buildings. 
Still, Commissioner Bradley Cantrell said the building would not fit in with its surroundings. 
"Langdon is a very special street in this city and I think even though it is not a local (historic) district, people view it as a local district," Cantrell said. "I don't think this project is there yet. ... I'm struggling with the rhythm and the mass of this building that we're looking at." 
Cantrell pointed out that the city's standards for Conditional Use ensure that new buildings are designed with sensitivity to the context of the area in terms of scale, building placement and facade width. 
In its various iterations, Hub II has faced opposition from neighbors as well, including UW-Madison students. During the public comment portion of the meeting, a large contingent of downtown residents voiced opposition to Hub II for a variety of reasons, most of which were tied to security, massing and traffic. 
Christine Hughes, who is a board member with Alphi Chi Omega, expressed concern that a potential party atmosphere and large numbers of unauthorized guests at the building could present safety issues for the women in a neighboring sorority. 
"Based on reports from other development sights, we're very concerned for the safety of the 60 women in the building," Hughes said. "The upper stories to this proposed project will look right down into young ladies rooms. To me, that is a complete and total invasion of privacy. The inclusion of a common/party space on the roof is a recipe for difficulties with the neighbors." 
Hub II's proposal includes a rooftop pool deck and hot tub area. According to Rodney King, who heads the Core Spaces development team, residents of the Hub II would have key fobs that would give them access to the rooftop pool area during certain hours, but he did not elaborate on what those hours would be. 
King said that staff would monitor rooftop activities via a video monitor and, if problems arose, would contact managers who would help them clear out people on the roof after hours or deal with other undesirable behavior. 
"On-call staff and security during the evening hours, as well as camera coverage will assess situations. So we will know what's going on at the deck," King said. "We do have resident employees who live there who will be on call in addition to our building managers, who will also be on call." 
Plan Commission Chair Ledell Zellers asked how Hub II would keep unauthorized guests from being in the building.  
"We will tell all our residents not to allow piggybacking," King said. "So once your fob is scanned, we know who's scanned in." 
The commission voted 6-1 to deny the proposal, with Heck voting against his own motion for approval. The panel unanimously voted to have the proposal placed on file without prejudice.  
Core Spaces can appeal the decision to the City Council. In 2020, after the Plan Commission denied the firm's first proposal, Core filed an appeal to the City Council but ultimately withdrew the appeal, opting instead to file a revised proposal.