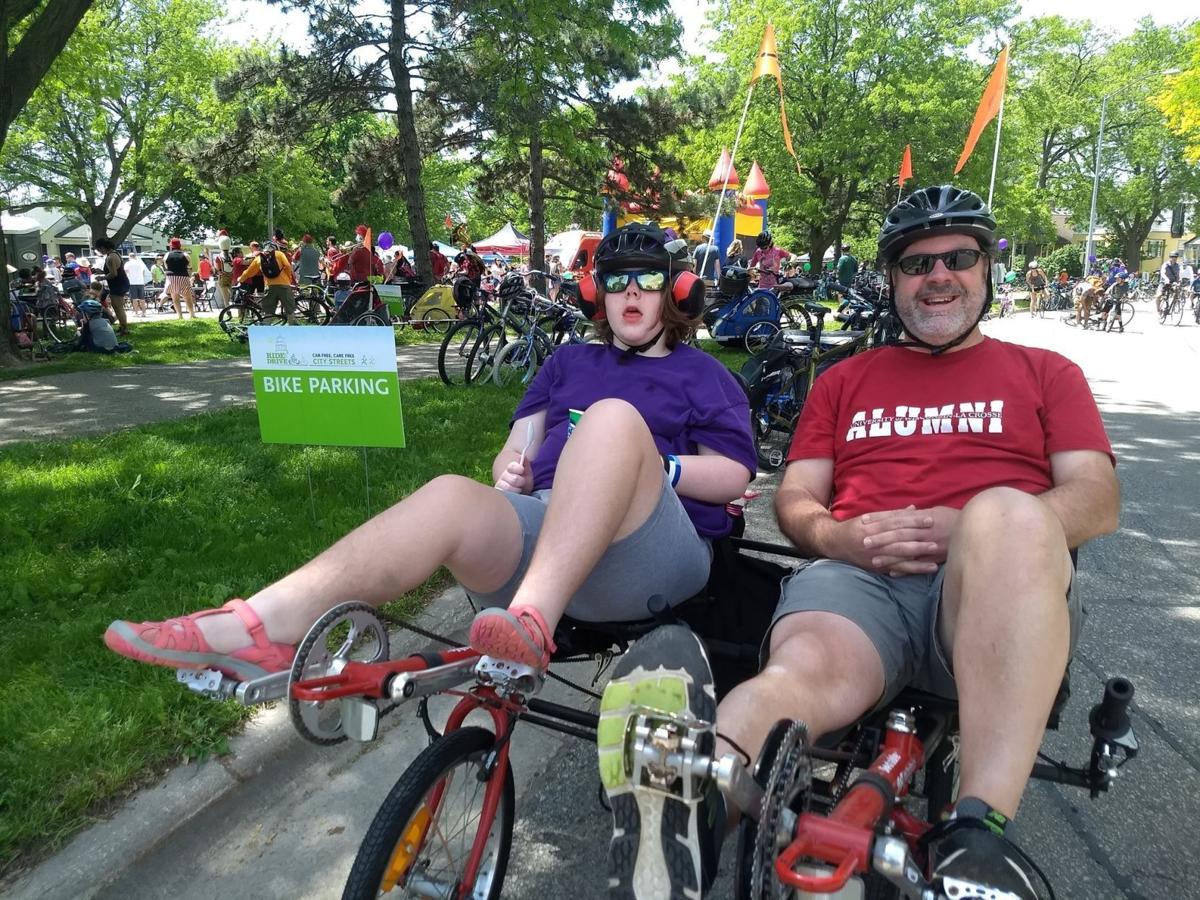 For Brian McNurlen, few things eclipse the joy of having the wind in his face and feeling the surge of speed as he pedals ever faster on his bike.
It is a joy he feels compelled to share with others, especially people with disabilities who may not otherwise have the opportunity to experience the fun of riding a bike.
That's why at Madison's Ride the Drive this Sunday, McNurlen will be unveiling his adapted side-by-side bike as he cruises along with his daughter, Rosie, as his passenger.
Rosie, 13, who has autism as well as other physical challenges, will be pedaling along, which Brian says offers her a rare chance for exercise as well as the ability to experience Madison's nearly 61 miles of off-street bike paths.
"Rosie has profound autism and some physical challenges as well, so it's really hard to get her to go for a walk and other physical stuff. But she loves bike rides," McNurlen said.
The experience of riding with Rosie led McNurlen to create Madison Adaptive Cycling, a nonprofit organization dedicated to providing a biking experience for those who may not traditionally be able to participate.
He and others are using Ride the Drive as a fundraiser for the organization, with funds going to buy a diverse fleet of bikes that can fit many types of bicyclists.
"Ride the Drive is the first time we're going to be out there on the streets wearing our t-shirts and letting people know about the bikes we're trying to acquire," McNurlen said. "People can see our bikes if they come to the east side around Kennedy Park."
The bike that Brian and Rosie will be riding is a side-by-side tricycle. His wife, Laura, and their son will be riding along with them in a four-wheel side-by-side tandem the family also owns.
"We have always been a bike family," McNurlen said. "We're doing the fundraising for the nonprofit to acquire the bikes, but ours are bikes we already own. We're hoping to have a fleet of bikes in the future."
Madison Adaptive Cycling is also based on a model being used in Minneapolis. The main idea is that a fleet of adaptive bikes will be made available at different locations, allowing people with differing physical needs to match with a bike that can work for them.
"We just felt like Madison needs to have something happen like this too," McNurlen said.
The Cargo Bike Shop, 1404 Williamson Street, has partnered with the group to source some e-bikes with configurations that better accommodate people with different physical abilities.
"We know a lot of families who have differently abled kids who can ride these bikes," McNurlen said. "They can also be helpful for people who are seniors who need something different."
Bike enthusiasts Philip Crawford and his partner, Margie Franzen, will tag along on Sunday.
"I have a sister who has been in a wheelchair for a decade and I've always wanted to get her on a bike," Crawford said. "Her capabilities aren't such that that's been possible for her. But we shared thoughts about getting biking available to more people, regardless of ability."
Crawford and Franzen will be riding in a bike from Cargo with a platform that pivots down to accommodate a wheelchair. A person in a wheelchair can then ride the bike without ever leaving the chair.
"It has an electric assist that helps the peddler and the passenger," Crawford said. "This is the only one that I've seen of this type in the United States."
Franzen, who has spent a lot of time in the Netherlands, said bikes like these are becoming increasingly popular. A city like Madison, according to her, is ripe for a bike culture like that found in cities like Amsterdam and Copenhagen.
"On Ride the Drive, it will be our first brush with the public to put in their imagination that this is what [diverse biking culture] looks like and this can be safe," Franzen said. "And to start having conversations about what this could mean for getting people out and enjoying the nice weather."
Franzen pointed out that bikes with all of these capabilities are very expensive and that allowing people to rent them like they would a BCycle, rather than pay thousands of dollars to store it in a garage, is key. 
"This is kind of like a library for bikes," she said.
Ride the Drive has been happening in Madison since 2009. Festivities on Sunday start at 9 a.m.
McNurlen said he believes that Madison is a city that is just beginning to realize its potential as a bikeable community.
"When you're biking and up close to the edge of the lake, it's just a different perspective of the city," he said.