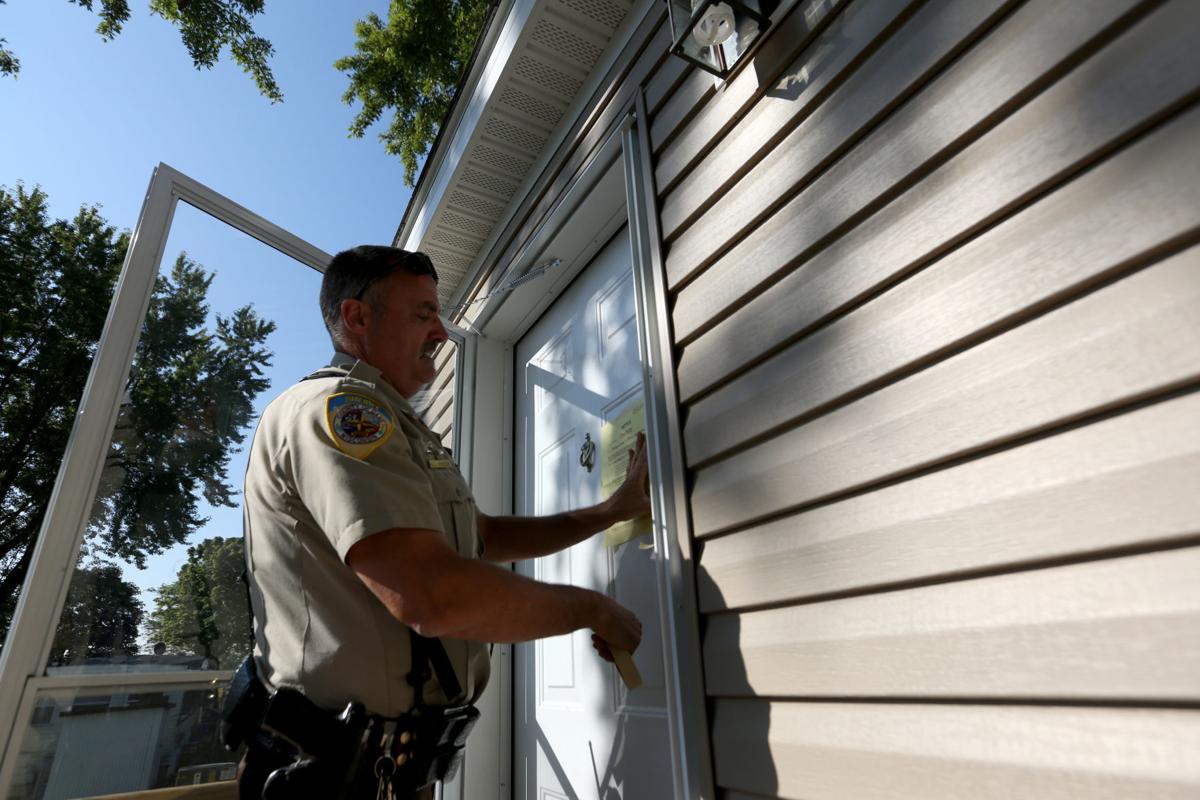 The federal moratorium on evictions — first enacted by the Center for Disease Control and Prevention on Sept. 4 — is set to expire, after an extension, at the end of January. Questions and fears about large numbers of renters being displaced linger in the minds of housing advocates while some landlords struggle to stay in business.
According to the Dane County Clerk of Court's office, 136 evictions have been filed since Nov. 15. Between Sept. 15 and Nov. 1, 140 were filed. Those numbers represent a significant uptick compared to 31 filings between April 1 and June 1.
In Dane County, 1,137 evictions were filed in 2020, down from 2,198 in 2019 and 2,041 in 2018.
"I do believe landlords are preparing and I expect a huge increase once the moratorium is lifted," said Laura Nachazel, a court manager in the Dane County Clerk of Courts office. "I am sure many people are using the stay to live rent-free and abuse the system, but that is only my guess. I do get calls from unhappy landlords asking how they are to pay their mortgage and how one-sided this all is."
Chris Mokler, a lobbyist with the Wisconsin Apartment Association, wasn't surprised to hear that the clerk's office is hearing from landlords. 
"There are frustrated landlords," he said. "All the landlord is trying to do is rent out their property, have a nice property, have nice tenants and survive and this has been very frustrating to landlords. It has been frustrating to the tenants as well."
Mokler said landlords with tenants who are not paying rent are, in turn, squeezed on their own bills, mortgage payments and property taxes in an increasingly uncertain economy. He pointed out that landlords who fall behind on mortgage payments could see banks foreclose on their properties. 
"What are the landlords gonna do?" Mokler said. "If landlords can't make their payments, the renters are going to lose their homes. Rents can go up because if it costs more for landlords to do business, that's what ultimately happens. Landlords are trying to survive just like everyone."
In most cases, according to Mokler, tenants have been keeping up on their payments or have worked out partial payments with landlords. But he said the few that haven't are easy to focus on because of what that financial loss can mean going forward for all involved.
"Most landlords have been able to survive," Mokler said. "Most are getting the majority of the rents due, but we seem to always focus on the few who have an issue. But then again, if you have 10 properties and you're only receiving payments on eight, you're probably hurting."
The CDC eviction moratorium order states that each adult tenant listed on a lease who is not paying rent must complete a declaration, or similar document, saying they are unable to due to substantial loss of income and will use their best efforts to secure government assistance for rent under penalty of perjury and provide a copy to their landlord.
"Landlords are saying they haven't received anything," Mokler said. 
Mokler said there have also been cases in which landlords have legally challenged the order and been successful in evicting tenants.
Dane County Supervisor Heidi Wegleitner, an attorney who represents tenants in eviction proceedings, said the CDC order is not as strict as a previous order last spring from Gov. Tony Evers expired after 60 days and was not reinstated. Evers has the power to issue a new order.
"It is not a broad ban on evictions like Gov. Evers ordered earlier this year," she said. "It is not automatic and it requires tenants to know about the order and affirmatively assert their rights to protection by signing a declaration attesting to certain facts under penalty of perjury and delivering it to their landlord. It does not ban evictions for lease violations unrelated to rent or other housing payments."
She said some landlords are attempting to get around the order by asserting that tenants are violating other parts of their leases.
"We have seen landlords who have been stopped from evicting for rent issues then immediately refile a case for another reason to get around the order," she said.
Wegleitner worries that tenants filing for rent assistance under the second COVID-19 relief act may not receive it by the time the moratorium is lifted.
"If the moratorium is not extended past January 31, I worry that many will be evicted while waiting on rent assistance money," Wegleitner said. "The COVID relief law that was just enacted included $25 billion in rental assistance funded through the Treasury Department's COVID Relief Fund … It makes no sense to lift a moratorium before this rent assistance money is being paid on behalf of tenants."
Loss of housing could be the latest blow suffered by low-income residents who have seen income and benefits evaporate during the pandemic.
"It is cruel to lift a moratorium while people are waiting for a vaccine and COVID is still raging in our nation," Wegleitner said. "Even without a pandemic we know people who have experienced homelessness have a shorter life expectancy."
But Mokler said another extension of the moratorium is only delaying an inevitable spike in evictions numbers.
"There'll be a spike in evictions. Big or little, I don't know," Mokler said. "But there will be a spike in evictions for what's happened in 2020 and whether that levels off for 2021, we'll have to wait to see."
Correction: This story has been corrected to say Gov. Tony Evers' eviction moratorium expired after 60 days and was not reinstated.