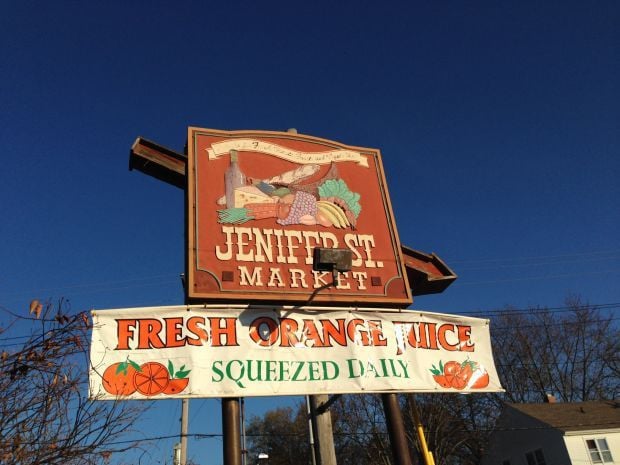 Residents of Madison's Schenk-Atwood-Starkweather-Yahara neighborhood are organizing a fundraising campaign to try and prevent the loss of the Jenifer Street Market, a staple of the east side for over 40 years.
The market leases its space from Schoep's Ice Cream, which has gone into receivership, an alternative to bankruptcy that entails the sale of a company's assets.
On Dec. 16, entities interested in making bids for all or portions of the property will be meeting with the receiver, Michael Posky, at the Concourse Hotel in downtown Madison for an auction. Jenifer Street Market owner Steve McKenzie will be among those making a bid for the property in an effort to preserve what he called the only job he's ever known.
A November meeting of the SASY neighborhood association board drew over 50 people, many of whom wondered aloud what they could do to help keep the market in the neighborhood.
To that end, several residents have formed the SASY Business Development Association (SASY BDA). According to founder Trevor Fink, the group, which can be found at sasybda.org, is focused for now on issues facing the Jenifer Street Market, but also intends to support other businesses in the area around Atwood Avenue.
SASY BDA's first move is to launch a fundraising campaign at a Tuesday, Dec. 3, meeting, set for 6:30 p.m. at the Harmony Bar, 2201 Atwood Ave. Funds will  support market owner Steve McKenzie's bid to purchase his store's portion of the Schoep's property.
Fink urges those interested in supporting the initiatve to  visit BDA's website and click on "I Want To Help."
"I've never done fundraising on this level before," Fink said. "Right now we're trying to focus only on Jenifer Street Market. There's enthusiastic support in the community for it right now. There was a SASY (neighborhood association board) meeting about two weeks ago and it was the best attended meeting since the Garver Development plan. People went around the room and guests introduced themselves and it was 100% 'We're here for JSM'. I'm expecting people to be enthusiastic in their support."
The formation of BDA and the drive for fundraising has taken shape in two weeks and Fink said BDA is looking to expand its board to business owners in the SASY area.
"Once we get through this campaign, we will expand the BDA to support the businesses that are in SASY and the businesses on Atwood," he said. "This receivership wasn't happening until it was. Stalzy's (Deli) didn't have a fire until they did. There are emergent situations that we need to be able to address."
The SASY Neighborhood Association board will convene on Tuesday for an emergency meeting, just prior to the fundraising launch at the Harmony Bar. Members will discuss whether or not to publicly support the BDA.
"SASY Neighborhood Association's role is to endorse Fink's effort and, tonight, we're calling a special meeting of the board to discuss what that looks like," SASY board member Jason Tish said. "We will discuss the new organization and whether we will provide any financial support to it. Regardless of what the SASY Association does, Fink will launch. He held off until tonight to see what the SASY Association would do."
Fink said all of the money raised during the initial fundraising campaign will go towards supporing McKenzie's bid to purchase the market property. According to the website, if the bid is unsuccessful, the money will go toward helping him McKenzie work with a developer to build a new store in the neighborhood. If neither effort is successful, donations will be offered back to contributors.
McKenzie is providing thank you gifts from the store to donors.
Be the first to know
Get local news delivered to your inbox!