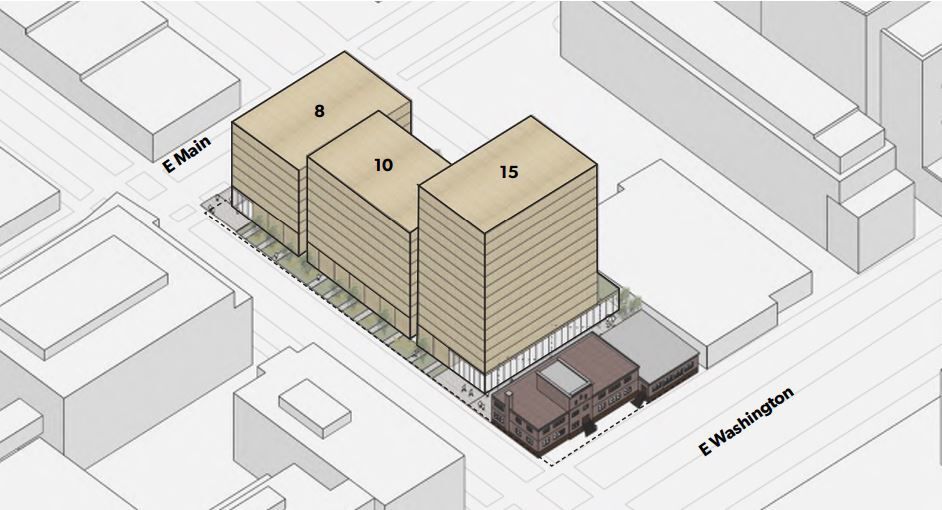 Two of the most ambitious development projects in recent memory will make presentations before the Madison Urban Design Commission on Wednesday night. 
A team from Summit Smith development will seek initial or final approval from UDC for Block One of its Madison Yards project slated for 4702 Sheboygan Ave., near Hilldale Shopping Center on the site of the old Department of Transportation building. 
Block One (of a seven-block development) includes 4 separate buildings that would occupy the corner of Segoe Road and Sheboygan Avenue.
Block One includes a 7-story office building with space for first-floor retail and amenities in the northeast corner; a 2-story retail/restaurant building in the northwest corner; a 5-story, 74-unit multifamily residential building on the south side of the block; and a 600-stall parking facility in the middle of the other buildings. 
Madison Yards developers gave an information presentation to UDC on Jan. 13. Plan Commission is expected to review the proposal during a meeting on April 12. 
The broader development includes an 8-story hotel with 150 guest rooms that would connect with an enclosed parking structure and a Whole Foods grocery store. It includes up to 540 total residential units, a central green, multiple restaurant spaces and three total office buildings. 
"The Madison Yards at Hill Farms development team is excited to add the mix of uses and density to Block 1 to our previously approved projects in the Madison Yards masterplan," Sean Roberts of Summit Smith said. "We look forward to transforming the currently vacant site into a vibrant mixed-use development and expect to begin work very soon."
Baker's Place
A relatively new development group, The Neutral Project, along with Madison-based architectural firm Angus-Young, is proposing a 15-story building on the 800 block of East Washington Avenue using "mass timber" construction. The proposal for 849 E. Washington Ave. and would partially integrate the existing Gardner Baking Company building, currently occupied by Bos Meadery. 
The proposal includes a 15-story building with 250 units facing East Washington that steps back to 8-stories on East Main Street and forms a C-shaped structure with an elevated green courtyard.
"The preservation of the Gardner Bakery and the integration of a new life to the site are vital components to our development," said Neutral Project co-owner Tyler Warner. "We cherish the old Gardner Bakery building's character and believe we can create a unique resident experience to add to the already vibrant Capital East District Corridor."
The development would fill another empty lot in the Capitol East district, anchored by Breese Stevens Field. Recent years have seen the Spark, Sylvee nightclub, Hotel Indigo and the recently-approved Archipelago Village fill in the 800 and 900 blocks of East Washington Avenue. 
Baker's Place developers want the project to be marked by its sustainable building and living practices. Using mass timber for construction will reduce carbon emissions by up to 70% when compared to traditional building materials, they said. The proposal includes charging stations for electric cars, a green roof, the green courtyard and potentially a partnership with Tesla to provide vehicles that residents of the building are able to share. 
"We plan on building to Passive House Standards, which is a standard that requires buildings to be insulated and airtight," Warner said.
Mass timber construction is growing in popularity in Europe and Canada, but still considered cutting edge in the United States where building codes generally require structures taller than five stories to use steel.
"We are enthralled by mass timber because it is the only building material that is grown by the sun, and naturally produced," Warner said. "Additionally, the reason our company was named The Neutral Project was because we are in the pursuit of building carbon neutral buildings, and Mass Timber assists us in that pursuit."