It's not every day that city and county officials throw a party to celebrate residents' wedding anniversaries. But the hundreds of Wisconsin weddings that happened this week five years ago weren't just any weddings. They were among the state's first same-sex weddings, and they couldn't have happened without a team effort by government officials and residents.
Dane County Clerk Scott McDonell addressed a crowd of about 50 gathered in front of the City-County Building on Thursday to celebrate the fifth anniversary of marriage equality in Wisconsin.
"I feel so fortunate to have been part of your special day, and we're here to gather and celebrate your fifth-year anniversary," said McDonell, who issued 61 marriage licenses on the Friday that a federal district court judge ruled Wisconsin's same-sex marriage ban unconstitutional.
Satya Rhodes-Conway, Madison's first openly gay mayor, wore a rainbow-colored sash emblazoned "MAYOR" as she recalled that night five years ago when she watched what was happening from out of town. "I was just sitting there in my hotel room with tears streaming down my face because it was so amazing and beautiful and spontaneous and momentous and historic," Rhodes-Conway said, noting that Wisconsinites traveled from all over the state to get married here. "Dane County has a lot to be proud of."
"Everyone here had been fighting this fight for years, for decades, before this actually happened," said Dane County Executive Joe Parisi. "The fight's not over, as we know, for equality across the nation and across the globe… At the same time, I think it's OK for us to take a few minutes occasionally and celebrate our victories."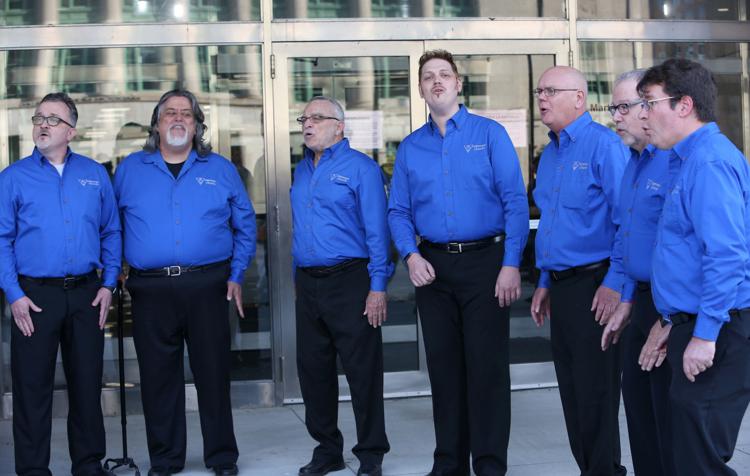 To mark the occasion, Common Chords, the outreach ensemble of the "gay and gay-friendly" men's chorus Perfect Harmony, sang a familiar tune. "Spring is here. The sky is blue… Today's the day we'll say, 'I do.' I'll be his, he'll be mine," the men sang with a smile. "Because we're goin' to the chapel and we're gonna get married."
Attendees ate cake provided by MPD Pride, a group made up of LGBT officers and allies within the Madison Police Department as Rhodes-Conway offered a white rose to each person who had gotten married during the historic week five years ago.
'We didn't expect to be the first'
Shari Roll was at the office on a "casual Friday" in 2014 when she heard the ruling. "I ran down the hallway yelling, 'I'm going to get married!'" Roll said. She and her future wife, Renee Currie, had been preparing all week. Roll called Currie tell her she'd pick her up in the driveway, and the two rushed downtown.
"We didn't expect to be the first," Roll said, but when they arrived at the City-County Building, they found themselves at the front of the line. When McDonell told them that the first Wisconsin weddings would be national news, the two weren't sure at first that they deserved to be couple number one.
"It's an honor to be the first couple, but more importantly, we're just really honored to represent what this actually means, just everyday people being able to get married," Renee Roll-Currie said on Thursday.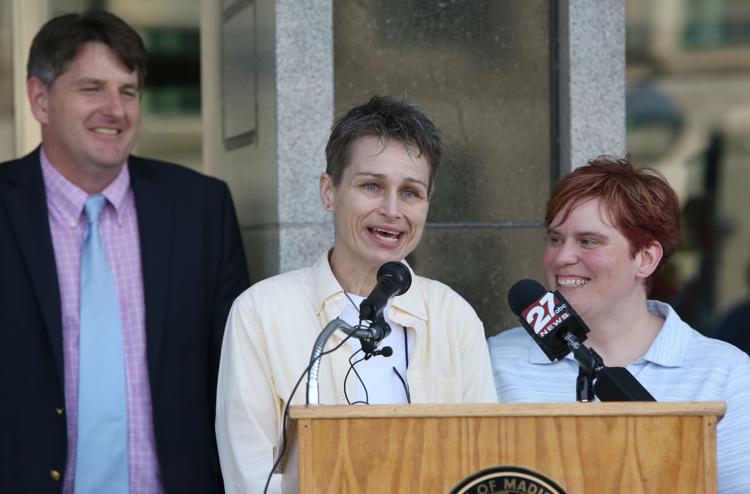 Eric Borchert, half of the first male couple to get married in Dane County, got the news at work too. "Somebody yelled it across the cubicle farm that 'It passed! It passed!'" Borchert said. "I had our birth certificates and the money in my bag and I just got up and left."
His partner, Timmo Dugdale was cleaning the house and didn't hear his repeated phone calls. "Finally one of his friends had to come bang on the door to tell me, 'C'mon, you gotta go get married!'" recalled Dugdale.
Denise King and Nancy Smider, who've been together for 21 years, also got married on that first day, though they can't remember their order in the line. "We called our close family and friends and said, 'Hey, if you can be here in 20 minutes, we're gonna get married!'" Smider said.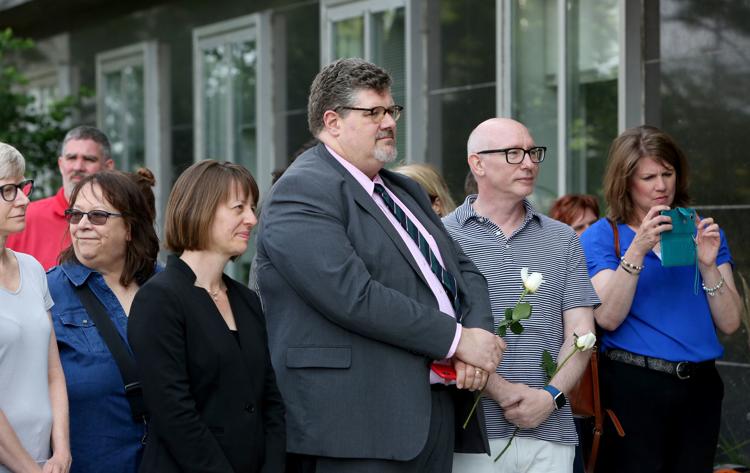 Many speakers at the celebration lauded McDonell for the planning and organization that allowed hundreds of couples to marry in the week before U.S. District Court Judge Barbara Crabb issued a stay that stopped Wisconsin counties from issuing same-sex marriage licenses.
"We knew we had to do as much as we could as quickly as we could," Parisi said.
But McDonell said untold numbers of officials and residents made the marriages possible. He credited attorney Tamara Packard of the law firm Pines Bach with recognizing that a motion filed by the Wisconsin attorney general hinted that he was expecting the ban to be overturned soon. The early warning gave McDonell time to prepare.
Judge Crabb's decision to delay issuing a stay was a game-changer, he said.
"Every decision she made created this opportunity. And… I'm just guessing, but I think she knew that if there were actual couples getting married that the Supreme Court would be loath to undo a marriage," McDonell said. "If it's all theoretical… that's one thing. If you have to break people up, it's different."
From the podium, McDonell recognized the judges came out to officiate. "We felt that it was really important that if we're going to do this and the governor is going to say it's illegal, that we have judges out here doing it," he said.
It wasn't just officials. "Everybody pitched in," Rhodes-Conway said. "One mother brought as many flowers as she could possibly find for couples… Another person gave couples who forgot money for their (marriage license) filing fee cash to file." Volunteers turned out to sign as witnesses, musicians played, and Madison police officers brought cake.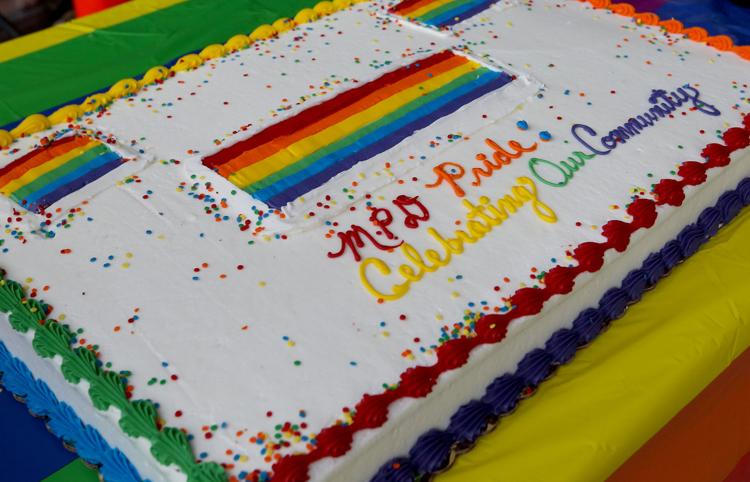 Officially recognizing the occasion
Later in the evening, as the Dane County Board of Supervisors unanimously approved a resolution to recognize the five-year anniversary of marriage equality, Supervisor Chuck Erickson, District 3, explained that voters often don't understand the impact of the more obscure government roles.
"This anniversary is an example of why who occupies these positions is important. Five years ago, same-sex couples had a window of opportunity…  Five years ago, we had the right elected official in the right place at the right time," Erickson said, referring to McDonell.
But LGBT advocates note that their work isn't over. "LGBT equality was not achieved with marriage equality," said Abby Churchill, founder of Trans Law Help Wisconsin. At the Board of Supervisiors meeting, Churchill stood beside her husband Chris Swomley, a transgender man. Because Swomley's birth certificate lists him as female, his marriage to Churchill was only possible after Wisconsin legalized same-sex marriage.
"While marriage equality is a great step in the right direction, we cannot be complacent. We cannot stop there," Swomley said, citing violence against transgender individuals and the fact that  discrimination on the basis of sexual orientation or gender identity is still legal in much of Wisconsin.
"We're thrilled to be celebrating this five-year anniversary," Churchill said, "and we hope that this is the first of many celebrations on the journey to equality for all LGBT individuals across the state of Wisconsin."