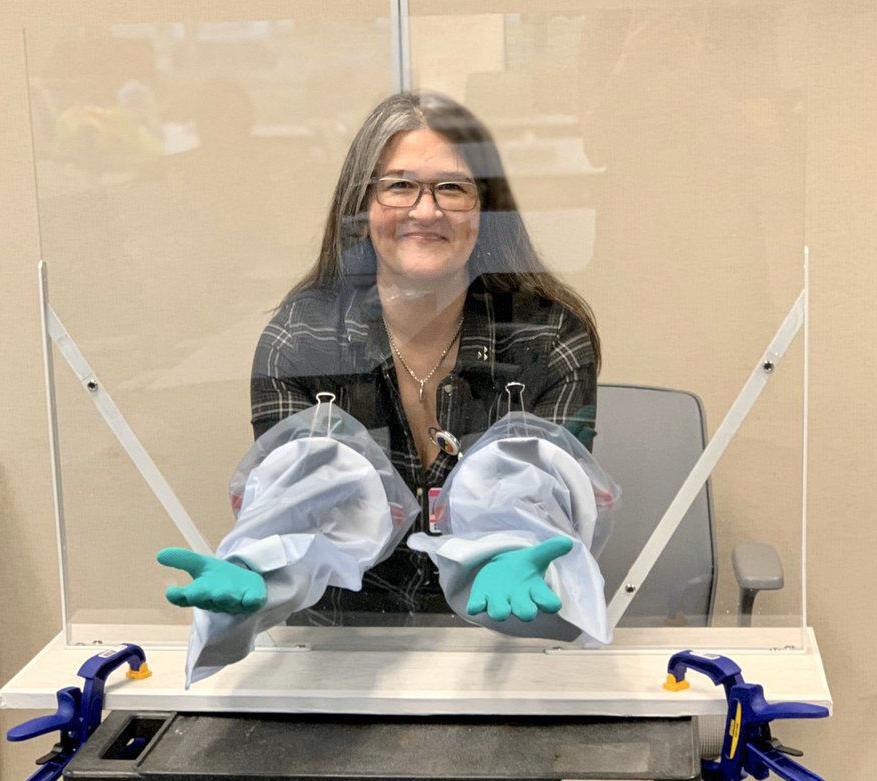 Protecting doctors is Alison Craig's job, but the COVID-19 global pandemic isn't making it easy.
For her four years as chief of staff for Group Health Cooperative of South Central Wisconsin, the Madison pediatrician has been charged with overseeing several dozen doctors as they care for about 60,000 patients.
Now, as the novel coronavirus spreads through the community, it's Craig's job to make sure they don't get sick while they're doing their jobs. But the tools she needs are increasingly scarce.
Personal protective equipment (PPE) like face masks, respirators and gowns are in high demand around the world, and supplies flow first to hospitals and emergency services. Outpatient clinics like hers could be stuck waiting.
"Our supply chain has gradually dwindled," Craig said. Without new resources, she learned early last week, they could run out within a few weeks. 
"I strongly believe ... the safety of health care providers needs to be a top priority," she said. "So I had a lot of sleepless nights."
But one of those sleepless nights paid off last Tuesday. She was up before dawn, reading the news, when she saw a photo from South Korea of a health care worker holding test vials and reaching through holes in Plexiglas.
Craig realized such a set-up could allow providers to test patients for COVID-19 without exposure to the respiratory droplets that a patient might release when they sneeze or cough, and could keep their PPE clean so they wouldn't have to change it after each patient, conserving the shrinking supply.
"I looked at that picture and I was like, 'We can do that. We could probably make that,'" Craig said.
Just over a week later, Craig's idea has become a reality again and again, with successive sets of medical professionals, engineers, designers, a medical supply company and even an out-of-work woodworking company have contributing to three iterations of the design. As the development process continues, it's just one example of the creative solutions emerging as members of the community take it upon themselves to keep providers and patients safe.  
'Hand-crafted and inspired by necessity'
Craig showed the picture to her organization's facilities supervisor, Jeff Steenis, who cut circular holes in a Plexiglas sheet and mounted it on a rolling cart.
The team then inserted in each hole a "wound and cast protector," a vinyl sleeve made to keep an arm dry during a shower, which they had sliced open at the end. They used rings designed for lighting fixtures to secure the sleeve, reinforced the grip with binder clips, and inserted a heavy latex kitchen glove into each sleeve, over which the user would wear medical gloves.
By Thursday, the prototype was ready, and, after tinkering with the set-up with various colleagues, Craig took to Twitter on Saturday morning to present the Plexiglas Droplet Barrier, which she called "hand-crafted and inspired by necessity."  
"It's far from perfect," she wrote, but "it's better than no gown. It's better than no face shield."
"I am not an infection control specialist. I am a general pediatrician in Wisconsin who is desperate to protect her team during a national PPE supply crisis," Craig wrote.
When Craig woke up on Saturday morning, the post had a few thousand hits.
"I guess I shouldn't call it viral ... because it's not a good time to talk about going viral," Craig said with a laugh.
Among the comments was an offer from Brownmed, an Iowa-based medical supply company. They said they had a long glove that might replace the kitchen-glove-cast-protector-combo, and they sent a courier on the six-hour drive to bring the Madison innovators a box of supplies to choose from.
Additional help came when a Group Health Cooperative administrator contacted Sector67, a community maker space in the Atwood neighborhood, to see if their tinkerers and engineers might take a look at the prototype. 
The Sector67 crew immediately agreed to help, setting a video meeting with Craig for Saturday afternoon.
"They said, 'Well, you could have it done well, you could have it done fast, or you could have it done today,'" Craig recalled. "And so I said, 'Well, let's just see how good you can make it today.'"
By 10 p.m. the next night, the volunteers had built nine more Plexiglas shields and a second complete droplet barrier desk, prioritizing materials that would be easily accessible. They'd also prepared a full specifications document, which provides straightforward instructions and diagrams for anyone looking to make a droplet barrier of their own. The design is deliberately "open-source," meaning others are free to replicate it.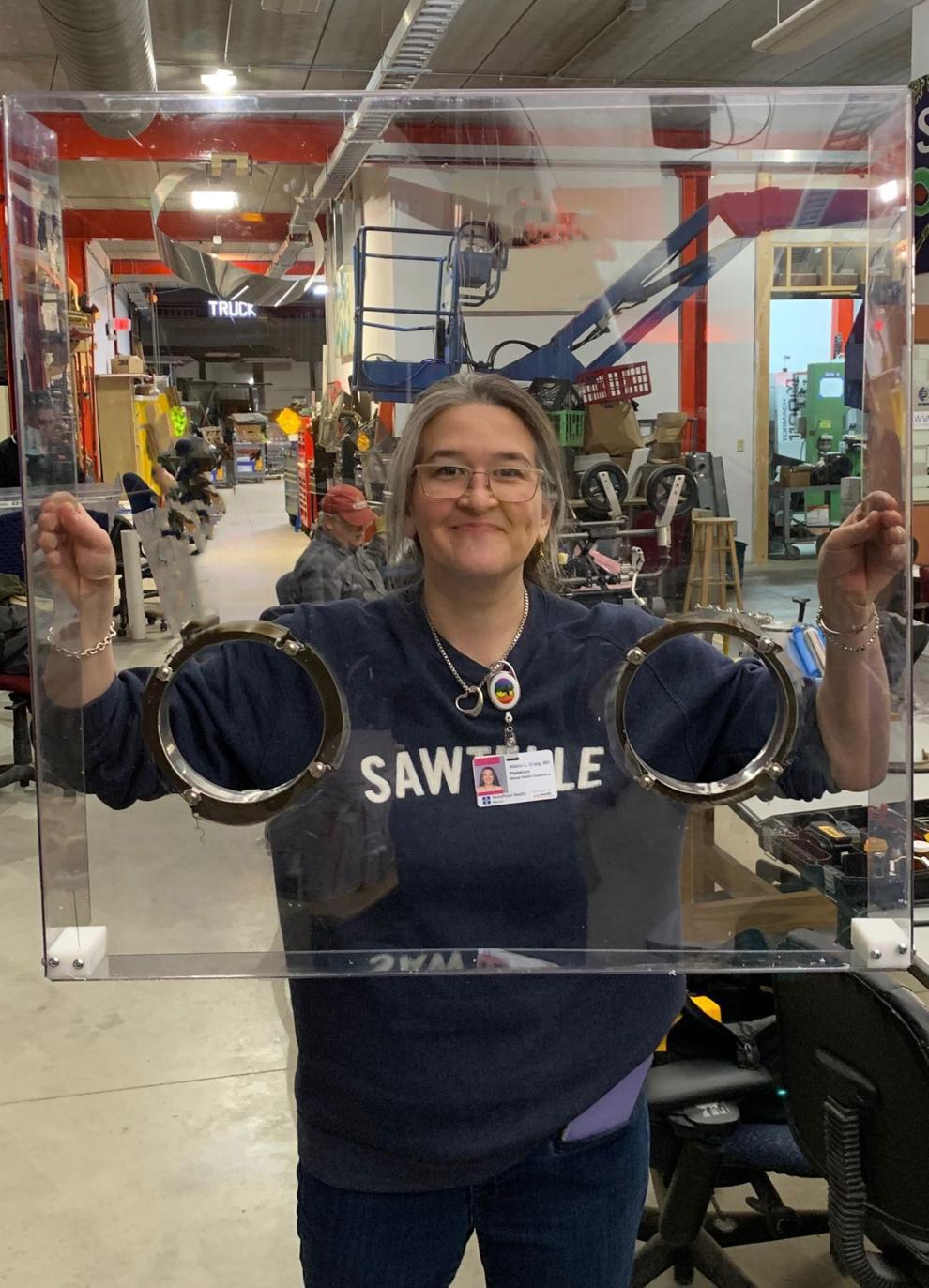 The two completed desks are now in use at Group Health Cooperative's Capitol Clinic, which for now will be dedicated exclusively to patients with respiratory illness. Craig and her team are still trying to find additional wheeled desks to which they can attach the remaining seven shields. 
Spreading hope, innovation
Meanwhile, the next iteration of the design is in the works thanks to neighbors to the south. Mike Fisher of Sector67 contacted Heartwood Creations, an Illinois-based specialty woodworking company that he used to own.
With Illinois' stay-at-home order closing nonessential businesses, Fisher knew Heartwood's employees and expensive machinery — including computer-controlled machining devices, laser machines, 3D printers — were sitting idle. 
It would be just the place to create a model better-suited for mass production and the quick production turnaround that the health crisis calls for.
"We have a lot of tools needed for creating custom pieces of furniture, and this happens to be similar to a custom piece of furniture," said Joshua Slabaugh, who handles sales and product development for Heartwood.
Heartwood learned of the project Wednesday morning, and several employees set to work. The third iteration would be ready by Thursday, Slabaugh said, when they'd share it with Craig and her team for feedback. 
It's not yet clear whether Heartwood might eventually turn this work into a business. "If it turned into something where it became a revenue generator on its own, I don't think we would walk away from that offer, Slabaugh said, "but that's not the reason for this pursuit.
"The reason for this is more that we have expensive machines not doing anything, we have workers not doing anything, and if there's a way to utilize those machines and put those people to work again, then we'd like to find a way to do that."
Back in Madison, Craig can't believe how fast one early morning idea has grown.
"I think it's kind of a crazy story to go from idea to 3.0 version in the span of nine days," Craig said. She's already heard from hospitals from Arkansas to Alberta looking to build droplet barriers of their own, plus plenty of engineers ready to help.
But the value isn't just in this one design, Craig said. "The reason to do this is really about trying to spread ideas of hope and spark innovative thinking during a really, really scary time."
This contraption is just one example of the many ways healthcare providers — out of necessity — are finding creative solutions during the pandemic, while also carrying an increasing workload.
"This is the moment in history that has found us as healthcare workers," Craig said. "We have no other choice than to rise up and meet this challenge together, with all of our skills and talents and everything … that we can muster."
Correction: This article has been updated to correct the spelling of Jeff Steenis' name.
Share your opinion on this topic by sending a letter to the editor to tctvoice@madison.com. Include your full name, hometown and phone number. Your name and town will be published. The phone number is for verification purposes only. Please keep your letter to 250 words or less.