The results of a renovation at Madison's Wil-Mar Neighborhood Center left many speechless and others with a firm sense of pride when they were revealed at a grand reopening ceremony Sunday.
"I have no words," one visitor said. "No words."
Others were quite vocal, however. "What a transformation!" "This is great!" "I can't believe it!" could all be heard as visitors toured the the center which, for 50 years, has served many needs and worn many hats in the near-east side Marquette Neighborhood.
Bob Hemauer, president of the Wil-Mar board of directors, saw the renovations for the first time on Saturday and was taken aback by the beauty of the changes. While giving a tour of the facility, which occupies a former church at the corner of Jenifer and South Brearly streets, he continued to marvel at the polished, bright wooden floors and airy feel of the space. 
Wil-Mar is home to several different services and many of the people utilizing them are going through difficult times. For Hemauer, the ability to have them enter such a welcoming space will, by itself, make a difference.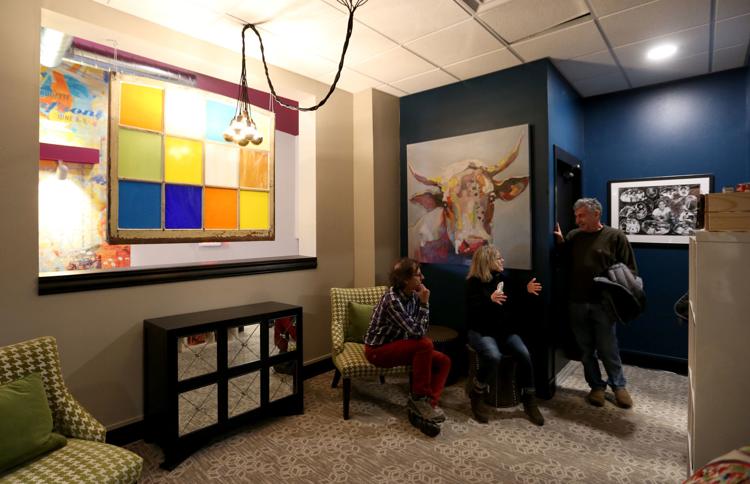 "This is a building that serves 700-800 people a week and it was well-loved," Hemauer said. "We put all of our efforts, all of our resources into the people who came in the front door. We needed to invest in this space. We'll be able to serve people more effectively and there's a certain amount of dignity in coming into a beautiful space, right? That's kind of like the unspoken thing about design. You don't necessarily notice it, but you feel it. To be in a beautiful space gives you dignity, a sense of equality while you're utilizing services."
There is a new meeting room where entities like the Marquette Neighborhood Association and Gamblers Anonymous will gather. It sports office chairs that look comfortable, a flat-screen television, a new conference table and other office-related amenities. 
Downstairs is an art room, where a group of children visiting for the open house on Sunday were playing. The kitchen, which feeds approximately 2,000 people a year through community meals has been filled with canned food and artwork. Many of the design flourishes incorporate images from the four neighborhood festivals that Wil-Mar helps organize and run each summer, most notably La Fete de Marquette.
Longtime Wil-Mar executive director Gary Kallas also led tours of the reimagined spaces — which even smell brand new — on Sunday. When asked what this unveiling meant to him, he was emotional. 
"It's spectacular," Kallas said. "It's long overdue. How do I feel? It's all good. It's all good." 
For many neighborhood residents, the centerpiece Wil-Mar is the Yahara Room, which hosted over 1,100 events, classes and other gatherings last year. The room's new hardwood floors now sparkle. There are several murals, some rock band posters that harken back to the days when punk rock acts performed there and a large kitchen.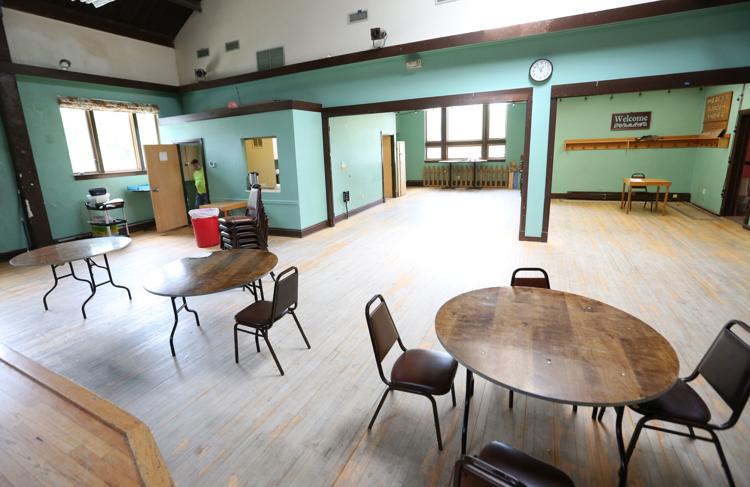 Adam Rostad, who uses the space to host Madison Story Slams, pulled up pictures of what Wil-Mar looked like before and then pointed to how the same spot, located right in front of him, now looks dramatically different. 
Wil-Mar was picked by Design for a Difference, a philanthropic effort of interior design firm Floor360, to be this year's recipient of a donated makeover. In recent years, the group transformed the East Madison Community Center and Centro Hispano, among other local nonprofits.
Design for a Difference utilized 50 people in making the changes. 
"This is the largest free charity makeover in the country," Hemauer says. "The biggest in terms of scope that Design for a Difference has done in the country, and definitely locally. So we did some interior renovations two weeks ago and this was the big reveal. It's kind of a nod to the history of the space. It takes all of the things that makes Wil-Mar special and we kind of took all of that and reflected it back."
Michelle Schlidgren, who was responsible for the design, said that the group sought adjectives from people on what they wanted to see reflected in the new space. Funky, creative, festive, colorful and hip were the top five.
Each level of the building reflects all of those adjectives and some of the neighborhood residents audibly gasped while touring it, especially in the Yahara Room. "Shocking" was a word floating around liberally. 
"The level of detail," Jason Tish said when asked what he found so shocking. "The level of change that they implemented. And it's everywhere. Like every square foot of this place is new and different. I was expecting some new paint job, new flooring, new furniture here and there. But it's everywhere."