Rita O'Neill pushed her cart through the cleaning supplies and pet food aisle at Pick 'n Save on South Park Street on a Thursday afternoon. She shops at the store often, because it's just a short walk from her home. They might as well rent her a room, she joked.
But she has heard the store will be closing and that will be "rough" for her, she said. She's 77 and there was a cane in her cart.
"I don't have a car, I don't drive, and it's so handy to shop here at the store," she said.
When the store closes, she said she'll have to take a bus to another store.
"I don't have no choice. That's too bad," she said. "I'm going to miss coming over here."
If the Pick 'n Save, located just north of the Madison Labor Temple, is demolished by the end of this year, as planned, to make way for a new SSM Health clinic, it will leave the south Madison neighborhoods surrounding it without a full-service grocery store. The nearest full-service grocery store is Festival Foods on East Washington Avenue. It's 3.5 miles away, over a half-hour by bus.
All the players involved in the predicament emphasize that they are concerned about neighbors like O'Neill and are trying to find solutions to prevent or limit the effects of a grocery store gap.
Food access is a nationwide issue; a 2018 study found over half of zip codes with a median income below $25,000 don't have a supermarket. Across the country, government and entrepreneurs innovate and brainstorm ways to solve grocery gaps, like tax credits for grocers, mostly unstaffed stores or nonprofit and crowdfunded shops. This isn't the first time Madison has faced the prospect or reality of a food desert; the city has helped fund a small grocery store in the Allied Drive neighborhood and paid for cabs to take residents to grocers.
But a growing group of Madison south side residents and nonprofit community groups don't want to scramble for temporary solutions. They say stop-gap measures like using city funds to pay for taxi rides to other grocery stores are insufficient. They want to prevent any gap in service, period.
Instigated by a handful of neighbors, the movement has quickly gained momentum, with several community leaders signing on, including Madison School Board President Mary Burke, a south side resident.
It's a matter crucial to the health of the neighborhood and an equity issue, they say, especially considering the area has higher percentages of low-income residents and lower rates of vehicle access, according to George Reistad, the city's food policy director.
"As a city, we just came off an election cycle where there was a lot of conversation, a lot of talk about equity," said Tag Evers, who will take his seat as the alder for District 13, which includes Pick 'n Save, this week. "Well, this is an equity issue that's right in front of us and we have an opportunity to put our best selves forward and come up with a solution."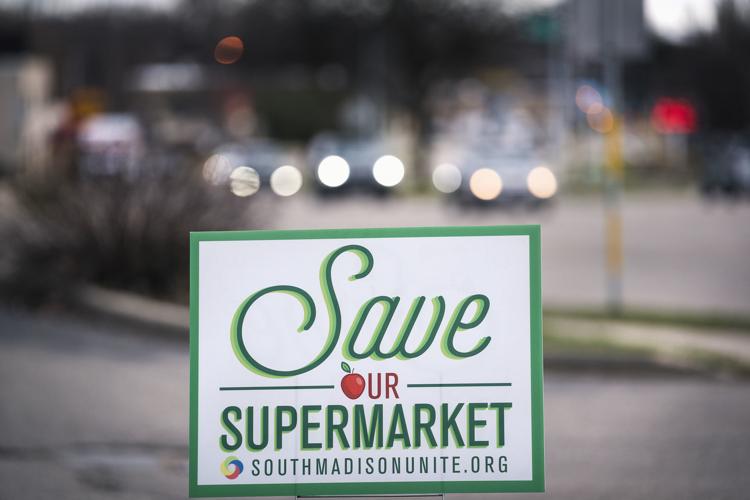 DEVELOPMENT HOT SPOT
The grocery store dilemma is complicated by many moving pieces and several key players.
Welton Enterprises owns the Pick 'n Save site at 1312 S. Park St. SSM Health is under contract to buy the site, then wants to demolish the store and replace it with a clinic. But city officials and residents still want a grocery store in the area.
Enter the property located next door at 1402 S. Park St. Known as Truman Olson, after the Army Reserve center that formerly occupied the lot, the property is owned by the city of Madison. Welton wants to buy it from the city and build affordable housing and a grocery store there. But the city isn't sure Welton is the best fit for the job and hasn't approved a sale or the firm's plans.
The upshot: SSM could demolish Pick 'n Save well before construction on a new store begins and south side residents could face a significant amount of time without a full-service grocery store. It's not clear at this point how long the gap could be or when it would start.
Part of the problem is that it's taken much longer than expected for Madison officials to find a developer for the Truman Olson site.
Welton has been working for months on plans for the lot. The city released a request for proposals in early 2018 to develop the property, calling for a grocery store on the site. An original timeline had the committee selecting a developer last June.
But city staff hasn't been satisfied by parts of Welton's plan and the city's Truman Olson Selection Committee recently voted to reissue a request for proposals, which invites other developers to put forth their ideas, potentially lengthening the grocery gap. The city will continue to try to finalize a plan with Welton Enterprises before the new RFP is issued.
"We've been working on this for over a year now to try to address the problem," said Dan Rolfs, community development project manager for the city, at the Truman Olson committee meeting. "Nobody acted in bad faith … it's just when you have a deal that's like this, it's complex."
Because the city doesn't own the Pick 'n Save property, it can't dictate development there. But it does control two aspects of the problem, Reistad said, and officials pledge to not only do their utmost to attract a grocery store to the Truman Olson site, but also provide stop-gap services in the case of a grocery gap.
City staff have already discussed funding transportation for residents to access other grocery stores. Ald. Sheri Carter, whose south side district borders the area, has also said the city is exploring additional solutions like grocery delivery and "as many modes of transportation as we can."
After Cub Foods and Walgreens stores closed near the Allied Drive neighborhood, the city set aside funds and partnered with local taxi companies to get residents to nearby grocery stores. Reistad has said the city's Healthy Retail Access Program is a "pot of money ready to be mobilized when we need to have a solution."
But members of the group South Madison Unite (a name often punctuated with an exclamation mark) and community leaders say that's not good enough.
"We do not support the proposed stop-gap measures for dealing with the gap that the city has offered, such as free taxi service and pop-up food trailers with 'essentials,'" South Madison Unite member Carrie Rothburd wrote in an early April email to the Cap Times. "These strategies have been tried elsewhere in Madison with only limited success."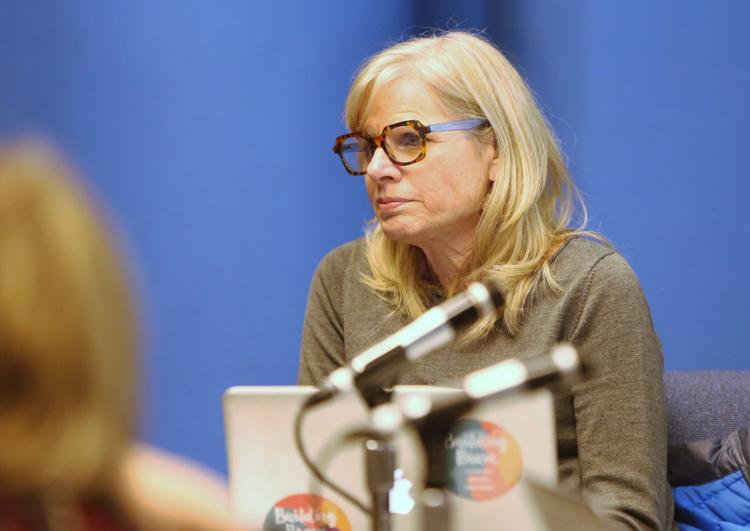 A MOVEMENT GROWS
It was clear in the month before the April 2 Madison City Council election that the grocery gap was the issue facing District 13, Evers said. Since winning his seat, Evers has attended the Truman Olson Selection Committee meeting, discussed the subject daily and met with SSM representatives twice.
South Madison Unite started with just three Bay Creek residents sounding the alarm and contacting nearby neighborhood associations and nonprofit organizations after it was clear that Welton's proposal was hitting major roadblocks.
About 50 people attended a quickly organized meeting in March. From there, a group of 10 to 15 people have gathered every week to divide up tasks like door-to-door outreach and building a website. Over 100 people receive the group's email updates.
Prominent figures have endorsed the idea of uninterrupted supermarket access. The list includes Rev. Marcus Allen of Mt. Zion Church; Oscar Mireles, director of the Omega School; Gailden Moore of the Dane County Branch of the NAACP; Ruben Anthony, president and CEO of the Urban League; and Lisa Peyton-Caire, founder and president of the Foundation for Black Women's Wellness.
Burke, the Democratic candidate for governor in 2014, contacted key nonprofit directors and community leaders and asked them to sign on to the cause.
"One of the resources that I have are really good connections with community leaders," Burke said. "I like being able to use the privilege that I have for good causes."
As soon as Burke learned about the issue, she knew she had to get involved.
"Since I live in the neighborhood, I shop at the Pick 'n Save. I know how critical it is to the neighborhood," she said. "The thought of creating a food desert made absolutely no sense to me."
(The city avoids using the term "food desert" because it frames the communities from a deficit model, Reistad said, though he noted that without Pick 'n Save, the area is technically a food desert according to the USDA definition.)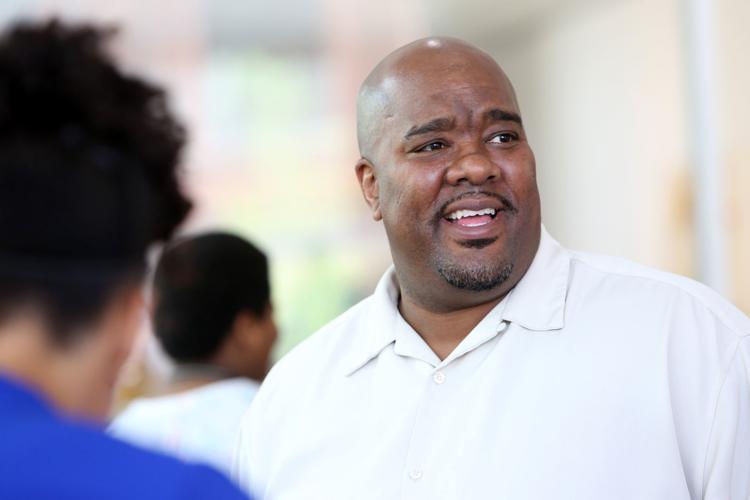 Michael Johnson, CEO of the Boys and Girls Club of Dane County, also thinks a gap would be "unacceptable," he said, especially for children and seniors. He heard about similar filling-the-gap promises when Cub Foods left the Allied Drive area and said people didn't take advantage of them. He doesn't think catching cabs to go grocery shopping is a great plan.
"Who wants to do that? Think about that. It's not acceptable in middle class and upper class communities. Why should that be acceptable in south Madison and Allied Drive?" he said.
Burke echoed the point: "I can't imagine parents with young children needing to try to pour people into a taxi and go across town because they need a couple of staple items."
When residents can't access healthy food, it puts more pressure on nonprofits like the Boys and Girls Club and the Catholic Multicultural Center to provide meals and snacks, Johnson said in a Facebook post, and food insecurity can affect kids' ability to perform in school.
Johnson is concerned that the gap could stretch on longer than anticipated. The Allied area lacked a grocery store for years. The only reason it's over, he said, is through the efforts of Mariam and Joe Maldonado to open Luna's Groceries.
Linda Ketcham, executive director of Madison-area Urban Ministry, agreed that the city doesn't have the best track record of closing gaps once food access becomes an issue.
"The city tends to not respond quickly to the creation of food deserts," Ketcham said. "Our hope would be that SSM would be responsible. If they're concerned about the health of the neighborhood, one way to demonstrate that concern is to hold off on demolishing the grocery store if they purchase that land from Welton. Otherwise … I don't have a lot of faith that something will happen quickly."
It's not just nonprofits with concerns. Tanya Carter, examining spices at Pick 'n Save last Thursday, has a car, but she's not excited by the prospect of driving to Walmart instead of shopping at a store that's located just a few minutes away from her home.
"I'm worried about it. I always come here, I live right down the street," she said. "It's going to be inconvenient. I wish there was some way they could stay."
Delano Bingham was in Pick 'n Save last last week with eggs and milk in his cart because it's a great place for him to stop on his way to his home off of Moorland Road, south of the Beltline.
"It would be a drastic loss if they took this out of the neighborhood. Where would you go?" he said. "What's the nearest grocery store? Just think about the neighborhoods around here, people that walk."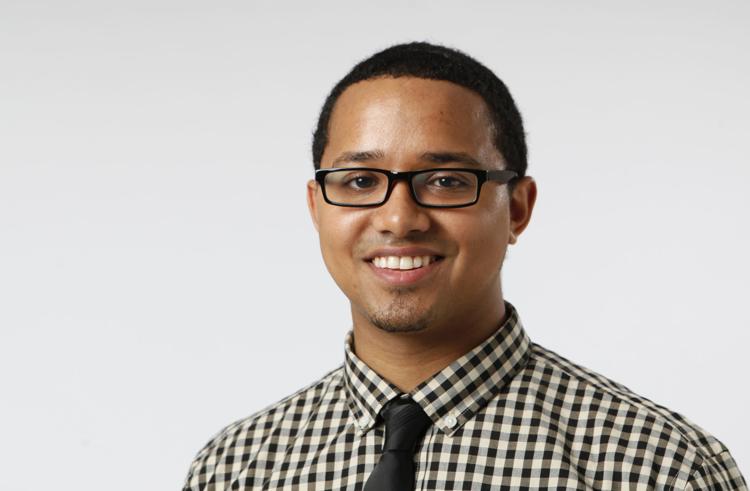 CITY RESPONSE
Reistad understands opposition to after-the-fact gap solutions: "There's really no one-to-one replacement of brick-and-mortar food retail. There just isn't."
Looking back on the city's efforts to provide groceries for the Allied neighborhood, he sees room for improvement. By the time the city set up transportation funds to surrounding stores, Cub Foods had been closed for years, he said, and he thinks residents may have already figured out ways to get food, whether that was catching rides with friends or stocking up during infrequent visits.
But with Park Street, he said, the city has a real opportunity to get out in front of the problem. And Reistad said he's been talking to people in other cities who have implemented similar programs. They emphasized the need for resident outreach in order to design programs that will work best with the neighborhood, rather than building programs "from the top down."
Though the city is dedicated to attracting a store to South Park Street, Reistad understands the concern among neighbors about the difficulty of closing a gap once it exists. If a store leaves, he said, "it's because of a number of reasons, and one of those presumably is profitability."
The city ran into a lot of challenges trying to attract a traditional grocery store to the Allied neighborhood, he said. The location doesn't stack up by traditional economic metrics grocery stores use, like a high number of surrounding homes. In the end, the City Council approved spending over $150,000 to help fund Luna's, which is a smaller, neighborhood grocery store, Reistad said.
Reistad noted that even if SSM opts to leave the store standing, there's no guarantee that Pick 'n Save — one of four grocery store brands of Roundy's Supermarkets, Inc., a wholly-owned subsidiary of The Kroger Co. — will stay in the spot.
"Any future redevelopment of this property and the timing is controlled by the owner or prospective developer and not Pick 'n Save," wrote James Hyland, vice president of communications and public affairs for Roundy's, in an email. "That's all the information I can provide at this time."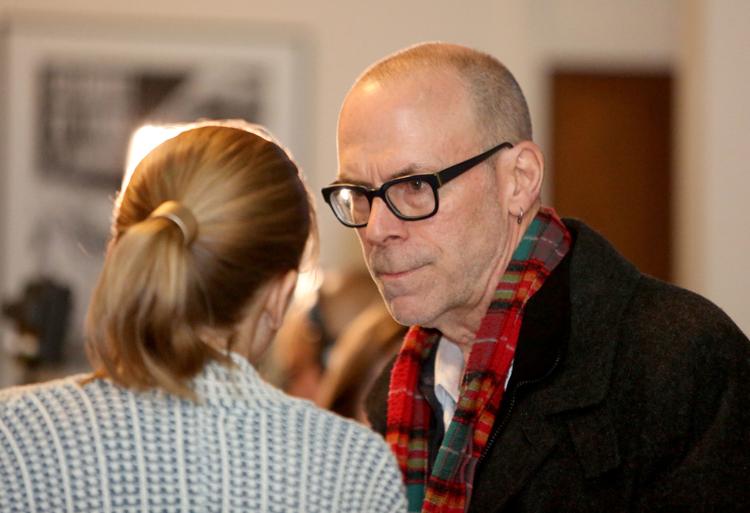 OPTIMISM FOR A SOLUTION
Despite this uncertainty, the newly elected Tag Evers is working to find a solution to prevent a gap entirely.
"I don't think all those possibilities have been exhausted," he said.
Evers' plan is to assume the best intentions of all parties, bring them together and work creatively for a solution. There's no guarantee that will work, Evers said, but it definitely won't work if they don't try.
He said one idea is to ask SSM to delay construction for a set period of time and have the city fast-track the Truman Olson RFP, possibly prioritizing the grocery and leaving off other elements like the affordable housing for now. Rolfs confirmed that the City Council could authorize such an RFP.
Evers and Mary Burke have met with SSM officials, and while neither got specific about the content of those conversations, Evers said in an email that they have been "very positive."
"My sense is all parties — SSM, city staff and neighborhood residents — are committed to doing everything possible to minimize, if not eliminate, a grocery store gap," he said.
Burke shared a similar sentiment.
"What I took away from the conversation is that they would be like to be part of the solution. They certainly have their own needs to fulfill their mission of providing health care," Burke said, but there may be "some flexibility in that." 
Evers said he's sure that SSM has realized the potential irony of a health care provider "bulldozing the only full service grocery store serving south Madison." He pointed to a recent medical study that made headlines for finding that poor diet is linked to one in five, or 11 million deaths per year worldwide.
SSM Health acknowledged neighborhood concerns in an emailed statement, saying "the health and well-being of the community is always top of mind for SSM Health." An SSM spokesperson did not answer a question asking whether SSM would consider delaying construction of the planned clinic to allay neighborhood concerns. 
Burke also strongly believes there can be a solution with no gap if all interested parties sit down and are willing to give a little. And she is encouraged that a new mayor and nine new City Council members "can look at this with fresh eyes."
Rothburd, of South Madison Unite, said the group will continue to work on its mission to make sure the neighborhood is informed and included in the process.
As a longtime active member of the Bay Creek Neighborhood Association, Rothburd can point to a few examples where neighbors quickly mobilized around issues, like Barriques' attempt to continue roasting coffee beans at their South Park Street location or opposition to some iterations of developer Terrence Wall's plans for the corner of Fish Hatchery Road and South Park Street.
But none of those united the whole south Madison area.
"This one goes beyond Bay Creek," she said. "This one is undeniably an issue with one right answer: everybody needs to eat."