It's impossible to forget that part of the new Hotel Indigo on East Washington Avenue was once a Mautz Paint warehouse.
For one thing, parts of the 100-year-old building remain intact. For another, the allusions to painting are inescapable: paint brushes and cans as art displays, stylized "paint" dripping down from every guest room mirror, framed pictures of paint cans in the bathrooms, the huge Mautz sign looming over the hotel reception desk and a restaurant named Palette.
In a time when boutique hotels are en vogue, Hotel Indigo, which opened last Thursday, takes homage to its home city to the next level.
Hotel Indigo is just one phase of developer Curt Brink's vision for the 900 block of East Washington Avenue, named Archipelago Village. Up next: an 11-story, 257,200 square-foot office building.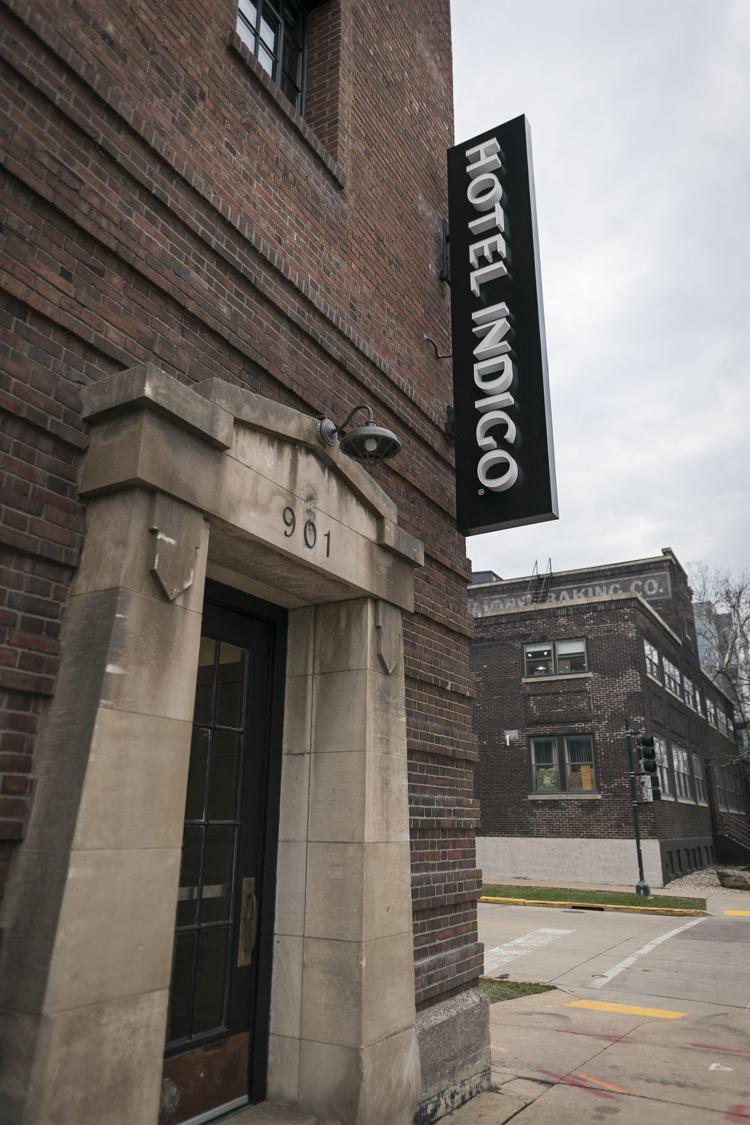 Brink and investors Jim and Marlene Korb bought the four acre property in 2002. On the site was the five-story historic Kleuter building at 901 E. Washington Ave., built in 1916. The building was originally a warehouse for Kleuter & Co grocery. Mautz Paint later moved to the block and took it over.
Brink rehabbed the historic five-story building and connected a new five-story building, turning the property into Hotel Indigo, a 144-room hotel and restaurant. Rooms start at $184 a night, though there are discounts for booking early.
There are 60 distinct Hotel Indigos throughout North America. The chain's website proclaims: "No two neighborhoods are alike. Neither are any two Hotel Indigo properties."
One example: the downtown Denver Hotel Indigo has a "mountain luxurious feel," complete with "beautiful wood sculptures," said Adam Schomaker, vice president of sales and marketing for Great Lakes Management Group.
The Madison hotel pays tribute to the property's painted past, but also features photos of the East Washington corridor and the stories of six Wisconsin figures, incorporated into murals throughout the hotel: architect Frank Lloyd Wright, playwright and novelist Thornton Wilder, Mautz co-founder Bernhard Mautz, civil rights activist Vel Phillips, artist Georgia O'Keeffe (born in Sun Prairie) and former UW-Madison head chef Carson Gulley.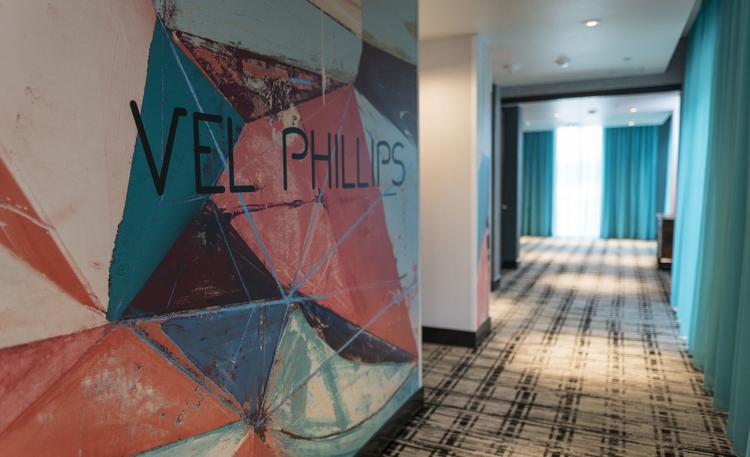 "Our tagline is 'colorful and hardworking,' so it's all about the influencers of Madison who have helped create the city to be what it is today," Schomaker said.
Susan Schmitz,  former president of Downtown Madison, Inc. said in 2016 that she sees the boutique hotel trend as a desire for authenticity.
"It identifies us in a way that we're not just Anywhere, USA. We're not just a cookie cutter. You know, 'Here's our regional mall, here's our chain hotel,'" she said. "I think it has to do with creating the local, authentic, genuine kind of feel."
Hotel Indigo developers couldn't make cookie-cutter rooms even if they wanted to: they had to keep parts of the historic building as-is. Only so much of the concrete floor could be covered, so the carpet in the hallways stops a few inches short of the wall in each direction. Columns appear at regular intervals throughout the entire building and could not be moved, Schomaker said, forcing designers to plot out mismatching room floor plans to work around them.
"You'll get some rooms where you'll have the column, you'll get some rooms where you'll have two walls of original brick from the building," Schomaker said. "You might have a room where … there's a little cut-out for a nook."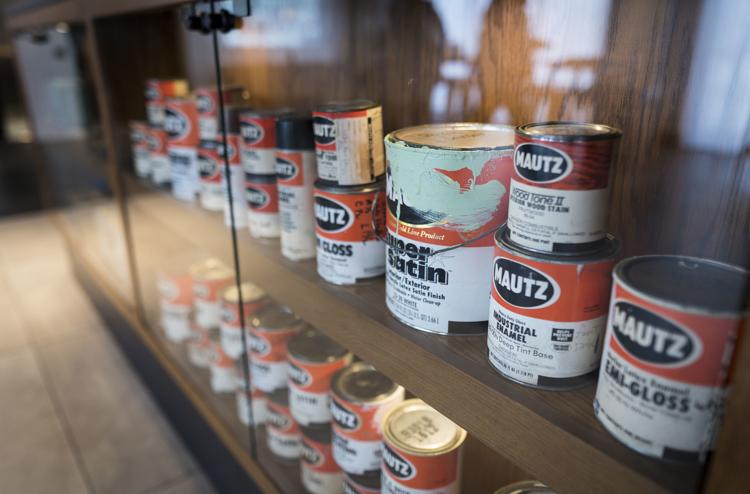 Some people value consistency in their hotel stays, Schomaker said. They know that the oatmeal they have for breakfast at one location will be the same across the country. But Hotel Indigo was designed to appeal to travelers seeking unique room designs, art and experiences, he said, especially if they can chronicle those experiences on social media.
"Probably in the last three to four years there's been this insurgence of when people travel, it's all about the experience," he said. "I think social media kind of helped dictate that with the whole Instagram 'here's my food, here are my cocktails, I'm here, look at what I get to do.'"
The hotel restaurant, Palette Bar and Grill, opens April 29. The steak and seafood restaurant will serve breakfast and dinner and provide room service for the hotel. The menu will feature in-house cut steaks, soups, salads and appetizers, said Sara Krowiorz, marketing and events manager for Palette.
The bar will serve 10 tap beers, a selection of wines and a "rainbow" of craft cocktails, intentionally made in a variety of colors, though without food coloring. When summer arrives, guests will have the opportunity to sit on the East Washington Avenue-facing patio.
All the tables in the bar and restaurant, plus every bathroom vanity and the ceiling in the lobby, were made from reclaimed wood by woodworker Ryan Hexum of Wildwoods in Hayward, Wisconsin.
But Schomaker isn't worried about an oversupply of rooms. Madison and its suburbs continue to grow, he said, and as the city continues to win accolades for livability, that will drive tourism. Schomaker said more hotel rooms make the city eligible to host bigger conferences and events.
"I came from Chicago before I moved to Madison," Schomaker said. "Chicago saw huge growth in hotels, some would say too many, but every year they keep breaking records in tourism, they keep growing. I feel like Madison is kind of on that same path."