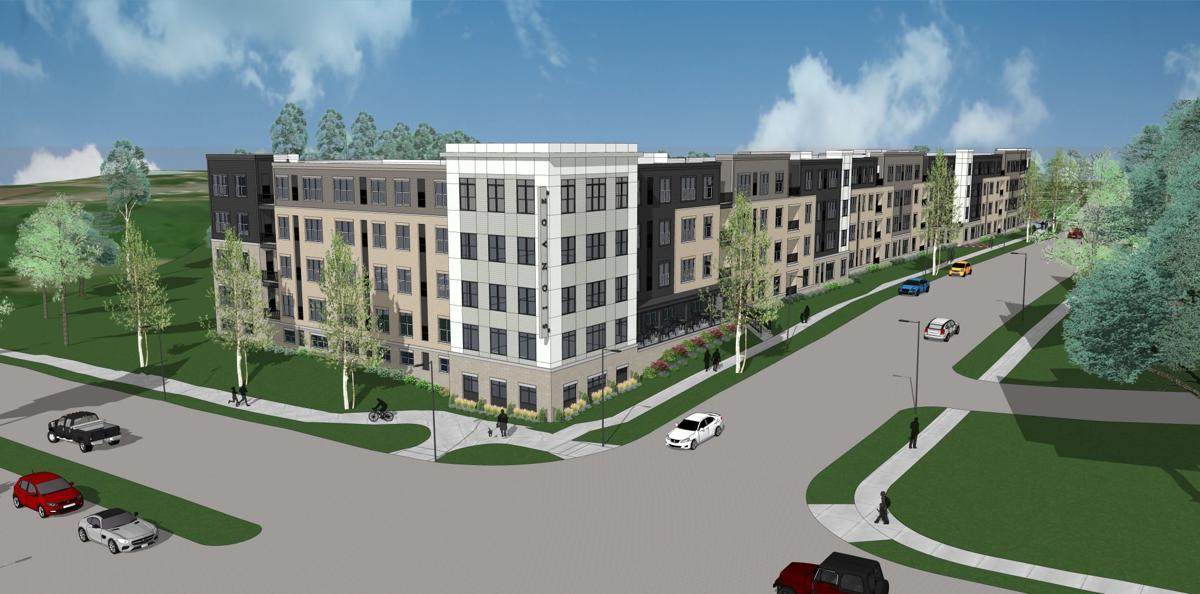 E. J. Plesko & Associates will hold a groundbreaking ceremony for its coming affordable Fitchburg Senior Housing project on Thursday. The development at the corner of Traceway Drive and Fish Hatchery Road will create 160 affordable units.
But what exactly makes an apartment "affordable"?
Linette Rhodes, interim community development grants supervisor, gets questions about what exactly "affordable housing" means all the time. She understands the confusion.
"I even hate that we say 'affordable housing,' because 'affordable' means something different to every single person that you talk to," Rhodes said.
There are different ways to access housing at lower-than-market-rate-rents, including Section 8 vouchers, Section 42 apartment buildings and public housing. Read on to learn more.
Public housing of the past may conjure up images of desolate concrete buildings in Chicago, but today it "comes in all sizes and types, from scattered single family houses to highrise apartments for elderly families," according to U.S. Department of Housing and Urban Development.
Prospective tenants apply to live in a public housing building through the Madison Community Development Authority or Dane County Housing Authority. If accepted, tenants pay about 30 percent of their income as rent.
There are over 800 units of public housing in Madison and another 100 in the Dane County area.
To be eligible for this housing, tenants cannot make more than 80 percent of the area median income. In 2018, that was $50,350 for an individual and $71,900 for a family of four. Rhodes noted that they find "most people are making far below 80 percent."
What are Section 8 vouchers?
In theory, Section 8 vouchers allow people to live in any regular apartment building. Section 8 tenants pay about 30 percent of their income as rent, and HUD picks up the rest of fair-market rent.
Local housing authorities distribute the vouchers; the Madison Community Development Authority administers the program in Madison and Dane County Housing Authority is responsible for the rest of the county. There are long waiting lists to receive a voucher, and neither the CDA or DCHA has accepted new applications for vouchers in several years.
Once an individual receives a voucher, it's up to them to find a landlord. It can be difficult to find a landlord willing to accept a voucher, even though Section 8 discrimination is against the law in Madison and Dane County.
What are Section 42 apartment buildings?
Section 42 refers to the section of IRS code detailing tax credits that make these affordable developments financially possible.
In Wisconsin, Wisconsin Housing Economic and Development Authority (WHEDA) distributes several different types of Section 42 Low Income Housing Tax Credits.
Madison began a concerted effort to take advantage of one type of federal Section 42 tax credits in 2014, when it established the Affordable Housing Fund. The city fund distributes thousands or millions of dollars to developers, which makes their projects more likely to be awarded credits.
With that fund, the city has supported 18 affordable housing developments, and if all proposed projects are completed as planned, Madison will benefit from a total of 1,149 affordable units, meeting its goal to create 1,000 units of affordable housing in five years.
Examples in Madison include Pinney Lane Apartments at 902-914 Royster Oaks Drive, Carbon at Union Corners at 2504 Winnebago St. and The Breese at 1003 E. Mifflin St.
Developments don't always need Section 42 credits to make them a reality; the city also uses federal HOME and Community Development Block Grant funds to help nonprofits rehab or build affordable housing, Rhodes said. But they "never" would have met the 1,000 affordable apartment goal without Section 42 tax credits, she said.
How much rent do tenants in Section 42 buildings pay?
This is a little more complicated than public housing and Section 8, where tenants generally pay 30 percent of their income.
Section 42 developments do not charge rent as a certain percentage of income. Instead, they limit their tenants to those who make less than a certain percentage of the area median income.
In Madison, many projects limit tenants to those making up to 30, 50 or 60 percent of the area median income. For an individual in 2018, that would be someone making between $19,250 and $38,520 a year. For a family of four, 30 to 60 percent of area median income would be between $27,500 and $55,020.
WHEDA uses a formula based on fair market rents to set the maximum rents for Section 42 units, so units with the same number of bedrooms should have relatively standard rents across the city, Rhodes said. Rents are set with the goal that tenants earning 30, 50 or 60 percent of the area median income will pay 30 percent of their income.
But Rhodes noted that if a household earns less than WHEDA anticipates or their income decreases, their rent does not decrease accordingly. In order to really "consider something affordable, basing it off someone's income is the best way," Rhodes said.
And because rents in Section 42 units are based on area median income, "rent continues to go up if those income levels in our community continue to go up," which regularly happens in Dane County, Rhodes said.
"This is why the city of Madison supports a variety of housing developments to increase the housing stock and create more affordability options for low income renters," she wrote in an email.
Do all Section 42 developments target the same populations?
No. Some are senior housing; others set aside a number of units for groups like veterans or those with disabilities.
Developments can target tenants at various income levels, whether that be 30, 50, 60 or 80 percent of area median income, or a mix of income levels.
Finally, two of Madison's Section 42 affordable developments — Heartland's Rethke Terrace Apartments at 715 Rethke Ave. and Tree Lane Family Apartments at 7933 Tree Lane — are known as permanent supportive housing. Permanent supportive housing projects serve vulnerable populations like homeless singles and families and both employ a "housing first" approach to homelessness. A proposed development at 1202 S. Park St. by Heartland Housing would also provide permanent supportive housing. These units do not require tenant income, but supportive services work with tenants to find earned income or other resources like supplemental security income, Rhodes said.
Madison's other Section 42 developments serve relatively less vulnerable populations, and the buildings are sometimes referred to as "workforce housing."
What's going on in affordable housing outside Madison?
While Madison has made significant strides in adding to the city's affordable housing stock, it's not the only area municipality that has recently used Section 42 tax credits.
Along with Thursday's groundbreaking, other examples around Dane County include a planned 169-unit affordable building in the town of Middleton and Oak Ridge Middleton at 7625 Lisa Lane with 76 affordable units.
Even with all these efforts, it's clear that many Madison residents struggle to find apartments they can afford. Section 8 waiting lists are long, and the apartment vacancy rate in Madison for the fourth quarter of 2018 was at 3 percent, while a healthy rate is 5 percent. According to 2017 census data, almost 50 percent of renters in the Madison area pay more than 30 percent of their income in rent, which is designated "cost-burdened."
Matt Wachter, manager of the city's office of real estate services, said even with constant apartment construction, "data shows these buildings are getting filled and there's still a need for more."
"When it comes to the affordable housing side, we sort of never stop," he said. "We're always opening buildings, building buildings, getting ready to finance the next round. It is a constant cycle."
Share your opinion on this topic by sending a letter to the editor to tctvoice@madison.com. Include your full name, hometown and phone number. Your name and town will be published. The phone number is for verification purposes only. Please keep your letter to 250 words or less.
Be the first to know
Get local news delivered to your inbox!