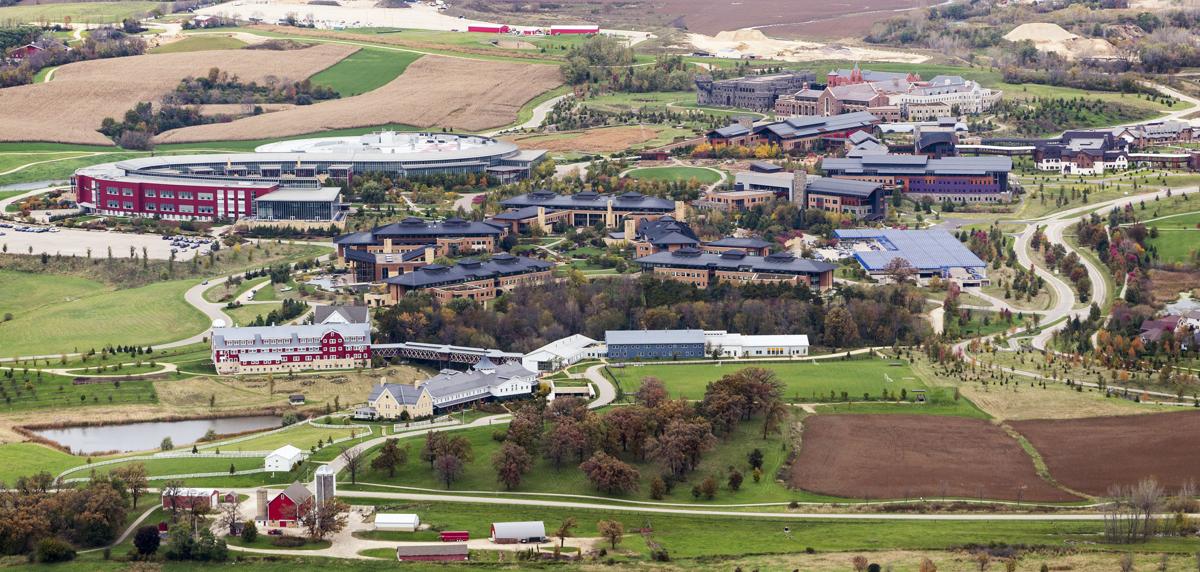 In a Wednesday email to staff, which an employee shared with the Cap Times on condition of anonymity, Epic Systems leadership told employees that they would delay the phased return to the Verona campus by a month.
The health records giant was classified as an essential business during the statewide economic shutdown and has never been subject to the same emergency rules as many businesses. In June, the company informed staff that they would be expected to return to campus in a four-phase process, with all employees working in person by September 21. 
Following the June announcement, a spokesperson for Public Health Madison & Dane County told the Cap Times that the return was permitted but that health officials recommend that all employers continue remote work where possible.
But Epic leaders say the company's culture of collaboration depends on employees being on campus, a marked contrast from tech companies like Zillow and Facebook, whose leaders say the pandemic has shown them the value of remote work.
More than 9,000 employees work in the 28 buildings of the 1,000-acre Verona campus, and more than 3,500 have already returned to campus. While some employees typically share offices, an Epic spokesperson said in an email Wednesday that all employees returning to campus will be given the option of a private office.
Some offices will be subdivided and employees may request a new officemate if they prefer, according to the Wednesday email to staff, which was signed by founder and CEO Judy Faulkner, Senior Vice President Stirling Martin, Vice President of Technical Services Brett Rehm, Senior Vice President Sumit Rana, and Vice President of Clinical Informatics Sam Butler. 
Employees must wear masks in common areas and can set the mask rules for their own offices, but masks can be replaced with physical distancing areas where Epic hosts visitors, including customers. 
"It's important that we are able to communicate clearly, which is harder with masks on," the email to employees said, noting that some visitors have chosen to physically distance without using masks. 
Employees can also forego masks in meeting rooms when physical distancing is possible or when meeting with people with their "work family," those with whom they meet "regularly and closely." Employees may also choose to call in to such meetings from their offices.
The leadership called on employees to take personal precautions to protect themselves and their coworkers. "We ask you to do your part by not visiting bars, attending crowded gatherings, or other places where physical distancing can't be easily observed," the email said.
The campus layout would help keep employees safe, they said, with multiple entrances, three-story buildings that don't require employees to use elevators, and offices instead of cubicles. 
"We've been told by many that our campus looks like it was specifically designed to be safe in an epidemic."
The company has also stepped up sanitation, changed cafeteria practices, increased air flow to some areas and installed hospital-grade air filters in its ventilation system.
Some employees who would otherwise be required to return to campus in an earlier phase may delay their return to September 21 if they meet eligibility criteria and notify management. This includes those aged 65 or older, those who consider themselves at heightened risk of COVID-19 complications or live with someone at heightened risk, and those who do not have childcare. Many summer programs have been canceled due to the virus, and area school districts have not yet announced whether in-person instruction will resume in the fall.
Protecting company culture
After Epic told employees in June of its reopening plans, two employees and one family member of an employee contacted the Cap Times to say they were worried about the health risks involved, but Wednesday's email sheds light on why the company wants a full return to in-person work.
"We're all waiting for a vaccine to be developed ... but that's probably a year or two in the future," they wrote, and the "multi-month experiment" had shown the weaknesses of remote work.
"Even if work gets done — we are losing, big time, the culture that made the company successful."
The leaders explained that "our culture was not an accident" and that everything from the company's monthly staff meetings to campus layout — complete with smaller buildings to keep employees close to their colleagues — was designed to promote collaboration. 
"When prospective customers visit us, they often tell us they are here to evaluate our culture, which they feel is the most important thing about the company they will select," they wrote. "They very much like the Epic culture and tell us it's critical to them that we retain it.
"It's hard (actually, it's impossible) to retain our culture when we're working from our homes ... Creativity, innovation, and serendipity suffer, which can be fatal to a company like ours that is constantly needing to create new products and new features."
Share your opinion on this topic by sending a letter to the editor to tctvoice@madison.com. Include your full name, hometown and phone number. Your name and town will be published. The phone number is for verification purposes only. Please keep your letter to 250 words or less.