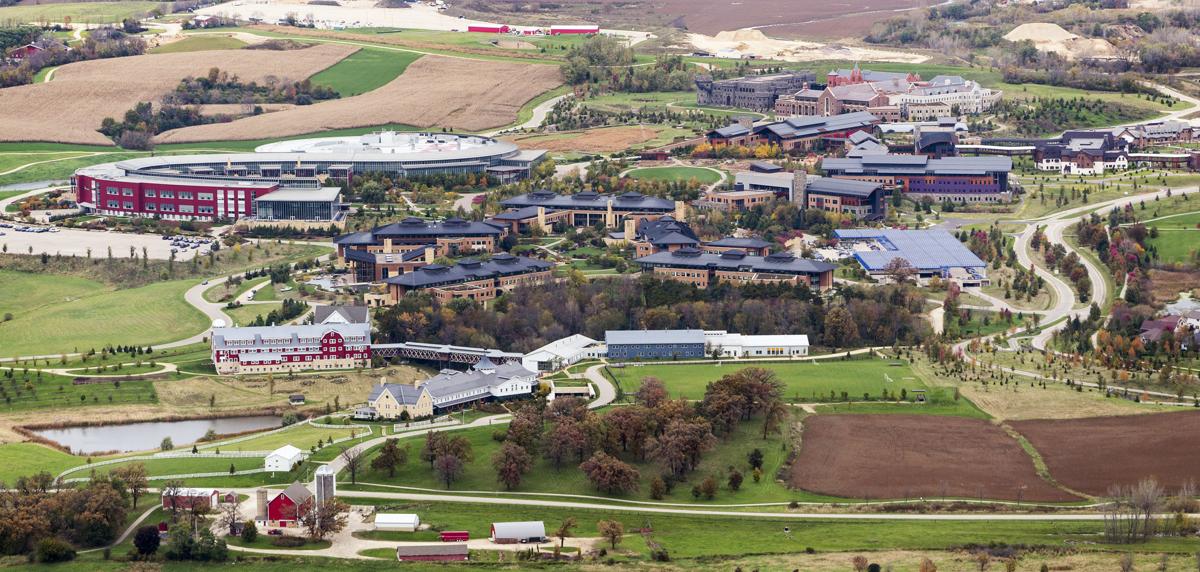 Health records giant Epic Systems informed employees by email last week that the company plans a full return to its Verona campus by late August. Some employees worry that returning to work will spread the novel coronavirus. 
The email, signed by Epic Vice President Stirling Martin, came from a generic COVID-19 mailing address that relays messages regarding pandemic plans, according the Epic employee who shared it on condition of anonymity. According to the email, employees' return dates would depend on their team and the building where they work. The return is planned to occur in four stages during July and August. Pre-pandemic, more than 9,000 employees worked on campus.
Some 3,000 staff are already working at the campus in person. The company said it would watch for public health announcements and school reopening plans and adjust its timeline accordingly. 
"Over the past couple of months, we have encouraged staff to work from home while we remained open as an essential business," Epic said in a statement to the Cap Times. About 40% of the company's staff now work on campus. 
"Our campus supports physical distancing with over 8,100 well-ventilated offices and large meeting spaces spread across 25 buildings. We continue to support our customers and are slowly resuming essential travel." 
A Public Health Madison & Dane County spokesperson told the Cap Times that the agency's guidelines no longer distinguish between essential and nonessential businesses, and that they would encourage all businesses to continue operating remotely if possible.
Many Epic employees work closely with hospitals across the country, traveling to help hospital staff implement new Epic tools. In March, two weeks before Wisconsin Gov. Tony Evers issued his Safer at Home order locking down the state, Epic employees told the Cap Times that the company was still asking them to travel to hospitals, including in states that were experiencing spikes in coronavirus cases, despite their concerns.
The company did not respond to Cap Times questions regarding planned safety precautions, travel guidelines or exceptions.
After they return, Epic employees with individual offices will share hallways, elevators, bathrooms, break rooms and parking garages.
Another Epic employee who also spoke on condition of anonymity said the company repeated Public Health Madison & Dane County guidance regarding face coverings. This states that people "consider wearing a face covering in public and where it is difficult to maintain physical distancing." Yet at a Monday staff meeting, the employee said, only one presenter wore a mask and many of the roughly 500 employees who attended in person did not wear face coverings.
Not all will proceed as usual at the Verona campus. The company canceled its User Group Meeting, an annual conference drawing thousands of visitors, which was scheduled for late August.
"The current data tells us it would be difficult to convene a large community at that time," reads a note on the conference website. 
Online real estate company Zillow won't ask employees to return to physical shared spaces until 2021. In May, Facebook CEO Mark Zuckerberg said that over the next 10 years, up to half of the social media giant's employees would work remotely. 
"My personal opinions about (work from home) have been turned upside down over the past two months," Zillow CEO Rich Barton posted on Twitter in April. "I expect this will have a lasting influence on the future of work ... and home."
Even with jobs that seem adaptable to remote work, the switch can come with challenges. And Epic's software serves the health care providers who are battling the coronavirus. According to the Epic employee, Epic's CEO Judy Faulkner shared a video at Monday's staff meeting to highlight why teleconferencing wouldn't suffice. 
In the video, called "A Conference Call in Real Life," comedians Tripp Crosby and Tyler Stanton parody the all-too-familiar dynamics of telephone conference calls including dropped calls, bad reception and the way each new attendee is announced by name even after a meeting has begun.
In last week's email, employees were given a survey that asked about extenuating circumstances, such as if they or a family member had a medical condition or if they were recently exposed to the coronavirus. 
Those with medical conditions such as heart disease, diabetes, lung disease and asthma are at a greater risk for serious complications. Healthy adults have found themselves in intensive care units due to the virus, though they make up only a small fraction of fatal cases.
While most of the coronavirus metrics tracked by Public Health Madison & Dane County have registered as "green," the metric tracking the average daily number of new cases is currently "yellow." Since May 21, the daily average has doubled from 8 to 16.
"I cannot assess how many people intend to declare an exception ... as there is no option for 'I am protesting this decision as irresponsible," the employee wrote. "I am actively dismayed at the way this company has handled the pandemic."
Editor's note: In an email response after this story was published, an Epic spokesperson noted that the staff meeting referred to in the story was held in a meeting room "designed to seat 11,000 so staff were able to maintain physical distancing." She added that, to spread staff out, attendees were assigned to specific seating sections and dismissed by section.
This story has also been updated to note that Epic Vice President Stirling Martin signed the email sent to staff.
Share your opinion on this topic by sending a letter to the editor to tctvoice@madison.com. Include your full name, hometown and phone number. Your name and town will be published. The phone number is for verification purposes only. Please keep your letter to 250 words or less.