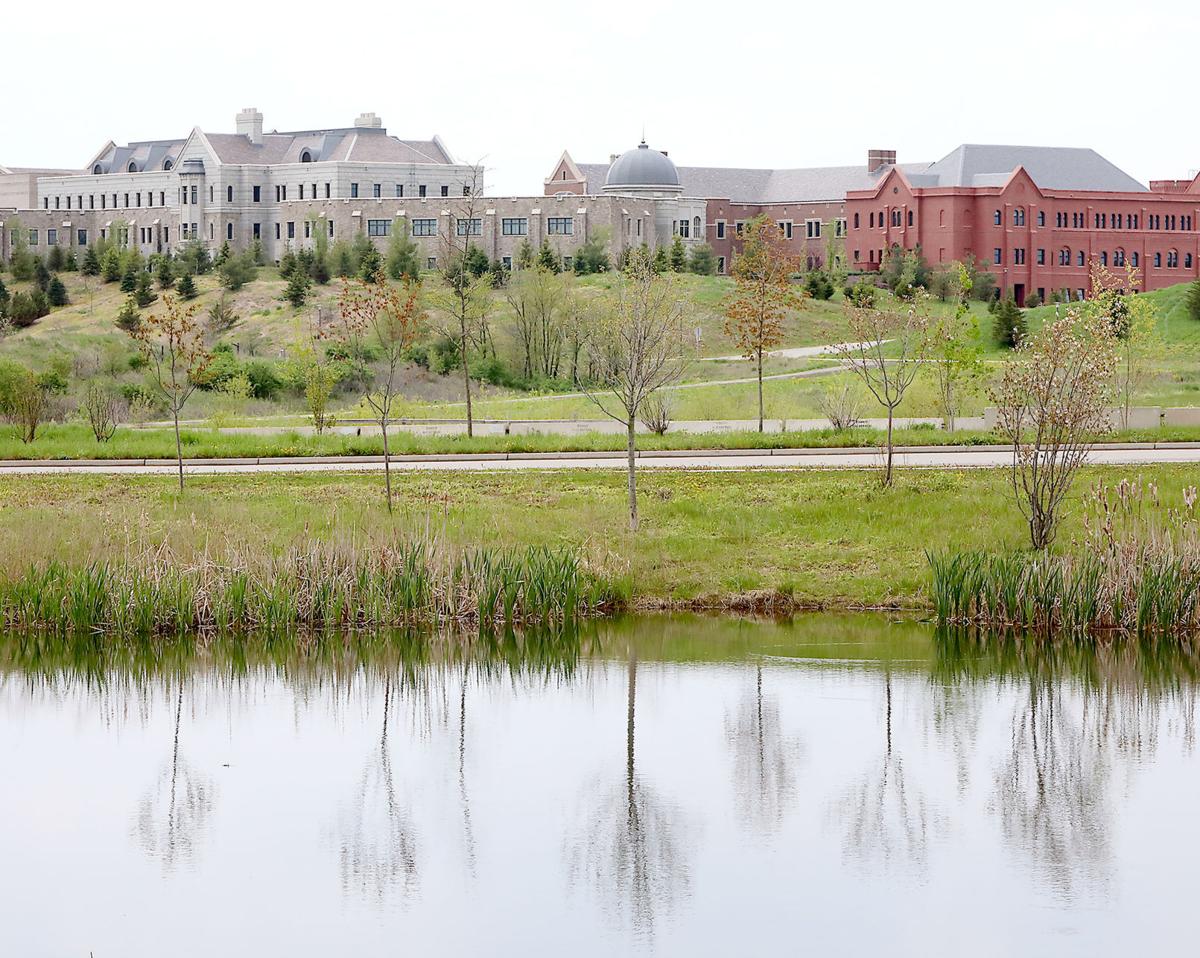 One of the Madison area's largest employers made national news on Tuesday morning for its plan to return all of its more than 9,000 employees to the Verona campus by September 21 as the novel coronavirus pandemic rages across the state and country. 
The plan, which stands in contrast to the plans of many other technology companies across the country, was featured in a CBS "This Morning" segment Tuesday. The segment cited the results of a survey created and circulated by employees showing deep concern among hundreds of employees about being required to return to their offices.
The survey results, obtained by the Cap Times through an anonymous employee, show that of the more than 400 respondents, 89% were dissatisfied with the company's coronavirus response. The survey also found that much of the dissatisfaction was due to lack of transparency. Fifty-six percent of respondents indicated that they were not comfortable returning to campus as scheduled due to "personal beliefs and/or philosophical issues," while 34% said they were not comfortable due to childcare, transit or medical issues. 
According to emails sent to employees by the survey organizers, the survey organizers sent the results to Epic management in early July and had not yet received a reply by July 22. The emails also noted ongoing efforts to unionize Epic employees through SMART Local 565 of the International Association of Sheet Metal, Air, Rail and Transportation Workers.
The Madison chapter of the Industrial Workers of the World released a statement Tuesday morning stating that "this apparent disdain for the risk of spreading the virus within Epic will irreversibly harm many who live in Dane County.
"This is an issue that will end up affecting the entire Dane County community, not just Epic workers, as COVID-19 cannot be bounded by the Epic campus walls," the statement read.
Ahead of the CBS segment, Epic sent two emails Monday to employees. One, from Epic founder and CEO Judy Faulkner, informed employees of the coming TV segment and noted that the company had done a 30-minute interview with the show in which "our plans for a safe return were discussed at length."
"We anticipate that ... they will pick only a few short sentences which may not accurately capture the full story of what is being done to make your return to campus safe," Faulkner wrote.
The other email, signed by "Judy, Sumit, Sverre and Brett" included updates for employees. It said Epic had "taken the extra step of bringing in a nationally recognized infectious disease expert to advise us." 
Dr. Stephen Ostroff, a former acting health commissioner for the Food and Drug Administration and former director of the Bureau of Epidemiology for the Pennsylvania Department of Health, will review Epic's plans and inform the company about necessary changes, the statement said. Ostroff is also part of the "Healthy Sail Panel," a group of health experts tasked with developing health and safety guidelines for the cruise ship industry to "achieve readiness for the safe resumption of operations."
Epic employees will be required to complete a health self-assessment each day before coming to work, according to the email. The process asks employees to screen themselves for coronavirus symptoms including fever, chills, nausea and body aches. 
The email also included a video explaining Epic's safety precautions. Among those shown in the video is Erv Walter, an Epic developer and heart transplant recipient who keeps a sign outside his office door warning others that he is immunocompromised. In the video, he explains that he focuses better at work and that his UW transplant team gave him the OK to return as long as he took safety precautions, such as washing hands regularly, wearing a mask and staying away from "sick people" and people not wearing masks. 
"I've been doing that to stay safe, I assume others are doing the same, but I'm still keeping the sign outside my door," he said in the video.
The video ends with words from narrator Anna Green of Epic's events team. 
"We're at our best when that energy and creativity is flowing, and being at our best is important, because the health of millions of people, whether they know it or not, relies on us doing our best work always, but especially now."
Epic offers leave of absence
The email also announced other changes for employees, including options available for employees who have not found childcare for the first two months of the fall semester, as Madison public schools will offer only virtual instruction for the first quarter. 
A July 24 announcement had informed employees that they would need to either take a leave of absence or switch to part-time status in order to work from home. Monday's update told employees to "use your best assessment to estimate what percent of your typical workweek you will be able to do when at home." 
These parents will still need to return to work in person full-time after Nov. 2. The update also presented the leave of absence option for any other employee who does not wish to return to work, but added that "we may have to hire others to do the work, or there may not be enough work left to bring everyone back."
When Epic announced its reopening plan to employees in June, some employees expressed concern. One employee, who spoke on condition of anonymity, told the Cap Times by email, ""I am actively dismayed at the way this company has handled the pandemic." 
The announcement came as the number of new coronavirus cases doubled in Dane County. Later that month, the company told employees it would slow the return. Each group of employees would now return to campus a month later than previously planned, staggering employees' returns from August to September.
Epic leaders say the company's culture of collaboration depends on employees being on campus, a marked contrast from tech companies like Zillow and Facebook, whose leaders say the pandemic has shown them the value of remote work. 
It is not clear to what extent the return-to-campus will lead to the type of collaboration Epic is seeking, as employees are allowed to opt out of in-person meetings and instead call in.
Employees have also been making their concerns known anonymously on the job search platform Glassdoor. "COVID-19 response has been blunder after blunder of poor communication and poor decisions," wrote a software developer who said they'd been working at Epic for more than eight years. 
Another eight-year employee in the company's quality assurance division wrote, "The company needs to be frogmarched into doing the right thing every step of the way including petitions and leaks to the press." 
Editor's note: This story originally incorrectly listed the name of the union Industrial Workers of the World. We regret the error.
Share your opinion on this topic by sending a letter to the editor to tctvoice@madison.com. Include your full name, hometown and phone number. Your name and town will be published. The phone number is for verification purposes only. Please keep your letter to 250 words or less.