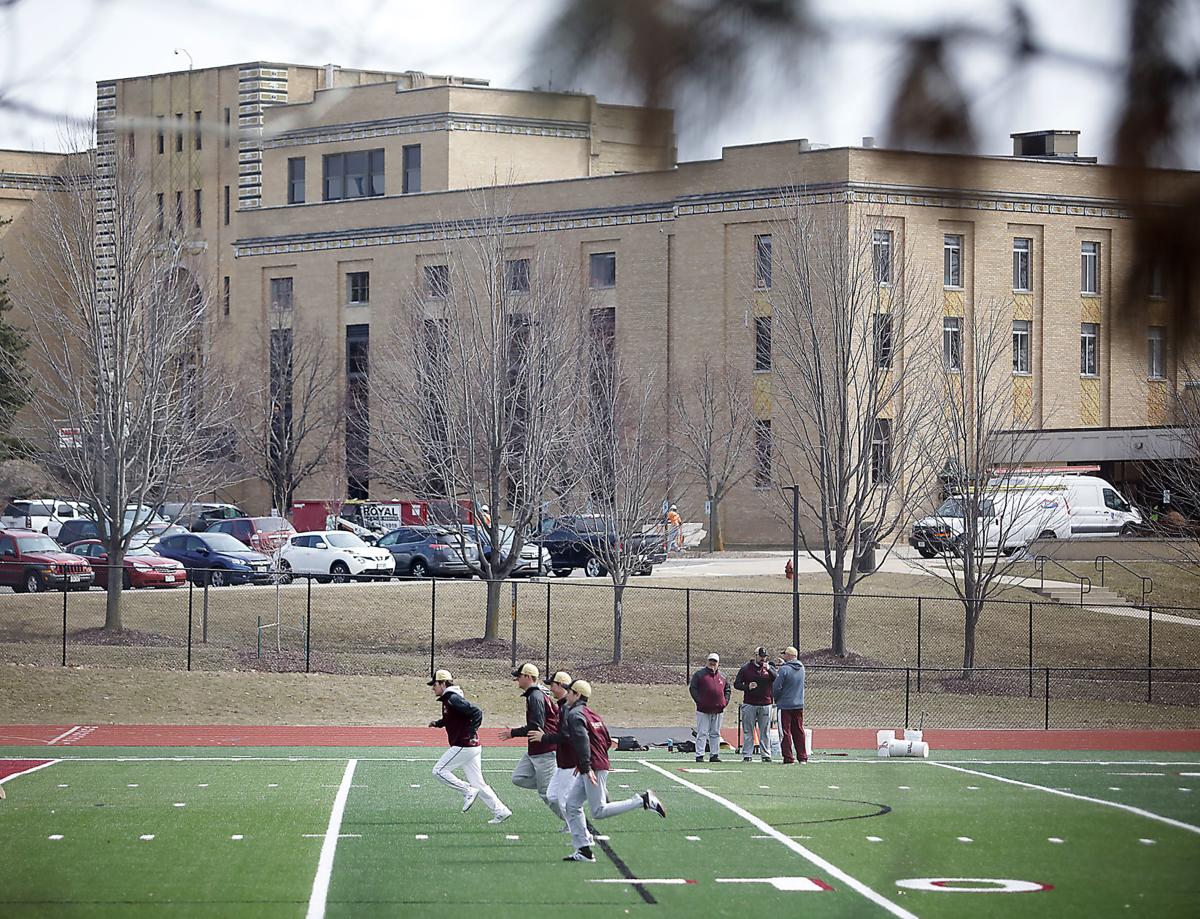 The past year has brought plenty of controversy over Edgewood High School's proposal to construct a stadium for its athletic field. Improvements to the west side Catholic school's field would have allowed it to host games at night.
After neighborhood pushback, those plans are on pause. But in the midst of the conflict, the city said Edgewood shouldn't be hosting any games on its field, day or night, and issued two notices of violation to Edgewood.
Edgewood has since filed an appeal on those notices, and is likely to appear before the city's Zoning Board of Appeals by July 18, arguing that using the field for games is "unquestionably allowed."
"For nearly a century, Edgewood High School has hosted sporting and community events on its athletic field and track," Michael Elliott, president of Edgewood High School, said in an email. "That is why it was so disconcerting when earlier this spring the City of Madison issued multiple notices of violation against Edgewood simply for hosting sporting events on its field."
When Edgewood created its Master Plan in 2014, it said the field was used for team practices and physical education only, and didn't name athletic competitions as a proposed use.
According to the notices issued on April 1 and May 15 by the city, that means Edgewood is not allowed to use its field for "athletic contests," but only for team practices and physical education.
It its appeal, Edgewood argues that it didn't list every use of the field because that wasn't the focus of the Master Plan, but it has been using its field for athletic competitions for almost 100 years. It lists a long history of athletic competitions, including football and soccer games, track meets starting in 1999 and lacrosse matches since 2015.
The appeal also argues that the city's zoning code determines how a property can be used, not a master plan. Master plans control the development of structures on a property, it argues, and adds that Edgewood was not required to submit a master plan at all.
"Edgewood certainly would not have voluntarily adopted a plan that disallowed the historical use of its athletic field when it had been hosting athletic contests on that field for nearly a century," the appeal says.
Matt Tucker, city zoning administrator, confirmed that Edgewood was not required to create a master plan, but said there are benefits for doing so.
Edgewood is zoned as a Campus-Institutional District, a zoning category which lists indoor and outdoor sports and recreational facilities, stadiums, auditoriums and arenas as "secondary" uses. (Unlike other zoning categories, the Campus-Institutional District lists primary and secondary uses, rather than permitted and conditional uses.)
Edgewood argues that this zoning means that using the property as an outdoor sports facility is "automatically allowable" without additional city approval.
The appeal also alleges that the city's actions are a potential violation of the Religious Land Use & Institutionalized Persons Act, saying that Edgewood should be treated the same as Madison's four public high schools, which share the same zoning category. The appeal says the city is trying to "weaponize Edgewood's Master Plan against it," calling this "beyond unfair."
"Edgewood enjoys the same land use rights under the City's zoning ordinances as the City's public high schools and the University of Wisconsin, including the right to host sporting events on its outdoor fields … Edgewood is not looking for special treatment. We simply want to be treated the same as the City's public, nonreligious schools," Elliott said in an email.
If Edgewood loses the appeal, they could appeal to circuit court, Tucker said. If the zoning board rules in Edgewood's favor, Tucker is unsure what would happen next, as this is mostly "uncharted territory" for the city.
"This is the kind of thing I can't say we have a lot of experience with," Tucker said.
Without a stadium, Edgewood teams have had to rotate some of its "home" games through several available fields. Switching home fields leads to "significant travel, logistical hurdles, cost, and scheduling conflicts between Edgewood and visiting schools," according to Edgewood's proposal for the stadium.
So Edgewood proposed replacing 450 bleacher seats on its athletic field with a 1,000-seat stadium with team rooms, restrooms and concession area at its field, with lights and amplified sound.
Edgewood was required to amend its master plan to go through with the project, but many neighbors were adamantly opposed to the idea, which they said will disrupt the neighborhood with traffic, parking, light and noise. Grassroots resident group No New Stadium was formed to oppose the project.
In February, Edgewood said it would forgo constructing a stadium for now and instead install lights and a sound system, meaning it wouldn't need to go through the master plan amendment process. Neighbors said this new strategy was an attempt to sidestep their input, and Edgewood then paused these plans.
Tucker said he learned that Edgewood "had been using the facility in a certain way that I believed was beyond the scope of what the master plan allows for them to use" during a neighborhood meeting last fall on the stadium proposal.
This spring, after Edgewood hosted soccer, track and field and lacrosse contests, the city sent out the notices of violation.
Edgewood continued to host games during the spring season, Elliott said, but all spring sports have now ended.
Asked about the status of the light and sound system, Elliott said, "at this time all our efforts are being directed to assure Edgewood High School receives equal field usage as the other Madison high schools."
Tucker said the project's lighting permit was placed on hold because the building inspection director believed issuing the permit would be a violation of Edgewood's master plan.
Share your opinion on this topic by sending a letter to the editor to tctvoice@madison.com. Include your full name, hometown and phone number. Your name and town will be published. The phone number is for verification purposes only. Please keep your letter to 250 words or less.
Be the first to know
Get local news delivered to your inbox!