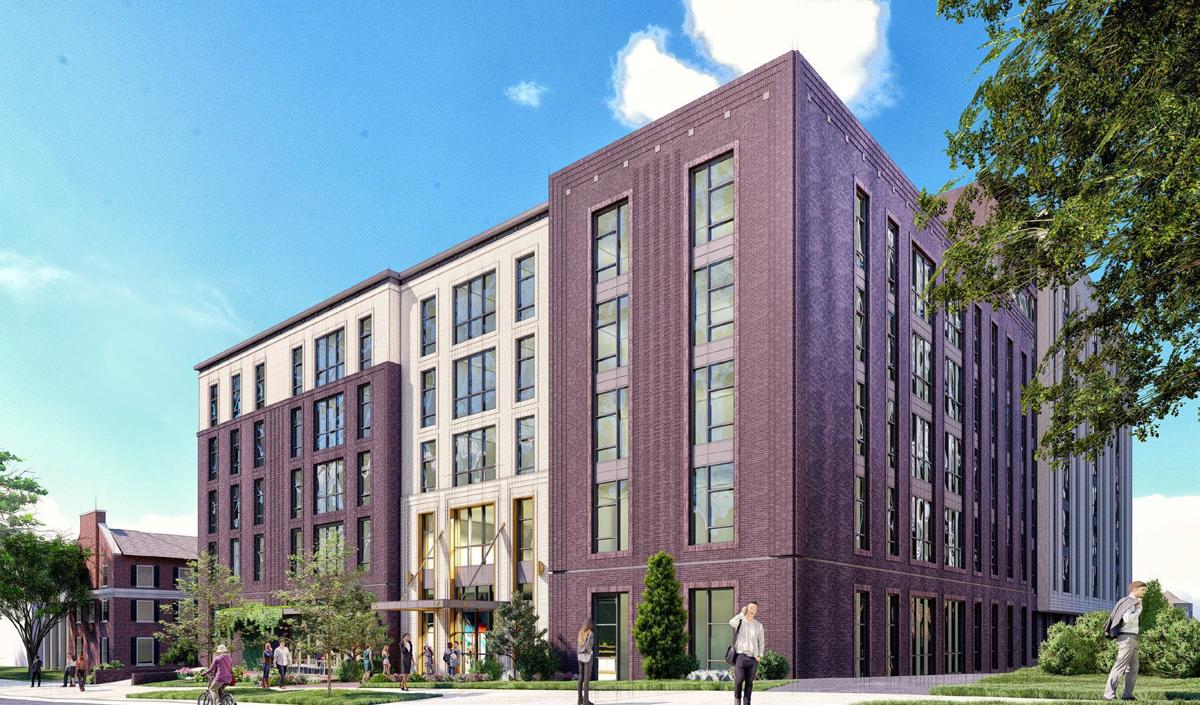 Members of a steering committee formed to facilitate discussion among residents and review aspects of an apartment building proposed for 126 Langdon St. is hoping to get the developer to adhere to some conditions in exchange for their support. 
Core Spaces, the development firm proposing construction of Hub II, has been fielding questions and feedback from residents during meetings over the past two months. Core built the Hub on State Street as well as the James on West Gorham Street. The firm ultimately sold both of those properties and does not manage them. It will, however, continue to own the proposed Hub 2 and is therefore working to connect with residents of the area, according to Core executives. 
One of the top conditions, according to documents obtained by Cap Times, was for the development team to address potential noise issues stemming from a fifth floor rooftop pool, hot tub and patio. 
The proposed building would be seven stories tall, but the top two stories would be set back 25 feet from Langdon Street. The fifth floor is where a rooftop pool and hot tub area would be, with the possibility of amplified sound. In the steering committee document, members objected to any pool or patio area.
"The rooftop swimming pool and/or hot tub feature should be removed," the steering committee said. "Neighbors do not believe that either of those features can be regulated or patrolled by internal security or other staff in a manner that will prevent large numbers of residents and guests from congregating, making excessive noise, and/or throwing objects off the rooftop as has occurred at other similar buildings." 
If Core isn't willing to reconfigure its plan for the building, the committee would like there to be hours of operation for the patio area. It is unclear in preliminary plans if Core plans to have staff monitor the hot tub and pool area. The steering committee is recommending the area be closed prior to 9 a.m. daily, after 9 p.m. Sunday through Thursday, and after 10 p.m. Friday and Saturday. 
Along with those recommendations, the steering committee called for no outdoor amplified sound or live music. 
Rodney King, vice president of development at Core, said hours of operation for the pool patio is something that would be agreeable to the development team. 
"We will have hours of operations for our rooftop amenities, in addition to security personnel during specific periods," King said in an email. 
Steering committee members are also concerned about traffic the building will bring to the Mansion Hill district. The steering committee would like to see a plan put in place for commercial delivery and rideshare management. Lyft, cabs, and delivery vendors could cause traffic issues in that area of Langdon. 
"Parking of delivery vehicles must not be on the properties of adjacent/nearby properties, must not block fire lanes, and must not be considered illegal parking by the city," the steering committee wrote in a document detailing possible conditions for its approval. 
The proposed building would hold about 300 beds in 124 units, but offer 20 underground parking stalls. At informational presentations for the Urban Design Commission, the development team stated that it is not seeking tenants likely to own cars, which could contribute to rideshare and food delivery traffic. 
The steering committee would like to see a parking management plan with information being provided to the future tenants about parking, including a notice to all tenants that mopeds can't be stored in areas on the property, except in designated moped stalls.  
The language in steering committee documents makes clear that the expected population of the Hub II will be college students. The developer has resisted saying that the space is intended almost exclusively for students and has stood by this proposal as being a multi-family building. 
Be the first to know
Get local news delivered to your inbox!