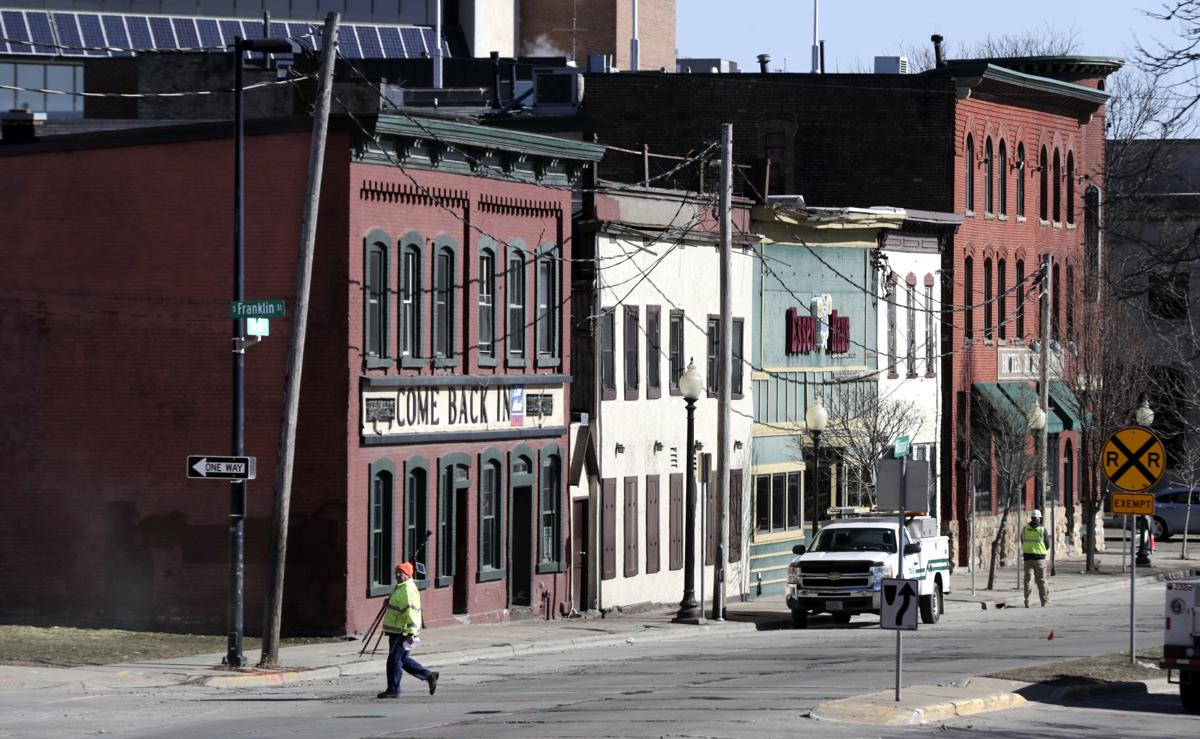 As McGrath Property Group moves forward with a proposal for a major development on the Essen Haus site and surrounding properties in downtown Madison, the neighborhood is generally excited to see plans for the site.
"The Essen Haus itself is in disrepair and we want to see that area renovated. This is something we've all wanted for a long time," said Sarah Bownds, who owns a unit in the nearby Germania Condos.
But according to some nearby residents and members of the First Settlement Neighbor Community steering committee focused on the project, they also have some concerns.
The neighbors emphasize that they want to work with McGrath and are willing to compromise, but they're not yet satisfied with the current proposal. Lance McGrath did not respond to a request for an interview.
The development site includes a large surface parking lot, Essen Haus Restaurant and Bar at 514 E. Wilson St., Come Back In bar at 508 E. Wilson St., and four rental houses from 110 to 118 S. Blair St.
The project proposes to build 180 apartments, 9,000 to 10,000 square-feet of commercial space and 208 structured parking stalls. At its tallest height, the development would be five stories.
The Essen Haus would be demolished. The Come Back In building will be renovated, but the bar business is "not part of the future plan," McGrath said in April, and he anticipates using the first floor as commercial or retail space and the upper level as office space.
The Hotel Ruby Marie and two empty lots fronting East Wilson Street, 502 and 504 E. Wilson St. — occupied by O'Cayz Corral and Cay'z Comic Strip until a 2001 fire destroyed the buildings — are not part of the proposal.
Some neighbors are concerned about a few aspects of the plan, including the density and massing, the removal of current community space, the impact on a nearby residential street and aspects of the architectural style.
Although the designs have already been downsized from a 240-apartment, 340-parking stall plan in order to preserve four houses the neighborhood, neighbors like Bownds will now have a back porch that faces a parking structure.
The new development will also cover the space currently used for the Come Back In's volleyball league. Neighbors would like to see a community space carry through into the new design, said Juli Wagner, a member of the First Settlement Neighbor Community steering team and Germania condo owner.
Neighbors also want the designs to reflect the First Settlement Historic District. Current plans are too heavy on modern architecture at the expense of tributes to the history of the area, they said.
"I know we realize that we can't recapture necessarily in every situation 100 years of history. That's not the goal … the goal is to have a project that speaks to the thread of the neighborhood," said Ed Linville, an architect and another member of the steering committee. ''Essentially what we feel at this point, this project could be Anywhere, USA."
Some neighbors like Bert Stitt, a former president of Capitol Neighborhoods, Inc. and longtime resident of the First Settlement neighborhood, feel strongly that the four houses on the property 110 to 118 S. Blair St. should be renovated as part of the project.
And finally, some neighbors are concerned about a service entrance off of South Franklin Street, which they say is inappropriate for a residential street. The First Settlement Neighbor Community opposed this service entrance in a comment submitted to the city.
They don't want large commercial trucks for food delivery, waste removal and utilities accessing the development from South Franklin Street, and are concerned such large trucks will necessitate the removal of some on-street parking, Bownds said.
They've brought up their concerns to McGrath, who said he investigated options and felt like the South Franklin entrance is the best solution, Bownds said.
"There's a lot of compromise that can take place, there's a lot of things we're willing to give on, but having commercial trucks on a residential street and potentially losing street parking to accommodate those trucks is not a thing that we're going to accommodate," Bownds said.
Ald. Marsha Rummel said she's heard similar concerns from neighbors and some additional ones, like questions about the scale and character of the East Wilson facade.
"I think there's a general agreement that a parking lot is a good site for redevelopment, it's just how do you do it right that honors the historic district that it's in and the next door neighbors in the Germania Condos," Rummel said.
Linville said the relationship with the developer has been "cordial" thus far, but "we haven't rolled up our sleeves together."
"We're both willing to want to make it better. That's a great thing," Linville said.
Share your opinion on this topic by sending a letter to the editor to tctvoice@madison.com. Include your full name, hometown and phone number. Your name and town will be published. The phone number is for verification purposes only. Please keep your letter to 250 words or less.
Be the first to know
Get local news delivered to your inbox!