Tuesday may have been marked by gray weather and freezing rain, but in Oregon, there was an explosion of color.
A crowd of hundreds, some arrayed in bright red, green and yellow chupa, traditional Tibetan clothing, slipped off their shoes and entered the ornate gold and deep blue temple at the Deer Park Buddhist Center.
They were there to celebrate Losar, Tibetan New Year.
Kunsang Yangdon has been coming to this celebration for 10 years. Losar is her favorite holiday.
"Since we were little, we're so used to celebrating Losar," she said. "It's a different country, but the same feeling."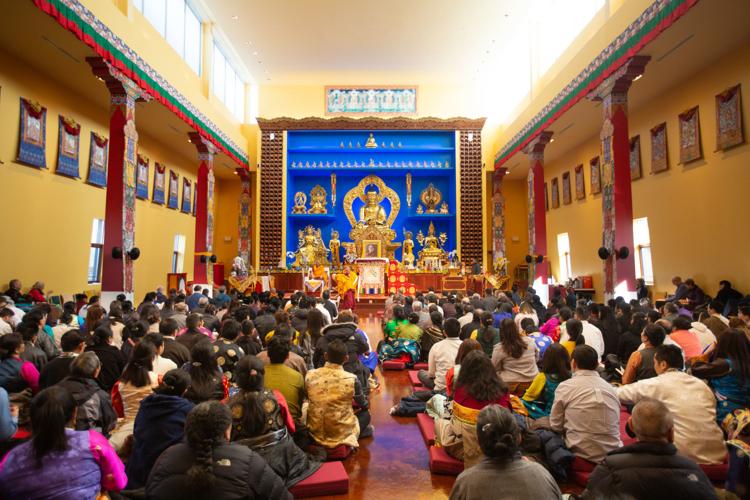 The Wisconsin Tibetan Association organizes the event with the Tibetan community. Lobsang Tenzing, president of the WTA, said they've celebrated Losar at the Deer Park Buddhist Center since the first groups of Tibetan immigrants came to Madison in the 1990s.
The Dalai Lama and thousands of Tibetans fled to India after China crushed a 1959 Tibetan uprising against Chinese occupation. Some made their way to the United States after the 1990 Immigration Act allowed the entrance of 1,000 "displaced Tibetans" — they were not given refugee status so as not to upset the Chinese government — to resettlement sites throughout the country, including Madison.
Since the 1990s, the Tibetan population in Madison has blossomed to at least 600, Tenzing said, through family reunification, immigration, children and Tibetans from other states moving to the area.
The community comes together every year for holidays like Losar, which this year falls from Feb. 5 to Feb. 7. Losar is based on the lunar calendar and sometimes, like this year, coincides with Chinese New Year. This is the year of the pig, which is particularly special because it's the Dalai Lama's zodiac year, Tenzing said.
The new year is a time to wish prosperity, good health and luck to all, Tenzing said, and it's customary to clean up the house, to dispel "all the evil spirits" before the new year starts.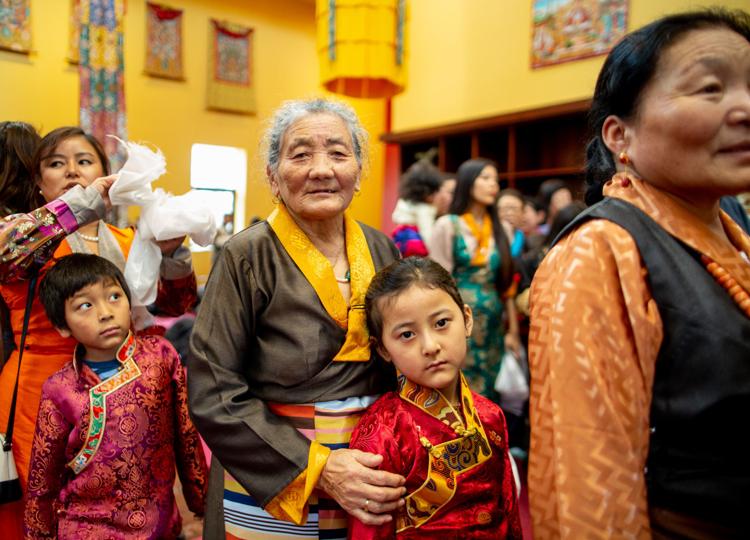 On Tuesday, Tenzing estimated there were 600 people sitting cross-legged on maroon cushions on the temple floor. Shining golden buddhas drew eyes to the front of the temple.
During the event, a monk led prayers in a lilting chant. Prayer books in Tibetan and English were laid out side by side.
"O magical emanation of all three secrets of countless conquerors, appearing in whatever form best serves disciples," one prayer read. "Wish-fulfilling gems granting every goodness and virtue in samsara and nirvana."
The prayers went on for more than an hour, but it was not a somber ceremony. There was a constant buzz of background chatter and little kids toddled freely between the rows of people. The prayers asked for "the long life of His Holiness Dalai Lama and also (that) all sentient beings be happy and prosperous in this year," Tenzing said.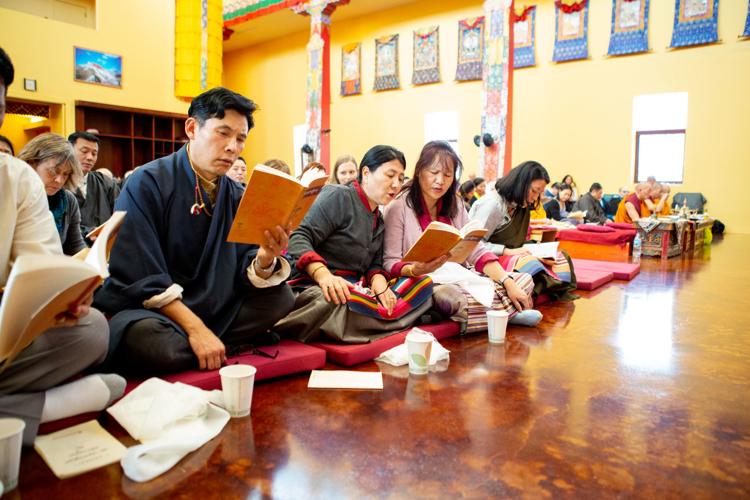 During the ceremony, there was a bustle of activity as youth pulled aluminum foil off of bowls of sweet rice, releasing the scent into the air, and dished it out to attendees. Others carried huge thermoses around the temple to pour tea.
"The purpose of this is for them to know the tradition," Tenzing said. "The older generation is going away, but we have to keep our culture and traditions."
A group of girls who assisted in the task are sophomores at the University of Wisconsin-Madison, and they've handed out the Losar rice and tea ever since they were little, they said. They said the rice is made with cashews, pistachios, almonds, raisins, butter, pecans and droma, a special root found in Tibet.
"I learned about it this morning," one said with a laugh.
They've all been to India to visit family — that's also where they picked up the traditional dresses they wore — but celebrating Losar is another way to feel connected to their heritage, they said.
"I think that no matter where we go in the world, Tibetans know how to celebrate our culture regardless of where we are," Sonam Dolma said.
That's easier in the U.S. then in Tibet, Tenzing said. Here, they can freely pass on their language and customs. WTA even hosts a Saturday school to teach kids Tibetan language, culture, history, meditation, dance and music. But China continues to "severely restrict religious freedom, speech, movement, and assembly" in Tibet, according to Human Rights Watch. 
"We are very lucky and fortunate here, that living in the United States, we have freedom to practice our language, practice our culture and practice our traditions," Tenzing said.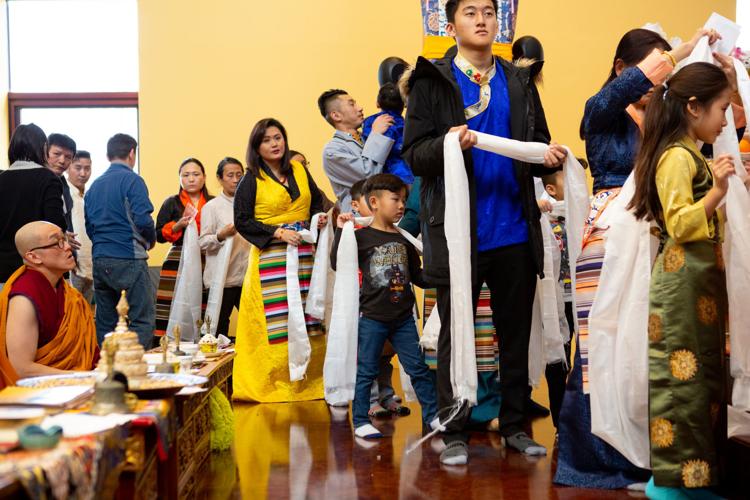 After the rice and tea, ceremonial scarves, or khata, were offered to the effigy of the Dalai Lama, which sits on a high throne at the front of the temple. The crowd stood in a long line to to bring their offering, and on the way back to their seats, they greeted and chatted with familiar faces, sometimes quickly catching up or introducing new babies.
The crowd then headed outside and gathered in a circle for another prayer. White roasted barley flour, tsampa, was passed out to all.
"White indicates purity," Tenzing said. "We live a pure life as much as we can."
After a prayer, everyone threw their barley into the air at once, which elicited laughter as the wind took it in unexpected directions.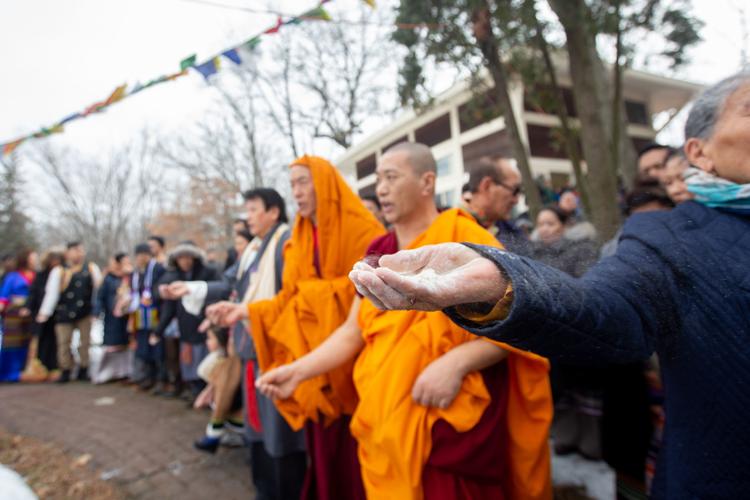 Traditionally, Losar was a 15-day holiday, Tenzing said, but as Tibetans have spread to other countries, the holiday was necessarily shortened because of the difficulty of getting off of work. Those who couldn't make it to the temple on Tuesday may come on their own Wednesday, he said.
"(There are) about 100 working in UW hospitals and clinics. If 100 people took off on New Year's day, there's nobody working," Tenzing said.
But the celebrations didn't end Tuesday. On Saturday, Feb. 9, the Wisconsin Tibetan Association will host a 6 p.m. dinner with traditional Tibetan food at Madison Turners, 3001 S. Stoughton Road.
Tenzing was grateful on Tuesday for the chance to see everyone "in the good health I saw them in last year."
"I'm hoping that we can see them next year at Tibetan New Year's," he said.
Share your opinion on this topic by sending a letter to the editor to tctvoice@madison.com. Include your full name, hometown and phone number. Your name and town will be published. The phone number is for verification purposes only. Please keep your letter to 250 words or less.
Be the first to know
Get local news delivered to your inbox!