A developer is proposing a six-story condominium and retail space on 222 S. Hamilton St.
The project, named "Barracuda," calls for the demolition of an existing two-story 1955 office building, replacing it with about 900 square-feet of commercial space, 19 condominiums and structured parking.
The developer of the project is Henry Hamilton Partners, LLC, said Christopher Gosch, one of the owners at Populance LLC, a group of architects and consultants.
He said the condo building will provide "incredible views," 75 percent with a view of Lake Monona and 20 percent with a Capitol view.  
The triangular property at the corner of South Hamilton Street and South Henry Street sits in the Basset Neighborhood, with the Dane County Courthouse just to the east.
The development of condos bucks a recent trend of apartment buildings in downtown Madison.
"There's been such a shortage of owner-occupied housing for a variety of reasons," Gosch said. "We saw the demand and we felt that professionals and empty nesters would be a good target market."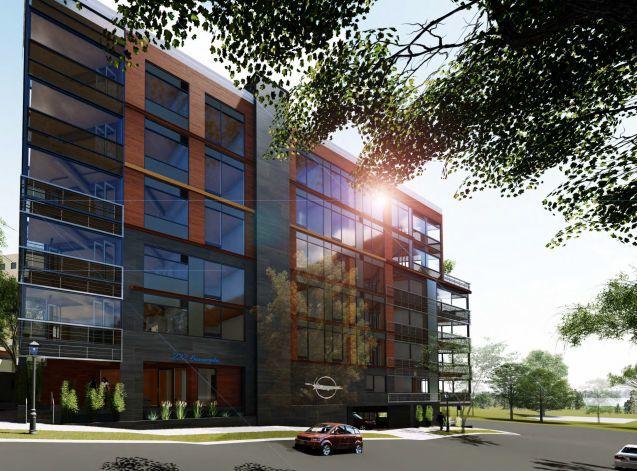 The downtown height map allows for six stories, and property is zoned as Urban Mixed Use. The project would require a conditional use permit to construct a multi-family dwelling of more than 8 units.
The 1997 Bassett Neighborhood Master Plan designates the area of the project as the "State Capitol Mixed Use District," which it recommends as "an intensive mixed use zone for offices, retail and residential uses," adding, "more residential uses are needed to create a more vibrant downtown."
Thus far, Gosch said, the neighborhood has been "pretty supportive of the project."
"We're meeting all the zoning requirements that are in place, and not asking for any variances or extra height. The puzzle pieces fit in there pretty nicely as far as what is actually allowed," Gosch said.
Peter Ostlind, the chair of the neighborhood steering committee for the project, agreed, calling the project "non controversial."
"The proposal meets all the zoning requirements for the sites, so that makes it much easier to be more supportive," Ostlind.
Ostlind said residents are interested in seeing the first condominium project in the area in a decade, and called the design "pretty striking." Even the street trees will be able to stay, he said.
"Generally, new buildings may be built to the Capitol height limits to capture lake views, but designs should consider the impact to light and views for adjoining properties," the neighborhood plan says.
The project is slated to begin construction this fall and be completed by next summer, the design application says.
The project will appear before the city's Urban Design Commission this Wednesday, Aug. 8 for an informational presentation.