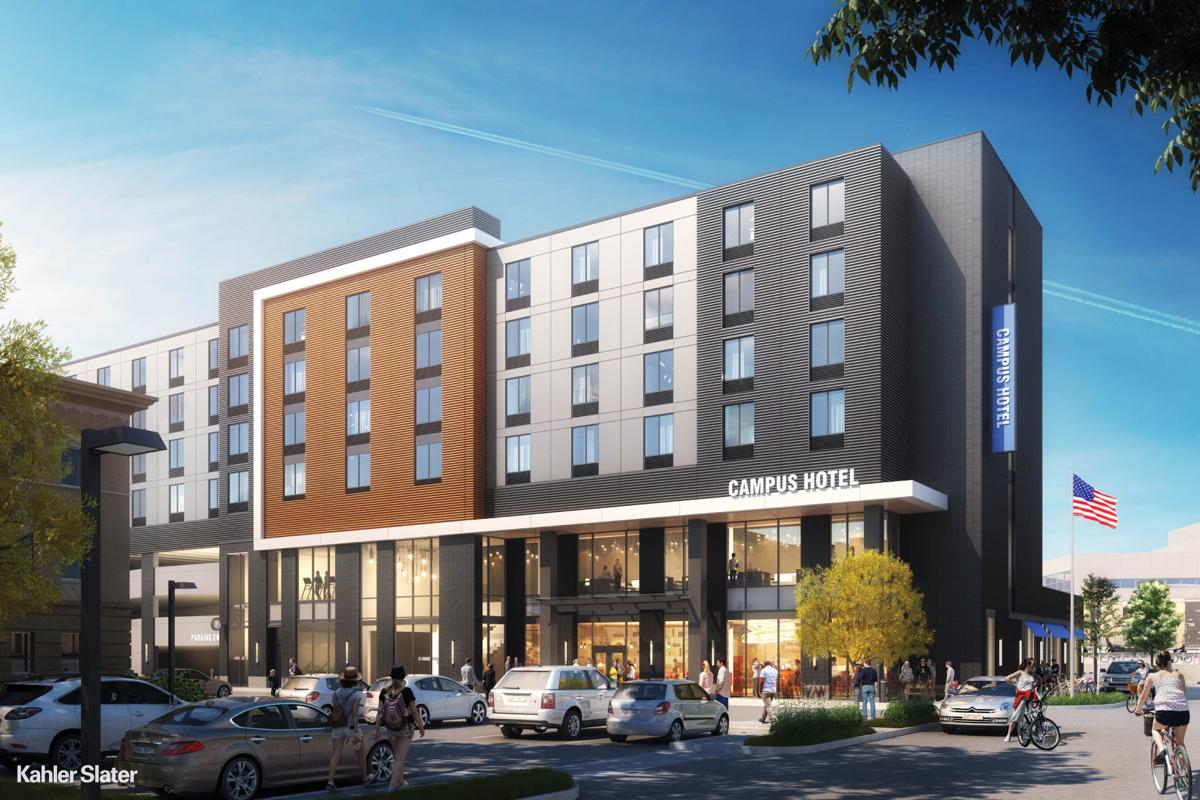 Designs for a proposed hotel near the Kohl Center, which would be surrounded on all sides by cars, bikes and pedestrians, received a final nod of approval from the Madison Urban Design Commission Wednesday. It would sit alongside the Southwest Commuter Path and next to East Campus Mall, with a vehicle entry on Regent Street.
To appeal to passersby from every direction, the approved designs for the hotel feature 360 degrees of visual interest, with multiple entrances, a pocket park and even an outdoor gallery-like set of five large artwork pieces.
On Wednesday, several commissioners said they were pleased to see their previous concerns about activating the various sides of the building were addressed.
The six-story hotel at 770 Regent St. would include 176 rooms, a bar, restaurant and a 239-space parking garage.
The proposed site is currently a parking lot located near the Kohl Center, separated from the arena by railroad tracks and the Southwest Commuter bike path. The hotel would be set back from Regent Street, behind an existing office building at 780 Regent St. and adjacent to the East Campus Mall, which connects pedestrians to the University of Wisconsin-Madison campus and Lake Mendota.
Mortenson Development, Inc. is the firm behind the project. Previous designs described the coming development as a "nationally recognized, full-service hotel." Dave Merrick, a development executive at Mortenson, said he was not yet able to comment on what hotel chain is slated for the space.
When the project first came before the UDC in April, it was referred, with members calling for more "activation" of the north and west sides of the building.
"We're coming to you today with one thing in mind, and that's to activate essentially all facades of our building due to the location," Chad Bloedel, an architect at Kahler Slater, told the commission Wednesday.
The building now features multiple entries marked with glass canopies and an expanded outdoor space with restaurant seating near the bike path to "make it fully engaging, inviting, so someone biking down the path or walking down the path wants to stop in," Bloedel said.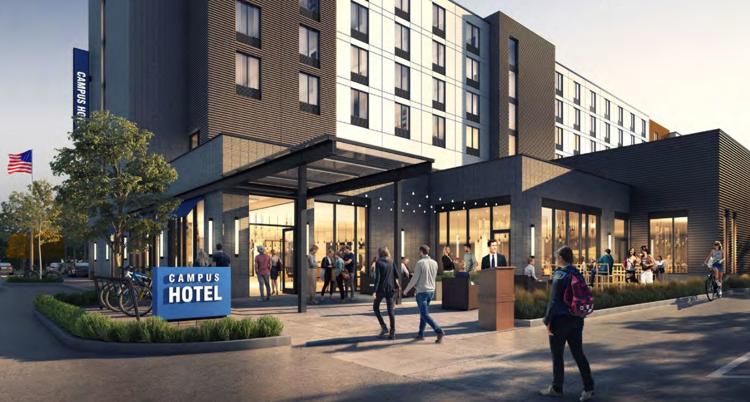 The side of the building facing the bike trail will feature a "gallery walk," Bloedel said, using five large screens to "pull the public in."
"We're creating a gallery experience, so there's a rhythm to what we've set down," Bloedel said. "There's a rhythm of art and landscape."
Specific art has not been chosen for those screens, but the development team said it is considering putting a call out to local artists, and has already been in contact with the city's arts program administrator Karin Wolf. The UDC will review the plan for art installation when Mortenson comes back for a separate signage approval.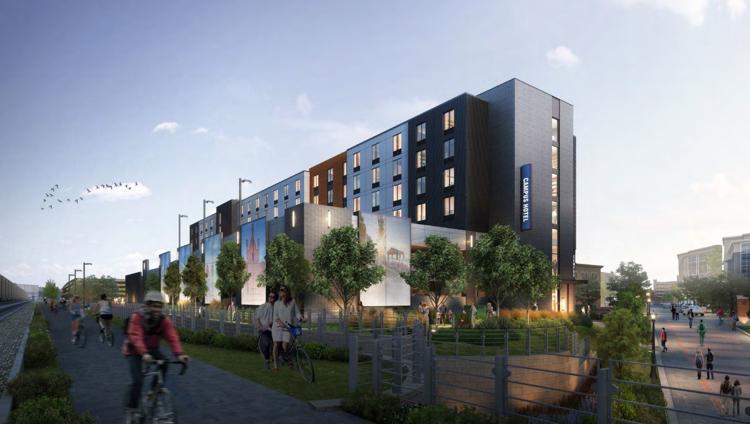 A small park will wrap around the East Campus Mall and bike trail corner of the project.
"We're providing variety, so not only is there shaded areas, there's open areas, there's a textural thing where we're taking small, medium and large plants," Bloedel said, with benches scattered throughout. "All this kind of comes together, and we hope, provides this playful landscape that you can sit at, enjoy, both hotel guests and the public."
Bloedel said the firm increased lighting around the park area, to make it "a beacon or a jewel rather than something we could be concerned about safety."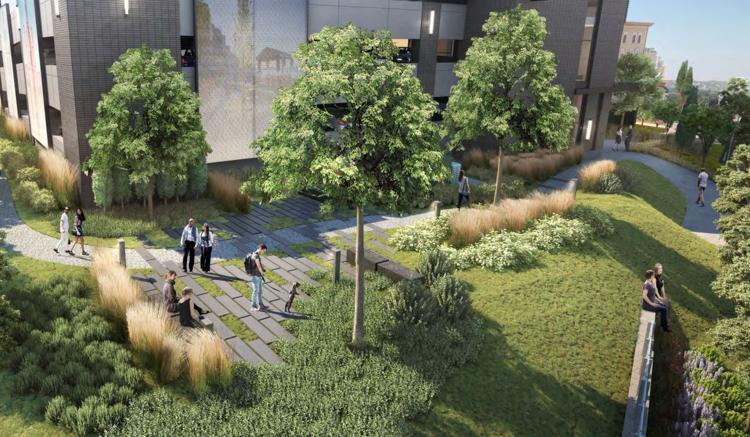 The project is slated to appear before the city's Plan Commission on June 10 and before the City Council on June 18. Merrick said assuming city approvals, construction is slated to start this summer.
"We are very pleased with the outcome of Urban Design Commission's decision. We look to continue to work with the various stakeholders toward completion of this exciting project," Merrick said.
Share your opinion on this topic by sending a letter to the editor to tctvoice@madison.com. Include your full name, hometown and phone number. Your name and town will be published. The phone number is for verification purposes only. Please keep your letter to 250 words or less.
Be the first to know
Get local news delivered to your inbox!