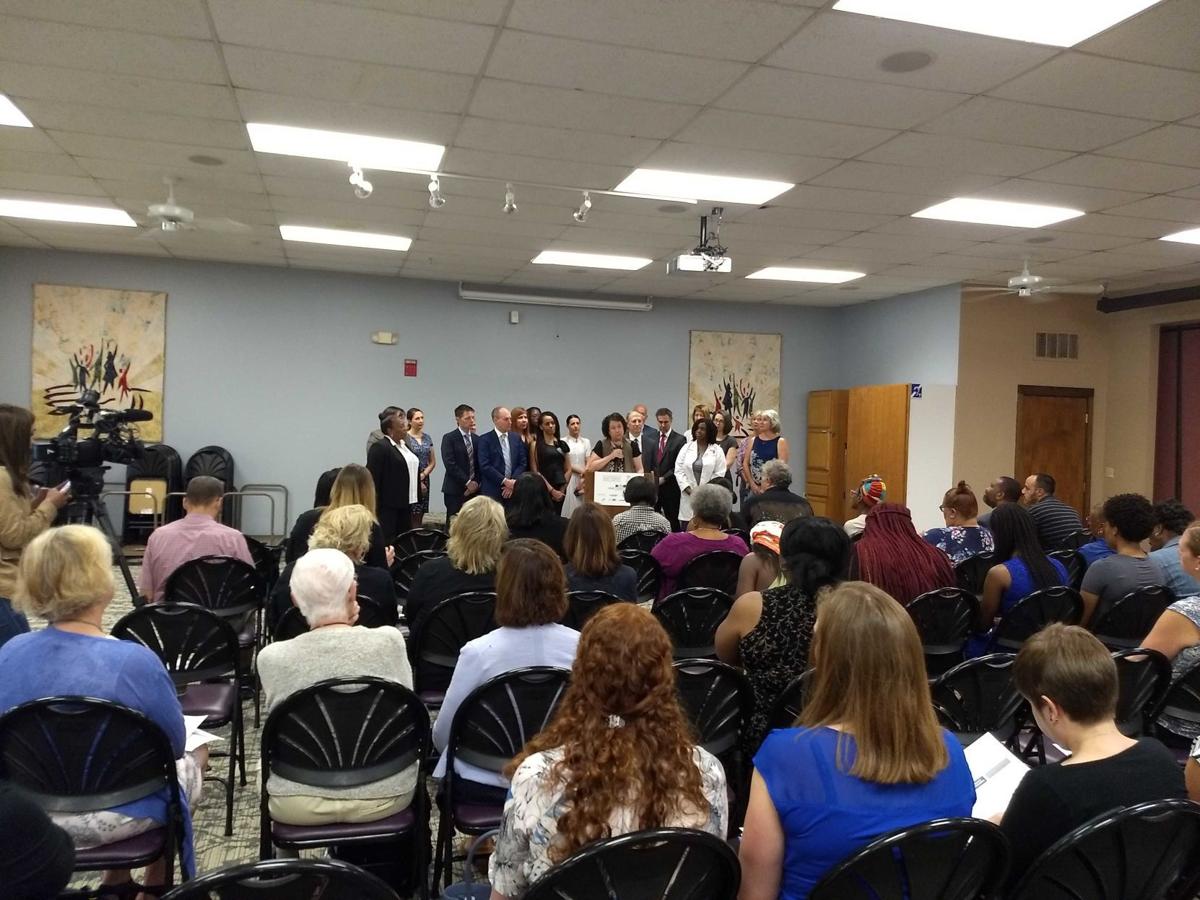 Dr. Jasmine Zapata recently visited a friend in the hospital who had delivered her baby prematurely, and she'll never forget the look on that friend's face when she was told her baby's lungs weren't strong enough to survive.
And she'll always remember giving birth prematurely herself at 25 weeks, along with the three months of NICU care and multiple life-saving surgeries necessary for her baby to live.
"I ask myself, what are things we could have done or we can do to prevent this in the first place?" Zapata said.
Zapata and her friend are African American, and they represent a larger trend in Dane County: black mothers are subject to significant racial disparities in birth outcomes and infant mortality.
Last year, a public engagement campaign recruited African American women and asked them to help identify what is driving these disparities.
After listening to their answers, the parties behind the campaign are ready to take action.
At a press conference Friday morning, the Dane County Health Council and the Foundation for Black Women's Wellness announced a series of initiatives they hope to implement in 2020, including creating a Black Maternal Health Alliance, training up more African American doulas and deploying neighborhood action teams.
"Let us commit together, today in this room — so this is not just another press conference or announcement — but to commit collectively to work together to change these outcomes, so that Dane County can be a place where we look back and say, we worked together to eliminate those birth disparities," said Lisa Peyton-Caire, founder and president of the Foundation for Black Women's Wellness.
In Dane County, African American mothers are more likely to give birth to infants with low birth weights, which can lead to health problems later in life and put them at higher risk for infant mortality. Public Health Madison & Dane County data shows that in 2016, black mothers in Dane County were 2.8 times more likely than white women to have a child die in the first year of life.
Last spring, the Dane County Health Council announced it was taking a new tack to find solutions to the frequency of babies born at low birth weights, asking African American women in-depth questions about their lived experiences, treating them as the "primary experts and key informants."
A nine-month community engagement campaign, led by the Foundation for Black Women's Wellness and EQT By Design, held over 20 sessions to gather input from African American women, their partners, their communities, and health and service professionals.
"Such an effort as this has never really been undertaken before. Nobody really went to the community first to say, 'What do you feel, from your experiences and realities, are driving these health outcomes? And do you suggest we do as a result?'" Peyton-Caire said.
The finished report, "Saving Our Babies," identified 10 themes driving low birth weights and black disparities in child and maternal health in Dane County, including chronic stress, economic insecurity, and racism and institutional bias.
Peyton-Caire said black women and men called out racial and economic disparities as the key drivers of birth disparities.
"They did not mince words when we asked them to talk about root causes, they went straight to that, despite income, education, family composition, despite what side of the city we were on, that was the feedback from folks," Peyton-Caire said.
The report made a "sweeping set of recommendations," Peyton-Caire said. The Foundation for Black Women's Wellness and EQT By Design will continue their partnership with the Health Council and take the next six months or so to plan the implementation of several of those community recommendations.
Peyton-Caire said that while these actions will be planned in partnership with African American women, first priorities include:
Creating Black Maternal-Child Health community website, listing data, describing ongoing efforts and offering information on health resources for women. 
Creating a Black Maternal and Child Health alliance, a community group made up of black women who would "guide and partner" to make sure the group's efforts are community-informed and representative of women and their families, Peyton-Caire said.
Expanding the number of African American doulas in the community through a training fund, and make sure women have access to doulas.
Creating an annual Wisconsin Black Maternal and Child Health Summit.
Funding neighborhood-based action teams and education efforts, focusing on the six Dane County zip codes that struggle most with low birth weights and infant mortality. This would engage community members as "solution-makers" and employ them as health workers and birth ambassadors, Peyton-Caire said.
Simultaneously, the Dane County Health Council members, which include Access Community Health Centers, Group Health Cooperative of South Central Wisconsin, Madison Metropolitan School District, Public Health Madison & Dane County, SSM Health St. Mary's Hospital, United Way of Dane County, UnityPoint Health-Meriter and UW Health, are continuously working on their own internal actions.
"Each of our organizations and together as a health council have publicly committed to internal work to address racism," said Jon Rozenfeld, the president of St. Mary's Hospital. "We know that only through a comprehensive, multi-pronged approach … are we going to be able to make a difference."
Share your opinion on this topic by sending a letter to the editor to tctvoice@madison.com. Include your full name, hometown and phone number. Your name and town will be published. The phone number is for verification purposes only. Please keep your letter to 250 words or less.