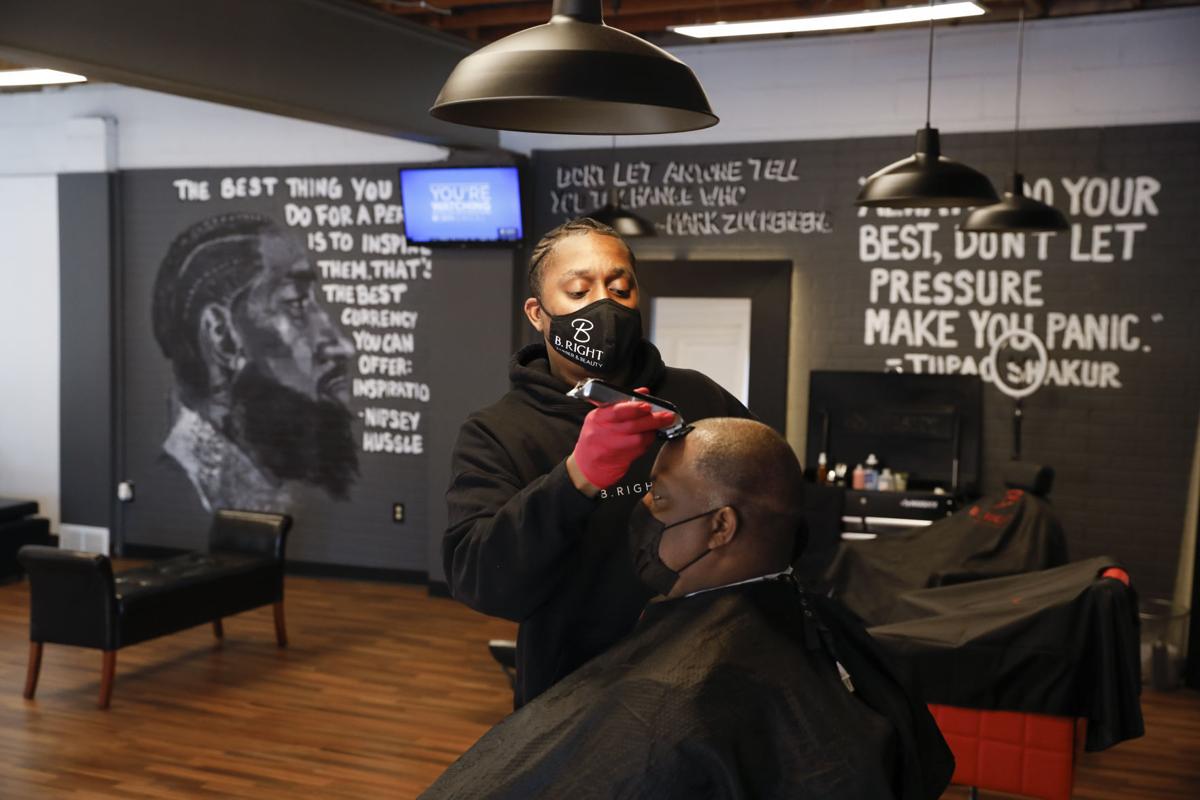 In this new weekly feature, local economy reporter Natalie Yahr gets "In Your Business" with local entrepreneurs, discovering how they got where they are and what's driving them now. 
Barber Jason Boatright gave his first haircut at age 12 — to himself. Growing up in Joliet, Illinois, with eleven siblings, the house was full of locks to tame, and the job of cutting the boys' hair fell to Boatright's dad or a friend. "They're not barbers. They'd do a terrible job," Boatright recalled. 
One day, he told them he'd do it himself.
It didn't go well, and he had to go to school with his self-inflicted style. Undeterred, the oldest of nine brothers practiced on his brothers until he solidified his skills. 
Now, three years after Boatright opened B. Right Barbershop in Sun Prairie, his brothers still joke about the debt he owes them from all those rough cuts early on. "They'll tell you right now that I owe them free haircuts for a lifetime," Boatright said.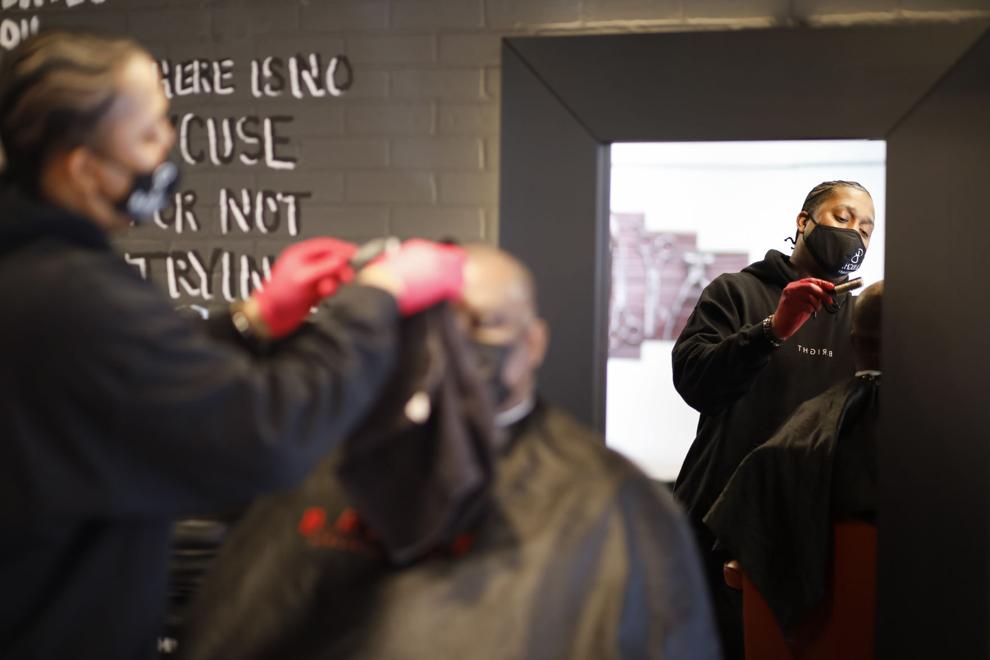 The future barber moved to Sun Prairie in 2010 at the urging of his then-wife. Back in Joliet, he'd been getting into fights and getting in trouble with the law, and she thought he should start over in a new place. It took her two years to convince Boatright, who had never lived anywhere else.
Once in Sun Prairie, he worked a series of warehouse and forklift jobs before deciding to turn his hair cutting hobby into a career. "Something just told me, 'Jason, why are you wasting your time when you have a talent that you could be successful in?'"
He completed the cosmetology program at Madison College and got a chair at the bustling walk-ins-only Atwood Barbershop, where he'd often have dozens of customers staring at him, wishing he'd hurry it up. 
"That was like being thrown in the jungle," Boatright said, but he credits the shop with speeding up his own growth and teaching him the business side of barbering. 
Boatright might have kept battling the walk-in tide at Atwood, if not for a recent legal change and a chance run-in with an old teacher. In 2017, Wisconsin's Legislature lifted a requirement that had previously required licensed barbers and hair stylists who wanted to become managers to first work 4,000 hours under supervision or take expensive management courses.
Soon after, Boatright ran into one of his Madison College instructors at Starbucks, and she asked if he'd like to open his own place. He said yes, and she connected him with the owner of a commercial space in Sun Prairie where he rented a studio just big enough for a one-chair operation. He opened the doors in March of 2018.
Then, last fall, he heard about another Sun Prairie spot for rent, one big enough for several chairs. Though some questioned his plan to expand in the midst of a pandemic, Boatright was sure. Another would-be tenant offered more than the listed rent, but the landlord saw promise in Boatright's plans. Recently retired from a career in construction, he helped Boatright renovate the space to fit his vision, which includes setting an example for young people. 
"I try to reach the youth to make sure they know that you can be different," Boatright said. "No matter what you did, you can change."
Today, the sun pours into the waiting area where children's books featuring Black kids and titles like "I Will Be Fierce" await young readers, and the spacious shop even has an NBA Jam arcade game and a foosball table. Candy apple red swivel chairs pop against black walls inscribed with inspirational quotes from Tupac Shakur, Malcolm X and Barack Obama. One wall is filled with a painted portrait of the late rapper and activist Nipsey Hussle beside his words: "The best thing you can do for a person is inspire them."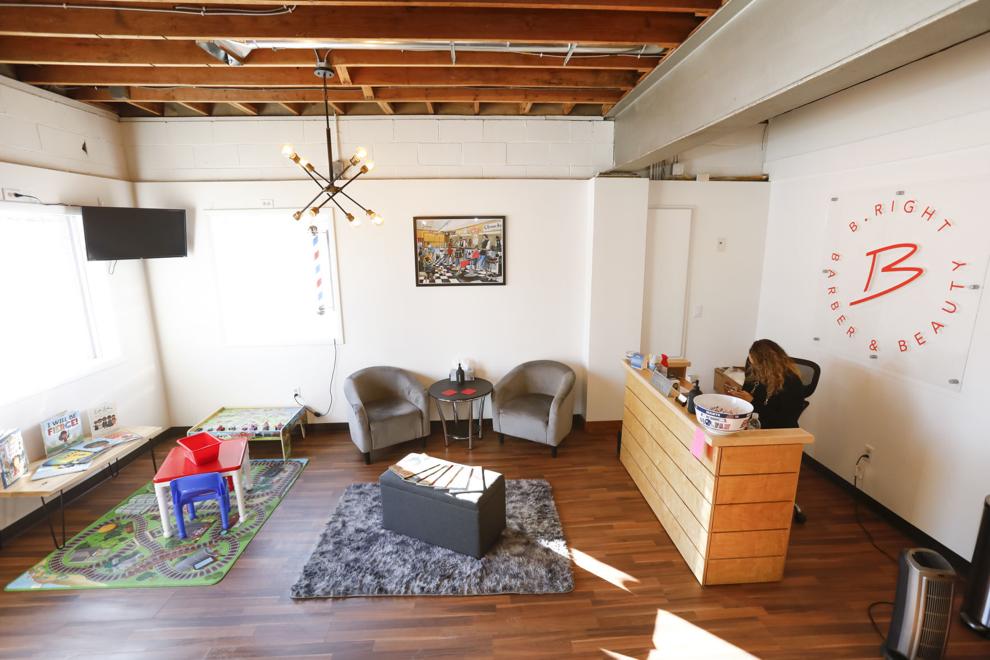 "While they're getting a haircut, they can look at a quote and think, 'Hey, that's kind of deep,' and maybe open up their minds while they're sitting there," Boatright said.
What started as a one-man operation now has a receptionist and two additional barbers, and Boatright is looking for a hair braider. Customers range from two years old — younger than that and they won't sit still — to folks who were in stands in 1986 when the Bears played in the Super Bowl.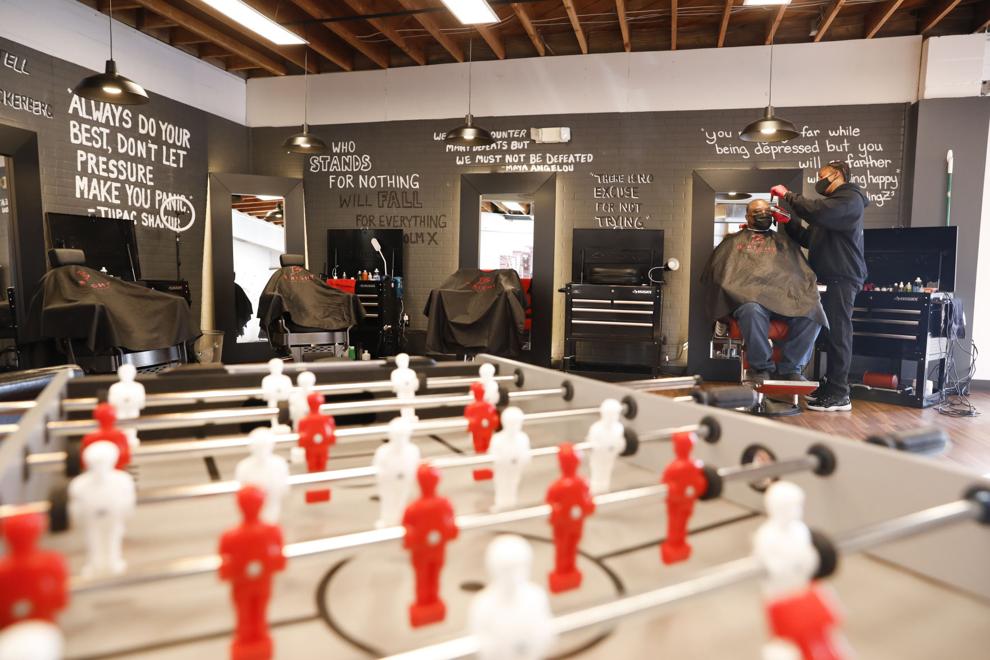 COVID has made the job tougher. Boatright can only cut one customer each hour, wiping down every surface after each person leaves. Sometimes he has to convince resistant customers to wear masks. 
But he still loves the job, where he talks with new people everyday. It's a big difference, he said, from the warehouse jobs where "it's just you and a forklift."
"I've never been to Hawaii, but I done been to Hawaii 600 times through my clients. Tell me about their trips and the things that they do. It's beautiful." 
His favorite moments are when he hands a customer a mirror to check his work and the customer doesn't want it. That, Boatright said, means he's really earned their trust. "I don't care what no man say, they are very particular about their hair," Boatright said. "So the men that I give them the mirror and they be like, 'Boy, don't give me that mirror. You know you do what you do' — that's everything to me. I think in my mind, 'Am I that good?'"
But for Boatright, the job's about more than cutting hair. He got into the business in part to be a regular presence in the lives of young people. "I know everything that's going on in Sun Prairie. Everything, from the fights to the people who got in trouble to who's doing good in school," Boatright said, adding that he's helped put an end to some local problems.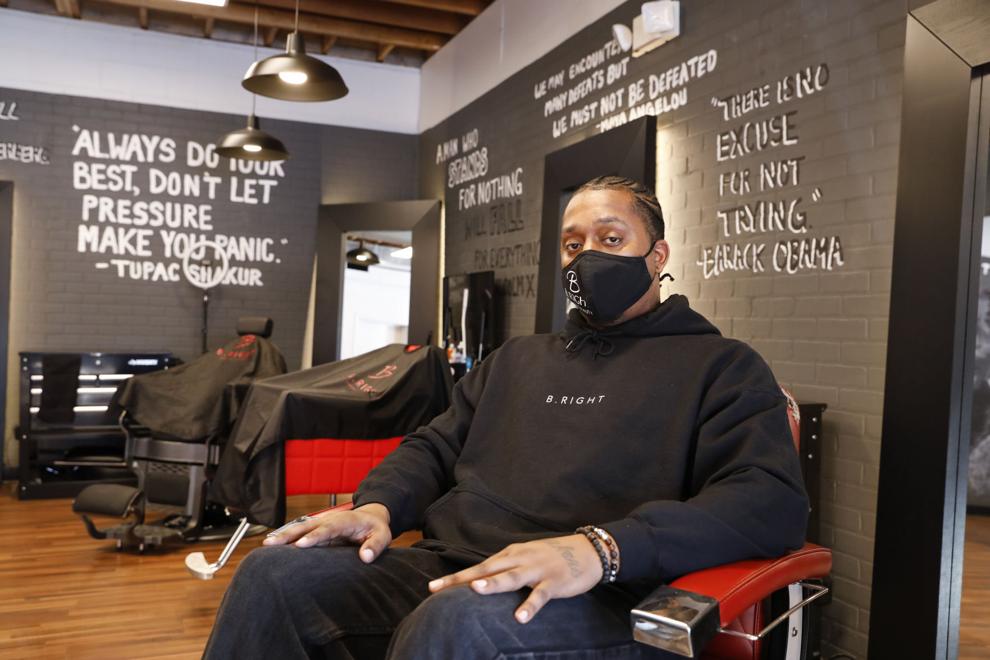 "I try to make sure they stay on the right path. I'm not their dad — I can't force them to do it. But I can at least be the person that's whispering in their ear that they feel like can relate to what they're going through."
And while some would rather hide their past indiscretions, Boatright thinks he can be a better role model by talking openly about where he's been. 
"If you don't really let people see what you've overcome, then they're going to think, 'I've done this, I could never be this and I could never do this.' That's not true," Boatright said. "It's harder … but you can overcome it."
One day, he hopes to spread that message by creating what he believes would be the first Black barbershop franchise. "I don't want to have a chain where it's just looking for the revenue," Boatright said. 
"I want to be able to make a change in each community that I'm in." 
The four questions 
What are the most important values driving your work?
Honesty and loyalty. When you try to move with the wave instead of making your own wave, you'll get drowned up in the ocean. So you gotta move with honesty and loyalty and be very upfront with people, even if you feel like it might hurt them in a way. At the end of the day, they will respect that more when you're being real.
How are you creating the kind of community that you want to live in?
I just want to be able to motivate the youth to do great things. I plan on trying to make this into a franchise because there's no Black barbershop franchises. I want people to come into the barbershop and feel like, "Man, this is beautiful. I feel inspired." I want that domino effect: You can spark one person (and) one person can change a lot of people. 
What advice do you have for other would-be entrepreneurs?
Don't give up. It's going to be hard. When I first started I had one, two clients a day. A lot of people said, "You're opening up a barbershop in Sun Prairie? Why would you do that? There's nothing in Sun Prairie." You can't believe in what people say — you've got to believe in yourself, dig deep and say, "I'm going to be able to do this, no matter what."
The name of the game is to get from behind the chair, so yes, I'm always hiring. I'm trying to make sure I have (enough) barbers in there so I can start doing some stuff through the community. 
Share your opinion on this topic by sending a letter to the editor to tctvoice@madison.com. Include your full name, hometown and phone number. Your name and town will be published. The phone number is for verification purposes only. Please keep your letter to 250 words or less.