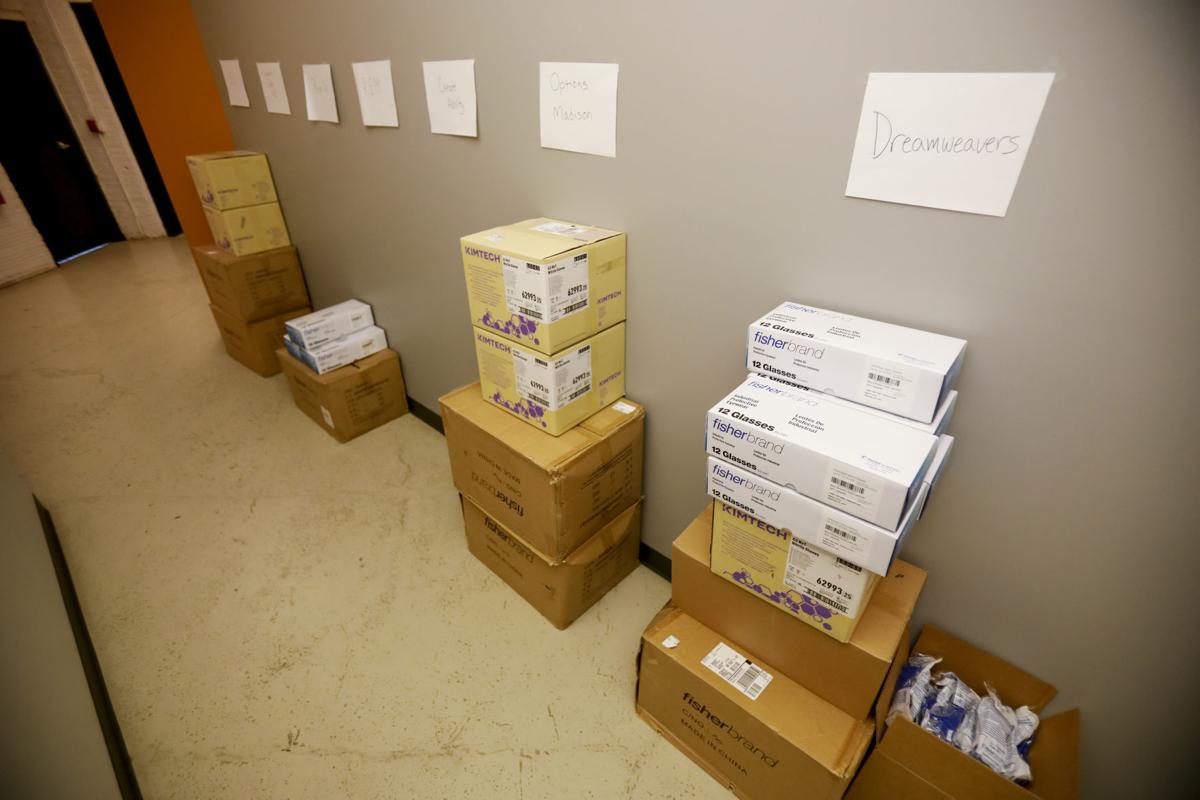 As COVID-19 spreads through the state, Wisconsin's hospitals, clinics and first responders are scrambling to get the supplies needed to keep workers safe on the job. They need things like masks, face shields and gloves, commonly referred to as personal protective equipment, or PPE.
But it's not just doctors, nurses and firefighters who need protection. Also on the frontlines are the workers who care for those with physical and developmental disabilities in their homes. These workers were at the back of the line to receive supplies — until now.
On Thursday, biotech association BioForward Wisconsin announced it would distribute more than 1,100 pieces of protective eyewear and 7,000 pairs of gloves to local organizations serving people with developmental disabilities and seniors. On the same day, Gov. Tony Evers launched a new program to encourage other organizations and businesses to do the same.
According to a press release, these organizations employ hundreds of staff and serve about 1,000 Dane County residents. 
BioForward was not able to obtain N95 respirator masks, which have made headlines for their scarcity, due to a national shortage. Hospitals and first responders are first in line for those supplies. 
The receiving organizations, which picked up donated supplies on Thursday and Friday, include  Dreamweavers, Inc., REM Wisconsin, Options in Community Living, Inc., Comfort Care 4U, Create-Ability, Inc., Rise Up, Community Living Connections, and Catholic Charities.  
"The work that community providers do is essential, 24/7 work,and it's not going to stop during this pandemic," said Melissa Mulliken, advocacy coordinator for the Developmental Disabilities Coalition, Inc., noting that both staff and clients are at risk for contracting COVID-19.
Even before the COVID-19 outbreak, staff were using PPE, but the pandemic has increased the quantity they need at exactly the time when it's become harder to get. "Shortages of the masks and gloves that protect our staff and the individuals we support are dire," Mulliken said.
The Dane County-based Developmental Disabilities Coalition contacted BioForward through LinkedIn last Tuesday to ask if the association, whose more than 200 members include a variety of companies and organizations working in the biological sciences industry, could help them obtain more PPE.
It's not the usual work for BioForward, which typically does advocacy, marketing and event planning, but CEO Lisa Johnson agreed to try.
BioForward teamed up with the Center for Patient Partnerships at the University of Wisconsin-Madison, and further help came from BioForward member Fisher Scientific, which is part of ThermoFisher Scientific, one of the largest lab supplies in the world.
Fisher placed the order, and supplies were on their way from Chicago to Madison within a week. 
"We really appreciate the generosity of BioForward," Mulliken said, though she acknowledged that the long-term need is greater than any single donation can meet.
"We are hopeful that others will step up and assist community providers in obtaining this critical equipment," Mulliken said.
Those who have large quantities of equipment to donate or sell are asked to fill out a form on the program's website describing what they have. According to a press release, the State Emergency Operations Center will "distribute the PPE to communities that need it the most."
The state is seeking surgical and isolation gowns, surgical masks, gloves, N95 respirators, face shields, coveralls, thermometers and foot coverings. Organizations or businesses that have less than 50 of any of these items are encouraged not to use the form but rather donate them directly to local health organizations.
"I am calling on companies, schools, and other organizations that may have unused protective equipment sitting in their facilities to make those materials available to those who need it most," Gov. Evers said in the press release. "The state appreciates any donations, but we are also prepared to pay a fair market value for large quantities of this equipment that are offered."
"We are amazed at the outpouring of offers from businesses and other organizations who have already told us they want to help fill the critical need for this equipment across the state," said Dr. Darrell L. Williams, Wisconsin Emergency Management administrator, saying staff are reviewing those offers and working to streamline the process. 
The Donation/Buyback Program is in addition to the state's efforts to obtain more PPE from the Strategic National Stockpile and purchase PPE with help from the Federal Emergency Management Agency. To date, the state has received about 104,680 N95 respirators, 260,840 face/surgical masks, 48,168 face shields, 40,512 surgical gowns, 192 coveralls, and 70,375 pairs of gloves from the stockpile.
Earlier this week, the University of Wisconsin posted a call on Twitter directing anyone in the campus community who might have extra PPE in their labs or research facilities to let the university know. 
"Because we've scaled back campus operations, much of that PPE is now available for reallocation," said UW-Madison spokesperson Meredith McGlone in an email. The priority uses at this point are health care and continuation of critical health-related research."
McGlone described a "great response" from faculty and staff, but the university has not yet provided further details on the supplies received. 
Johnson said she will market the governor's program among BioForward members to encourage them to share what they have on hand or can source.
"Someone asked us to take action, and we did," Johnson said, "and if that can be a model for others, let's just take some action and help people any way we can. 
But, she said, some BioForward members are busily confronting the pandemic from other angles, like the companies producing reagents for COVID-19 tests. "A lot of our companies are also on the front lines," Johnson said. "They can't give up all their PPE."
Johnson said BioForward would also keep working with community organizations, watching for whether they run short again, because such organizations play a key role and may not be prioritized for supplies.
"They're going to keep people out of the health care system," Johnson said, thereby reducing the strain on hospitals. "They're the heroes."
Share your opinion on this topic by sending a letter to the editor to tctvoice@madison.com. Include your full name, hometown and phone number. Your name and town will be published. The phone number is for verification purposes only. Please keep your letter to 250 words or less.
Concerned about COVID-19?
Sign up now to get the most recent coronavirus headlines and other important local and national news sent to your email inbox daily.