Damien Smith Jr. wasn't always embarrassed that his father is in prison. Just this winter, when playing with a giant checker set at the Monona Public Library, he readily told a little girl that he played the game with his dad in prison and beat him all the time.
But Damien's grandmother, Pat Dillon, saw the look on the little girl's face.
At 6, Damien doesn't want to talk about his dad's incarceration anymore. He gets teased or talked about. This summer, he was bullied.
"I knew that there would come a point in his life where he was going to feel different than the other kids … he was going to hide it, it would embarrass him, even though he has a great relationship with his dad. He adores his dad," she said.
But thanks to a pilot program Dillon created, Smith Jr. has a chance to meet other kids with incarcerated parents, in a stigma-free space to create and appreciate the power of art. It's a chance for these children — who often face an array of challenges — to experience a program created specifically for them. 
"Those kids are so commonly stigmatized that they hide. Then they suffer their traumas silently ... Yet we don't collectively seek these kids out and create support for them," Dillon said.
There's an estimated 2,000 children in Dane County with an incarcerated parent. Dillon can witness firsthand the effects of incarceration on her grandson, but as a writer, she's also researched the needs of kids like Smith Jr. more broadly.
Yet local resources and programs tailored specifically for children with incarcerated parents are hard to find. Madison-area Urban Ministry offers several programs, like mentoring for these kids and organized trips to visit parents in prison. Dillon's Cultural Connections, launched this summer, aims to provide self-empowerment and confidence for these kids.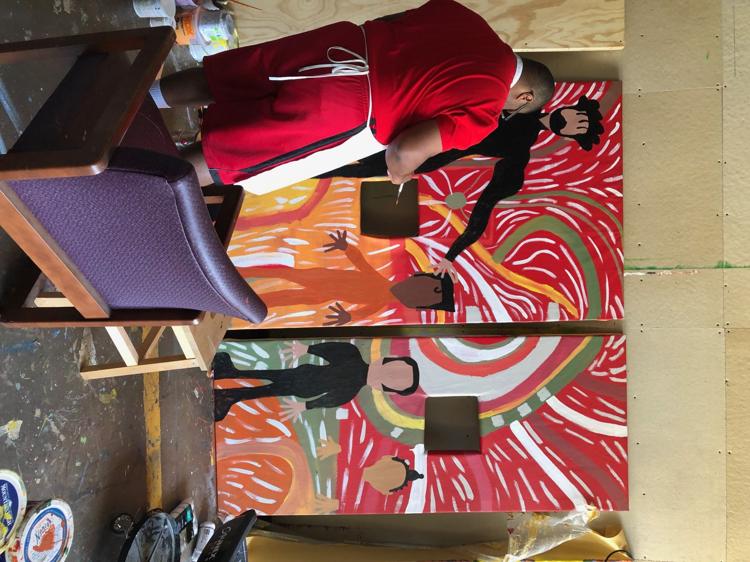 For its first project, Cultural Connections kids are painting the outside of a mock solitary confinement cell for an exhibit to be titled "Confined: Honoring the solitary experience of children with a parent in prison."
Philip Ashby, scenic designer at Wisconsin Public Television, designed the cell and two artists from ArtWorking, an organization that supports artists and entrepreneurs with developmental and intellectual disabilities, are helping paint some of the sides. The inside of the cell will act as an informational kiosk.
The cell will be displayed at the Makeshift Festival in Tenney Park and then "resurrected" and displayed in the Central Library for this fall's Gallery Night.
The cell is coming together in the Dane Arts Mural Arts space on the east side of town. DAMA and Cultural Connections share a similar mission of engaging kids, said Alicia Rheal, a lead artist for DAMA, and was happy to invite them in.
On a recent Tuesday, ArtWorking artists Briana Richardson and Romano "Mano" Johnson were at work. Richardson said her painting, of a mother holding a child on a grassy field, can be read several ways: it can be the last goodbye before a parent goes to prison or it can represent friends and family members helping out with the kids in their absence.
The kids were asked to paint pictures of themselves with their dads, so Damien drew a picture in a garden. When he visits his dad in prison, they have to stay inside, he said.
"That's some flowers," he said, explaining his art. "That's my dad, that's me. Here are some sparkly butterflies. Sunshine, clouds."
The program, Dillon emphasized, is more than an arts program. She's not just handing the kids paintbrushes and calling it a day. She wants the kids to start to see public art "as a means to raise awareness."
"It's about exposing them, taking these kids and showing them cultural art that will make a difference in their life, and somehow making it relatable for them," she said.
Karin Wolf, arts program administrator for the city, made a map of public art for the kids to follow, and the kids are meeting up with a Bucky on Parade artist to ask him questions about his Bucky design.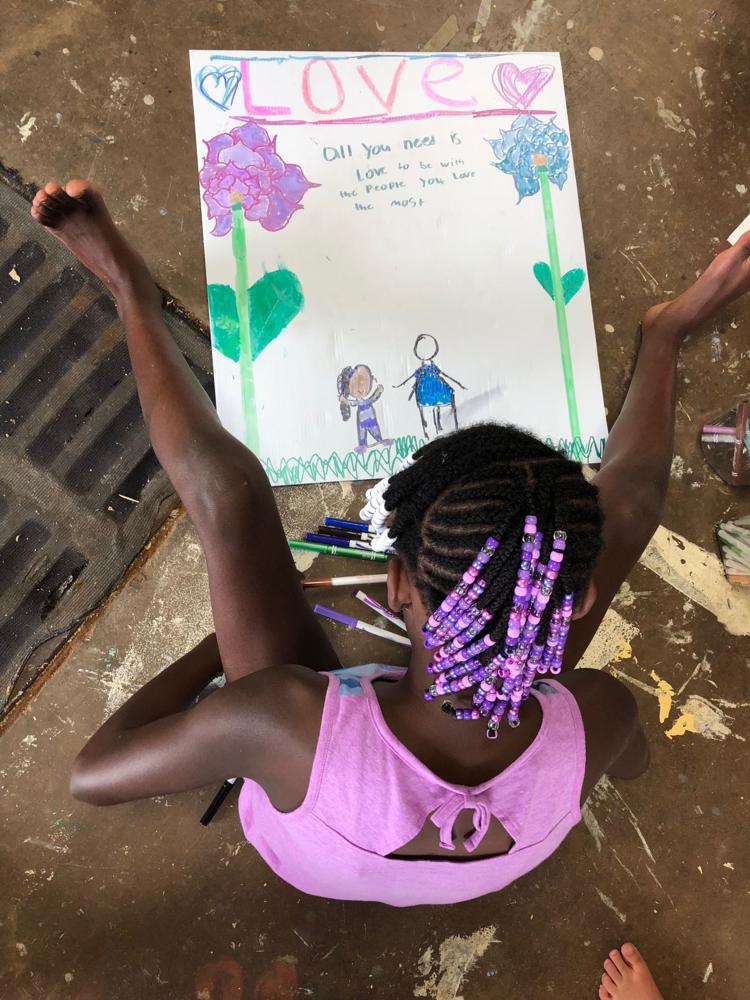 This is far from Dillon's first attempt to provide cultural access to low-income or at-risk kids. She began creating programs when her twin girls were growing up in the Stoughton school district. As a stay-at-home mom, she had time to volunteer, and noticed disparities in the resources available to her daughters and the kids who lived in trailer homes outside of town.
This gap was further highlighted in the differences between friends of her own children. Dillon lived in Shorewood Hills and one daughter, Maura, made friends with the girls in the area — children of doctors and professors. The other daughter, Nina, brought home kids of color from neighborhoods like Allied Drive. She could clearly see that the two populations were not directed to the same opportunities, she said.
"While my one daughter's friends were talking about college in middle school, Nina's friends didn't even know how to apply for college" in their junior year, she said.
Through the years, Dillon led kids to write a play and perform it for the whole school. She started a book club. She ran a program called Street Smarts for at-risk kids through Breaking Barriers Mentoring. She was on a Dane Arts grant review panel and pushed to create access for low-income schools.
Nina eventually started dating Smith Jr.'s father, Damien "Smoody" Smith, who later went to prison. Dillon's experience with mass incarceration again showed her the lack of resources available to men like Smith.
When Dillon was visiting Smith in prison a few years ago, she mentioned volunteering at the juvenile detention center. Smith, with affection in his voice, asked, "Is the basketball court still on the roof?"
"It was one of the most profound examples of how, for him and many kids like him, juvenile detention was to them what summer camp was to my population. My white, upper-middle class population," she said.
Dillon wants kids like Smith Jr. to have what his father didn't. There are about four kids involved in Cultural Connections, though a few more may jump in as the summer goes on. She's aiming to have the program at "full tilt" by next spring.
This fall, she'll partner with school districts to find kids who would benefit from the program, and is also partnering with MUM to serve the dozens of kids with incarcerated parents who are on MUM's waiting list for a mentor.
Dillon's grateful for the partnerships with organizations like ArtWorking, MUM and DAMA, as well as professionals in trauma-informed care. Julie Poehlmann-Tynan, UW-Madison professor of human development and family studies, and her graduate students are developing an outcome-based evaluation for the program.
Dillon has funding for the "Confined" project, but is still seeking funding for her overall program, but she has faith it will come together.
"I'm always told 'It's never going to work. You'll never get funded,' and it always did. It always worked. Kids came," she said.
And she believes her programming efforts are worth it: "I knew that opening a door was something I can do, even if only one kid walks through," she said.