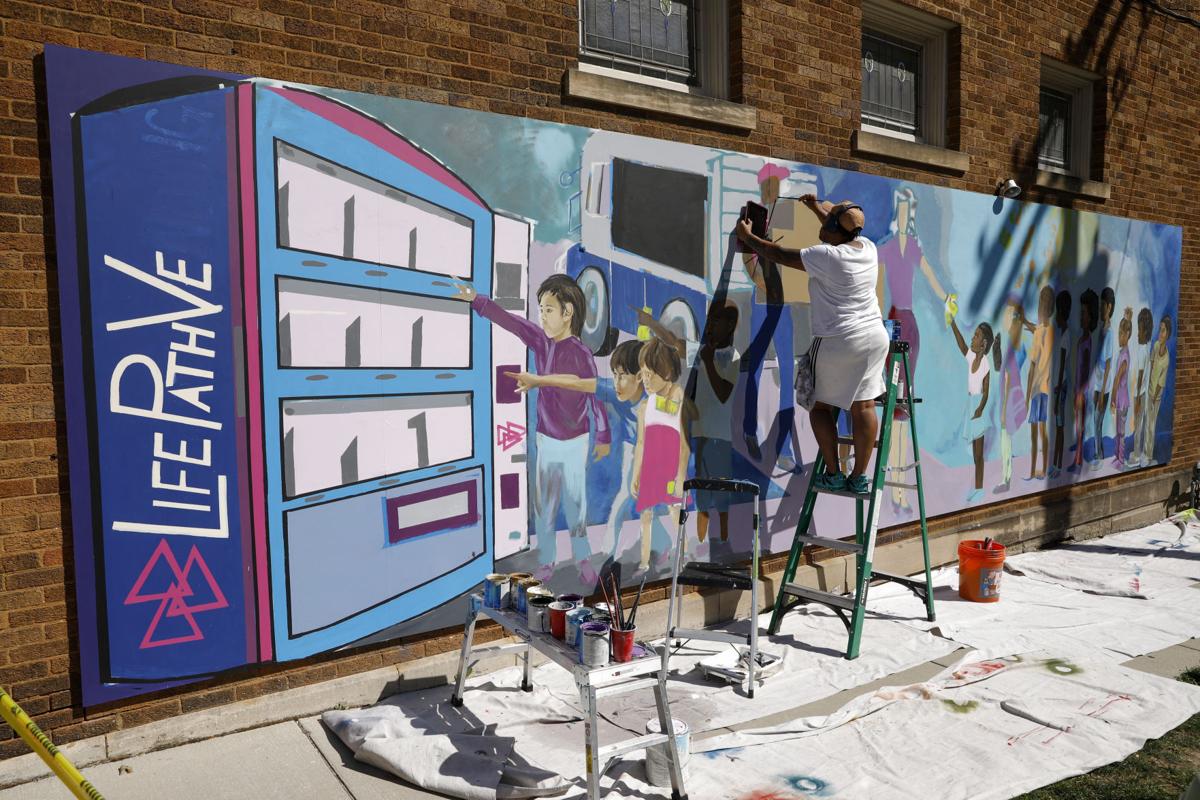 An anti-racism mural painted on the side of Neuhauser Pharmacy at 1875 Monroe St. was unveiled Saturday with the hopes that it will spark conversations about racism in Madison, as well as lead white people to reflect on how to be effective allies for people of color.
The mural, painted by local artist Simone Lawrence, depicts a line of children of color waiting to pick out goods from a vending machine. In between the vending machine and the children is a white lady handing out money to the kids.
But everything in the vending machine is bad. It's filled with items that represent systemic inequality. At the same time the white woman is handing out money to the kids of color to "buy" those undesirable items, she is depicted as stopping a couple of Black workers bringing packages full of empowering things with which to fill the vending machine.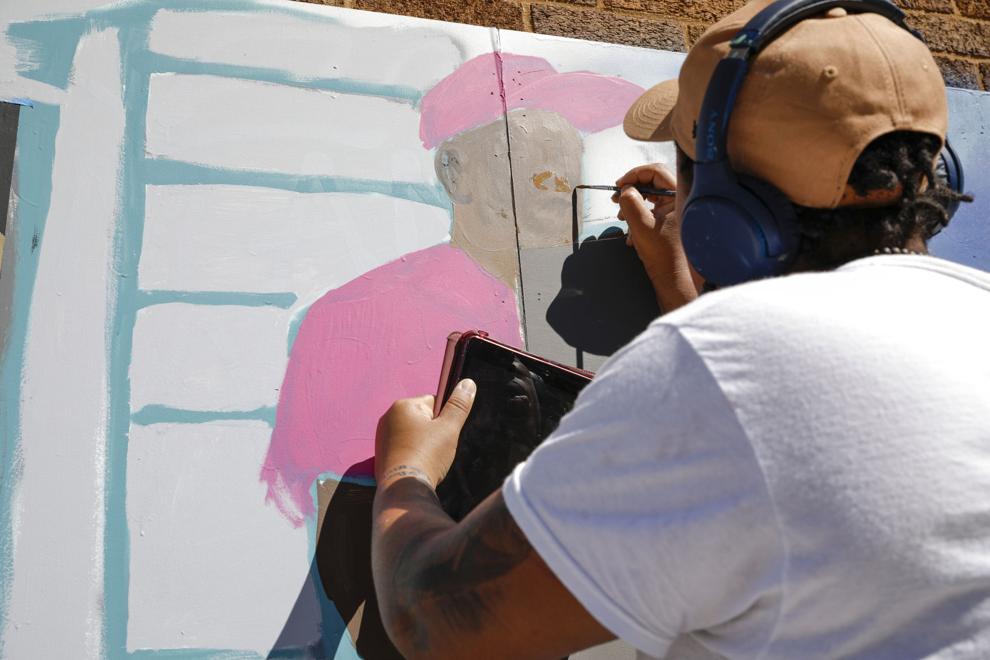 The symbolism is meant to be a sharp portrayal of Madison, where progressive liberal whites often seem to want to tackle issues of race and equity themselves while simultaneously refusing to step aside and let people of color do it.
"What I wanted to showcase was a line of kids of color lined up for a vending machine that's going to eventually feature items of systemic inequality, things like poverty, poor school resources, prison sentences," Lawrence said. "And this white lady here in the center is giving them money for all of these poor choices."
Lawrence said her intent is to show the nature of performative allyship and the manner in which white savior complex permeates Madison.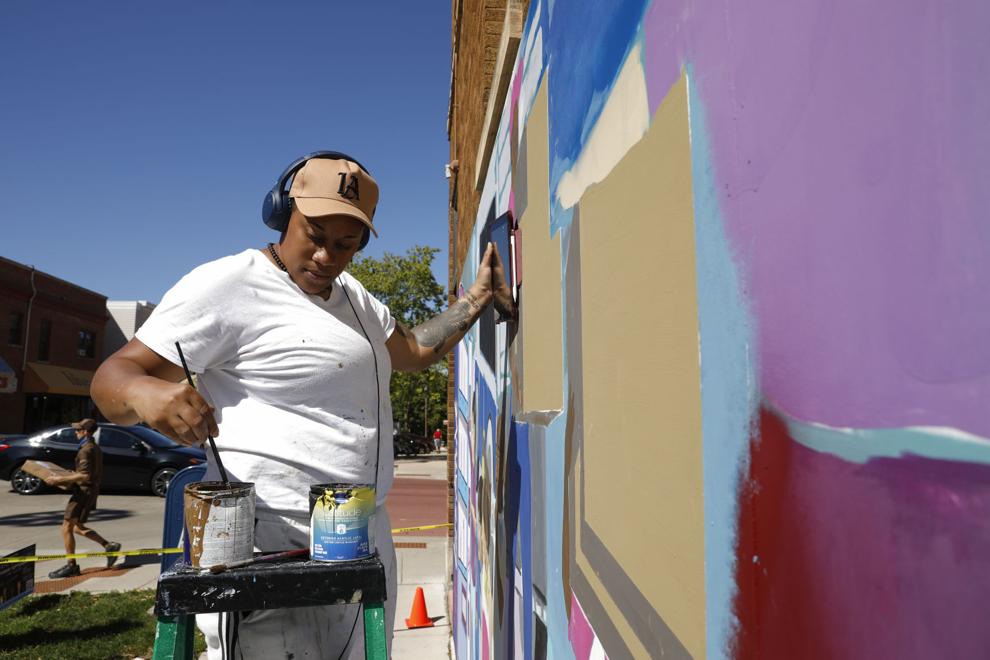 "It's supposed to be a representation of performative allyship and a representation of being complicit in allowing these children to still have access to poor things in society," Lawrence said. "And she's also blocking the pathway of these two Black workers who are going to be bringing positive things to refill that machine with."
Lawrence was still finishing the mural on Friday afternoon, preparing for its unveiling on Saturday at the annual Monroe Street Festival. 
"It's very Madison and that's what I wanted," Lawrence said. "Especially, like, Monroe Street is one of the whitest spots in Madison. They need to be thinking about this and I hope this sparks some conversation."
Lawrence was chosen out of a number of artists to create an anti-racism mural in the wake of racist flyers, signs and other racist postings in the Monroe Street area in 2020 and early 2021. The racist incidents led some area residents to form an anti-racism committee as part of the Dudgeon-Monroe Neighborhood Association.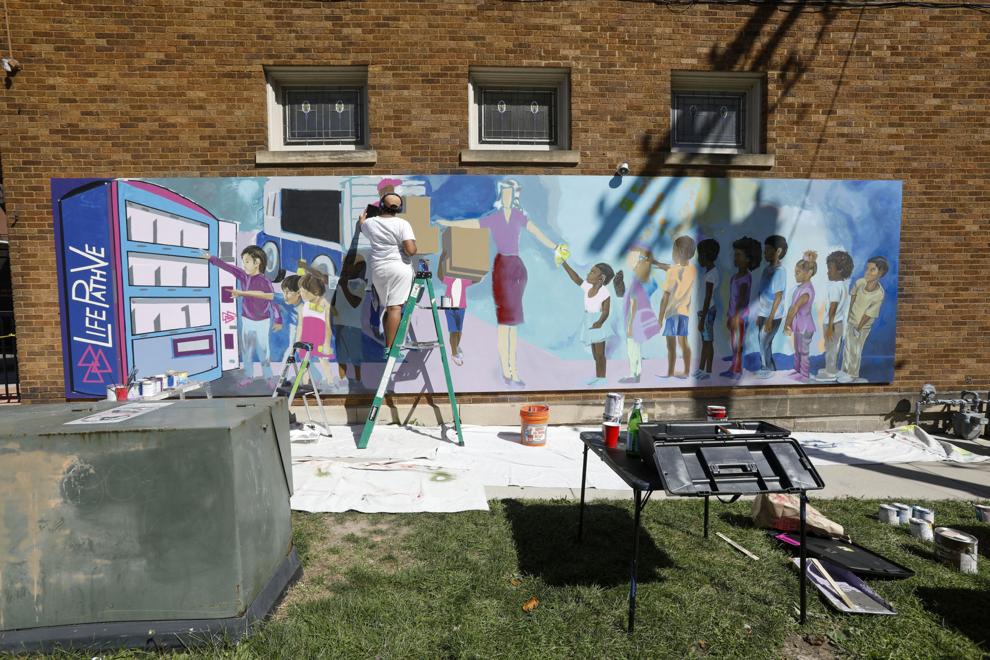 That committee tasked itself with finding a way to combat the racism being posted on street corners, lawns and school property.
"This project started in response to racist flyers that began emerging in DMNA and Bay Creek last year after George Floyd was killed," said Pajarita Charles, who helped organize the mural project. "After about the third one I came across we decided we needed to do something in response."
According to Charles, the person placing the flyers/signs was doing so in such a way that even if it rained or they were blown over by the wind, the racist remarks printed on them could be seen on both sides.
"We notified people to collect them and hand them in," Charles said. "A very organic discussion emerged and the outcome of those conversations was we wanted to send a counter message in response — one that signaled inclusivity and justice and action against acts of racism."
Charles was introduced shortly after to artist Emily Balsley, and the two of them co-chaired the Monroe Street Anti-Racism Project (MoSAP). They received a $3,000 grant from the Madison Arts Commission and, overall, have raised more than $12,000 to have an artist — Lawrence — paint a mural.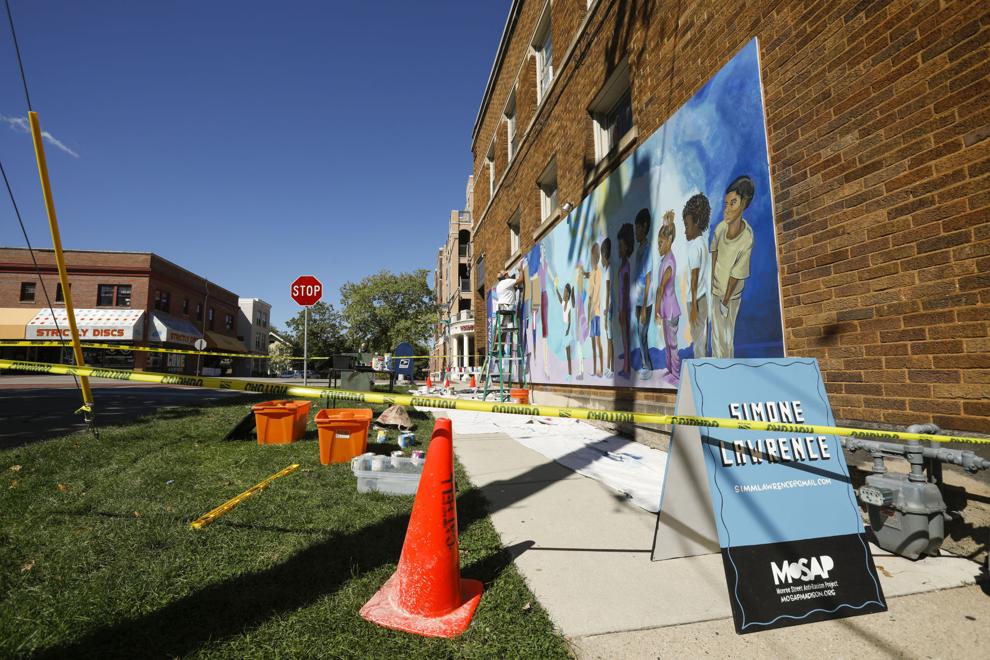 "The interesting thing was that when the project started we asked for murals that would represent sort of rainbows and butterflies, aspirational designs if you will," Charles said. "What happened through working with Simone is we realized that's not what we wanted to communicate. Instead, we want to use her public art as a mechanism to ask some hard questions about racism and structural inequalities more broadly."
MoSAP has been working with the district's alder Tag Evers, along with Black-owned businesses The Fit and Empire Photography, and other local nonprofits dedicated to doing artwork with children.
According to Charles, Wingra School has expressed interest in using the mural as a teaching tool, and local children's group Outdoors We Learn helped raise money for the project.
The mural itself will remain for a period of time on the side of Neuhauser Pharmacy and will, at some point, be moved to a different location yet to be determined.
Share your opinion on this topic by sending a letter to the editor to tctvoice@madison.com. Include your full name, hometown and phone number. Your name and town will be published. The phone number is for verification purposes only. Please keep your letter to 250 words or less.