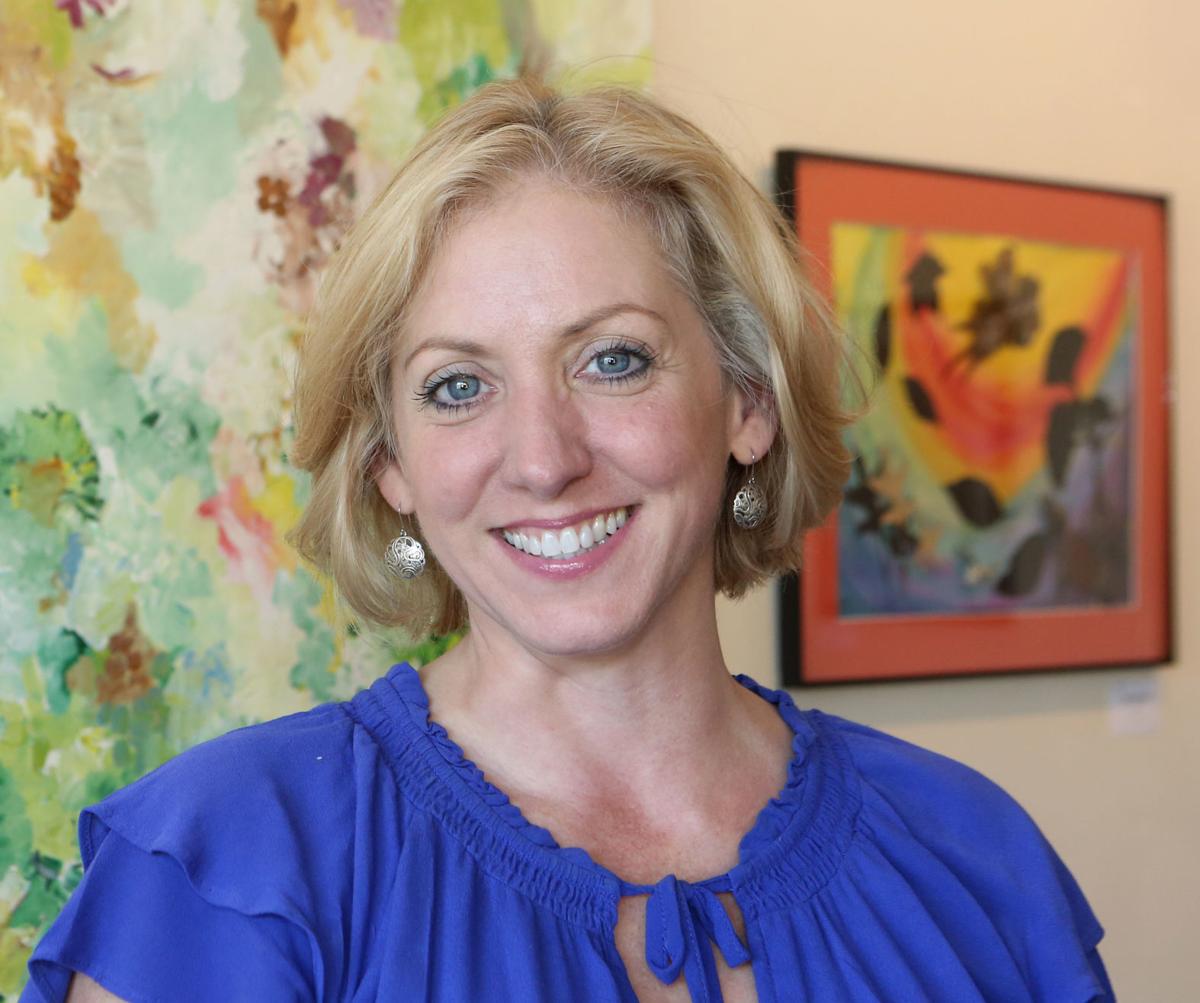 VSA Wisconsin had a problem with its elevator pitch, that one- or two-sentence description that gives people a quick idea of what the organization is about. 
"When explaining your name takes up every floor of your elevator speech, it's time to change your name," said Christina Martin-Wright, the executive director of VSA Wisconsin, henceforth known as Arts for All Wisconsin. 
VSA Wisconsin was formerly known as VSA arts of Wisconsin, and before that, as Very Special Arts Wisconsin. The 34-year-old organization, which aims to involve individuals with disabilities in the arts, revealed its new name at a Sunday celebration featuring choir performances, an art exhibit and screen printing of the new logo.
For decades, the arts nonprofit has offered classes in photography, dance, puppetry, many visual art forms and all kinds of music. It offers classes for those who have disabilities, be they physical, emotional, learning, behavioral and/or cognitive. 
Arts for All also sends teaching artists to schools and Head Start early childhood learning centers across the state to teach "adaptive arts" to children with disabilities alongside their peers. 
The name change is the latest in an ongoing evolution, detailed on a timeline on Arts for All's website. Shifts in the name have come in response to directives from the national VSA office and changing attitudes about the term "special."  
This new name "says what we are and who we're for," said Martin-Wright. "We are all arts, all art forms."
'What are we saving it for?'
On a summer afternoon in early August, Martin-Wright stood in the music room of the organization's Art Center on Madison's north side. Tables and chairs stood empty and shelves of art supplies waited to be put to use.
In just an hour, Martin-Wright said, the space would spring to life with the evening's classes.
"The whole energy in this place changes," Martin-Wright said.
Martin-Wright, who started her job this year, explained that she accelerated a name change that was already in the works when she arrived in January 2019. She pointed to a 3-foot-wide papier mâché sun hanging on the wall. Around the sun's face were the words, "Shine your light, baby! What on earth are you saving it for?"
"I always feel like, 'What are we saving it for?' Now is the time to take this leap," Martin-Wright said.
She hopes the new name will make it easier for the public to understand, support and participate in Arts for All Wisconsin's work as the nonprofit tries "to become more present in our communities throughout the state." She wants to involve other organizations, too.
"I think there's power in numbers and we all grow when we work together," Martin-Wright said. "This next stage ... will have a very conscientious focus on collaboration."
In the 2018-2019 season, the organization directly served 1,700 people across the state ranging in age from 3 to 80-something, Martin-Wright said, plus "tens of thousands more through exhibitions and events."
"We have always and will always focus first on people with intellectual, developmental and physical disabilities," she said. But what society counts as a disability has broadened. Arts for All Wisconsin has expanded accordingly. 
"We now give weight to emotional disabilities and the effect of trauma on some people's development, especially in young children," Martin-Wright said. Science has shown how art can benefit people who have memory loss.
The nonprofit serves individuals with short-term disabilities, such as temporary injuries. It can be an asset for people with degenerative diseases and other "invisible disabilities," including combat veterans struggling with anxiety or post-traumatic stress disorder (PTSD). 
People facing these new challenges  "may find that they're not able to do what defined them," Martin-Wright said. "Through the arts, we have seen new life, new avocations, new talents discovered."
This was true for veteran Fred Seger. The organization's Vets' Art Studio offered the opportunity to rediscover his talent for art.
"He has an art background but really stepped away during some things he was dealing with through his military service," Martin-Wright said. When he came each Monday to the studio, he "really tapped back into, I think, his true self."
Seger's now one of the most prolific artists the organization works with, Martin-Wright said. He creates detailed pen-and-ink drawings that almost appear screen-printed. His work was featured in a show at another local gallery, and one of his pieces was selected as one of 10, out of 260 submissions, for the organization's traveling exhibition, currently at the Memorial United Church of Christ in Fitchburg.
"It's so wonderful to see him coming back into the community and finally being able to share his talent," Martin-Wright said.
The organization aims to form lifelong relationships with participants. A person might first encounter Arts for All Wisconsin at a Head Start or daycare, then go on to participate in classroom or after-school programming. Later they might "continue honing their craft and experiencing new art forms" in Art Center classes, Martin-Wright said. 
At any stage, an artist can submit art for sale or for the annual Call for Art exhibition. Ten Call for Art submissions are selected each year to spend three years touring the state in a 30-piece exhibition.
"We see our programming right now as a pipeline program," Martin-Wright said. 
The nonprofit built its reputation, in part, on selling art, maintaining a booth at events like the Art Fair on the Square in downtown Madison each summer. That remains key to its mission. With 70% of sales going back to the artist, it's an unusually favorable split, Martin-Wright said, noting that some sellers keep the majority of the proceeds. 
"There's such satisfaction in getting paid for what you do," Martin-Wright said. "Yesterday was check signing day, and it was such an honor to see the money going back into the hands of specific artists ... and to know that that's feeding the economic engine in Wisconsin." 
'People creating together'
This fall, the Art Center will add a creative writing class and expand hours to include daytime and weekend workshops. New programming at the east side's Goodman Community Center will continue year-round. 
The range of offerings is proof that the organization really offers "arts for all," Martin-Wright said. On a single day, the Art Center might host an art class for combat veterans followed by a music class where teens sing to a karaoke machine ("It's absolutely heartbreakingly beautiful to see young adults singing Disney princess songs"). 
It's people creating together, and making friends in the process, Martin-Wright said. She recalled a suggestion from a member of the organization's Stoughton choir.
"He told me that he knows that the name of the organization is Very Special Arts, but Mike emphatically stated that it should be called Very Special Friends," Martin-Wright said. 
Those relationships are central to the organization's work. 
"We can be called anything else, we can be called 'Arts for All,' we can be called 'that place on Madison's north side,'" she said. "But we will always be that place where very special people make very special friends."
Be the first to know
Get local news delivered to your inbox!